Online tank battles have never been hot, and Hills of Steel 2 will add more fun to you. This is a very hot tank battle game on the phone. There are dozens of modes and events available here for you to team up with friends and participate in the ultimate battles. Besides, in this second part, the game has a new type of tank model. Each tank carries a special power, giving you an advantage over your opponents. Moreover, there are many new battlefield maps with beautiful backgrounds. Let's go through many wars to explore every map!
Download Hills of Steel 2 – Super fun 3v3 online tank battle
Hills of Steel 2 continues the previous tank game with many new improvements. Thanks to that, this game promises to bring more epic battles. In these battles, you are not alone. Each battle is a place for up to 6 players, 3 members each. You can co-op with random players or your friends. Unity will make great power for you to conquer every battle. Get ready with the best tank and win.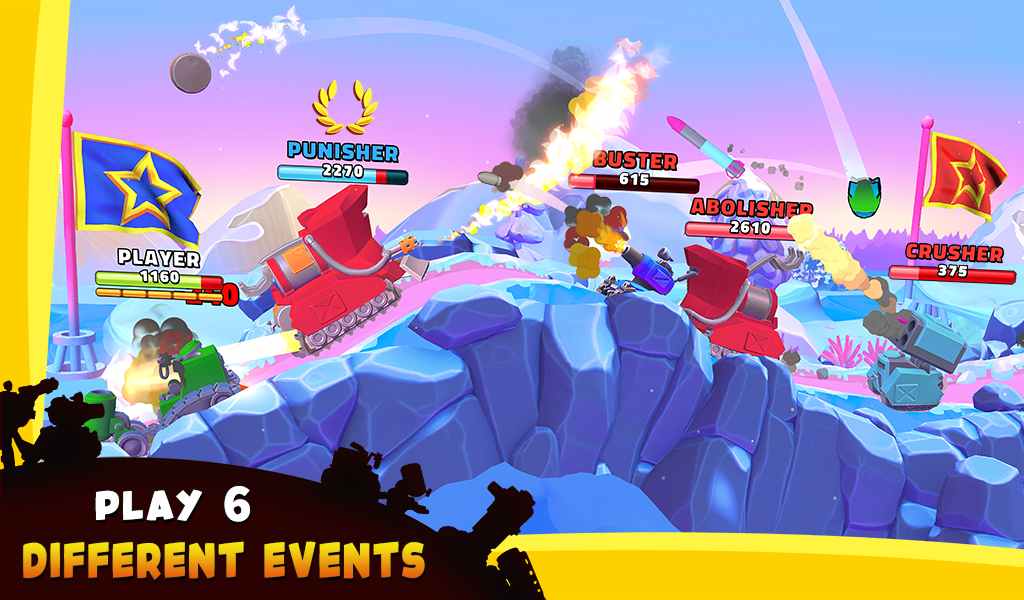 Participate in exciting events
This game does not have too many modes but has dozens of daily events. It can be Team Survival, Boss Battle, Star Catch, Rare Duel, and more. Each event will have its own rules and attractive rewards. For example, in Team Survival mode, you will co-op with 2 other friends to fight for a certain time. The goal is to get the most "kills" from the opponent. Or in the Star Catch event, your task is to collect stars; in the Boss Battle event, you will encounter a terrible boss, …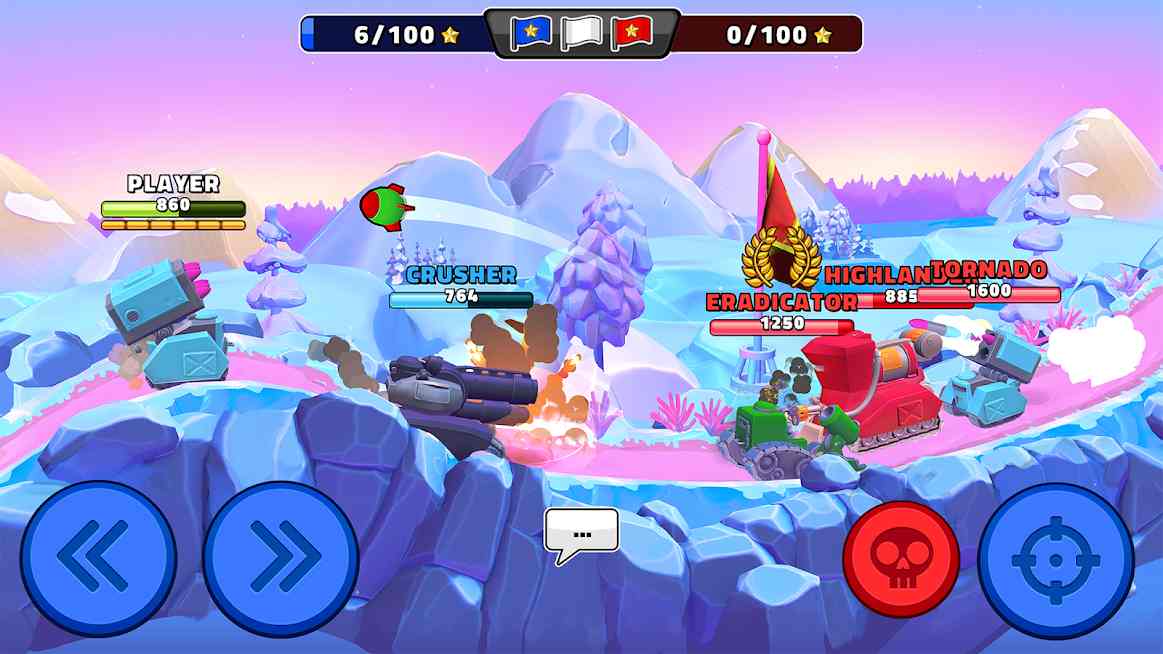 Act your way
In each match, you need to show skill and strategy. Skill is demonstrated by how you coordinate the controls to control the tank. There are a few virtual buttons integrated into the screen interface, including arrows (left, right), shoot, and finish. You need to combine these virtual buttons flexibly to move forward, backward, and attack logically. As can be seen, the control operation is relatively simple, right? But to gain the advantage, you need to have a smart strategy. Strategy is reflected in the way you move, choose when to attack/defend and upgrade.
Depending on the situation of the game, gamers should have a reasonable response. If the enemy is attacking fiercely, the best way is to retreat to the defense. On the contrary, when the enemy is alone, you need to put more attack power. Besides, you need to combine with allies to deploy tactics. Remember that each battle takes place in a 3v3 format. That is, if you play independently, you have to face up to 3 enemies. The strength of unity is important in every tank war here.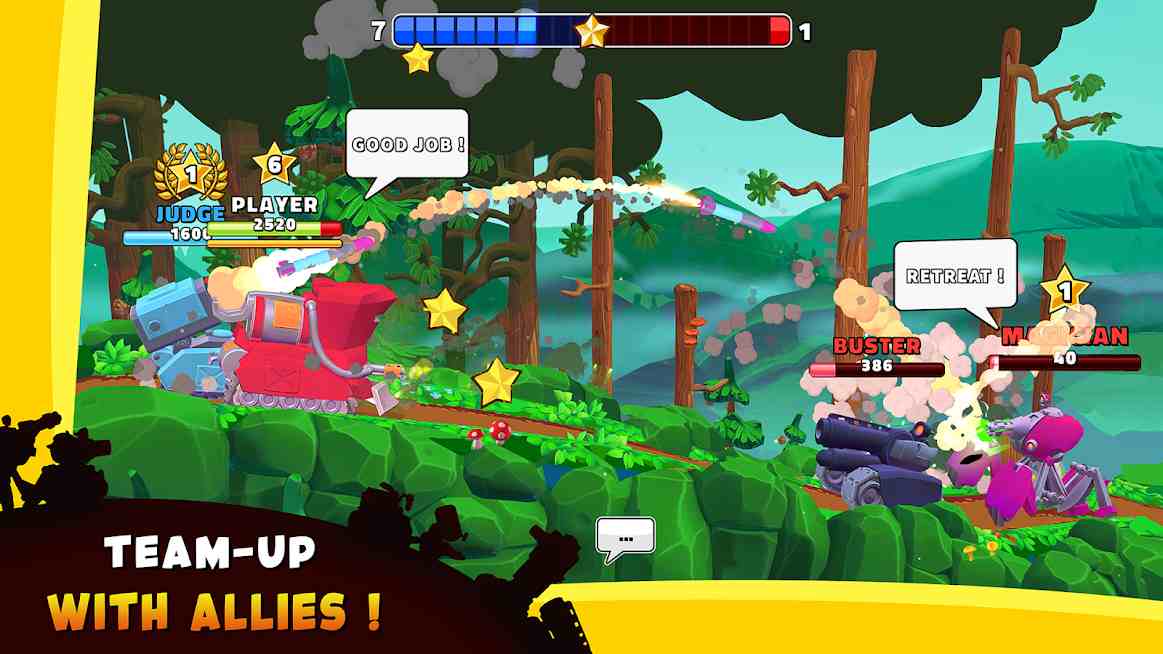 Unlock unique tanks
Hills of Steel 2 will surprise you with an extremely rich tank system. In addition to the tank models from the first version, a series of new models are added to this second part. There are unique tanks such as:
Joker: possesses a powerful punch.
Ninja: has the ability to stealth.
Tower: has the advantage of long-range shooting and great damage.
Chonk: large size, slow speed but a big bomb.
Buck: very good melee tank.
Kong: monster gorilla tank.
Rex: super dangerous dinosaur tank.
Of course, there are a bunch of other tanks as well. Each car has its own advantages and skills. Besides, you can upgrade vehicles to improve attributes such as HP, strength, speed, and rarity. The higher the attribute stats, the greater the tank's power. Moreover, save your account to unlock new tanks. With a diverse skill system, you can flexibly strategize for each match.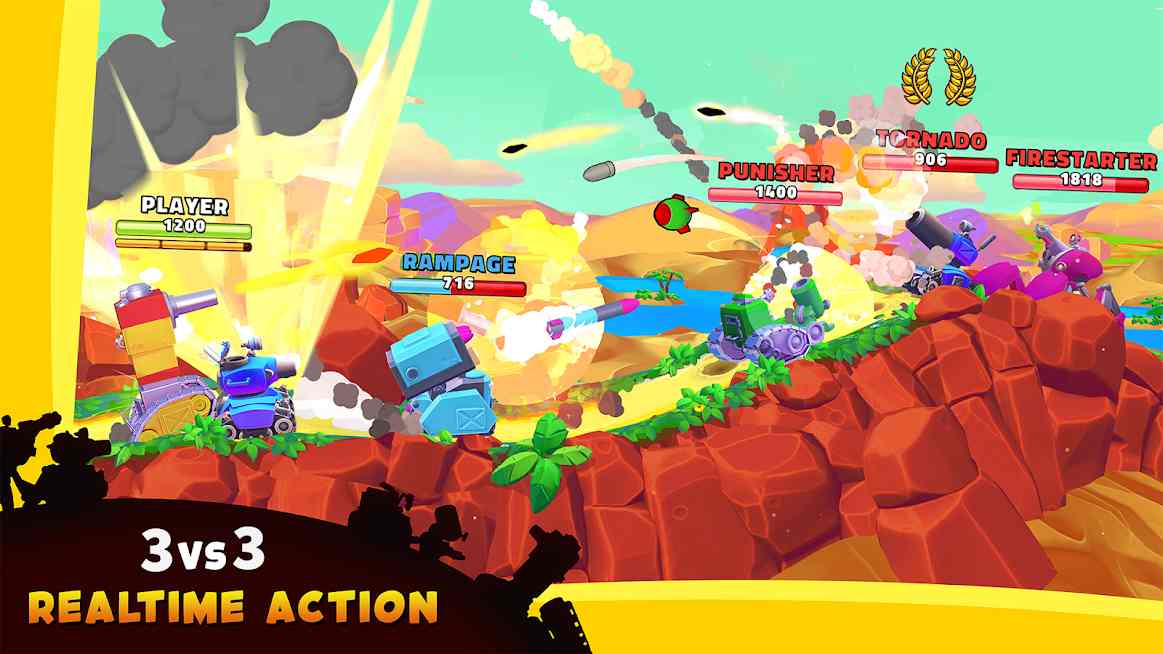 Eye-catching effects, vibrant sound
This game will not let you down with its epic 2D wars. Everything is carefully designed from images to effects and sounds. The tanks here will make you excited with their cool designs and powerful engines. Each vehicle also has its own unique skill effect. In addition, the battlefield context is also very diverse. The sound from the skill and the background music is equally vibrant, providing a compelling atmosphere for every battle.
MOD Feature of Hills of Steel 2
MOD Menu
Unlimited money
Unlimited coins
Unlimited gems diamond
So, are you ready for tank battles? Hills of Steel 2 will make you happy all day while participating in online 3v3 wars. This is an opportunity to co-op with friends and competes against online gamers. Your achievements will affect your ranking on the global leaderboard. Work your way up to the top and hunt for the hottest rewards. Don't forget to unlock many unique tanks to enrich your garage.