Have you ever thought about managing a bank? Come to Idle Bank to learn how to do it. This is a fun simulation game that revolves around the theme of banking and financial management. There, you are the new boss of a large bank branch that has been dormant for a long time. Your job is to make it work again to serve the inhabitants of the city and make a profit. To achieve this, you'll have plenty to do from managing employees and printing money to serving customers, upgrading facilities, and more. Get ready to work like a bank magnate and get rich!
Download Idle Bank – A fun bank simulator for mobile
Like other emulators, Idle Bank is built with idle gameplay in mind. But instead of having to "click" constantly on the screen, this game will give you control with fewer operations. You do not need to click repeatedly to upgrade and expand. Instead, you need to make wise decisions to grow the bank, thereby improving profits and upgrading everything. In other words, you will play as a financial tycoon in this game. Each of your decisions will affect many different aspects, especially profits.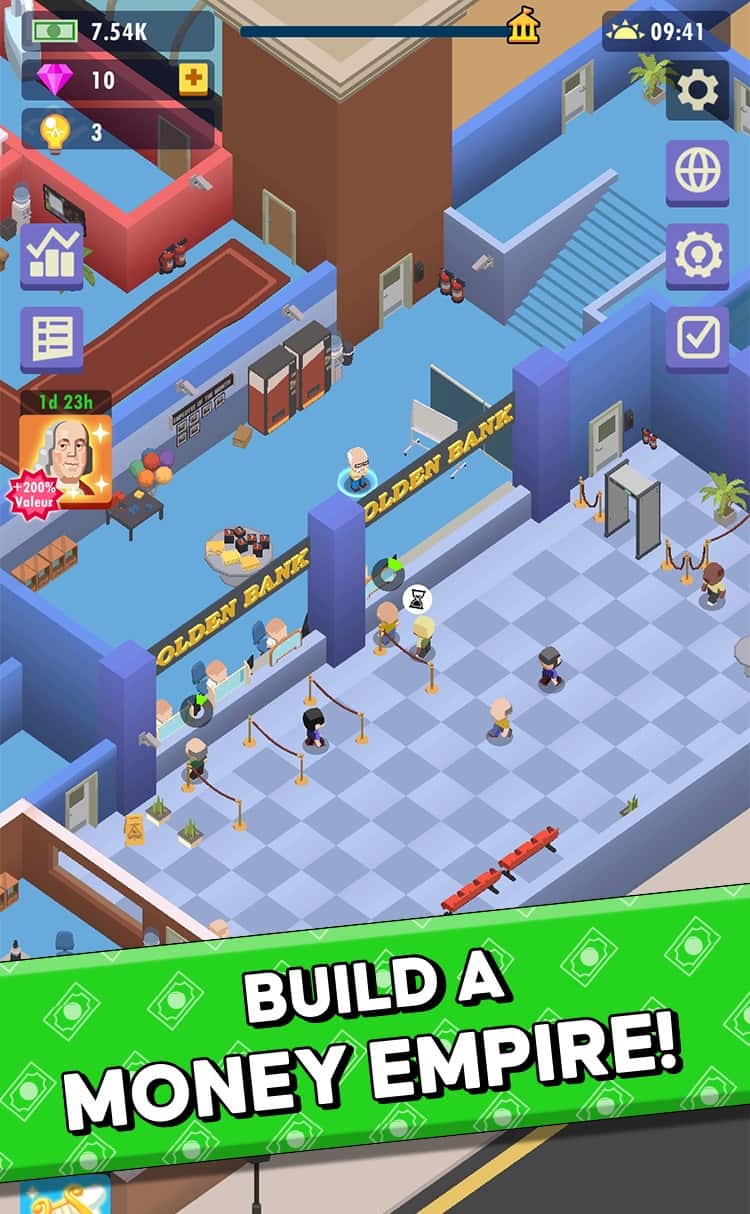 Bank operations management
At the beginning of the game, you are sent to manage an inactive bank. But it's a big bank tucked away in a corner of the big city. Now you will work on your own to make it the most popular bank in the city. From there, you will be promoted and become rich thanks to the profit potential of the bank. There are dozens of tasks to do every day if you want to reach your goal. But don't worry, you will be guided by an experienced former manager here.
Most of the duties revolve around managing the bank's operations. It can be printing money, developing technology to upgrade security, serving customers, managing transactions, lending for interest, upgrading and replacing equipment, improving facilities, etc. Everything needs your supervision. Moreover, each mission requires spending money to perform. Therefore, you need to make reasonable decisions to optimize spending. In particular, pay attention to the customer's mood and improve their satisfaction to upgrade the bank's reputation.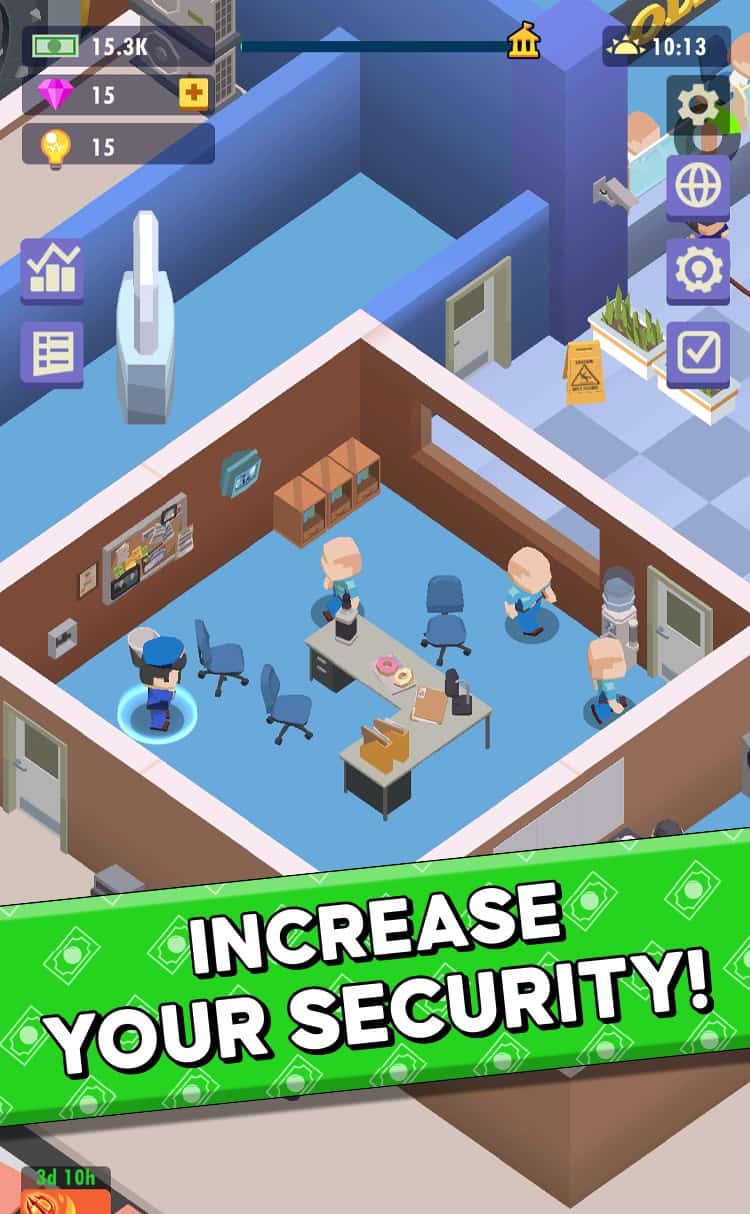 Hire and manage employees
If you want to be an idler when playing Idle Bank , you need the staff system. These can be consultants, cashiers, customer service personnel, security personnel, and various departmental managers. Each employee will take on different jobs in the bank. You need to upgrade them regularly to improve work speed and performance. Customer satisfaction depends largely on the quality of employees. Therefore, do not forget to spend money to upgrade and unlock more staff when needed.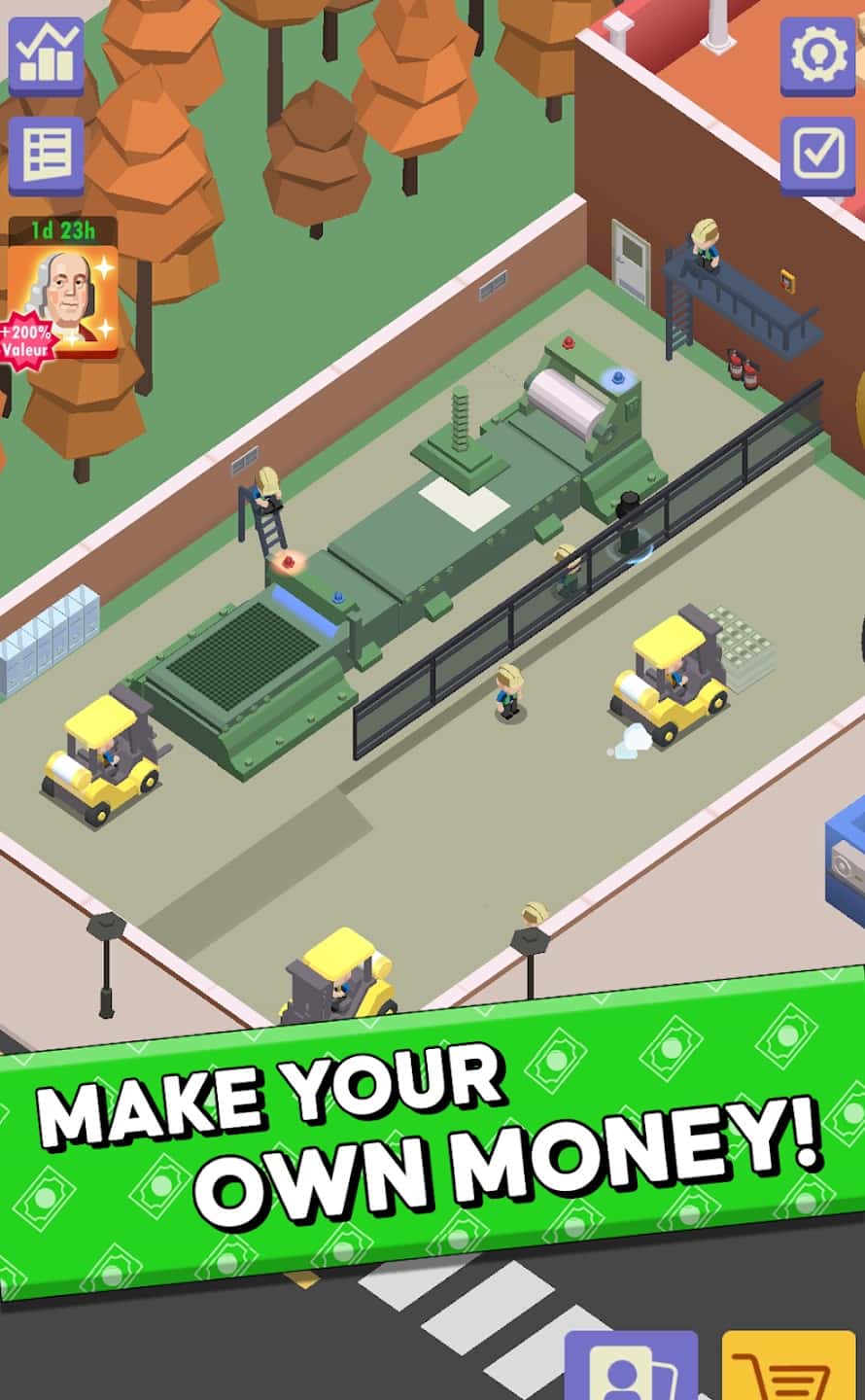 Solve situations
Don't think you will be really idle in this game. While you won't need to do much, you will have a lot of decision-making to do. For example, how would you deal with bank robberies, customer complaints, and loan policies? Think of strategies to solve any problems and keep the bank running smoothly. In particular, you need to focus on technology research and development. Banks will need new anti-theft technology, more advanced computing technology, and more.
Unlimited upgrades
There seems to be no limit to the bank's growth. In other words, you can upgrade it however you want. Start with an empty and unprofitable bank. Then you will make it the most expensive and popular bank in the city. With wise management decisions, you will make huge profits from the bank. At the same time, you will witness great growth in both size and quality of service. A bigger bank, more departments, more employees, why not?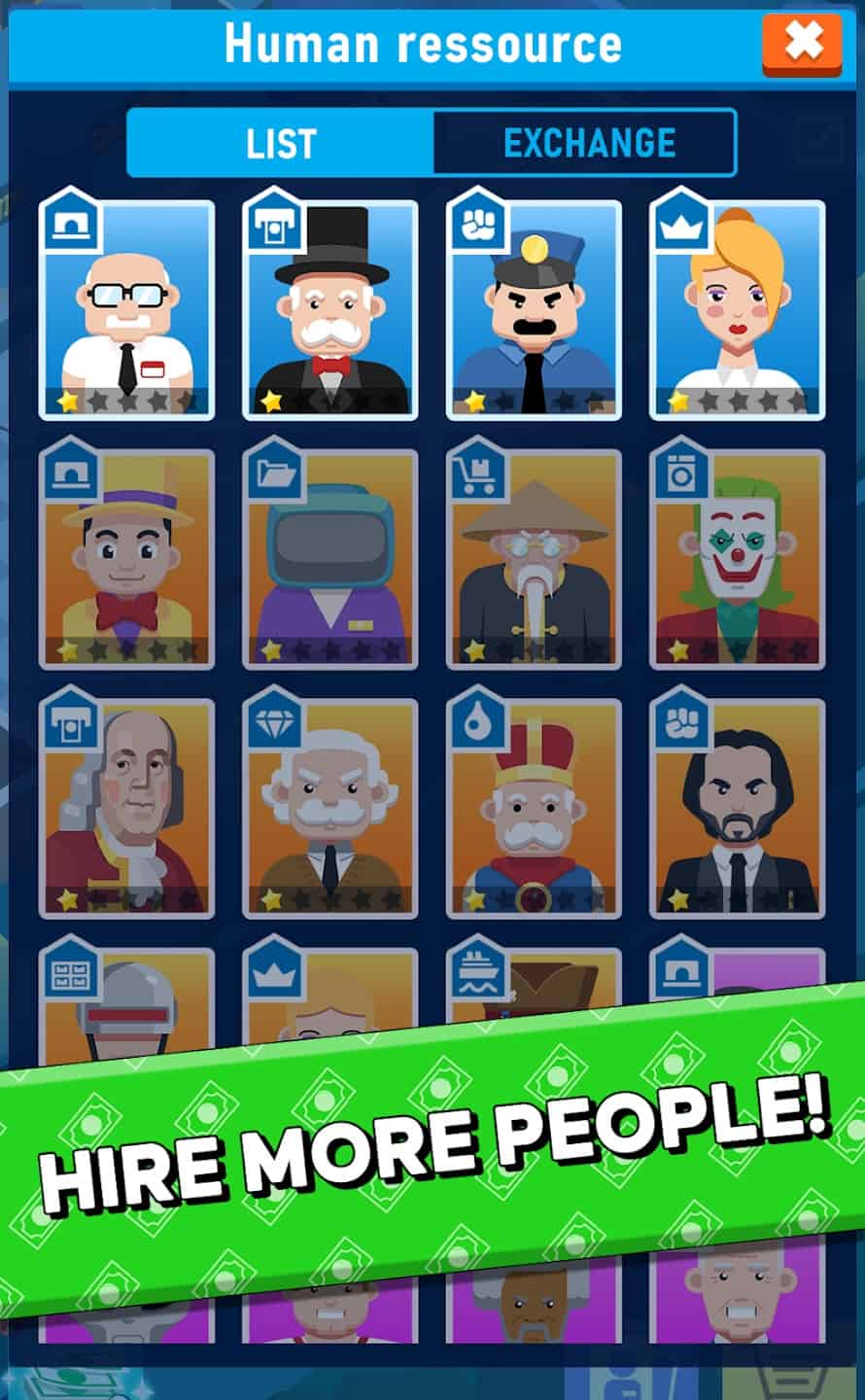 Enjoy the vibrant 3D environment
Like many other emulators on mobile, this game is designed with simple 3D graphics. Everything comes to life from the signature top-down perspective. From this perspective, you can clearly see everything from employees to facilities, customer flow, their attitudes, and more. Moreover, the game also offers a colorful experience space. Most of the images are designed in the style of lego cartoons. From there, you will find everything closer and more fun than ever.
MOD Feature of Idle Bank
MOD Menu
Unlimited money
Unlimited gems
Unlimited diamond
free shopping
So, are you ready to join Idle Bank yet? Now is the time to show your management talent and become the idle tycoon here. A big bank is in need of your supervision. Turn it into a banking empire with huge profit potential. The dense quest system will keep you busy all day.