Have you ever thought of becoming a streamer? Come to Idle Streamer Mod to do it now. This game is a place for you to learn how to stream via Youtube and get rich from there. You'll start with an old computer in a tiny stream room. But just "click" on the screen to earn more money from fans. With the money earned, you can buy many things to upgrade your room. Buy new computers, new mice, speakers, and more decorative items like toys, statues, posters, and more. This is the real life of a streamer!
Download Idle Streamer Mod – Streamer life simulator on mobile
Inspired by real streaming work, Idle Streamer will bring you an interesting experience here. This game is carefully designed from the gameplay, content system, and visual style. As a result, it will become an emulator worth playing on your phone. Join the game, you will play the role of a streamer guy with rich dreams. Although this is not easy in practice, with this game, you just need to "click". The more you click, the more money you earn. And you will become the most famous streamer here.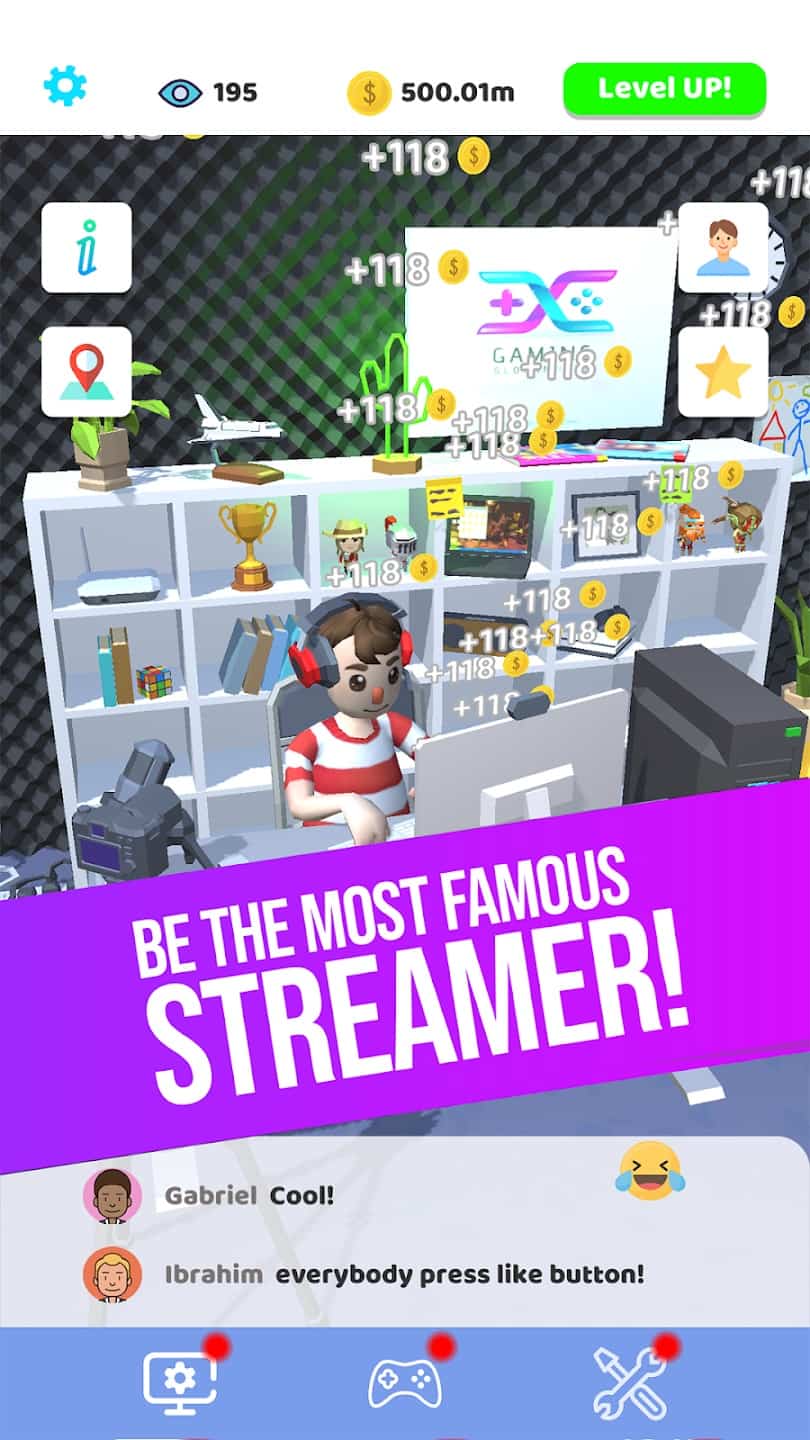 Go up from poverty
At the beginning of the game, you are just a poor student in a small room with an old computer. You start streaming your favorite games and streaming on the Youtube platform. From there, you will attract your first fans. They will donate money for you and that is the source of profit you earn from stream work. You need to learn how to manage your finances if you want to become even richer. Learn how to spend to upgrade important equipment and improve skills.
Over time, the level will get higher and higher, allowing you to unlock many new things. For instance, you can unlock more games from MOBAs to sports, strategy, racing, simulation, and more. The more diverse the game catalog, the more new fans you can attract. But you also need to upgrade your gaming skills if you want to keep them longer while watching the stream. With a large fan base, you will receive more donations. And your streaming career will be successful beyond expectations.
Upgrade your streaming room
With the money earned in Idle Streamer Mod, how will you use it? Of course, you need to spend money to unlock new things and upgrade your room. Replace your old computer with a better computer for gaming and streaming. Also, you can swap out your old monitor for a larger one; buy a new set of speakers, headphones, and camcorders. Moreover, you need to upgrade the mouse and keyboard for faster, smoother operation. Everything is like real life.
In addition, this game has hundreds of unique items in the shop. You can buy all of them and bring them back to your room. What style would you design the room in? Do you want to fill it with medals, statues, game models, posters, pictures, watches, books, and more? Spend money on your favorite items and arrange them in your own way. Items will help refresh your stream space, thereby attracting fans to stay longer.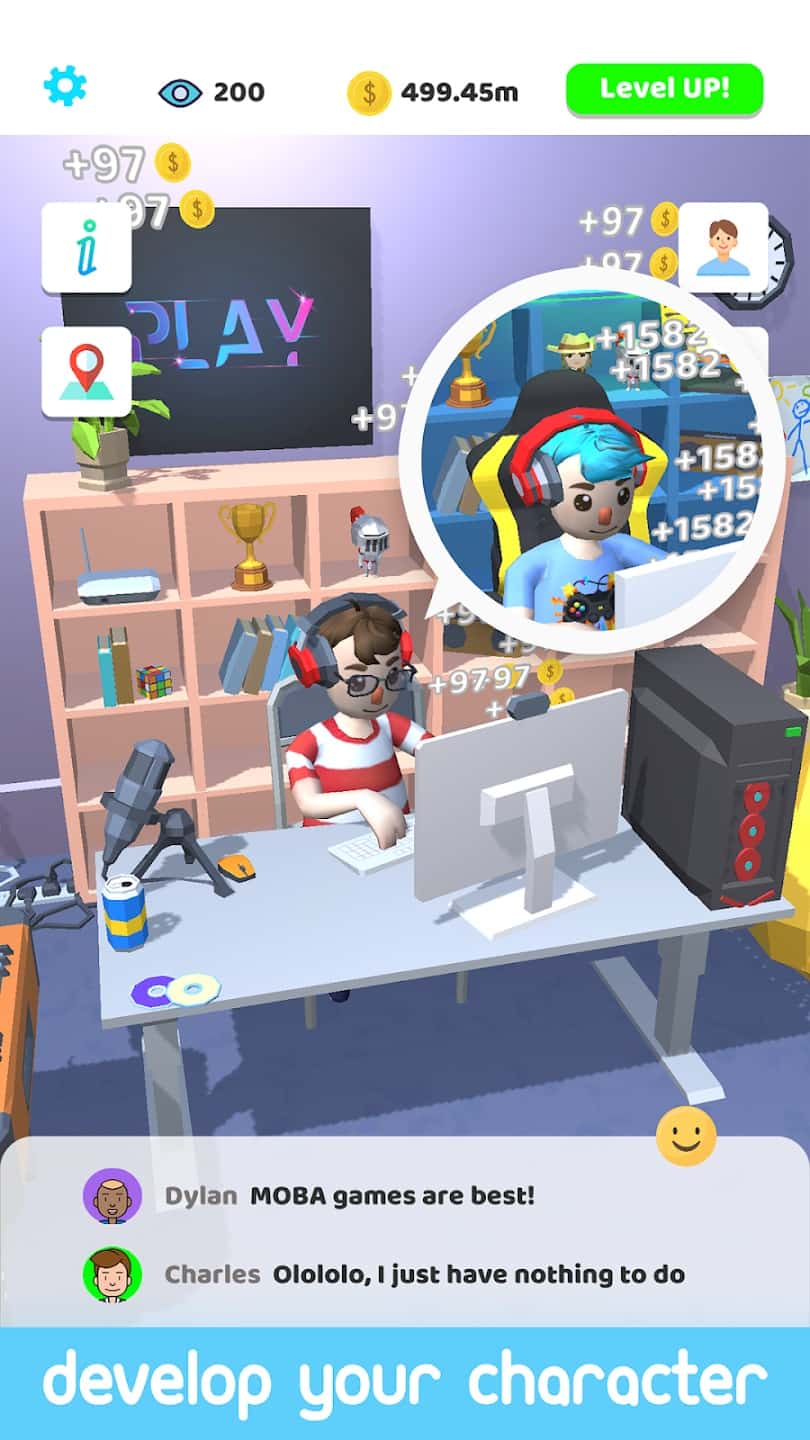 Keep track of stats
To track the streaming process in this game, you just have to look at the stats. It can be fan donations, views, likes, comments, and more. These indicators will tell the success of a real streamer. The higher the number of viewers, the greater the coverage and the more donations from fans. Keep an eye on these to find the right upgrade strategy. If fans prefer watching sports games to racing, focus on upgrading this skill.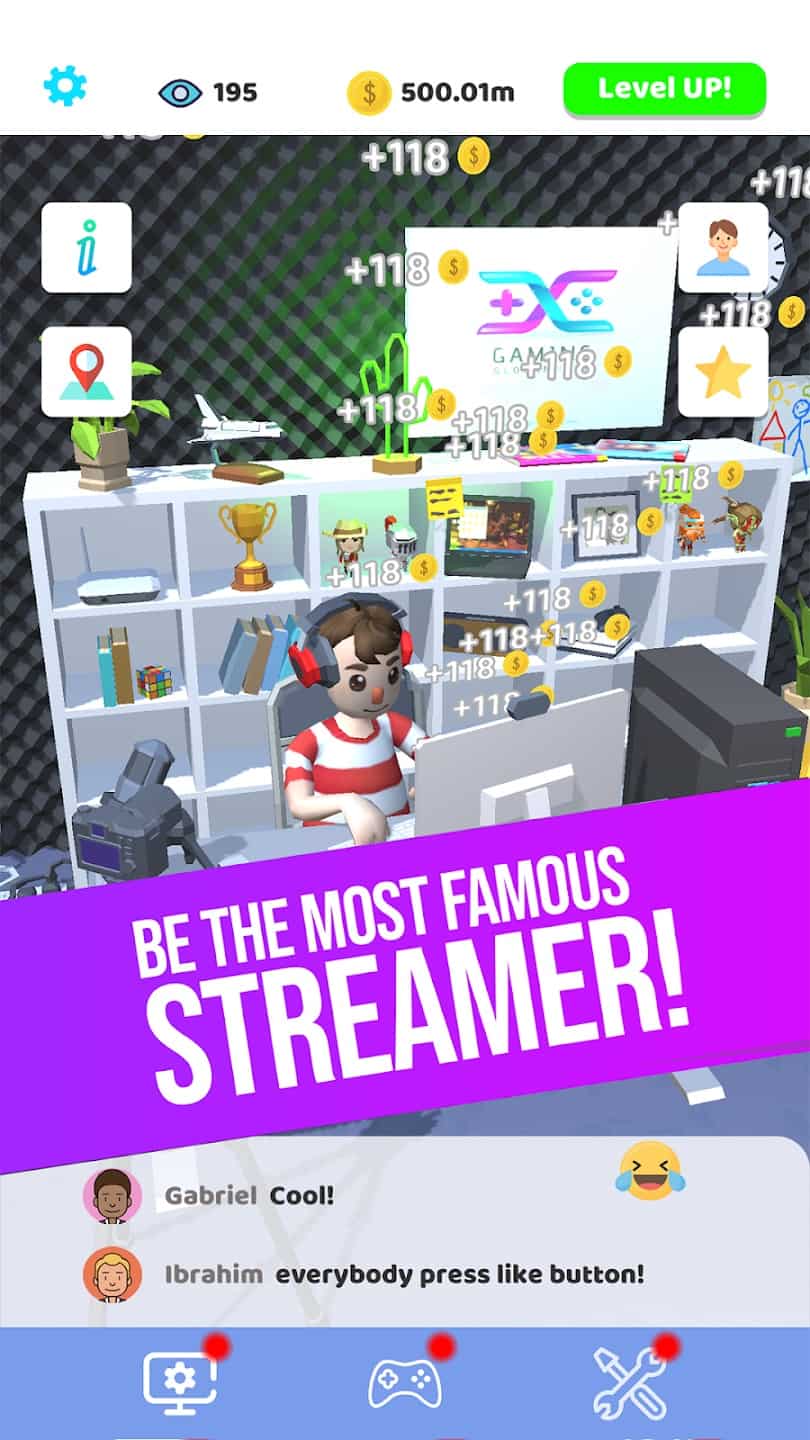 Enjoy colorful 3D visuals
Although it is a simple game, this game still possesses a 3D design style. Everything in the game is vividly depicted, providing a fun, realistic streaming atmosphere. Your character and many items look quite detailed and colorful. Details like comments, likes, and interactions from fans are also visually visible on the screen. The fun background music also contributes to the inspiration for the streamer. Enjoy these when you step into this exciting simulator.
What are you waiting for without immediately downloading Idle Streamer Mod to your phone? This is where you will experience the work of a streamer. You will play games and stream them on Youtube. From there, you will see comments from fans and make a lot of money from their donations. Play and earn money at the same time, what's more interesting? Enjoy the gold rush as soon as you stream your favorite game.