Do you like racing style combined with action? LEGO NINJAGO: Ride Ninja can make you satisfied. This is an arcade game designed with fast-paced racing gameplay. Your mission is to drive, defeat the ninjas in the criminal organization and become the fastest lego hero. With lego 3D design, the game brings a friendly action feeling. Besides, the spectacular chases with eye-catching effects will make you excited. In particular, you can unlock a series of new lego racing cars and cool weapons. Collect unique items to race faster!
Download LEGO NINJAGO: Ride Ninja – Fast-paced endless lego race
LEGO NINJAGO: Ride Ninja begins in a notorious crime city, called Ninjago. Here, criminal gangs compete with each other illegally racing on the big streets. But you can put an end to this evil when you play as Zane, an agent who has just infiltrated a criminal organization. Your mission is to defeat the notorious bikers in this organization. At the same time, you must successfully stop their illegal plans. This mission leads you on endless race tracks with fast-paced.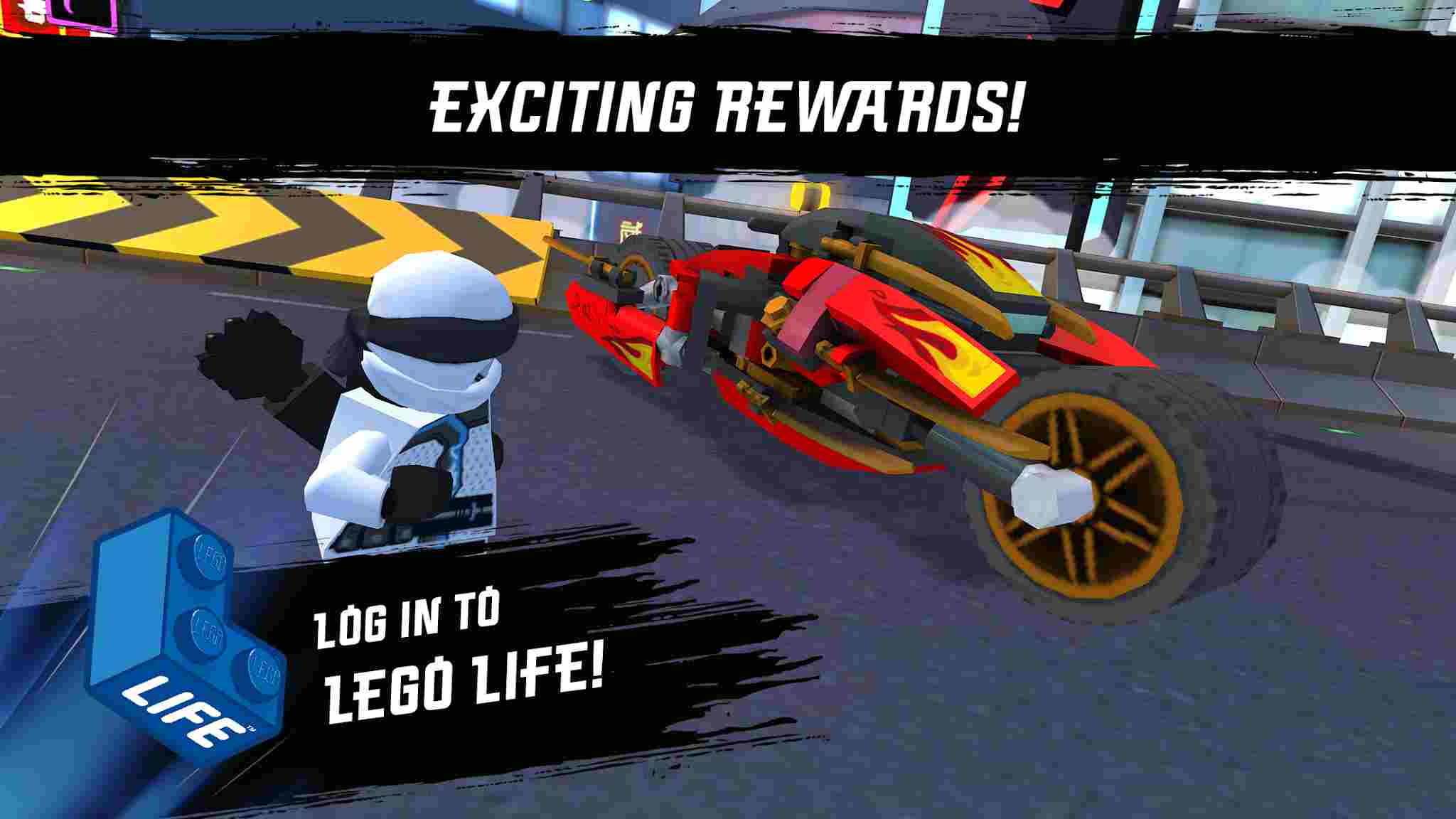 Join the race your way
The gameplay of the game is built similarly to the "Endless Run" games. In other words, it has no specific levels but only offers endless races. Just tap the screen to instantly start a race. And you will have to complete the track with the highest possible score to receive a commensurate reward. On the track, you need to learn how to drive and act at the same time. Despite having a simple control mechanism, this game requires long practice from every gamer.
To drive, simply tilt the screen left or right. Your car will automatically move forward and stop only when it collides with an obstacle on the way. So, if you want to run as far as possible, you need to drive skillfully to avoid pitfalls and obstacles. The challenge for you is not only wooden crates and vehicles but also dozens of other racers. You need to choose the right time to touch the target and destroy it right on the track. Or you can use grenade-throwing skills to destroy any target.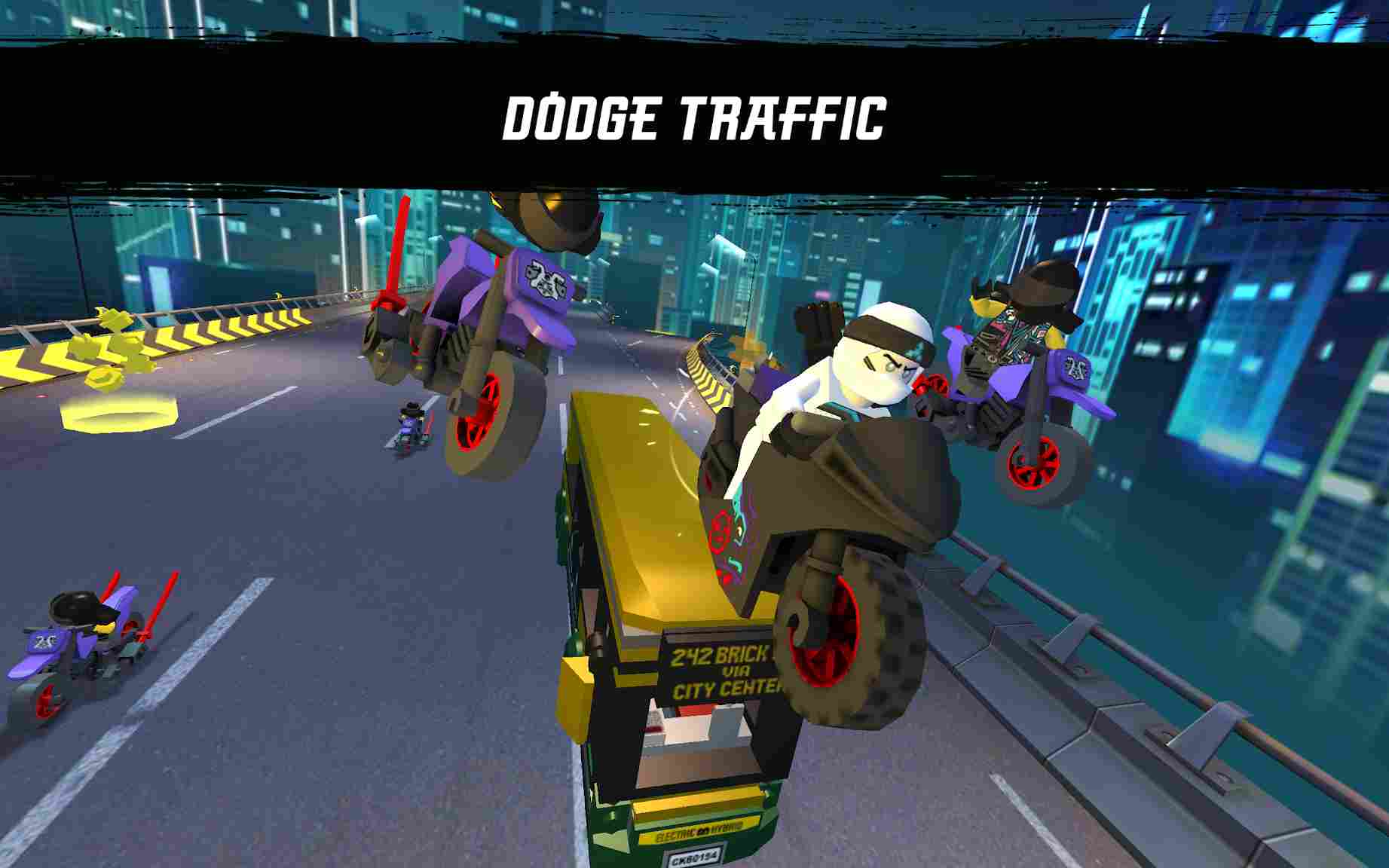 Unlock new vehicles and weapons
Want to race faster? Don't hesitate to unlock new series of lego cars in LEGO NINJAGO: Ride Ninja. The game gives you many beautiful motorcycle models with unique designs. Of course, you can only unlock new cars when you reach a certain level. Each model will give you a different driving experience, helping you find new inspiration on the track. Moreover, you can upgrade the car to run faster. The challenges will become simpler when you have a better advantage.
In addition, the game also offers more than 50 special upgrade cards. It can be new weapons, new armor, HP-boosting items, new skills, and more. You will receive these cards after each race. However, you need enough bonuses to unlock the most powerful upgrade cards. Regarding weapons, there are hundreds of different types from single to double swords, and electric swords,… Some other swords also have the effect of slowing, freezing, and impregnating poison. Choose the appropriate weapons before participating in the race.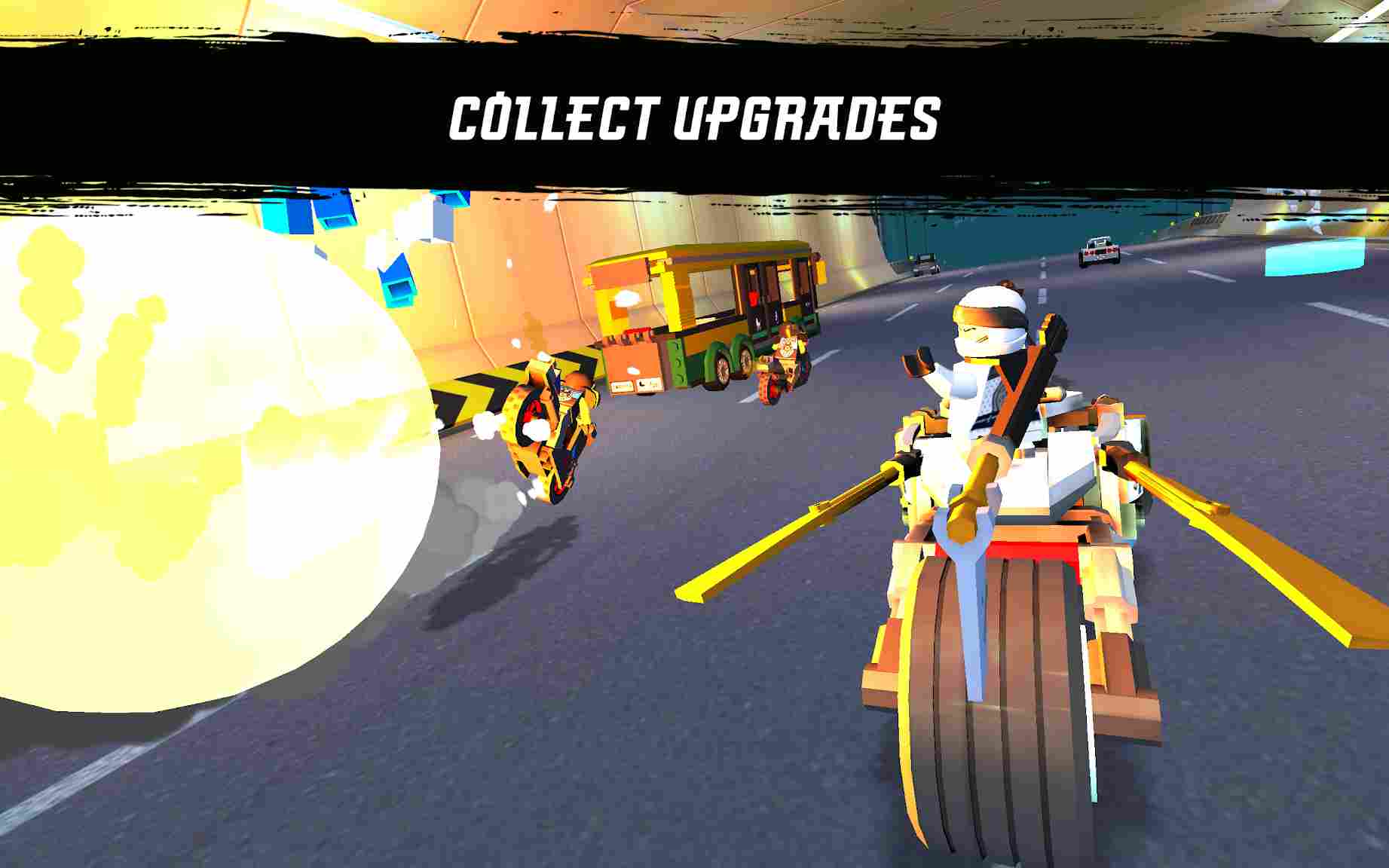 Explore the ninja city
The track in the game will stretch through the major routes in the city of Ninjago. Those are routes designed with detailed, modern 3D graphics. The track context will change dynamically in real-time. From there, you will have the opportunity to explore a variety of scenes in the ninja city. High-rise buildings, roads, bridges, buses, tunnels, etc. will appear in your sight. Let's admire their beauty when racing. The further you go, the more new scenes to discover.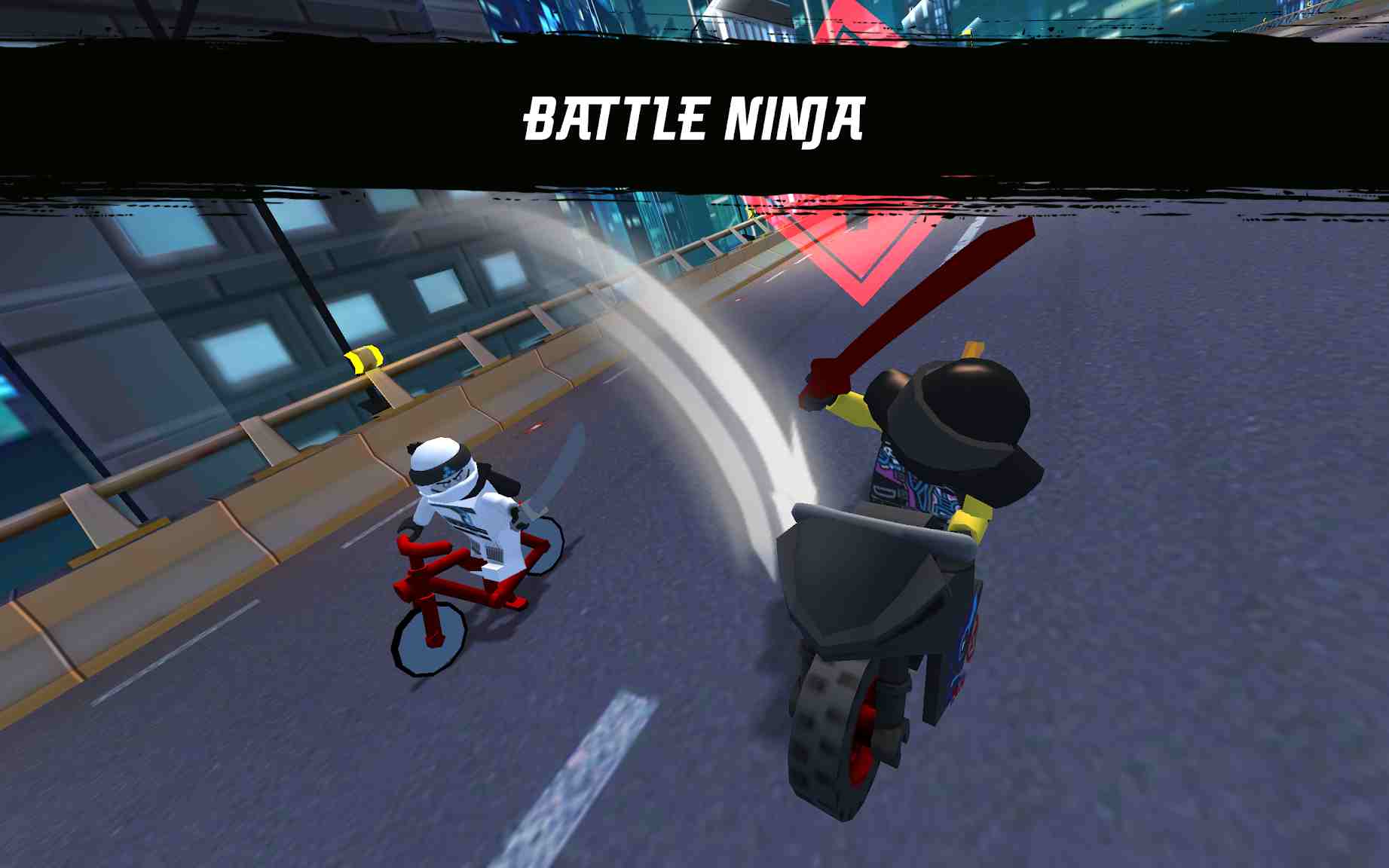 Fun 3D lego design
This game will impress you with its 3D design in lego style. This style will help you recall the cult lego movies once. At the same time, you will feel the freshness of modern lego designs. Lego cars, ninjas, and weapons are all fresh and creative. Moreover, the 3D racetrack appears vividly with eye-catching effects. The chopping and slashing phases with exciting sounds will make you unable to ignore them.
MOD Feature of LEGO NINJAGO: Ride Ninja
So are you ready for lego racing in LEGO NINJAGO: Ride Ninja ? Now is the time to test your talent on endless tracks. It is a race with no stops and depends on the player's talent. The better the driver, the better the achievement and the bigger the bonus. So make an effort to race for as long as possible to hunt for upgrade cards and exclusive lego cars here.