The most epic robot battles are waiting for you in Mech Wars. This game is the favorite arena of those who like modern war style. It has many exciting modes to bring you into many battlefields from single-player to co-op and online competition. Each mode will have its own charm that comes with a great reward system. Besides, this game also has a series of robots from light to heavy. Each robot will have different abilities and can be upgraded unlimitedly. Install the most powerful weapons and equipment to own the most advanced robot warrior!
Download Mech Wars – ern 3D robot battlefield
Robot wars are now not only on the screen but are officially available on mobile games, typically Mech Wars. This game is one of the most loved robot games on the Play Store. Join the game, you will have the opportunity to participate in the most epic robot battlefield. Robot warrior models with modern design and great power will make you fall in love. Moreover, you can also compete with your friends online in the robot arena. Many exciting challenges are waiting for you and your robot army.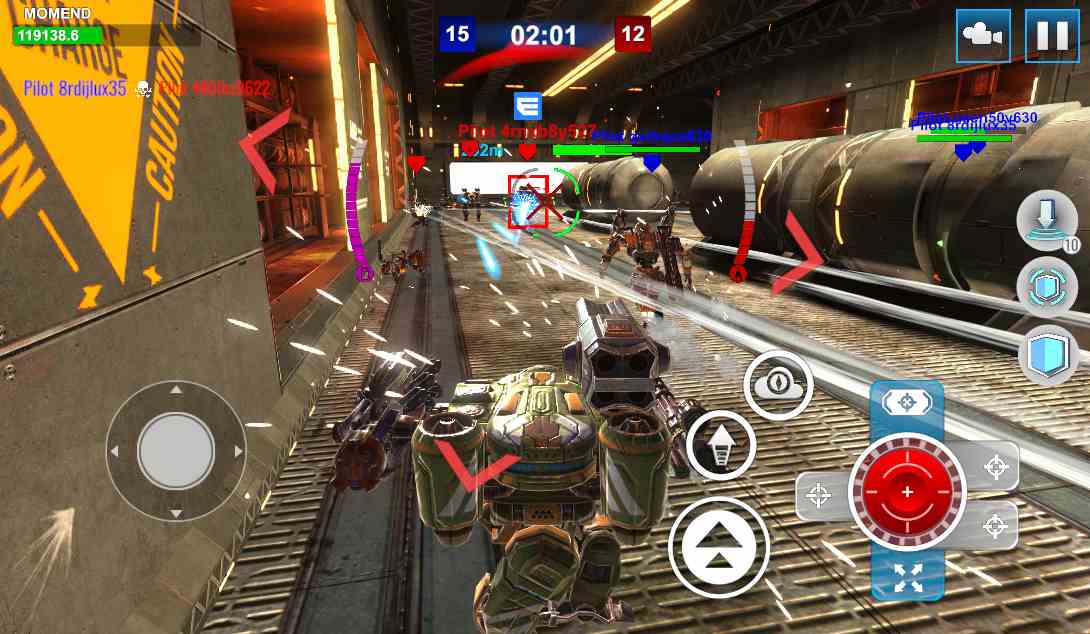 Join the robot battle
Before participating in any mode, you must pass difficult instructions from the game. You will learn how to move and act as the most advanced robot warrior. And those lessons will help you get close to the real battles in the modes. In the fight, your goal is to destroy all the enemies and become the last survivor. To do that, learn to familiarize yourself with and master the most basic operations. You can perform these operations through the intuitive virtual buttons on the screen.
Specifically, you need to click on the joystick to navigate the robot; swipe on the screen to change the viewing angle; click "arrow" to use jet and fly; click "circle" to shoot when there is a target. Of course, you need to combine all these manipulations dynamically to conquer the war. Moving and navigating will help you reach your target, dodge attacks, or hide. But the most important thing is to shoot accurately to finish the enemy in a certain time. Don't forget to use a "shield" in case you get shot.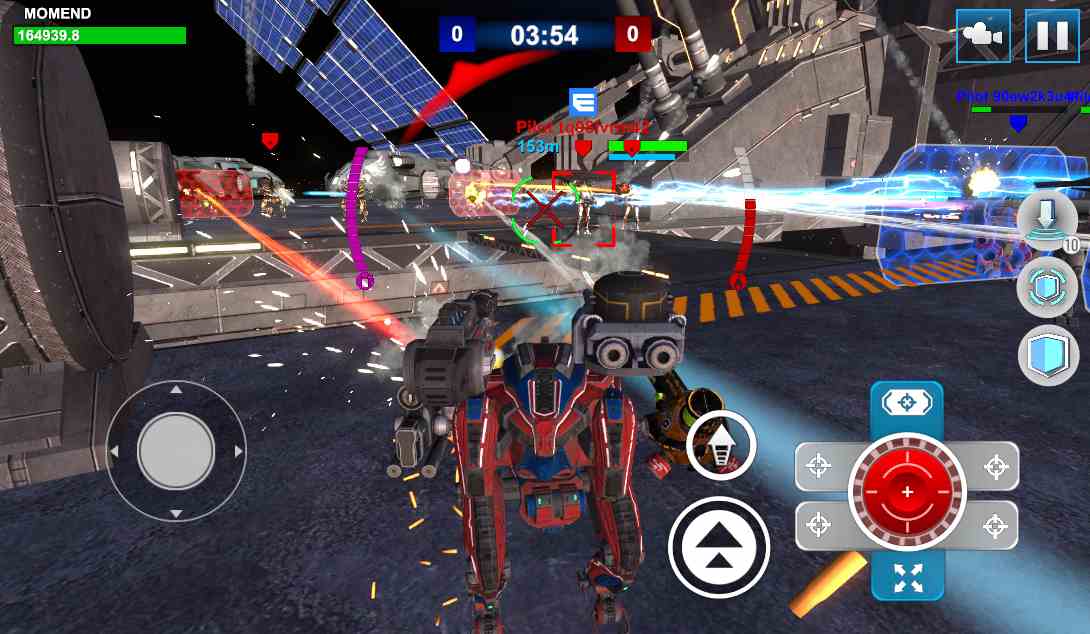 Explore different modes
Mech Wars brings a lot of interesting modes, typically Daily Tasks, Even Schedule, Team Deathmatch, and Assault. Daily Tasks mode will give you a series of tasks every day. These missions mainly help you familiarize yourself with and master combat skills. Of course, they will have rewards attached if you complete the quest. Meanwhile, events will be held at different times of the day or week. Don't miss the opportunity to attend the event if you want to hunt for great gifts.
The remaining modes will be where you can co-op and compete with friends online. The goal is to defeat other robot teams to become the last surviving robot team. The outcome of the battle will affect the player's ranking on the leaderboard. If you want a promotion bonus, practice more to gain an advantage on the battlefield. In addition, the game also has a Clan mode – where you can create your own clan or join any clan. Clan members can fight side by side.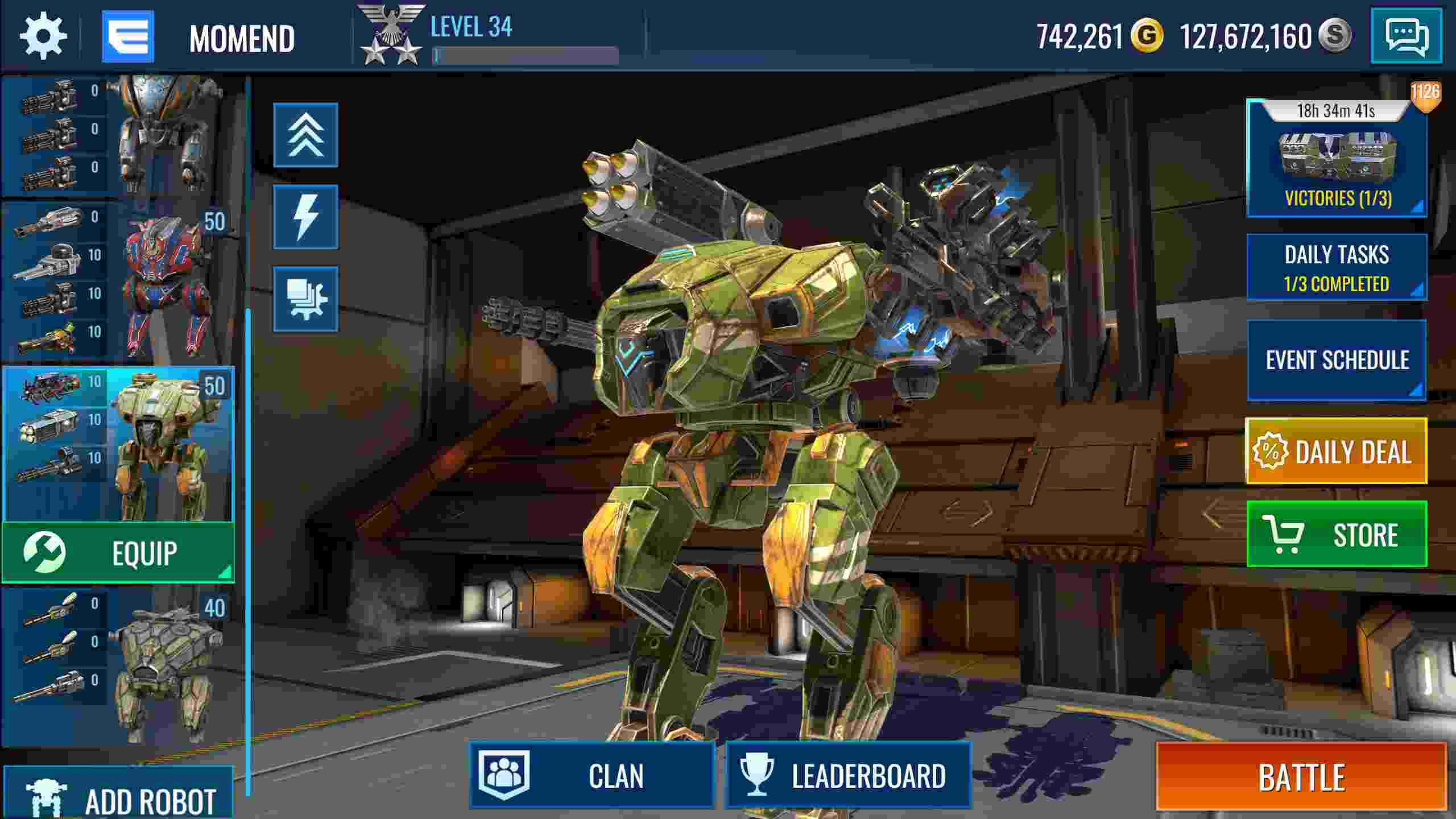 Upgrade your robot warrior
Each robot warrior in this game will have its own attributes such as damage, speed, energy, and heating ability. These attributes are somewhat different for each robot class. But all of them can be upgraded to make your robot more powerful. Besides, you can also upgrade each part of the robot such as legs, head, body, and weapons. The game also allows you to bring power-ups into the battlefield. You have the right to choose any 3 items such as boosters, teleports, armor, missiles, or drones.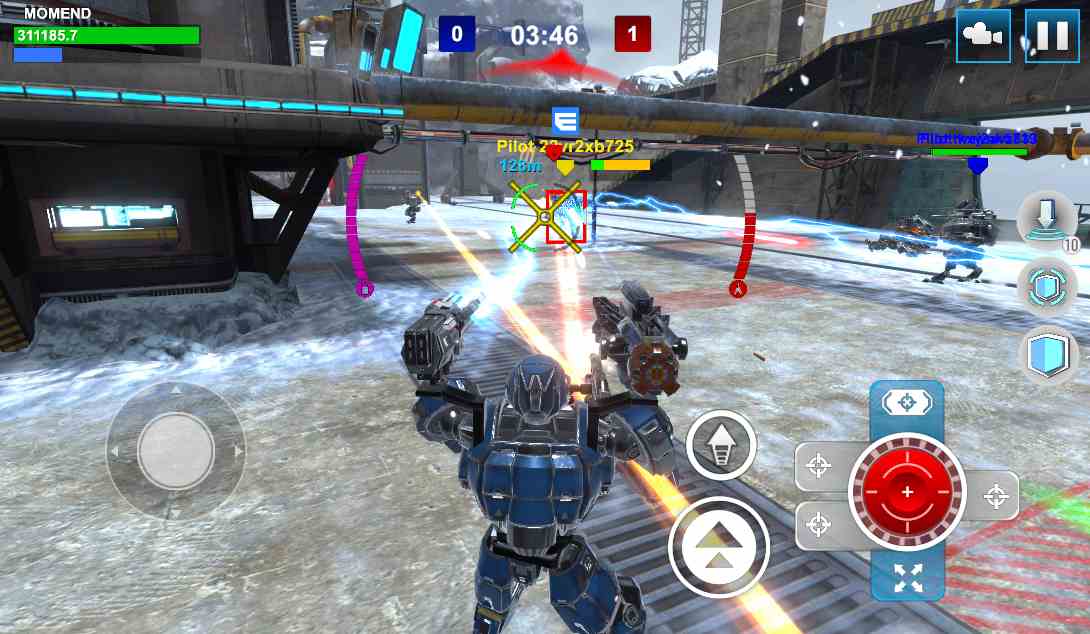 Advanced 3D graphic style
The battles in this game will make you excited when depicted on 3D graphics. This graphic style helps depict the most modern and advanced robot warrior models. Thanks to that, the robot models with good armor and great fighting ability will bring a refreshing action feeling. In addition, the battlefield setting is also well-designed. The sound effects and vivid skills are the main factors that make every battle attractive.
MOD Feature of Mech Wars
Mod Menu
Unlimited money
Unlimited gems
Don't hesitate to download Mech Wars and get right into the epic robot arena. This game is the best place to meet modern robot warriors. Moreover, this is where you will have top-notch shooting competitions with many players. The upgrade possibilities are seemingly limitless, allowing you to experiment with the ultimate power levels. Are you ready yet?