My Talking Hank is one of the most popular games in the My Talking series. This game will bring you fun and relaxation every day. Join the game, you will meet Hank, a lovely dog with a passion for photography. You will help him fulfill his wish while traveling in Hawaii, one of the most beautiful islands in the world. Your job is to ensure the needs from eating to hygiene and entertainment. Also, help Hank complete his animal photo album. Collect food and toys to meet dozens of fun animals here.
Download My Talking Hank – A super fun virtual pet game
Perhaps you are no stranger to virtual pet games from the publisher Outfit7. Among them, to mention My Talking Hank, the game has more than 100 million installs on Google Play. This game is similar to its predecessors, focusing on interactive experiences with virtual pets, fashion design, and minigames. However, you will meet a new character here, that is Hank. This dog will bring you new joy on a long day out in Hawaii. Many pleasant surprises are waiting for you to discover.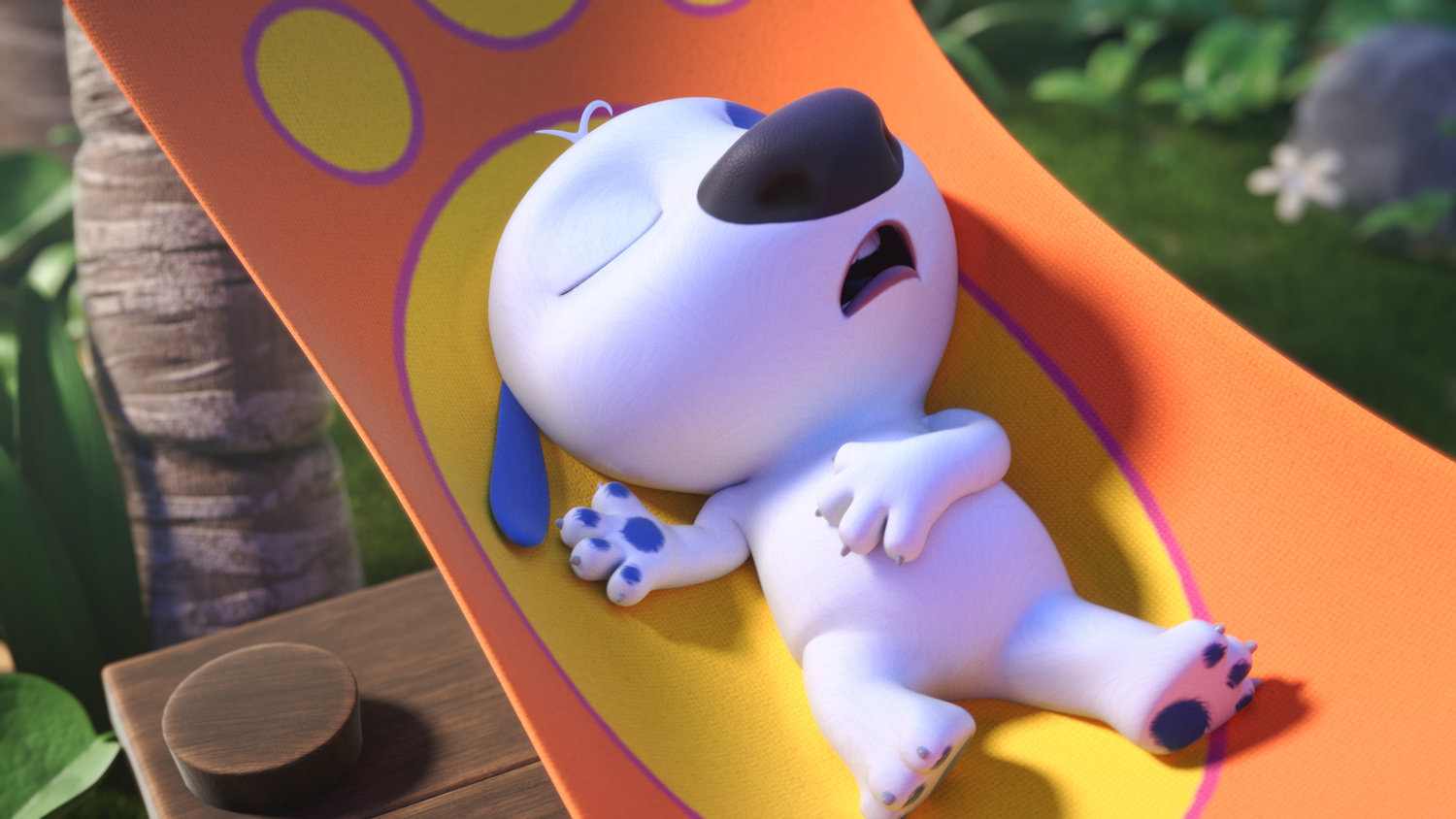 Secure the needs of Hank
Similar to the previous games, in this game, you need to take care of and nurture Hank. Initially, Hank was just a small dog. But you can take care of him and watch Hank grow up. There are 4 needs that you need to meet to keep Hank happy all day. That is:
Food Need: Don't let Hank get hungry or thirsty because he needs energy for all activities. You can feed Hank with cakes, ice cream, fruits, and other unique treats. Food will be available at the store, but you need money to pay for them.
Toilet Need: When the toilet icon turns red, you need to quickly send Hank to the toilet.
Rest Need: If sleep-deprived, Hank will look tired and not want to do anything. So if you want to experience different activities, put Hank to bed on time.
Entertainment need: There are many things that keep Hank happy and energetic, such as playing minigames, visiting the zoo, exploring the island, and more. Do these things with your adorable virtual dog.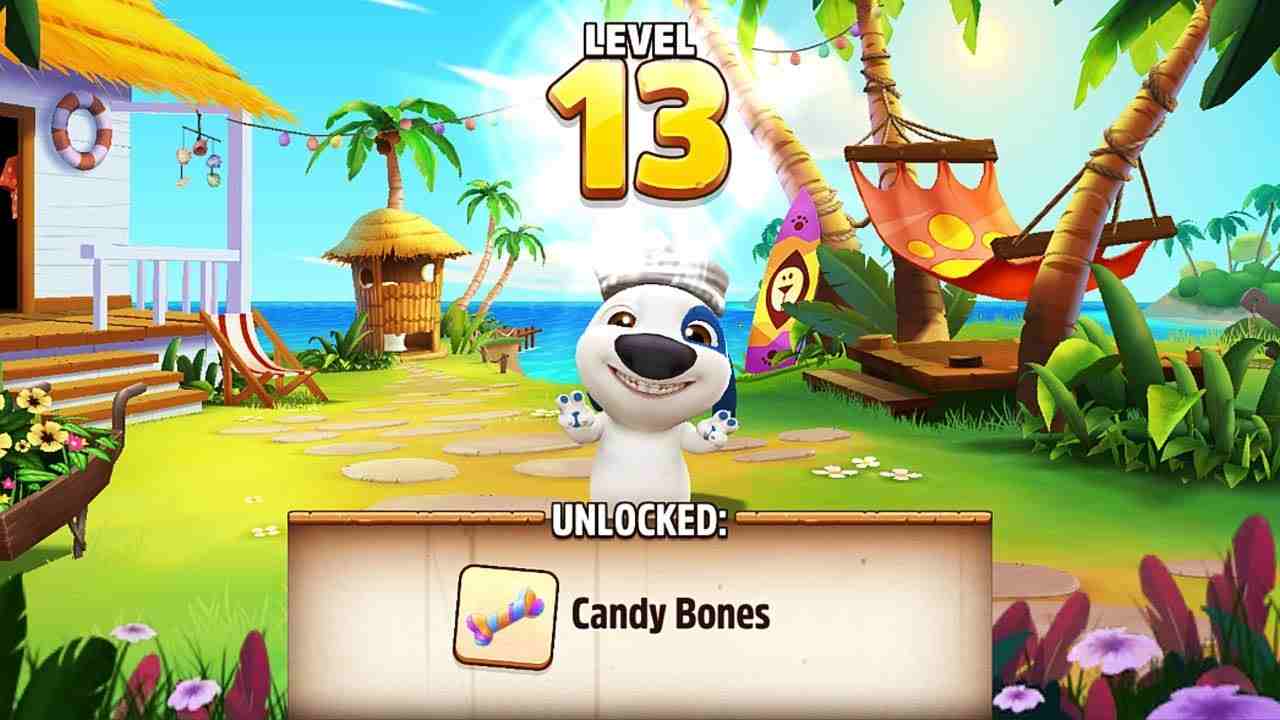 Take photos and explore Hawaii
In My Talking Hank , you should not miss the opportunity to explore the beautiful Hawaiian island. There's a lot of amazing natural scenery and wildlife there. Hank loves photography and wants to complete his animal photo album. What will you do to help him? You can buy food and toys to attract the animals in the forest. It could be a rabbit, zebra, raccoon, owl, deer, hippo, and more. They will love cookies, hamburgers, round toys, guitars, and more.
You can find a wide range of toys and animal food at the store. Each item will attract a certain species. When they arrive, quickly raise the camera, adjust the angle, and finally take the picture. The captured photo will be included on a page of the album. You can share this photo on other places like Facebook, Instagram, and more. Promote your forest and the island of Hawaii to your friends.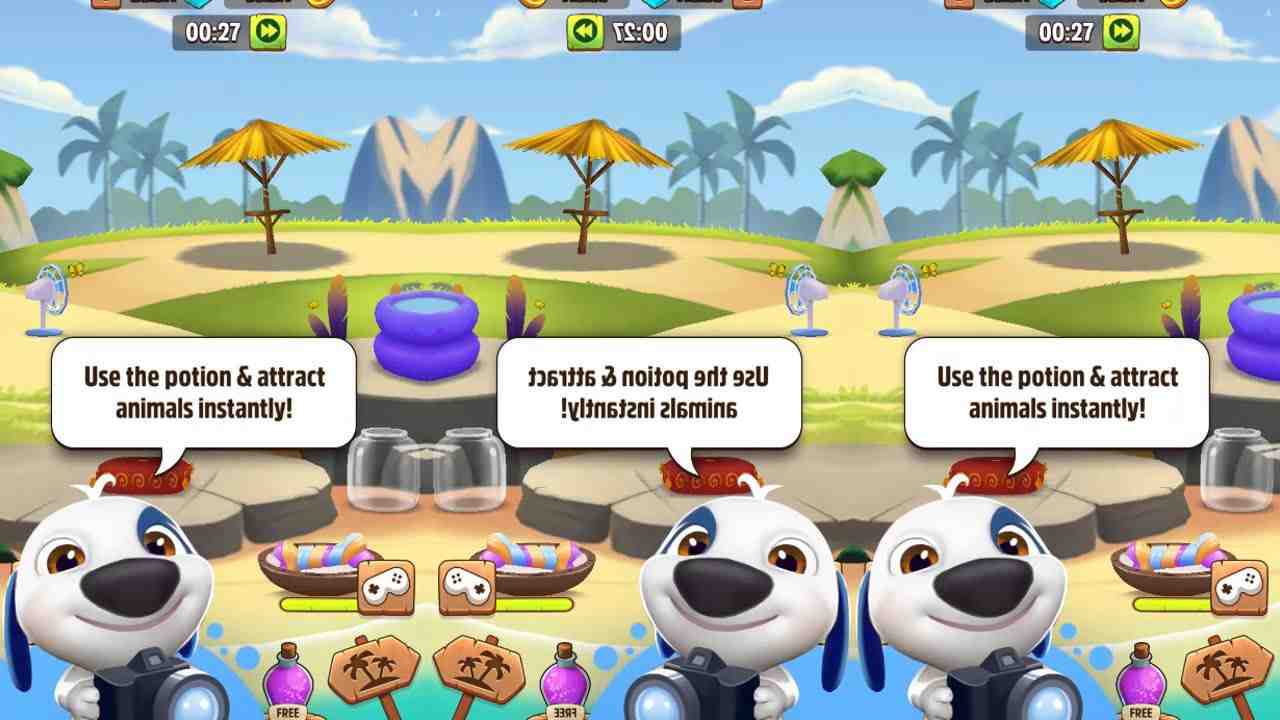 Explore dozens of minigames
This game has fun minigames for you to entertain Hank. Some of the games include the following:
Splashy: This game is similar to match-3 puzzle games. You need to match at least 3 similar items to clear them from the puzzle board and score points.
Fruit Boom: Your mission is to shoot balls at fruits and collect them.
Clean the Ocean: You will click on floating objects in the ocean to clean the environment.
The way to play these games is quite simple and accessible. You just need to touch or swipe on the screen to play. With the points earned from the game, you can shop for clothes and accessories for Hank.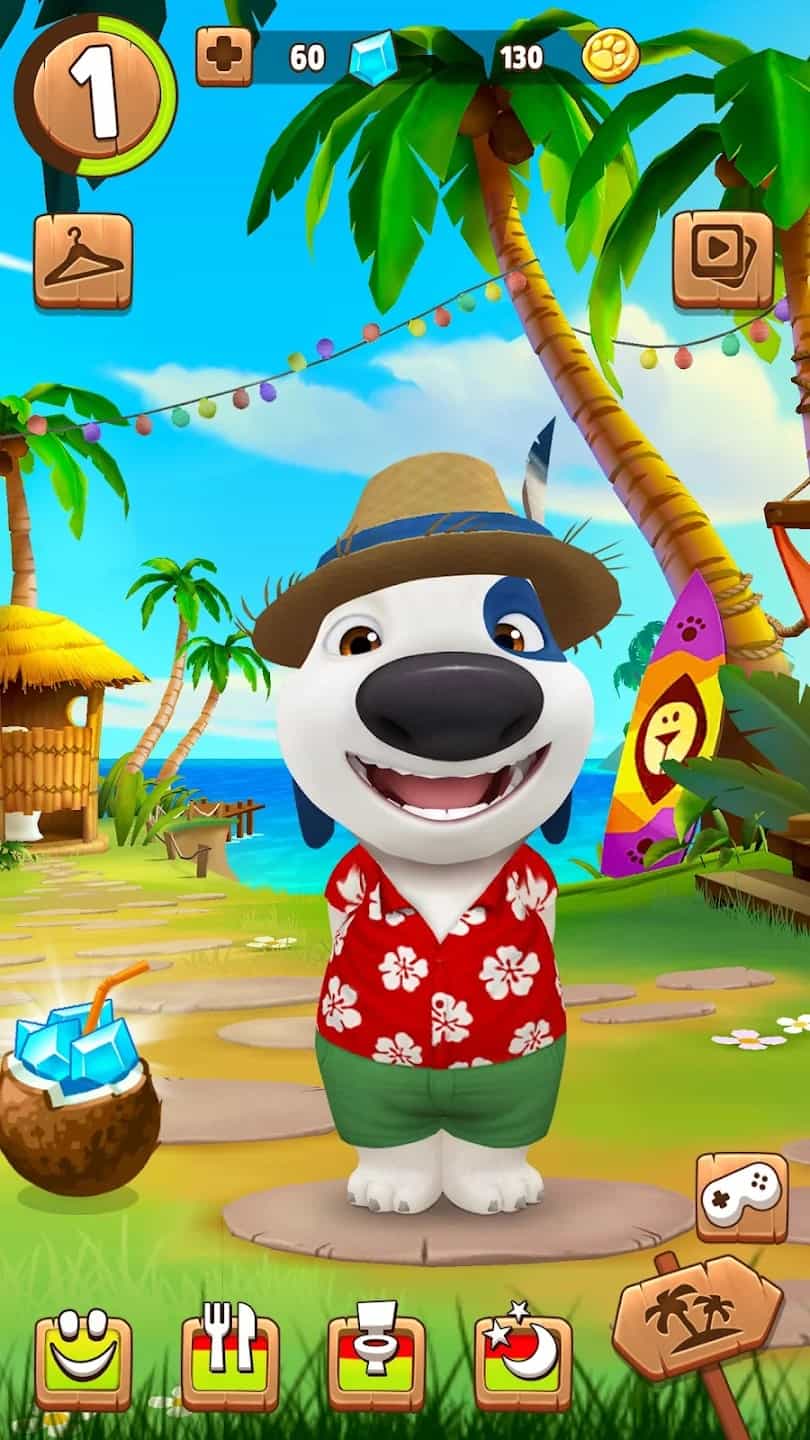 Colorful design
Games from the My Talking series are always adorable and fun. This game is no exception. It is designed quite similarly to its predecessor games. But the image of the dog Hank and the scenery of the Hawaiian island is completely new. You will enjoy the beautiful scenery here. Moreover, Hank's range of humorous expressions will keep you entertained all day. In particular, the scene is always filled with colors and the music is relaxing and gentle.
Don't hesitate to meet Hank and join his adventures. My Talking Hank will make you happy with a series of interesting activities with Hank. You can explore the beautiful Hawaiian island, meet a variety of wildlife, take photos, play minigames, etc. Enjoy the entertainment experience here and don't forget to share the photo album with your friends.