Pixel Combat is an offline survival game with a pixel design exactly like Minecraft. It brings a breath of fresh air to the survival genre, which is friendlier and more fun. Your mission is to destroy zombies and protect the remaining survivors in the apocalyptic setting. It is not an easy task when there are dozens of zombies and a terrible Boss. Besides, they can get you in trouble with aggressiveness. Don't let them get close to you, or you'll have to start over. So are you ready to confront the zombies? Now is the time to pick up the gun and carry out the mission of saving humanity.
Download Pixel Combat – Pixel shooter in the sandbox world
The survival genre is simplified in Pixel Combat. But it still retains its signature appeal from the fiery shooting wars. Besides, it combines endless modes, bringing you on a never-ending survival journey. You will start by selecting the map. Each map is themed and includes different attacks. If you conquer all waves of enemies, you have the right to unlock new maps and new challenges. Just like that, the game's sandbox world is expanded over time. It brings you to many places, meet many enemies and conquer many new records.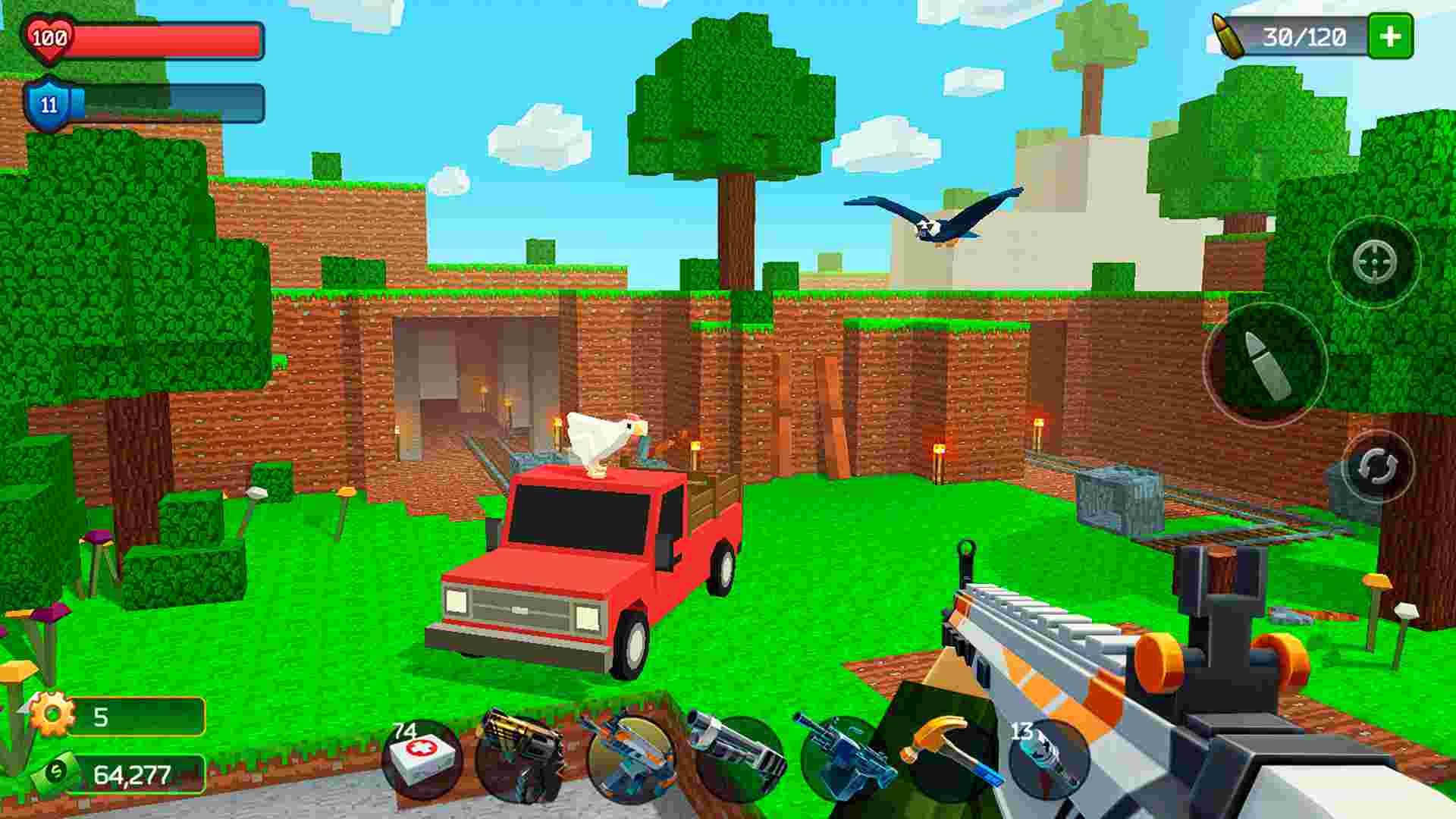 Show your shooting skills
The game's console is a combination of modern shooting games and Minecraft. It includes a joystick for movement, virtual buttons such as aim, shoot, jump, and a toolbar (containing weapons) at the bottom of the screen. As you can see, it's pretty familiar, isn't it? You can move freely on the map and combine operations to survive the way you want. The most important criterion for survival is accurate shooting. Moreover, you need to have enough ammunition if you want to survive for a long time. In addition, equipment such as first aid boxes is equally important. You need to bring them with you to use when needed. However, mobility is also quite important. You need to know how to choose attack positions and hide from waves of fierce enemies.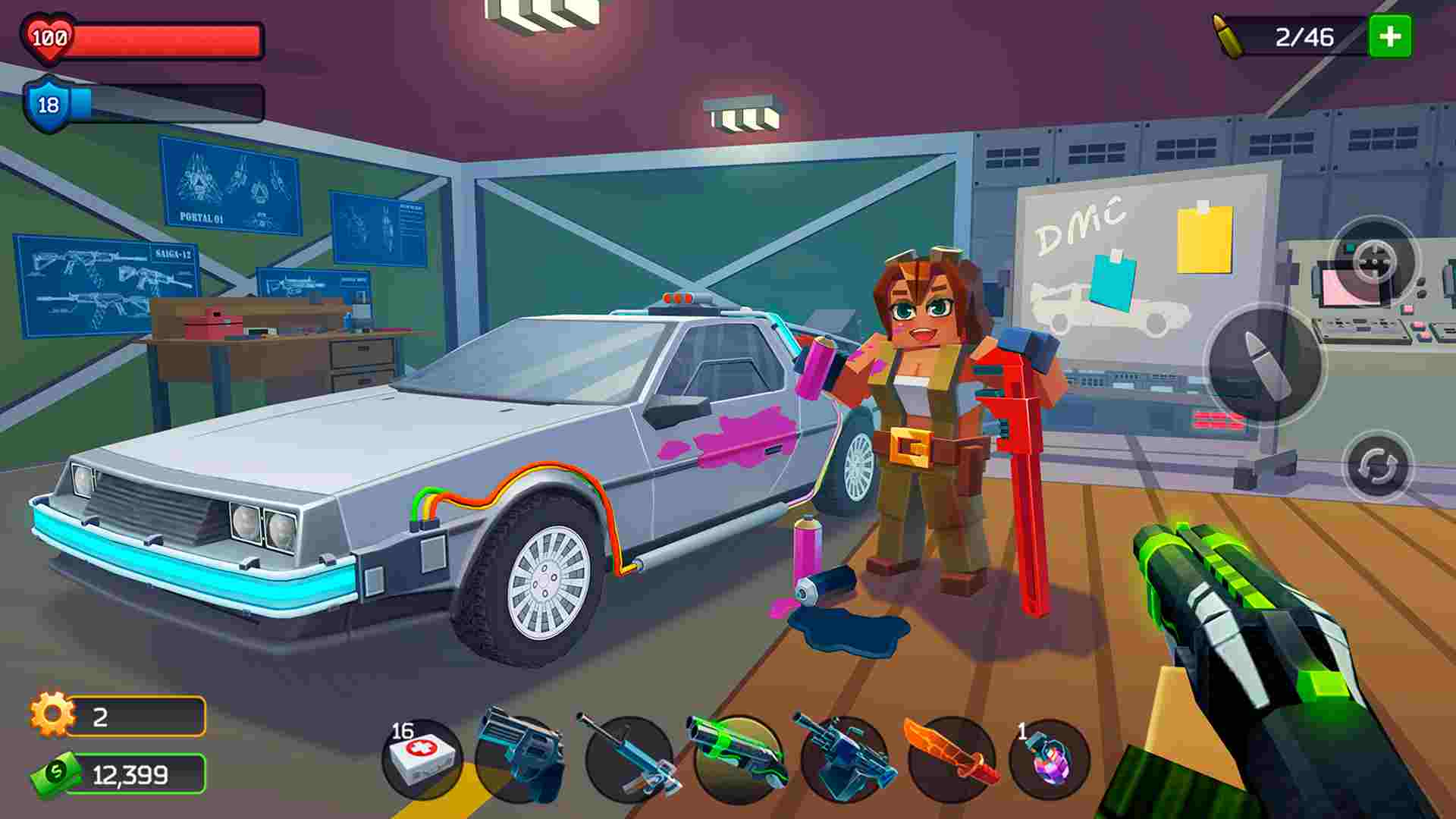 Explore the massive weapon system
To fight, of course, you cannot lack weapons. The weapon system in this game is divided into different categories, including basic, main, special, heavy, melee, and more. In each category, you'll find dozens of unique options. It includes pistols, rifles, machine guns, sniper rifles, cannons, bazookas, knives, axes, swords… Each weapon has certain advantages and you need to learn how to exploit its advantages. For example, if attacking melee, the best way is to use a knife or sword. If at medium attack range, medium-range hot guns are the most suitable.
So how to unlock these weapons in Pixel Combat ? You can access a weapon store that is randomly located on the map. There, you can use the money to buy new weapons or upgrade existing weapons. Besides, you also need to buy more ammunition and medical items if necessary. In addition, on the map, there will be a few bonus stations. Just click on the screen to spin the luck and see what you get. In general, explore the entire map to find hidden rooms and areas. But don't forget that enemies can appear anywhere. You need to protect your HP and armor at a medium level.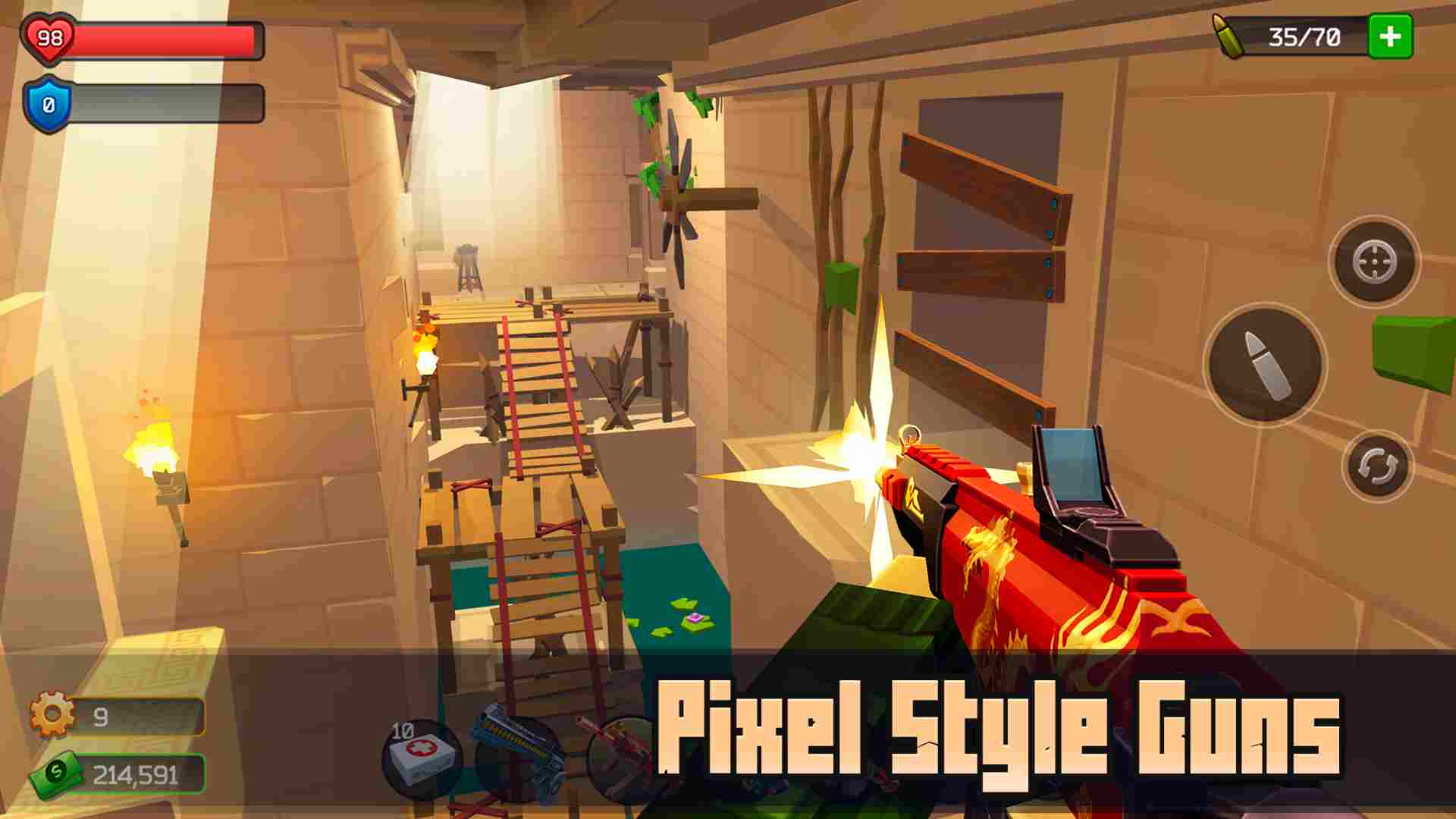 Many unique maps to explore
The selection of the treasure will be done at the beginning of the game. There are quite a few options if you reach the allowed level. It can be mapped in farms, cities, jungles, deserts, and more. Each map is meticulously designed and has many different areas. On each map, you will find large constructions from farms to high-rise buildings, parks, schools, dormitories, factories… Moreover, in each place, there will be certain types of enemies, including Boss. Boss will appear after a certain amount of time when you enter the game. And they will chase you to every corner of the map.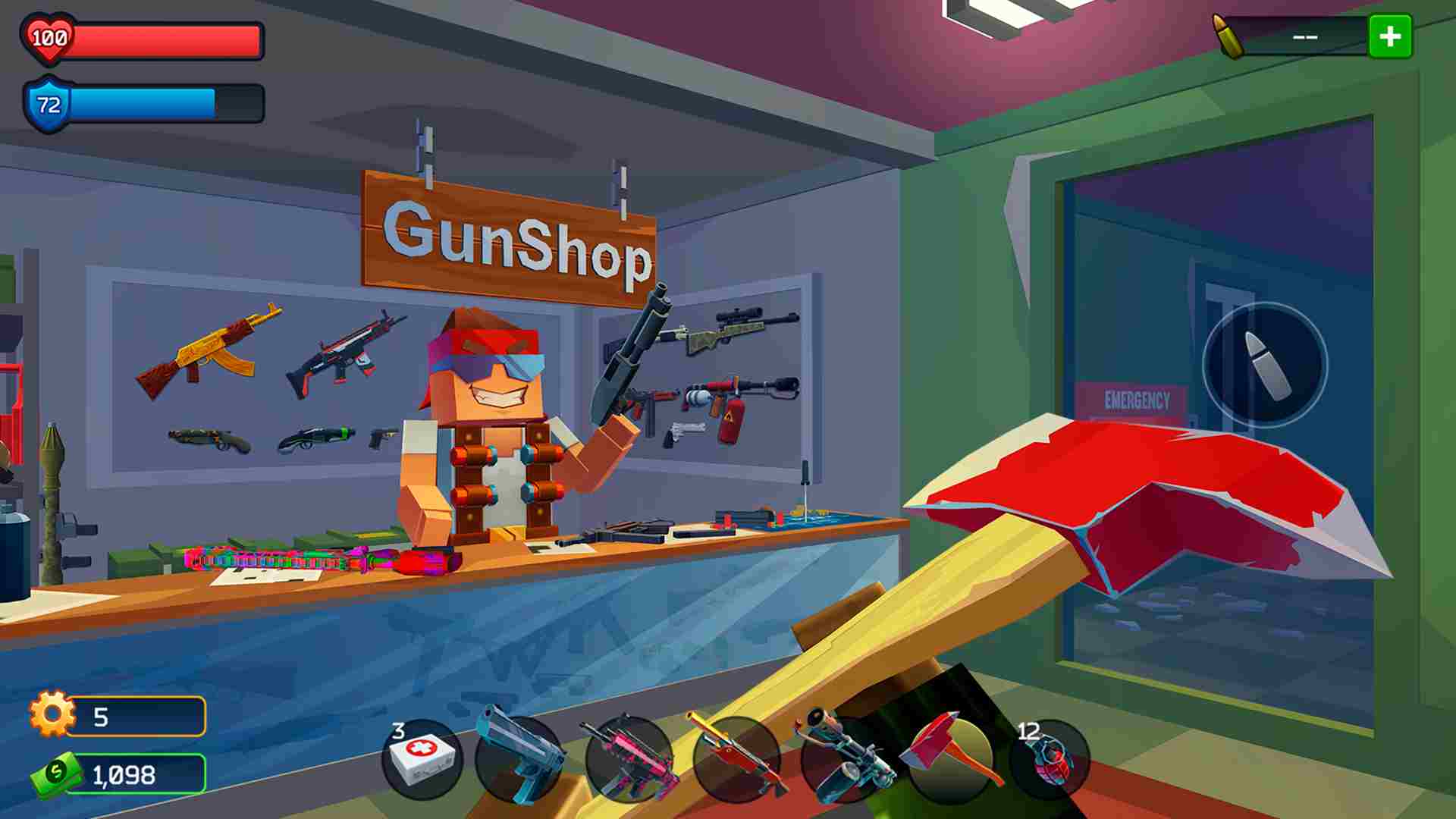 Classic and fun pixel design
The game's sandbox world is designed like Minecraft. It contains unique blocky images with bright and varied colors. Thanks to that, the survival world becomes vivid and colorful, not inferior to any popular survival game. However, with the classic pixel design, the game brings a new feel. The image looks more familiar, the colors are more harmonious, and the combat effectiveness is also less violent. Therefore, this game is suitable for many gamers, including children from 7 years old and up.
MOD Feature of Pixel Combat
Mod Menu
Unlimited money
Unlimited gear
Unlimited ammo
free shopping
unlocked all
You can download Pixel Combat right in the article. It promises to make you fall in love with a fun survival experience on your phone. Choose your favorite weapon and storm the battlefield. You are mankind's last hope, aren't you? Don't hesitate if you encounter any zombies. Feed them bullets or your knife to give them time for adventure. Many secret areas and unique weapons are waiting for you to explore.