Do you want to go on a skiing adventure? Come to Ski Safari 2 to do it right on your phone. It is a fun action game with a theme of skiing, skateboarding, and climbing. You will have the opportunity to join the endless action journey with your friends here. Your task is to overcome the challenges along the way to score as many points as possible. Moreover, you can rank up on leaderboards and challenge your friends online. Do not forget the countless attractive rewards waiting for you to discover. It's new characters, new vehicles and lots of beautiful maps. Are you ready to explore them all?
Download Ski Safari 2 – Endless fun ski adventure
This game will give you endless fun with endless running gameplay. It has two game modes, including single-player and versus. In single-player mode, you will ski alone with the goal of skiing as far as you can. Your journey only stops when the avalanche catches up to you along the way. Meanwhile, in versus mode, you can play with friends. It allows you to connect up to 4 players at the same time to compete together. Of course, your task is to surpass your friends on the leaderboard. Furthermore, you can take pictures and share your matches with the world.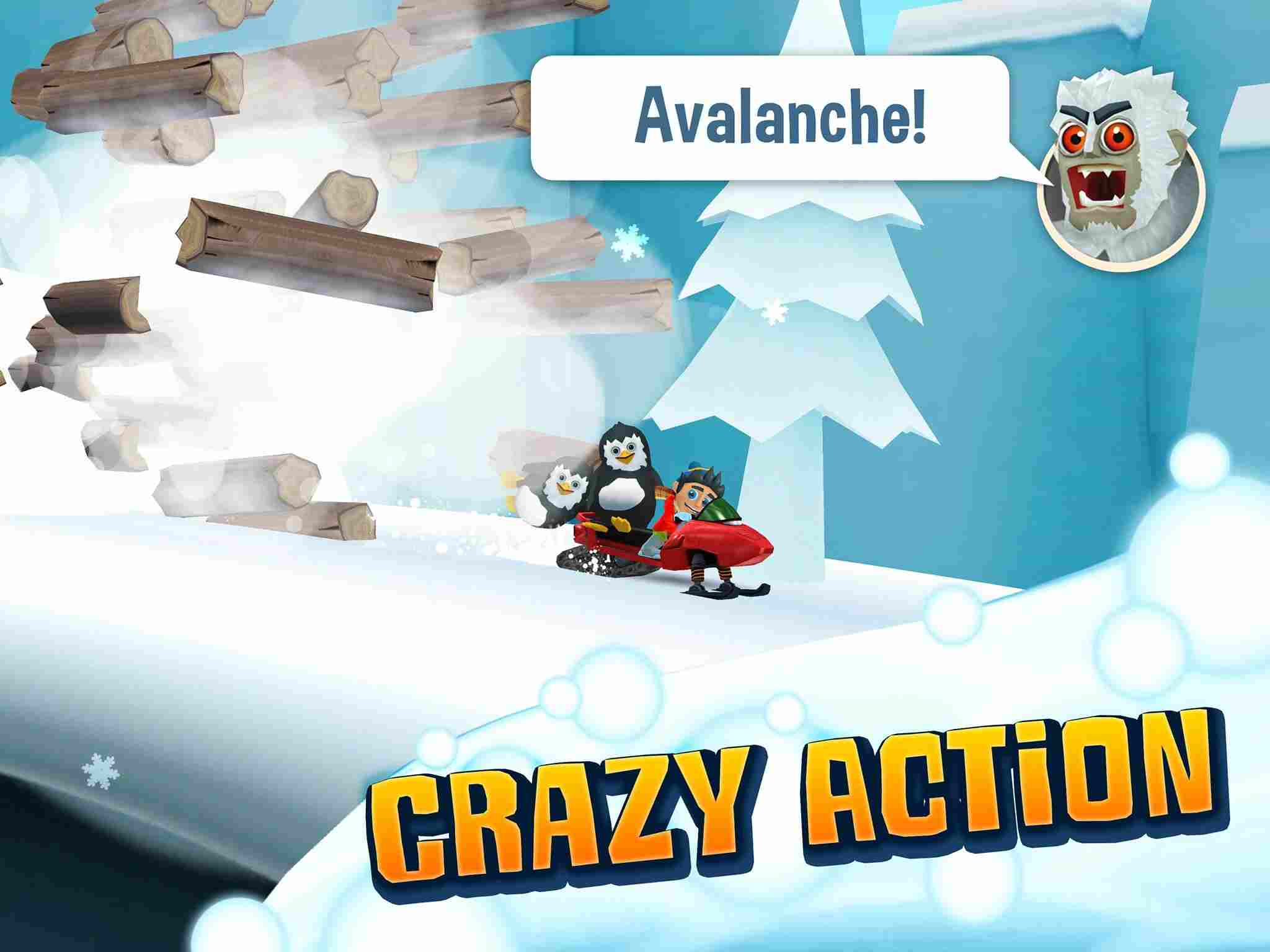 Show off your skills
Is skiing as difficult as you think? In this game, the skiing gameplay is not difficult but also challenging. In each turn, you will start at the starting line and have to slide as long as you can to escape the avalanche chasing from behind. Along the way, you have to perform different maneuvers to score points. Specifically, you need to "tap" on the screen to jump, "hold down" to perform a stunt, and "tap" many times on the screen to recover after each fall… You need to coordinate these operations to overcome all situations during skiing.
The challenge for you is a series of obstacles such as snowy mountains, wild animals, small houses, trees, etc. The obstacles will become more and more diverse as you unlock many new themed maps. Besides obstacles, you will meet many funny friends along the way. It could be a penguin, a monkey, an eagle, and more. You can take them with you during skiing. If you accidentally collide, the animals will leave your vehicle. Don't worry, you will meet a lot of new friends along the way.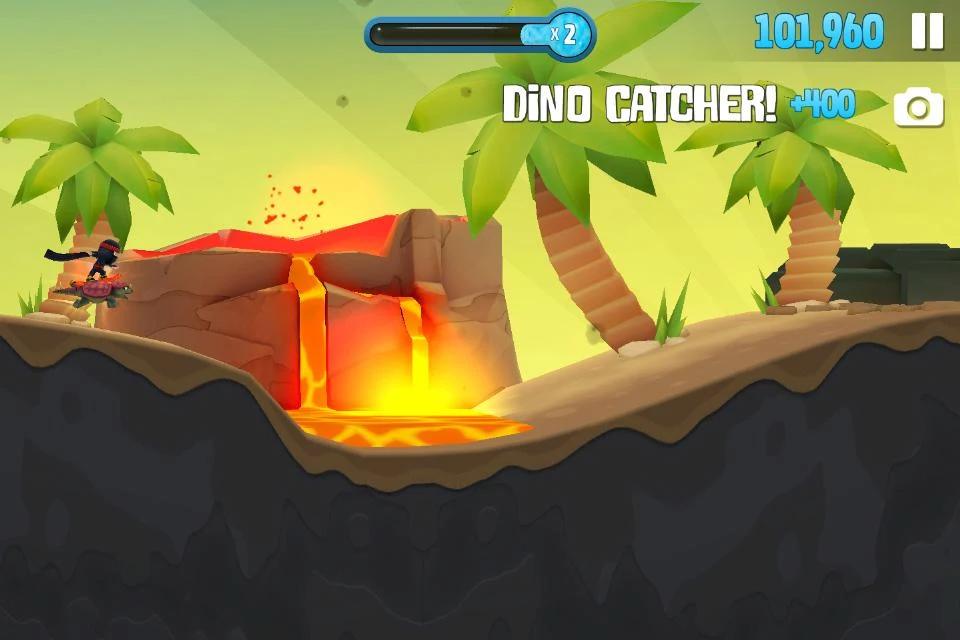 Unlock skins and vehicles
Ski Safari 2 brings a lot of cool stuff to the store. Firstly, you can find a variety of unique skins like ninja clothes, animal cosplay clothes, and many more. Skins won't change the character's ability to ski but give a much-needed freshness. Besides, the game also has dozens of different models of skateboards and vehicles. What kind of adventure vehicle do you want to own? It could be a skateboard, ski gear, an off-road motorcycle, a motorcycle, and even an animal.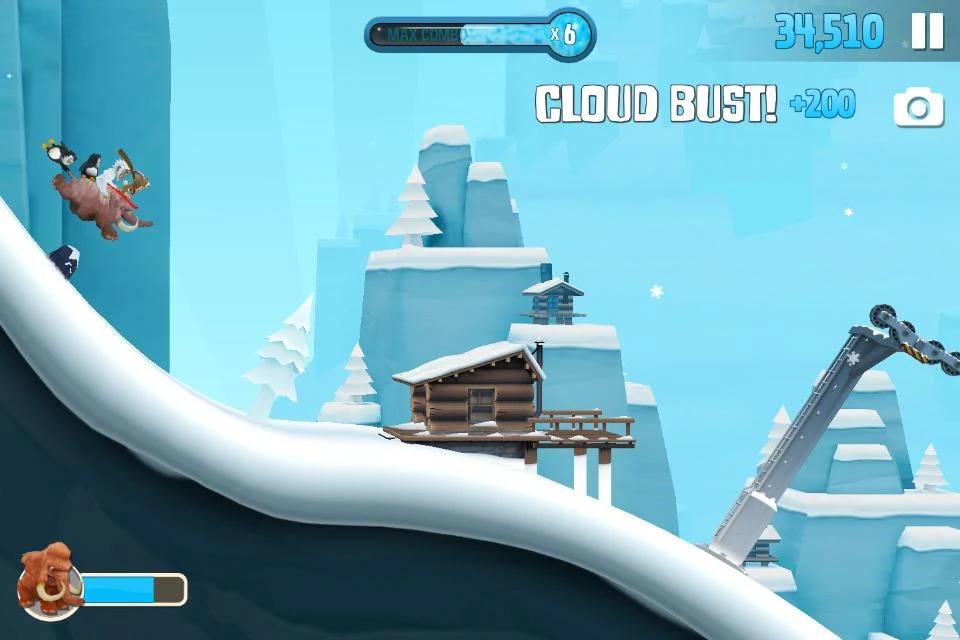 Explore different maps
The game world is vividly described through many different maps. Each map has its own theme and its own challenges for you. The main maps can be mentioned below.
Penguin Peaks: This is the default unlocked classic map in the game. It is a snowy mountain area with the presence of super cute penguins. Your biggest challenge here is the avalanche phenomenon.
Jurassic Lark: It is considered a remnant of the Jurassic period. The symbol of this map is a hot erupting volcano.
Twister Canyon: This is a large desert area characterized by cacti and wild animals.
Monster Mountain: The biggest challenge for you is the hordes of hungry creatures. You will have to run fast from them if you don't want to become prey.
North Pole: It's a Christmas-themed map. You'll have the chance to slide past lighted cottages, beautiful pine trees, and fun snowmen.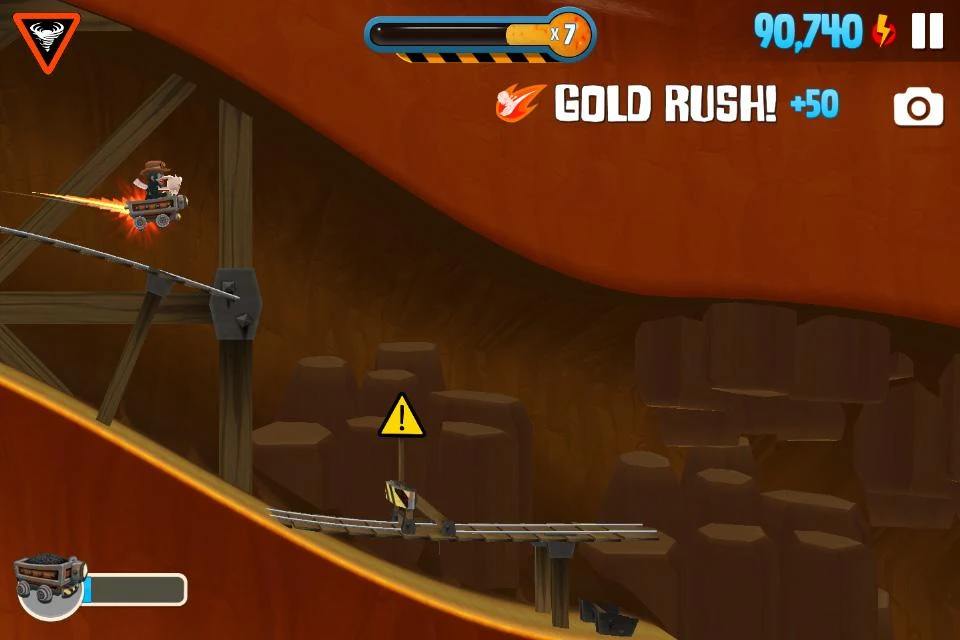 Close and funny pictures
This game will make you enjoy the close cartoon design style. It offers a beautiful and bright world full of wonders to explore. You can adventure through snowy mountains, deserts, jungles, savannas, and more. Each adventure will leave you with an unforgettable impression. The ski movements are also extremely smooth, providing a refreshing sense of adventure. Moreover, playful music will boost your spirits.
So are you ready for endless adventures? Ski Safari 2 will get you excited with the addictive skiing. Stand on a skateboard or ride on your favorite off-roader. Then you can drive it through dozens of the craziest terrains and challenges. The further you go, the higher the score. So can you break your friends' records on the leaderboard?