Smashy Road: Wanted 2 Mod will make you excited with the breathtakingly fast racing style. This is the second part following the success of Smashy Road: Wanted. This game offers unbelievable chase challenges on a large 3D map. Your job is to escape the pursuit from the police from patrol cars to special forces vehicles, helicopters, tanks, and more. To do this, you need skillful driving and many other skills. In particular, you can unlock better cars and characters to gain an advantage. There are dozens of new characters and vehicles waiting for you to discover here!
Download Smashy Road: Wanted 2 Mod – Fast-paced racing gameplay
The success of Smashy Road: Wanted attracts a large number of gamers around the world. That is the reason for the birth of Smashy Road: Wanted 2, a new version with more improvements. This game still retains the attractive gameplay style from part 1. But you will find here many new things from the vehicle system, maps, and characters. In particular, you will have a faster, more thrilling racing experience. That's because the enemy's mechanics are improved, making them faster and more deadly. You should be mentally ready for the craziest chases.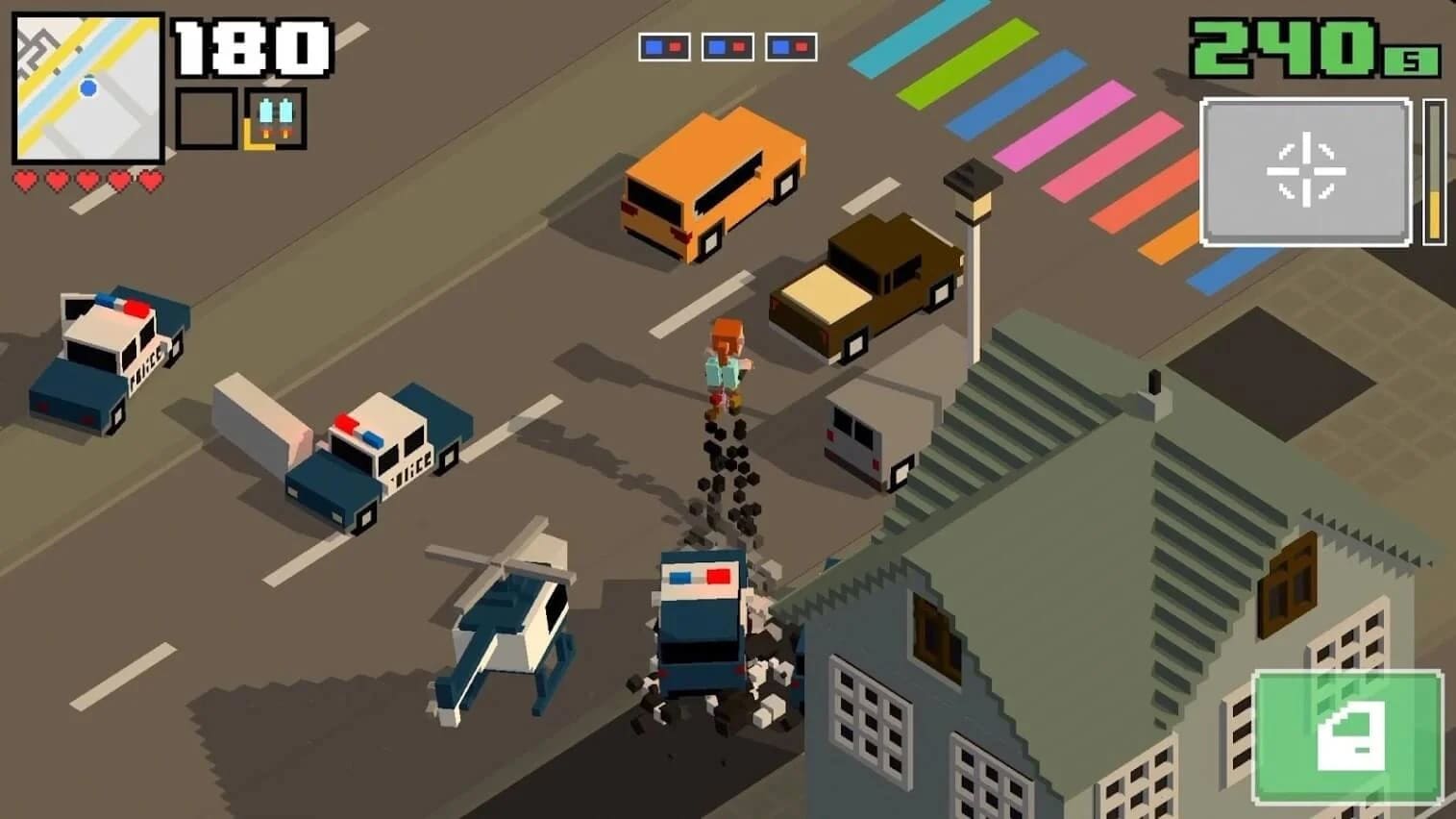 Escape from the police
Entering the game, you play as a wanted criminal around the world. Your mission is to escape from the hordes of police and survive as long as you can. To do this, you need to learn how to drive like a professional racer. Enemies will continuously chase you from all sides on patrol cars to special forces vehicles and even helicopters. The challenge will become increasingly difficult as the enemies get faster and more crowded. But there is no limit on playing time. The longer you survive, the higher the score.
So what will you do to escape this endless pursuit? You need to learn how to drive through the virtual buttons on the screen. Basically, there are only two most important virtual buttons, Left and Right. You need to combine them properly to navigate the car flexibly. Besides, to accelerate or decelerate, you just need to hold down these two virtual buttons. In addition, during driving, you can collect boosters on the map for instant acceleration. In particular, in this second part, the game has an additional feature of "opening the car door". Therefore, you can leave this vehicle and continue driving another vehicle.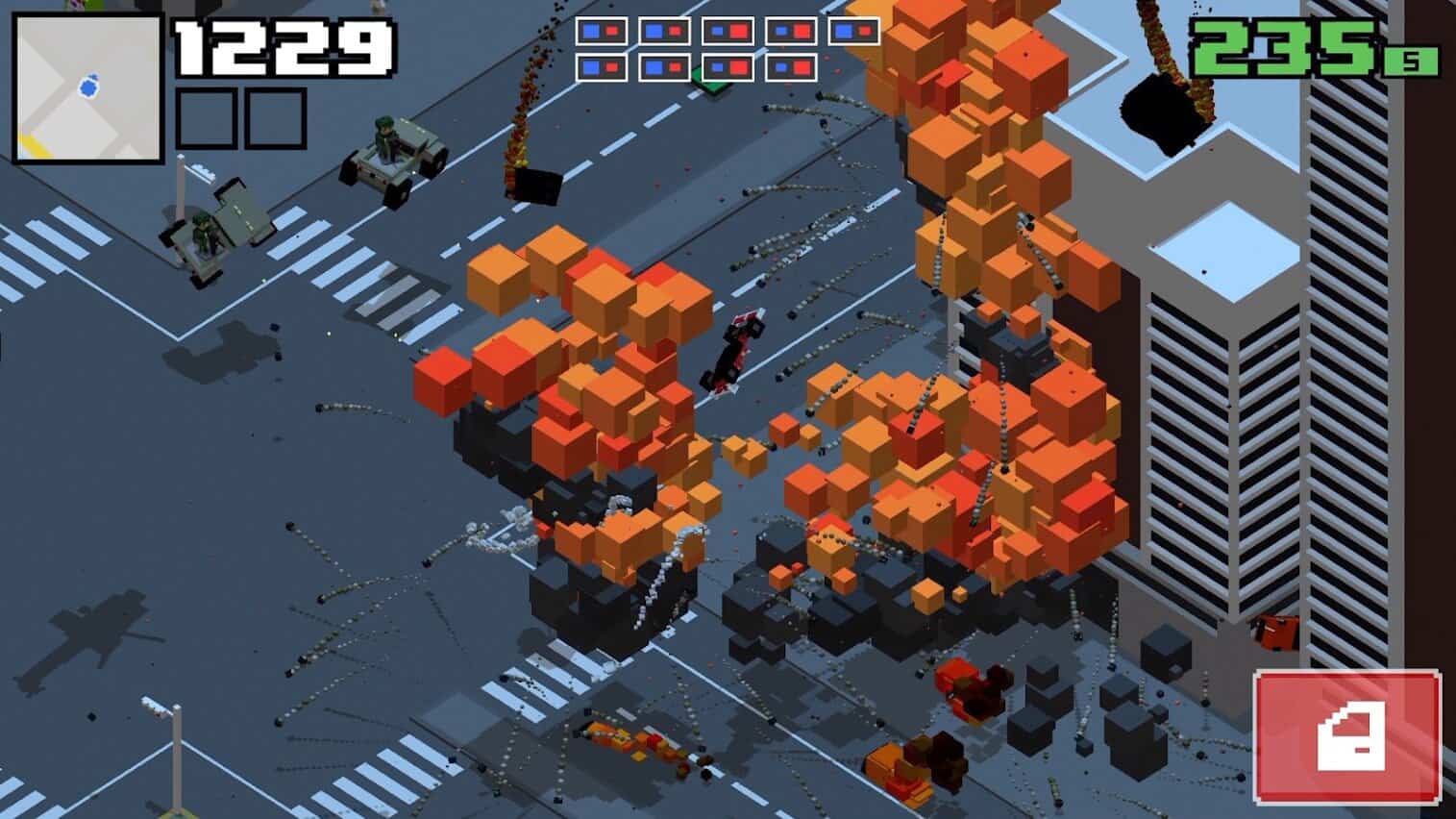 Unlock new cars and characters
Smashy Road: Wanted 2 Mod offers a richer content collection than the first. Specifically, it has more than 60 vehicles and more than 60 characters. In it, there are up to 6 characters and mysterious vehicles. Characters and vehicles will be unlocked from random gift boxes after each level. You can also split real money to buy them in the store. Each vehicle and character will have its own characteristics, suitable for many challenging situations.
The basic types of vehicles include cars, racing cars, sports cars, police cars, buses, trucks, tanks, special forces vehicles, etc. In addition, there are other heavy vehicles such as helicopters and machines. unmanned flight. Each type of vehicle should be used for specific situations. If you want to go faster then you should try small cars like racing or sports cars. On the contrary, if you want better collision then you can drive a tank, truck, or special vehicle.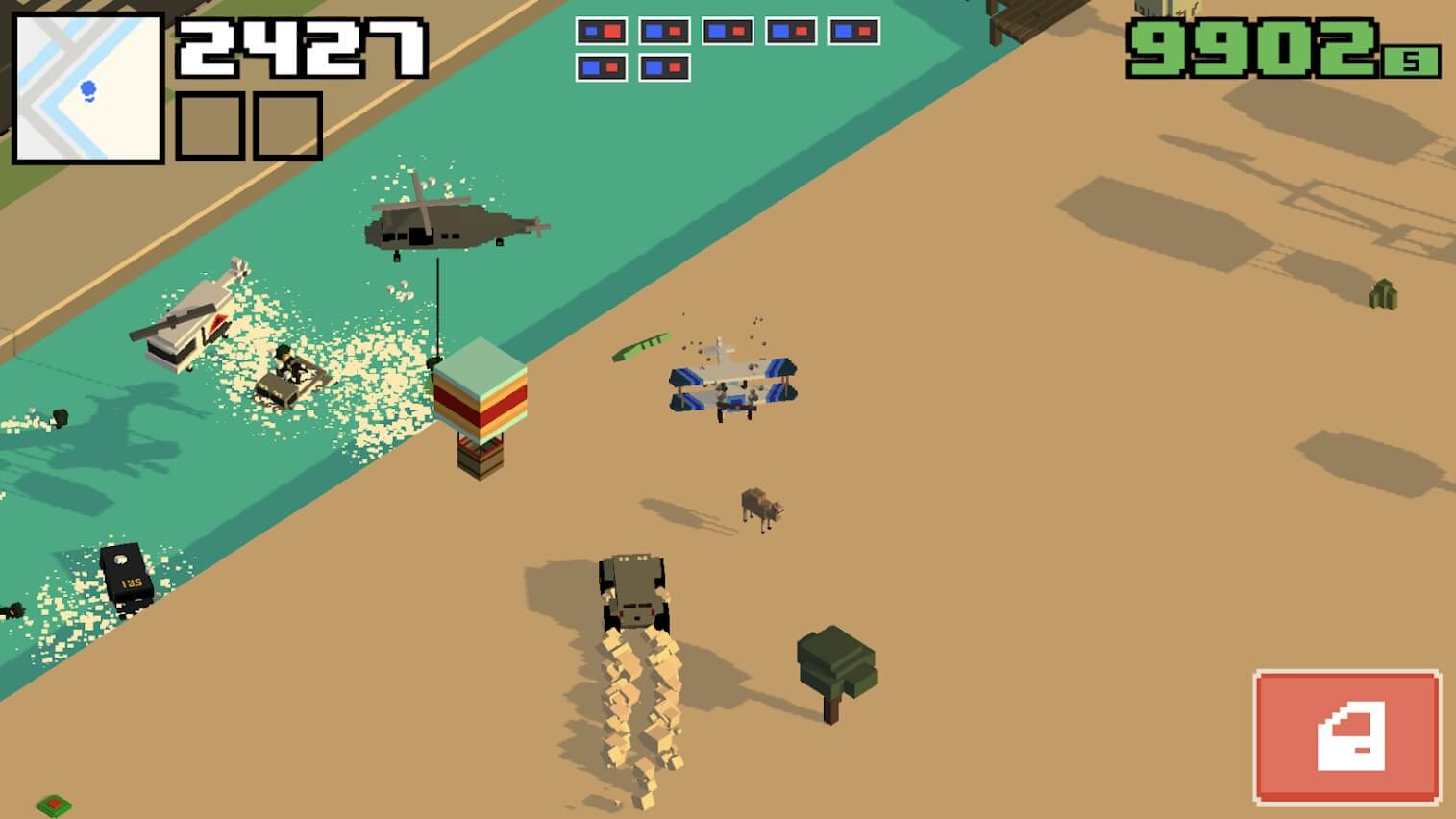 Explore different backgrounds
Besides the diverse vehicle system, this game also has a series of unique maps. This map will cover a variety of terrain from deserts to beaches, cities, snow lands, and more. Of course, each type of terrain will have its own characteristics. For example, the desert is sandy and sunny, and the city is crowded and has many intersections. Prepare a suitable plan and strategy for each terrain type. You need to choose a car and drive it properly to adapt to many situations.
Beautiful lego design
Like the first part, this game retains the 3D lego design style. This style makes the game special and brings familiarity to fans of Smashy Road: Wanted. The game context is still an important highlight. There are a series of beautiful scenes appearing on the map. Each location also brings different colors, making it diverse and new. The smoke effects and engine sounds are also very realistic.
So are you ready for the craziest chases in Smashy Road: Wanted 2 Mod? This game will make you stand still when entering the racetrack. A series of police cars chasing behind, dozens of helicopters flying overhead, and countless obstacles on the map are challenges waiting for you. Drive skillfully to survive as long as possible. Achievements will determine your rank on the online leaderboard.