Are you looking for a simple and fun pixel survival game? Try Now Whatcraft and enjoy the idle survival gameplay. This game will take you on a journey of exploration and survival in the vast pixel world. There, your goal is to stay alive as long as possible and advance relentlessly. To achieve this, you need to do many things from mining and crafting to exploring and fighting. The challenge for you is the strange creatures in the forest and even the giant Boss. Craft the most powerful weapons against them and collect loot.
Download Whatcraft – Survival in the wild 2D pixel world
If one day you get lost in the middle of the wild forest, what will you do to survive? That is the question for gamers when entering Whatcraft. This survival game is built with simple and easy-to-understand gameplay. You just have to do everything to survive as long as possible in the wild. Besides, the game also impresses with its funny pixel design. The images are quite friendly and close, thereby bringing a gentle sense of survival. Furthermore, there are no intense online competitions here.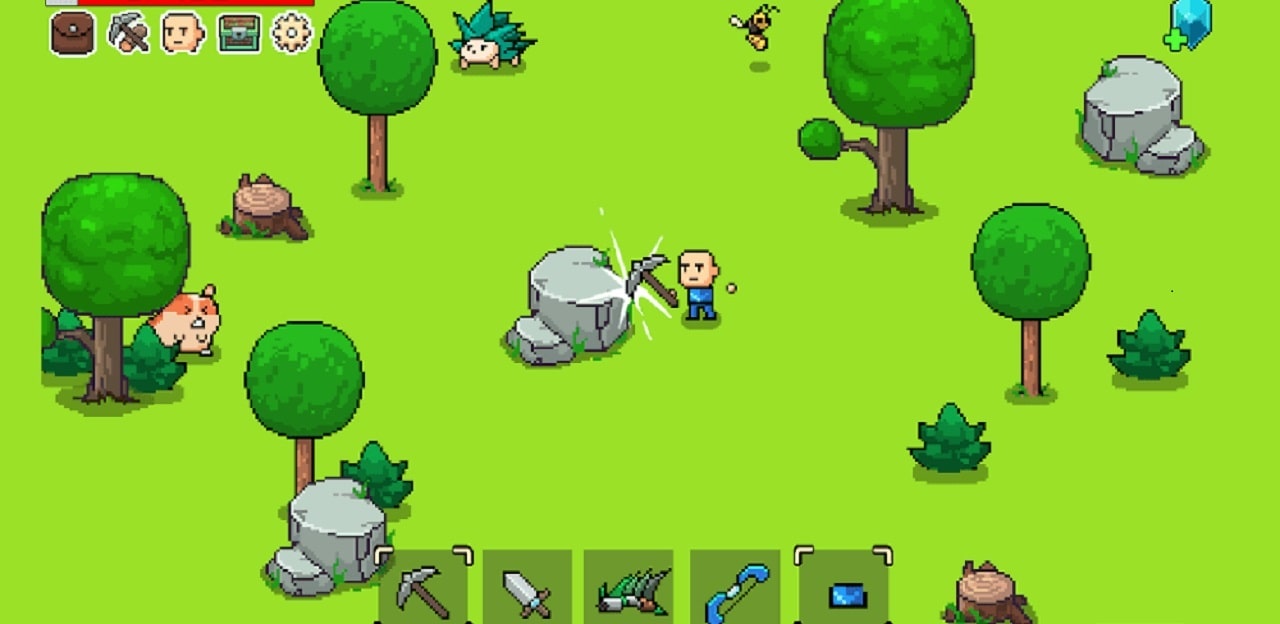 Mine, craft, and create
Entering the game, you are a lonely guy in the middle of a wild jungle. The first weapon acquired is a rudimentary but useful ax. You can use it to mine and gather resources. There are many important forms of resources, typically wood, stone, metal, meat, orbs, and more. You will find wood by cutting trees, stones from large rocks, and other forms of resources from wild animals. Everything is available in nature, and your job is to use your strength to exploit and collect.
With the resources you get, you can craft anything. There are dozens of crafting recipes that will be unlocked in the game, giving you a variety of weapons, armor, equipment, and more. As for weapons, you can create bows, swords, axes, hammers, and even magic wands. Meanwhile, the armor for the head, body, and legs will help improve defense stats. Moreover, pay attention to the crafting of equipment such as shields, and shoes,… Each item has a certain meaning in the process of survival.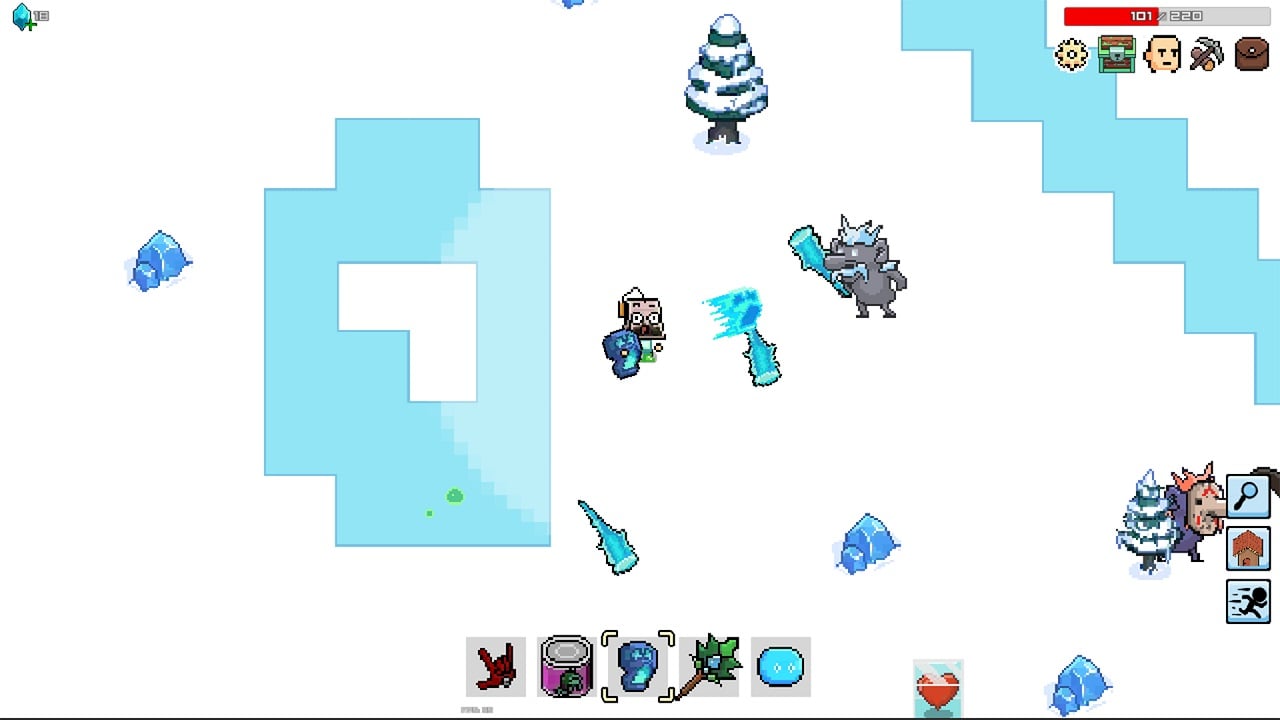 Combat is the core mission
For a survival game like Whatcraft , wars are indispensable. After all, you need to mine and craft dozens of items to serve the war. Your enemies are wild animals in the forest. It can be slime, hedgehog, fox, deer, and more. In particular, on some levels, gamers have to encounter giant bosses. Any enemy has its own advantages and strengths. At the same time, they will come with great loot.
By defeating enemies, you will collect loot to upgrade your hero. But to gain the advantage, you need strategy and wise decisions. The most important thing is the choice of weapon. There are melee weapons such as swords, knives, and axes, suitable for attacking slow enemies. Or weapons such as bows and magic wands will be suitable for fighting enemies with fast speed and should keep a distance. Moreover, character navigation is equally important. Try to move skillfully to reach the target and dodge the blow.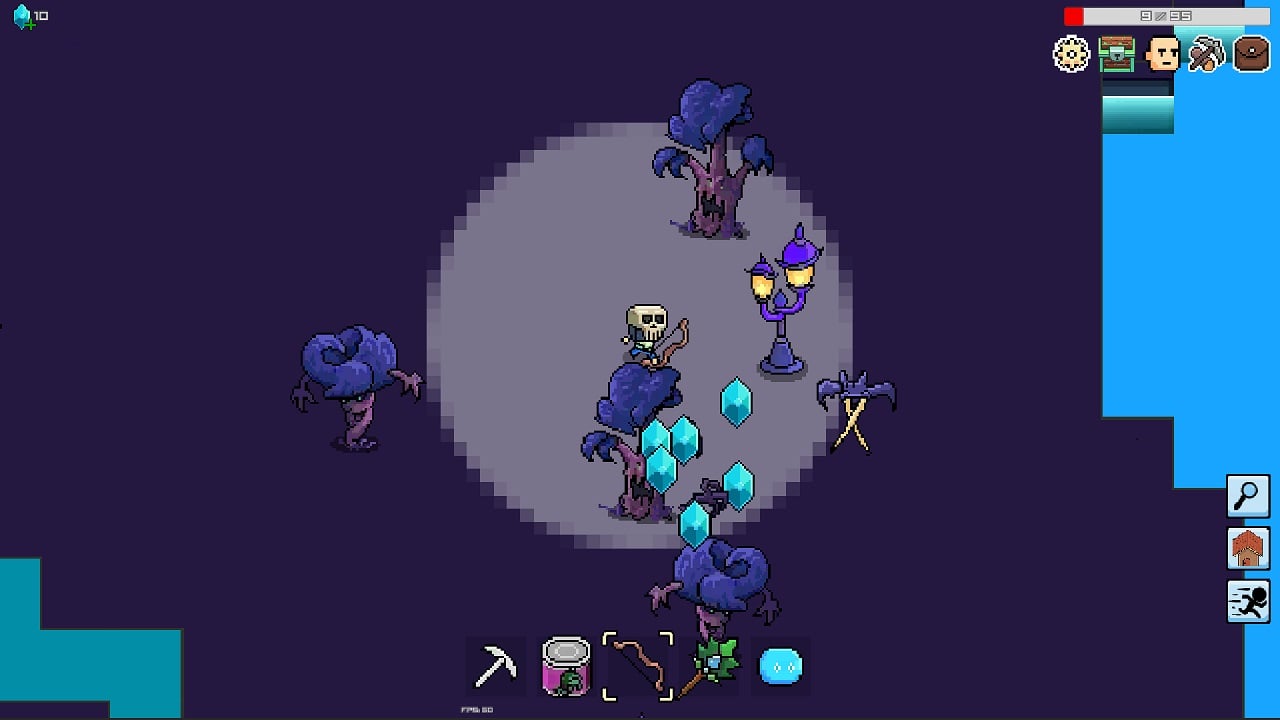 Adventure to many new areas
The survival world in the game is a large open space. It has many different areas from wild forests to snowy land, dungeon, and more. Each area will be designed with its own unique characteristics. For example, a wild forest will have many trees and wild animals. Meanwhile, the dungeon will hide deadly skeletons and strange plants. Explore every area to find unique resources. It's also a chance to be adventurous and uncover all the mysteries.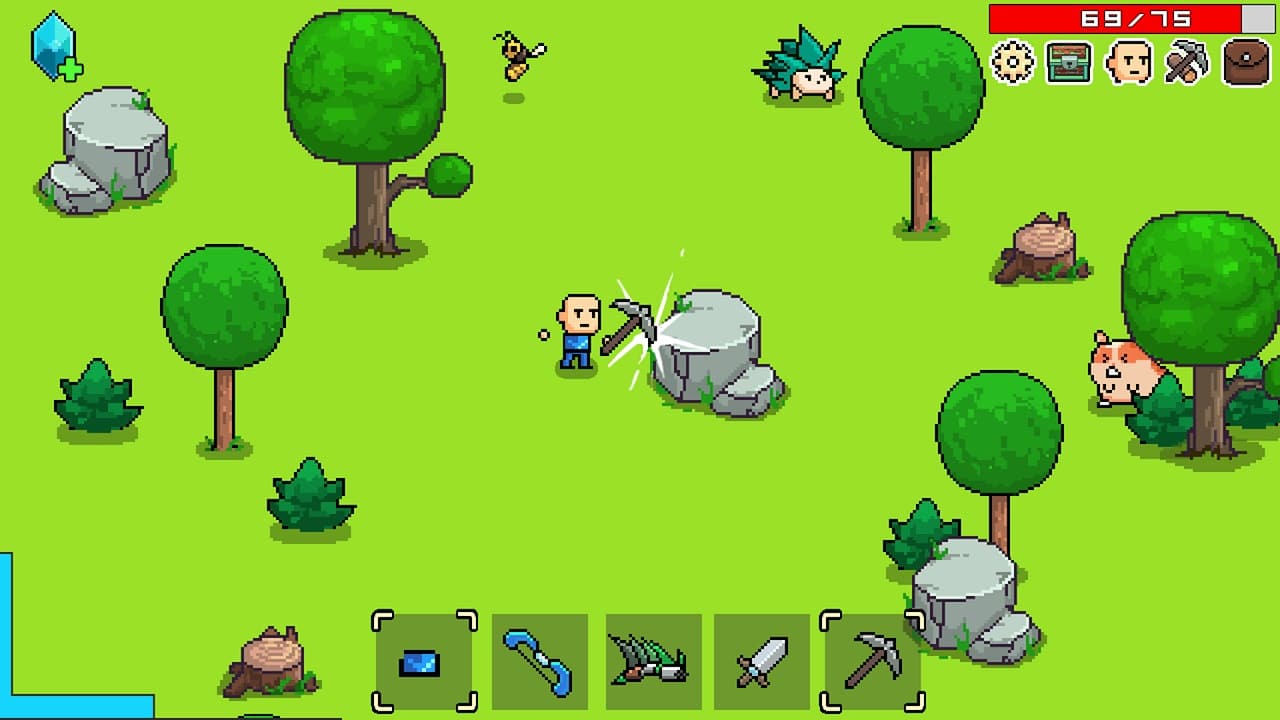 Classic, funny pixel design
Different from today's popular survival games, this game is designed with a classic pixel style. This style makes you feel like you are playing old games from decades ago. However, everything is described in more detail and sharper. Images of characters, wild animals, and trees,… all appear vividly. Movements such as running, jumping, attacking, and tapping are also very smooth. Moreover, the survival scene with harmonious colors will give a great feeling of relaxation.
MOD Feature of Whatcraft
MOD Menu
Unlimited money
free shopping
Don't hesitate to enjoy Whatcraft and survive your way. This is the place to go for a classic survival ride like never before. A pixelated open space with many mysteries is waiting for you. Go to every region there, mining, crafting, fighting, and doing everything for survival. The longer you survive, the greater the victory.