Anger of stick 5 Mod is the 5th part in the series of shooting action games with the familiar stickman style. This game brings a new setting – an apocalyptic world full of zombies. You will join the fight with funny stickman heroes. Besides, the game also has a series of new weapons from melee to long-range. Your job is to choose the most powerful weapons to conquer every level of action. You will not be alone in these levels when you can summon allies. Team up with the most powerful hero stickman and become a real zombie hunter.
Download Anger of stick 5 Mod – Stickman hero's fight against zombies
This game brings many interesting new points compared to its predecessor games. That's why it has over 100 million installs from mobile players. You will find here the craziest stickman wars. In it, you will play the role of a stickman hero and fight against the zombies that arise after mysterious experiments. It's a long journey through more than 60 different levels. Of course, the difficulty of the levels will progress more and more, challenging your patience. If you want to go further, upgrade the stickman legion and unlock the most advanced weapons.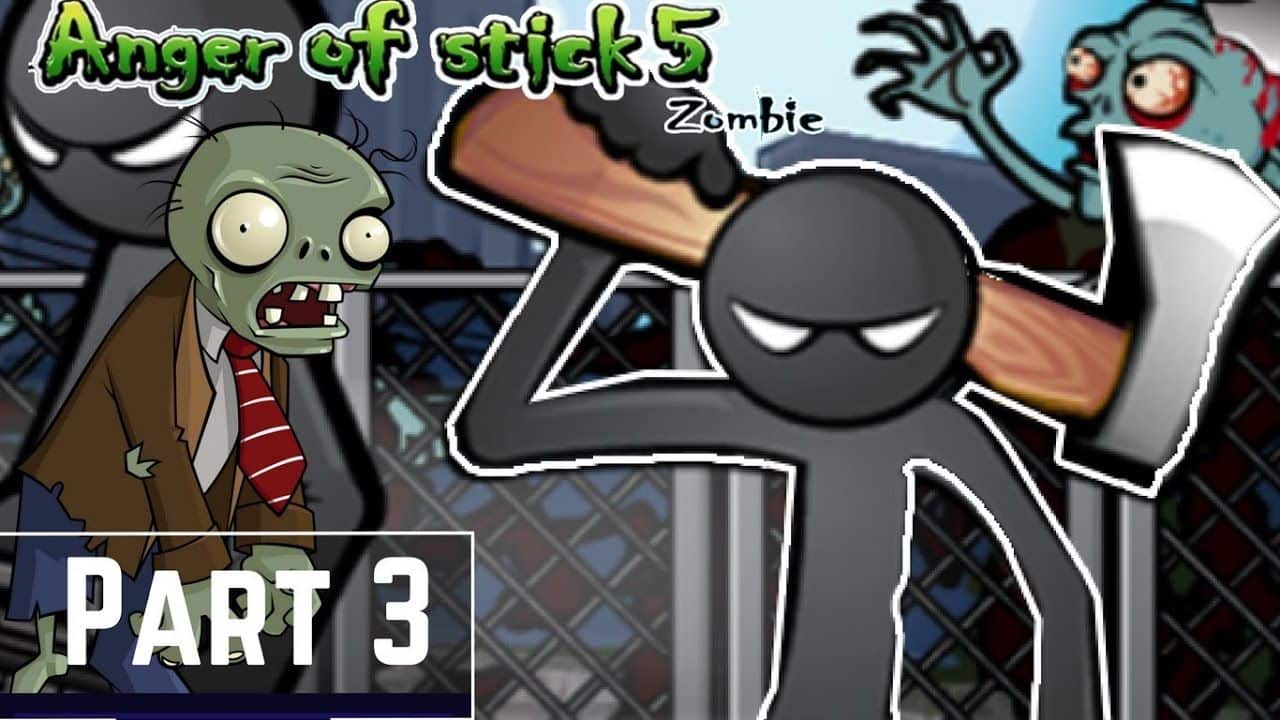 Endless battle role-playing journey
This game has two main modes, including single mode and zombie mode (main mode). You just have to choose one of these two modes and step right into an endless battle journey. Your job is to control a stickman hero against every enemy on the way. You will have additional support from 3 more teammates, but they will act automatically without your control. Just like that, your stickman team will overcome many challenges, meet many enemies and explore many unique contexts.
Your goal is to defeat as many enemies as you can to earn unlimited bonuses. To do this, you just need to master some basic controls. Specifically, you will control the hero with two arrows left and right. At the same time, click the round buttons in the right corner of the screen to attack or defend. Besides, the game allows you to change weapons as you like during the journey. Weapons will help you counter different types of enemies. So your job is to choose the appropriate weapon.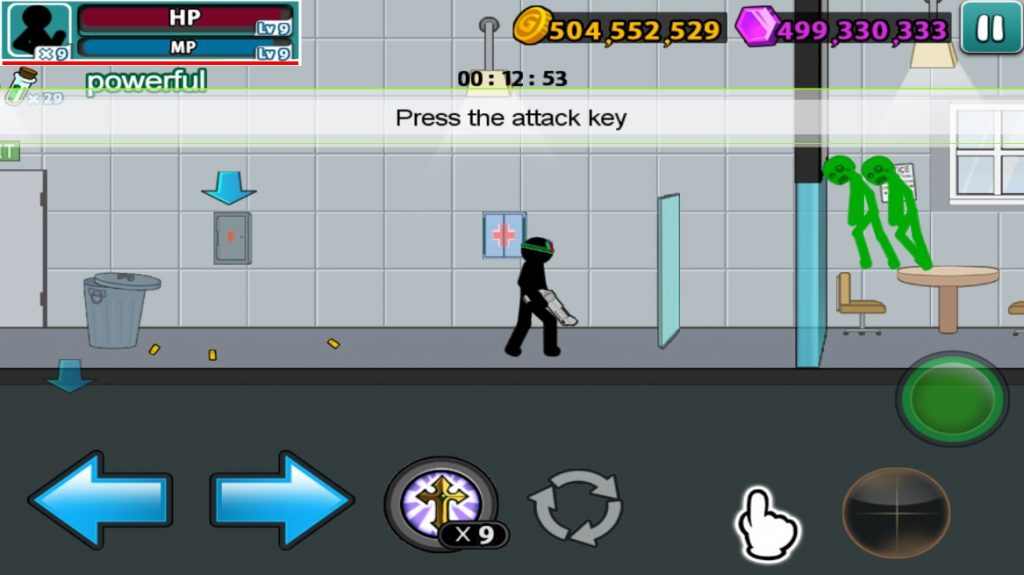 Explore a diverse arsenal of weapons
There are dozens of different weapons in Anger of stick 5 Mod. In it, there are close-range weapons such as pistols, knives, and swords …, medium-range weapons such as machine guns, rifles, and long-range weapons such as sniper rifles, cannons, and especially robots. machine. You can choose your own weapon for each fight. To make the right choice, you should take a look at the specific stats of each weapon. That is damage, speed, ammo, and reload time. Besides, pay attention to the range of each weapon.
The game allows you to upgrade weapons to improve the aforementioned stats. To upgrade, you need to accumulate bonuses and gems. Besides upgrading weapons, you can also upgrade the stickman hero's HP. The higher the HP, the better the survivability. The stronger the weapon, the higher the damage. Therefore, your main goal in each level is to destroy as much as possible to earn bonuses and use them for upgrades.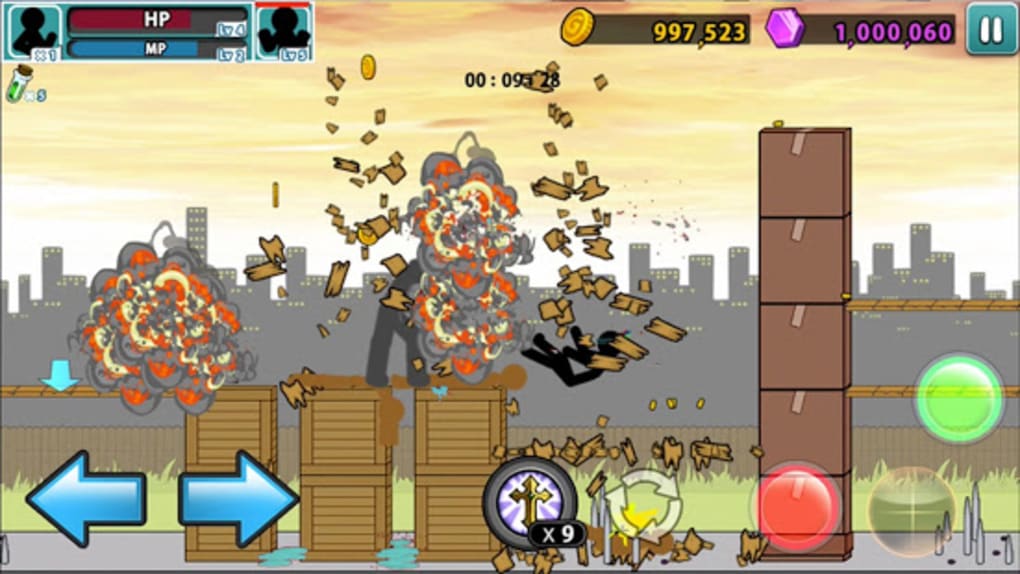 Many maps to explore
In essence, the game does not have a clearly divided map system. Instead, the game context will change dynamically in real-time, bringing you to many different battlefields. It could be the street, the desert, the jungle, and more. Each battlefield is themed with its own color and has a different terrain system. The layout of the obstacles also varies across levels and contexts. Thanks to that, there doesn't seem to be too much overlap in your role-playing battle.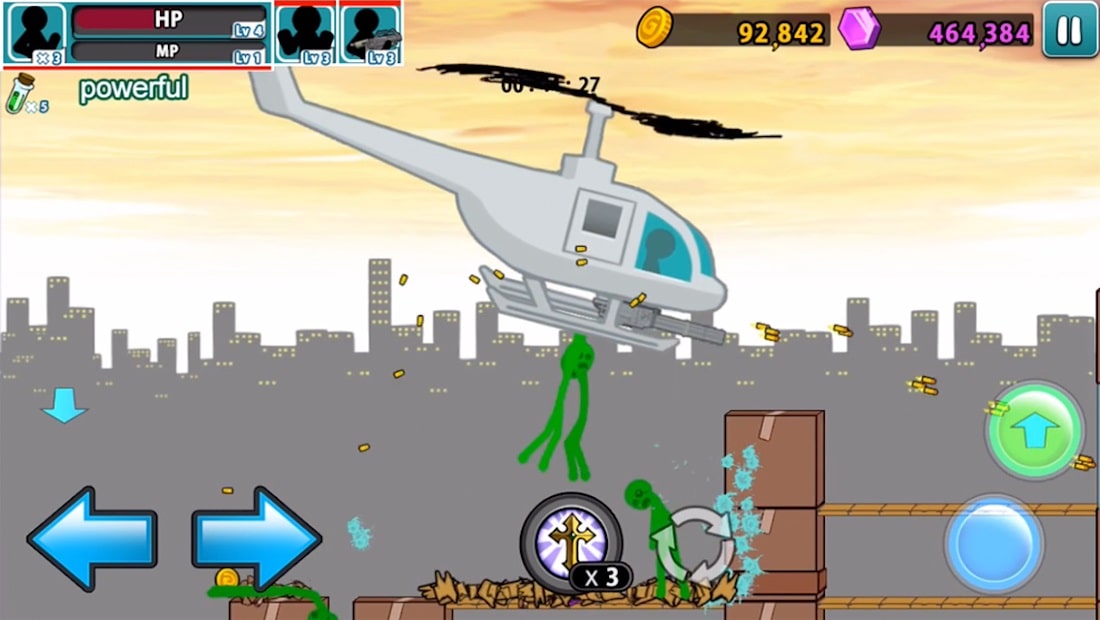 Simple but impressive design
Like the previous installments, this game is built with a characteristic 2D design. The main character of the game is a monochrome stickman image with a weapon in hand. The battlefield scene is also very simple. Everything seems very rudimentary but if you are a fan of this stickman series, you are probably too familiar with it. This game also knows how to impress gamers with eye-catching effects. Gunfire, crash effects, explosions, and helicopters… make the battlefield vibrant.
So what else do you hesitate? You will become the next player in the community of hundreds of millions of gamers of Anger of stick 5 Mod. This game will make you excited to participate in the endless battle journey. You will find a variety of powerful weapons to use and wreak havoc. Moreover, you will be accompanied by funny colleagues, not alone here.