Blocky Zombie Survival 2 by MODLMH is an action game. The game revolves around first-person shooter battles. You will play as a survivor in a post-apocalyptic world. Use equipped guns to attack terrifying zombies. The objective is to kill them all to win, protect yourself, and complete assigned missions. This game is the sequel to the previous version. With updated features, it offers a more exciting experience. From a diverse map system that opens up in various locations, to a massive arsenal of weapons for exploration and use. The graphics are uniquely designed in a pixel style.
Download Blocky Zombie Survival 2 – Fight Against Terrifying Zombies in Battles
Compared to the previous version, the game's map system has been updated. There are 9 maps waiting to be explored in various locations. These include the city center, airport, forest, military area, and more. Each location is recreated in different environments, with variations in terrain, landscape, and weather conditions. For example, in the city at night, the dark environment will pose difficulties in the zombie battle. Or in a winter land, the snowy environment in freezing weather conditions. There are many other locations to discover as you progress.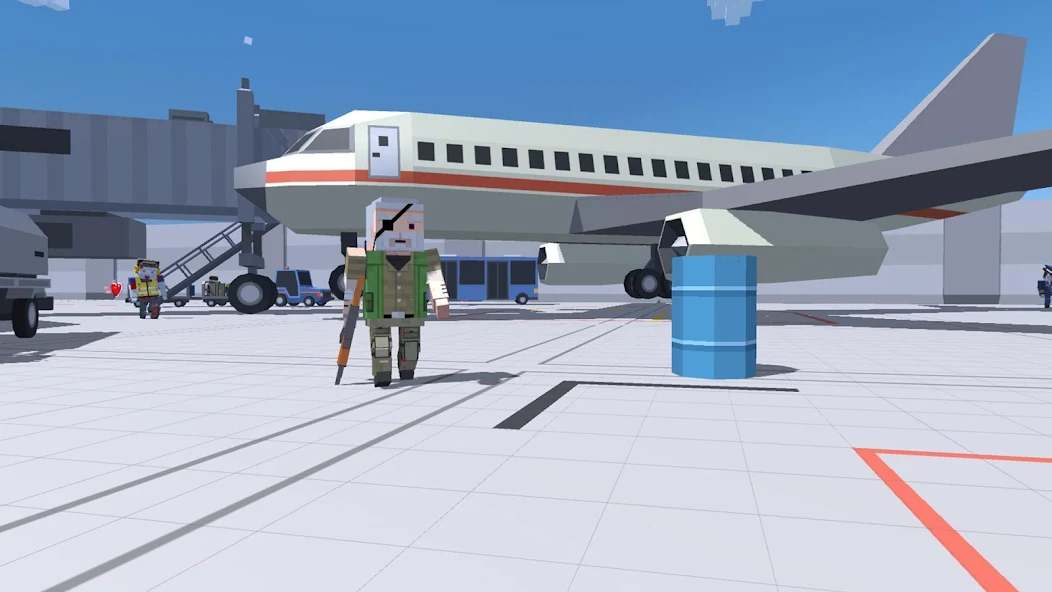 Massive Arsenal of Weapons
Own a massive arsenal of various types of guns, such as rifles, machine guns, sniper rifles, shotguns, and more. Each gun is uniquely designed with differences in style and size. By collecting them during battles, you can change your attack style. Additionally, the power of each gun is evaluated through detailed technical specifications. You can learn about each type to equip suitable weapons. Furthermore, you can use iron sights or sniper scopes to increase accuracy.
In addition to guns used in battles, you can also use various melee weapons such as swords, axes, hammers, knives, and more to attack zombies. You can also use explosive grenades to support attacks in certain situations. The wide blast radius will cause damage to clustered enemies.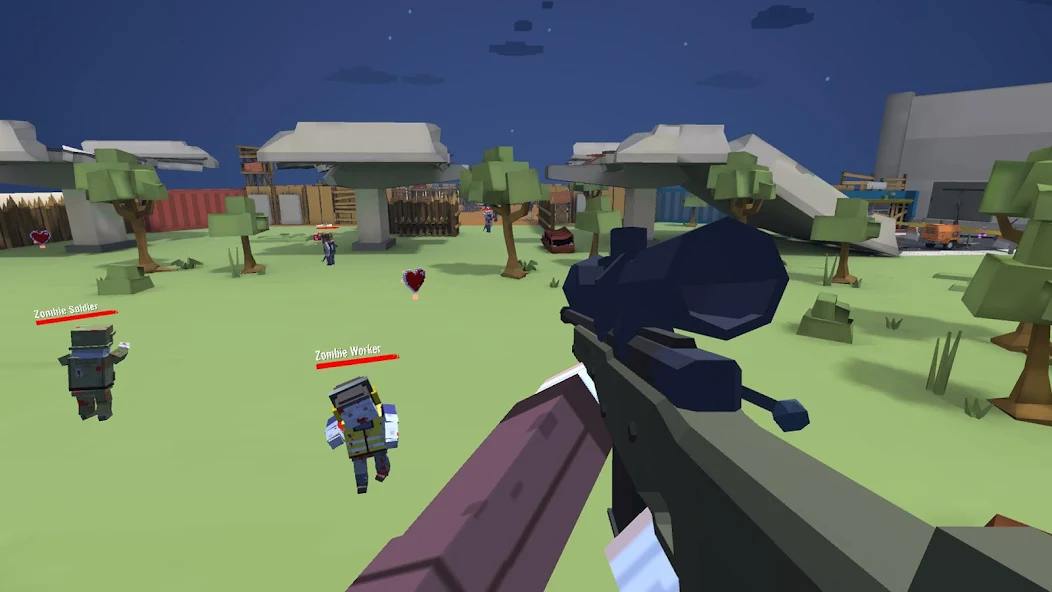 Mission System
Get ready to participate in battles against zombies in the post-apocalyptic world of Blocky Zombie Survival 2. Complete missions in each battle against zombies. With no support from teammates, you have to fight alone against all odds. Facing terrifying waves of zombies leaves no choice but to attack. You have to eliminate the designated number of enemies to fulfill the mission and receive valuable rewards. Proceed to new stages with increased difficulty and more changes to enhance the challenge. You may face danger or even death if you cannot defeat the enemies.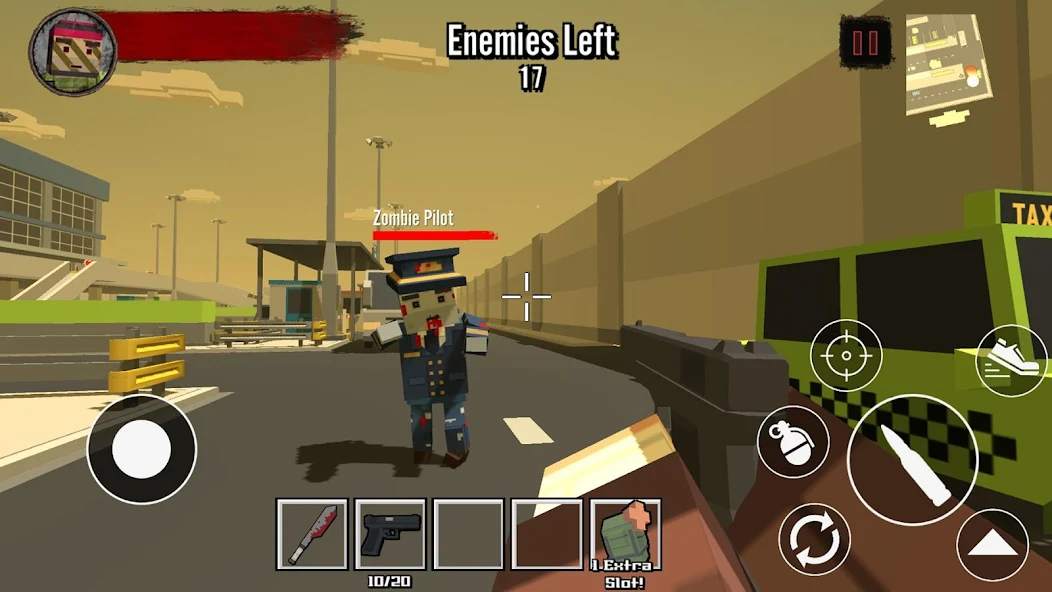 Open-world Action Gameplay
The battles against waves of zombie attacks take place in a large open-world map. You can freely move and use different types of weapons to deploy strategies. There are also opportunities to collect various new weapons randomly appearing in certain locations. This allows for diversification of combat styles and better effectiveness in all situations. Over time, eliminate each enemy one by one until all are wiped out. This will lead to victory and survival in the post-apocalyptic challenge.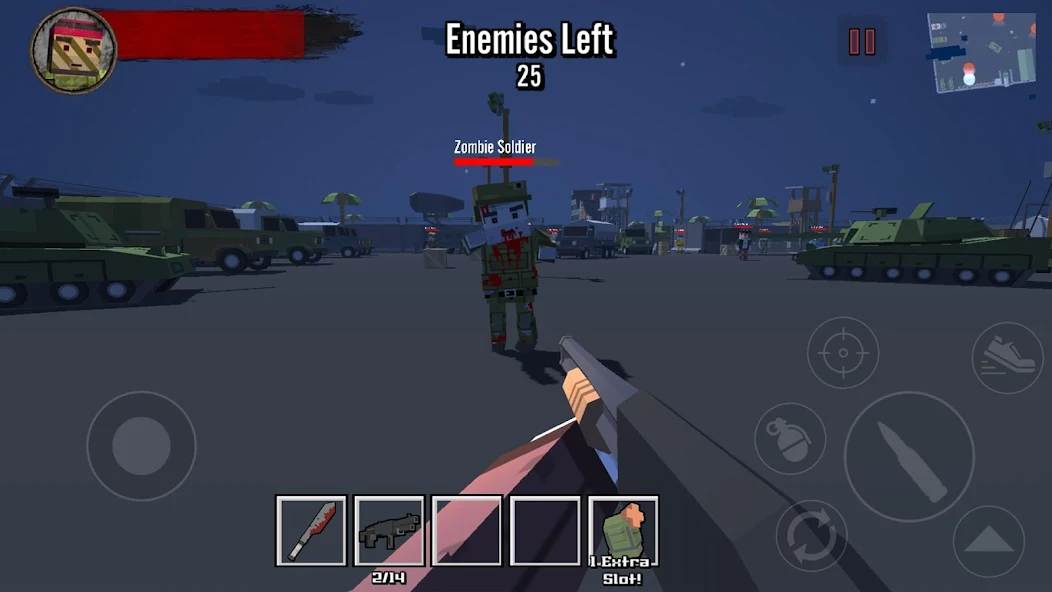 Fight Against Various Terrifying Zombies
Set in a post-apocalyptic world with intense attacks from hordes of zombies. They are all infected survivors transformed into terrifying creatures. These include doctors, civilians, police, and more. Each type of enemy is designed to be terrifying with bloody appearances. They carry a thirst for blood and will aggressively attack living beings. You are not exempt from their pursuit as they try to take your life. Each zombie's abilities are shown through endurance, attack power, and movement speed.
In the game Blocky Zombie Survival 2, when you reach a certain stage, you will face a fierce attack from the boss zombie. They possess superior strength compared to regular enemies. This will pose many difficulties in fighting back. Failure to defeat the boss will result in losing your life and having to start over.