Castle Crush is a strategy game that combines defense elements. It gives you hundreds of levels to freely show off and deploy tactics. In each level, you will meet dozens of enemies from the dark world or online players. Work hard to win, unlock reward chests, and collect hero cards. There are hundreds of different cards from common to rare to discover. You can use them in your own way to build strategic squads. There are no limits to your creativity. Do you want a squad with high damage or good defense? Do you want to use hero cards or skill cards? It all depends on you.
Download Castle Crush – Classic strategy tower-defense wars
This game is an interesting combination of role-playing (RPG) and strategy (RTS) genres. It creates a unique type of gameplay, both emphasizing skill, and strategic intelligence. Sounds complicated, doesn't it? But this game has simplified everything so that anyone can play it easily. Your task in the game is to beat your opponent and destroy their castle. You can choose to play PvE or PvP mode to explore this quest. In PvE mode, your opponents are monsters from the dark. In the PvP arena, you will duel with a real player. Which battle will be more interesting?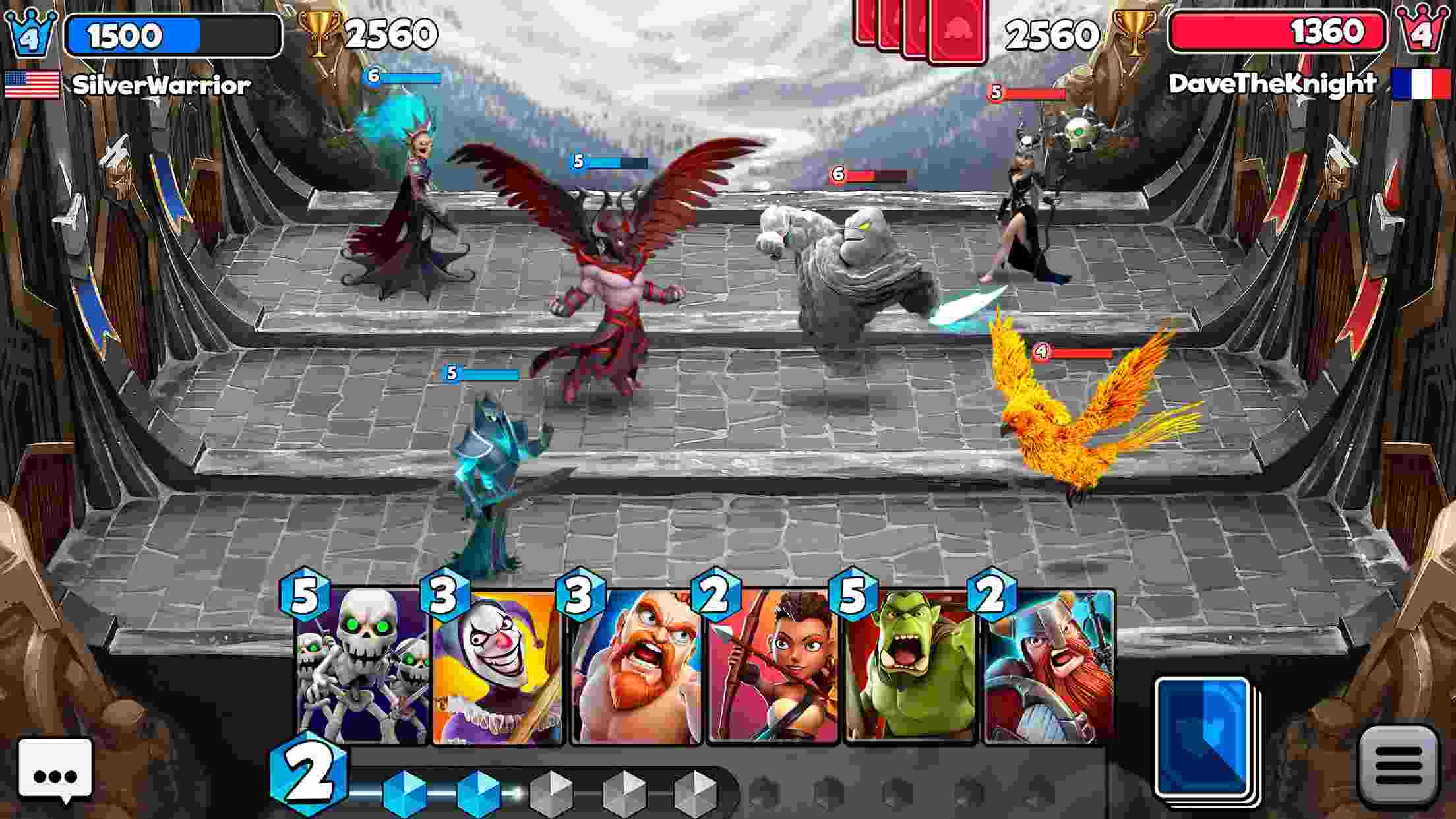 Engage in hand-to-hand combat
After choosing the mode, you will enter the chain of defense battles. Your goal is to defend your stronghold while destroying the enemy's stronghold. To do this, you need to build a strong team of heroes. You just choose and arrange the hero cards, then bring them into the battlefield. The battle will take place in a continuous mechanism at a low to high tempo. The battlefield map consists of 3 main lanes, allowing units to fight against each other to determine victory or defeat. You need to place units on all three main lanes. If any lane fails, you run the risk of losing. So the strategic element is what you need.
The time for each fight will depend on the level between the two sides. If you play in PvE mode, your enemies are usually an army of skeletons and monsters. Their power is upgraded with each level. So the first matches are usually easy but gradually more difficult after that. In PvP mode, your opponent is an online player of the same level. Every match is extremely unpredictable from the start. That's why you should practice regularly in PvE mode before competing online. The rewards in both modes are quite attractive. But you will get more promotion points if you win in the real-time arena.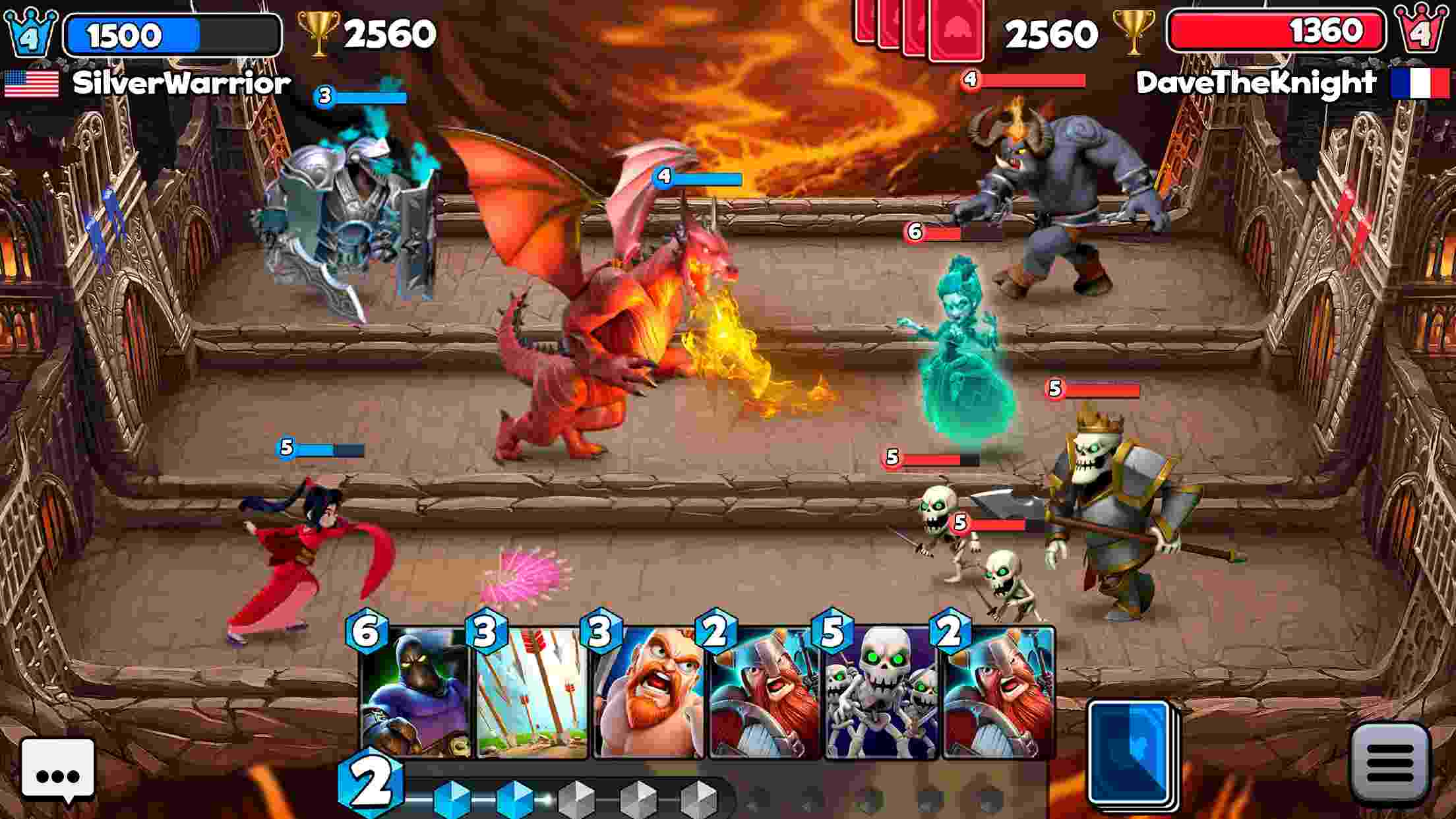 Unlock and upgrade hero cards
There are more than 40 types of cards in Castle Crush. It includes hero cards and skill cards. You will need both of these cards in your squad to gain an advantage in the arena. Specifically, in terms of hero cards, there will be many different card systems such as archers, warriors, swordsmen, mages, giants, dragons, and more. Each card has its own characteristics, expressed through indicators such as Attack, Health, Range, Speed, ​​and Bonus Speed. You need to consider these stats before choosing certain cards to join the battle squad.
Besides, the skill cards also have many systems, including physical damage, magic, tornado, healing, and armor… They are support cards for heroes and are also used as a combat unit. You need to combine them with the squad effectively to gain an advantage. In particular, both of these cards are hierarchical from normal to legendary. The higher the rank, the greater the strength and flexibility. However, to unlock rare and legendary cards, you have to go through a long journey to reach the allowed level. If you are lucky, you may accidentally get them in the reward chest.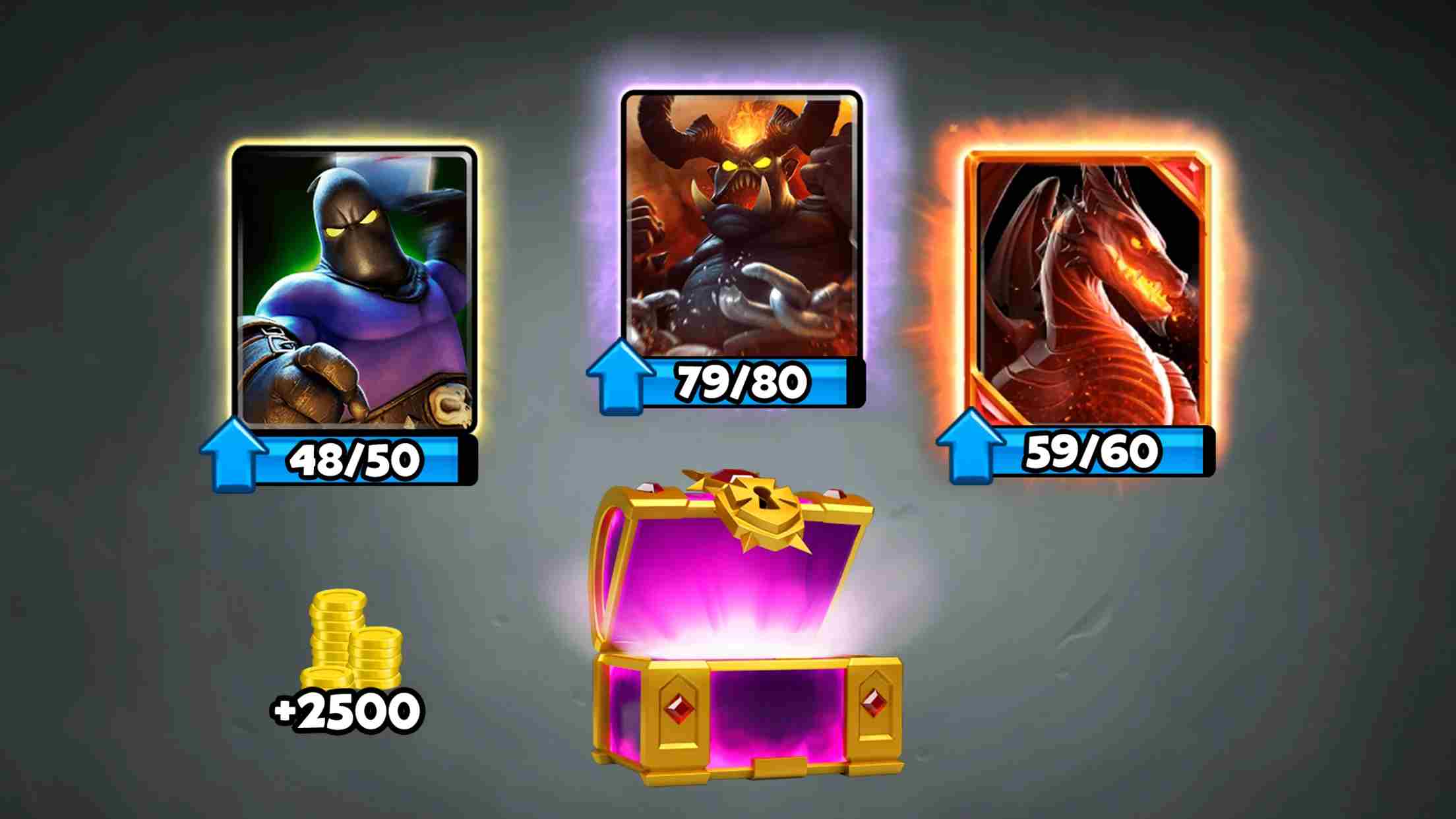 Classic images, eye-catching effects
This game is designed on a 2D graphics platform. However, it still depicts everything from battlefields to hero cards and more. The battlefield context will change flexibly after a number of levels. It will lead you through dungeons and classic castles in the fantasy world. Besides, the hero's appearance is also very lively. Each hero will have a unique skill effect, creating an explosion for each match. Finally, you will have spectacular and epic battles on your phone.
MOD Feature of Castle Crush
MOD Menu
Unlimited gems
Unlimited everything
all cards unlocked
So what else do you hesitate? Exciting RPG battles are waiting for you to discover in Castle Crush. Get ready to form a squad of heroes and monsters against your enemies or challenge your friends. You will have the opportunity to show your strategic talent and become a champion. Your achievements and rank will determine who you are. So make an effort to make every other player respect you.