Dark Days: Zombie Survival is a comprehensive survival game with a 3D design. Although the theme is not too new, this game still offers great appeal. When joining the game, you enter a desolate post-apocalyptic world. There, most of the population turned into zombies after a terrible pandemic. You are one of the last survivors in this world. Your task is to find resources, build, cultivate, and make weapons,… to survive. A huge world full of challenges is waiting for you to explore. Make an effort to survive as long as possible!
Download Dark Days: Zombie Survival – 3D survival shooting style
The combination of survival gameplay and shooting is not too strange. But Dark Days: Zombie Survival is one of the games that do this best. This game vividly depicts the post-apocalyptic zombie world. At the same time, it is optimally designed to provide the most realistic immersive feeling. The control mechanism is somewhat simple but intuitive, helping you quickly approach the game. Context, gameplay, story, and many other details are also very methodical.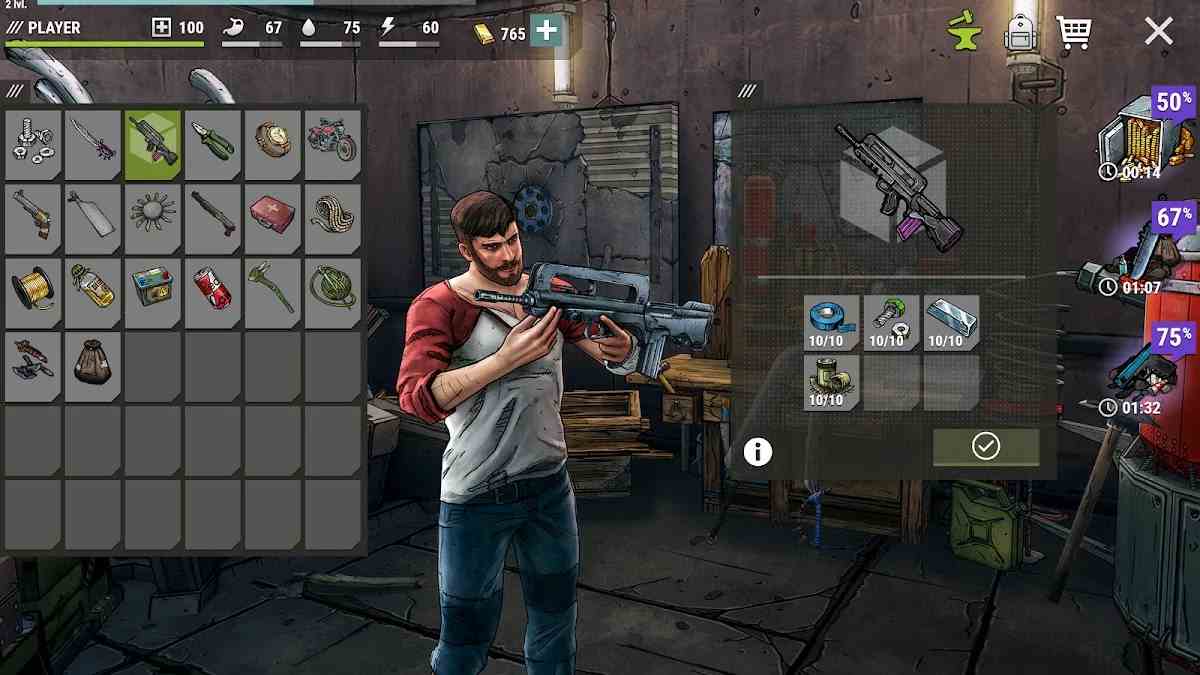 Search for resources to build and craft
In a post-apocalyptic setting, what will you do to survive? This question will follow you throughout your survival journey here. There is a lot to do to survive, but the game will suggest you. The mission system will continuously suggest things to do, helping gamers navigate the experience journey. The tasks often revolve around resource extraction, construction, and crafting. In terms of resources, there are a variety of things to collect, such as wood, stone, food, water, first aid, ammunition, and more. You need these to ensure the character's life.
With the resources you get, you can guarantee stats like hunger, thirst, HP, and energy. At the same time, you can build shelters to protect yourself from the dangers around you. Originally, it could have been a small wooden house with only four walls around it. But later on, you can upgrade the shelter into a large and solid survival zone. Besides, strengthen your ability to exploit and fight with useful tools. It can be axes, hammers, sticks, guns, hats, armor, and shoes.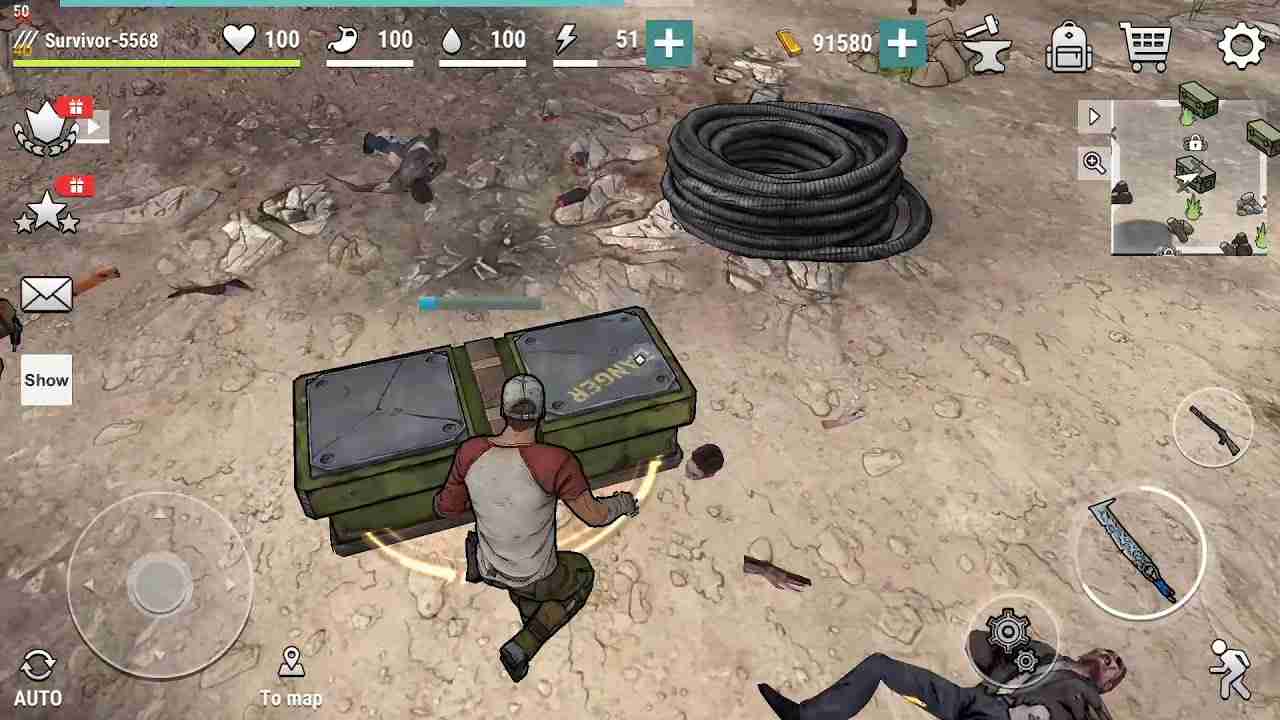 Learn to grow and manage food
This is an interesting feature in Dark Days: Zombie Survival. Besides collecting resources from the environment, you can grow your own crops. First of all, you need a seed (available in survival environments). Next, just choose a small plot of land and plant seeds on it. Don't forget to take care of your garden every day. And you will soon be collecting great agricultural products. Finally, take the produce to the shelter to store. With a full stock of food, you can live in the shelter for a long time.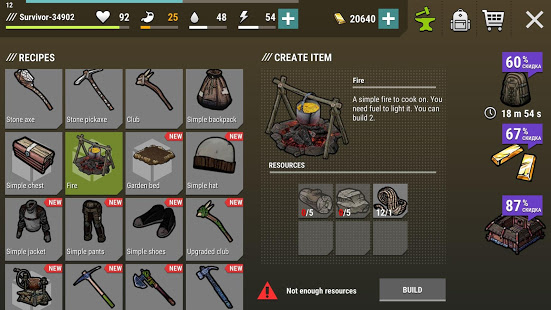 Fight against crazy zombies
The challenge comes not only from your hunger and thirst but also from wandering zombies. There are hundreds of different types of zombies in the survival environment. It can be normal human forms or mutant zombies with huge bonuses. You need to fight them to protect your life. At the same time, you will collect resources from their corpses. Prepare your weapons and equipment to win every war.
Explore many new lands
This game offers a large post-apocalyptic world, consisting of many different regions. In each area, you'll find new backgrounds, new enemies, and an unprecedented variety of resources. To move back and forth between areas, you can use a variety of vehicles such as motorbikes, cars, trucks, etc. Don't be afraid to take long trips to explore more. But return to the shelter early before dark. And do not forget to bring the necessary equipment to withstand unexpected dangers.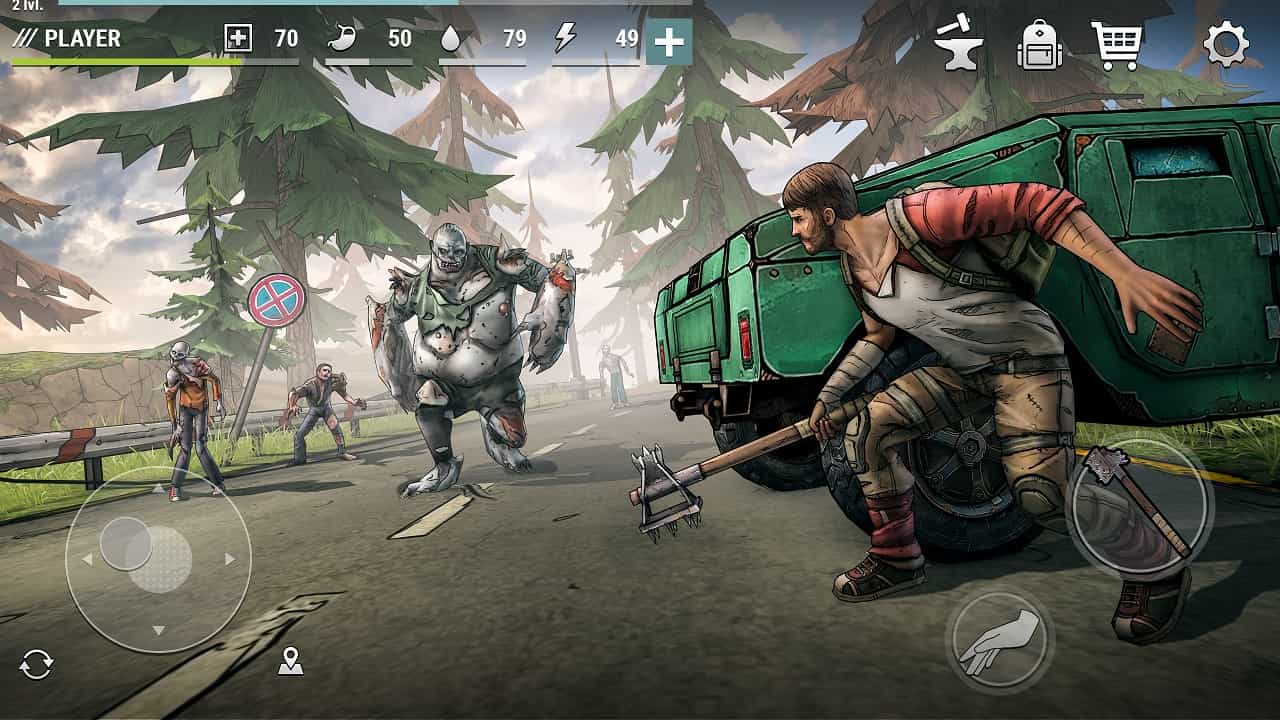 Realistic design and sound
This game is not inferior to the famous survival games in terms of graphics. It is carefully built on the basis of realistic and vivid 3D graphics. Every image is high-definition, providing a real adventure. The details from people to zombies and vehicles are also very realistic. Engine sounds, gunfire, and background music,… contribute to increasing the feeling of survival.
MOD Feature of Dark Days: Zombie Survival
MOD Menu
Unlimited money
Unlimited everything
free craft purchase
free shopping
All in all, Dark Days: Zombie Survival is an interesting survival game. Don't miss this experience if you are passionate about the most realistic survival style. Get ready for a survival journey with no time limit. The better the survival instinct, the longer the experience and the more things to explore. Mining, crafting, building, fighting, and adventure are what it takes. Are you ready?