The world of darkness is rising and the time for heroes has come. Dungeon Knight will take you on an endless adventure role-playing journey against thousands of monsters. It's a long journey that you can join alone or co-op with friends. Your mission is to destroy the darkness and bring back light again. Sounds epic, doesn't it? But actually, it is an idle adventure with auto-action mechanics. Your job is simply to enjoy the battles, explore the map and get bonuses. Is such an experience meaningless? It depends on your thinking.
Download Dungeon Knight – Idle RPG adventure journey
The game takes place in a kingdom that is gradually being destroyed by monsters. Everyone fought bravely but in the end, they had to fall before the powerful dark forces. Then when you open your eyes, the world has gone back 3 years before it perished. Perhaps some force has turned time to give you another chance. Now, you must change the world's destiny. With weapons in hand, you must stop the monsters before they destroy your world. It is an endless battle journey with non-stop leveling up. But can you complete this mission? The destiny of humanity is in your hands – a tiny hero.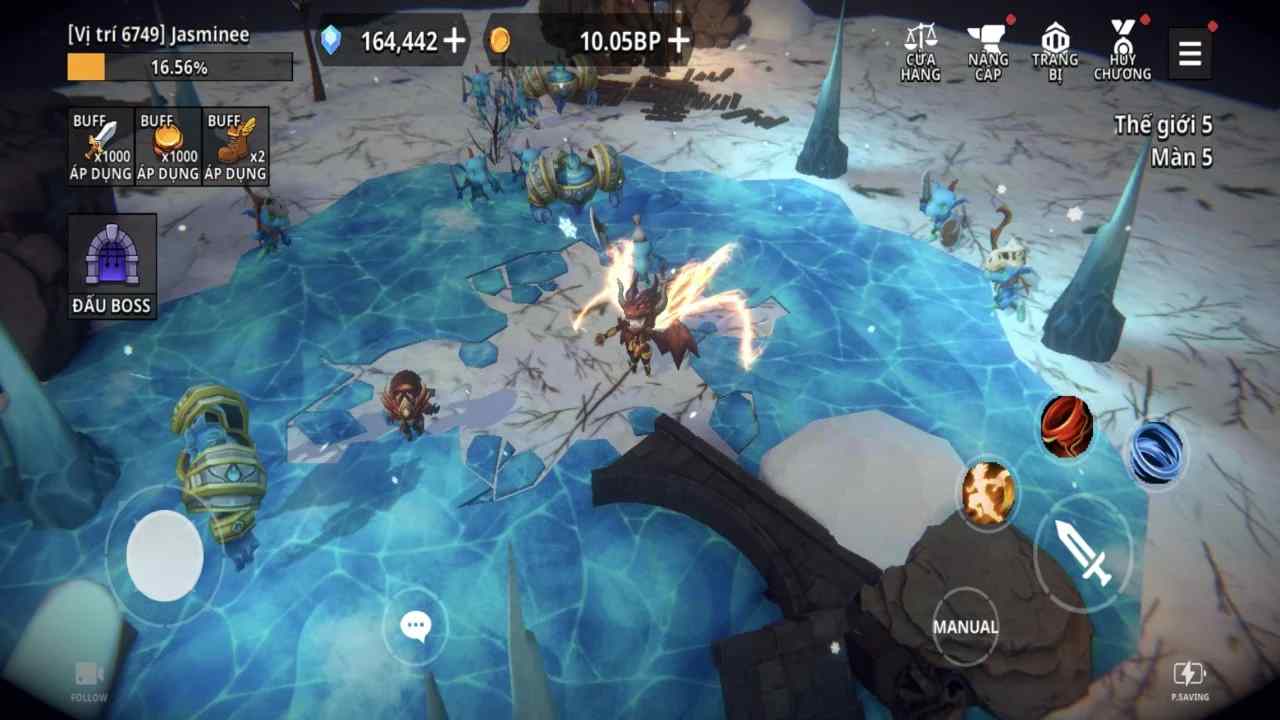 Idle action mechanism
Your battle journey becomes a lot easier thanks to the idle action mechanics. It allows you to use the "Auto" feature to automatically fight and move the hero. However, you also need to have wise upgrade strategies to gain an advantage over the enemy. The challenge for you will be more and more difficult as the survival time is longer. Enemies appear more and more, and the frequency of meeting Boss becomes higher. So you have to make constant progress to be ready to face multiple challenges at the same time. In particular, you can enjoy the whole adventure process right on the main screen. If you want to play with friends, you need to go to "Arena" for multiplayer.
If you want to feel the heat of the fight, you can also fight it yourself. Just turn on the "Manual" mode and you will have access to the skills. Specifically, you can move the hero on the map with the joystick. At the same time, you can combine 3 skills at the same time to create powerful action combos. A manual mode like this gives you full control of the battlefield. You will decide where you will go, how to choose your goals, how to execute your battle plan, and many other factors. Therefore, you will feel the real appeal of the role-playing element.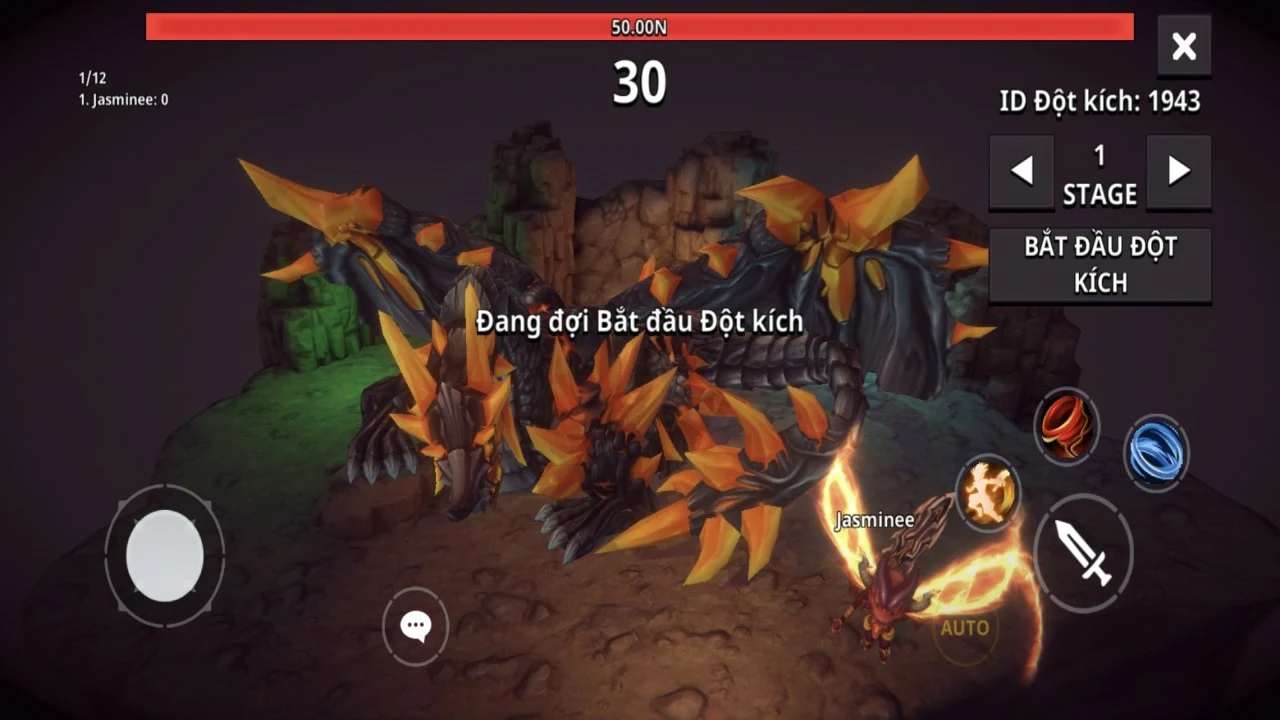 Hero upgrade
For an idle RPG experience like Dungeon Knight , upgrading is your main business. To upgrade, you must have enough gold coins – the main currency in the game. Money will drop from the corpses of monsters that you successfully destroy. They will be used to upgrade hero stats and craft items. You only need one tap to "Upgrade" the hero, helping him achieve better levels in both damages, defense, and critical rate. Besides, you can also unlock and upgrade weapons and skins to refresh your character. After the upgrades, you will have a chance to witness the epic hero's breakthrough progress.
Interact with friends online
As introduced, this game allows you to play single or connect with many players in the arena mode. In that mode, you can interact with people through the "Chat" feature. Multiplayer conversations will show up in real-time. Thanks to that, the chat feature can be used as a way to exchange tactics with each other. In addition, the game is integrated with a global online leaderboard. There, you will know the rank of yourself and other players. Let's strive to climb to a high-ranking position. You will get great rewards if you have a good ranking performance.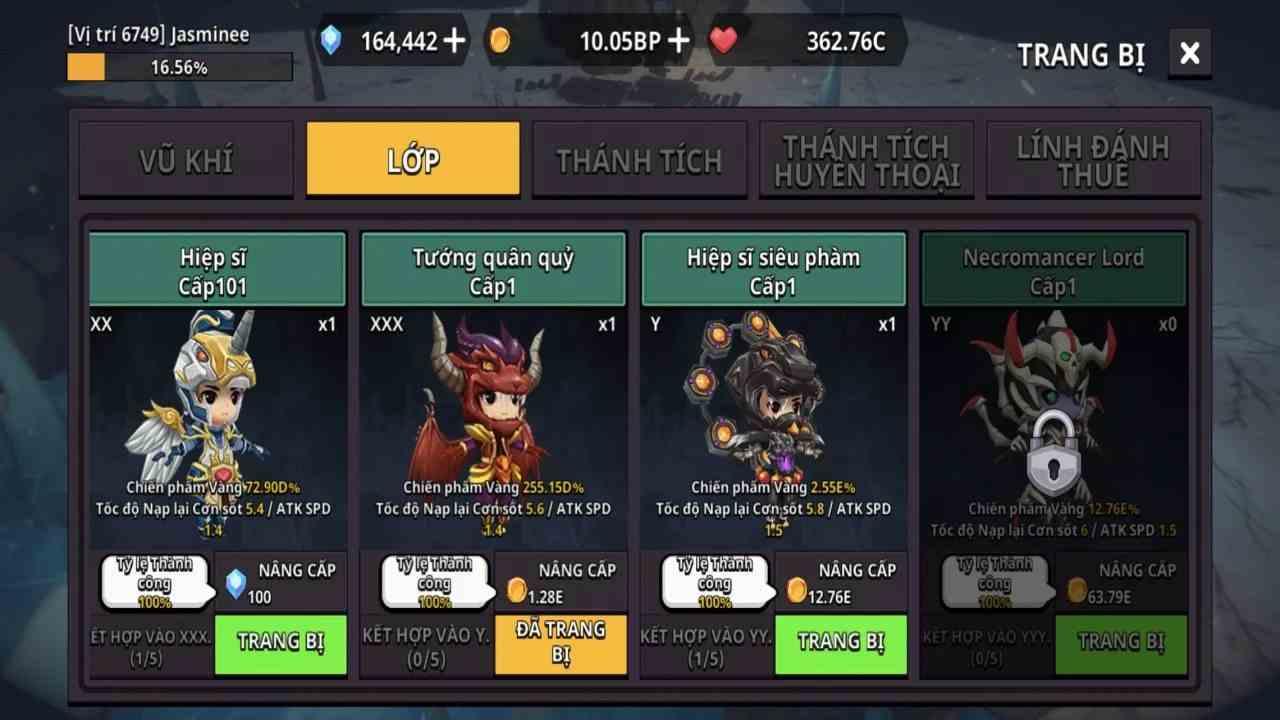 Classic and beautiful design
It can be said that this game is like the classic dungeon games from many years ago. That's thanks to the low-quality 2D graphic style with dark background colors. However, everything remains intuitive and sharp on the screen. It vividly depicts the dark world with a diverse monster ecosystem and many different types of terrain. You can also enjoy this world from a vantage point. So you will feel every movement and skill effect of the hero.
MOD Feature of Dungeon Knight
Mod Menu
Unlimited money and gems
unlock all characters
Do not hesitate to download Dungeon Knight to your phone. This is your chance to enjoy a most exciting endless adventure journey. That journey shows no signs of stopping, only a growing variety. In other words, the longer you survive, the more opportunities you have to discover new things. You will encounter new enemies, travel through new lands and have the opportunity to advance to new positions.