Do you want to leave the city and relax on a paradise island? Come to FarmVille 2: Tropic Escape to do it right on your phone. This game is a tropical island simulator. Here, you can grow crops, produce and process food, raise livestock, trade, and explore uninhabited islands. It would be the ideal place to fulfill your dream, wouldn't it? There seems to be no limit in this game, except for your patience. Build and grow everything yourself. Moreover, sell your products on the market or trade with neighboring islands. Your island will make huge profits and expand.
Download FarmVille 2: Tropic Escape – Adventure on a resort island
This game is really the most interesting place for your long vacation. It offers a colorful open space, allowing you to explore and adventure freely. You can even become a resident here if you love it. But you will have to work hard to build your own resort world. At the beginning of the game, you are taken to a large island full of mysteries. You can unlock a part of it to start farming and breeding. Over time, many new areas are unlocked, bringing new crops and livestock. Moreover, you will meet many new funny residents.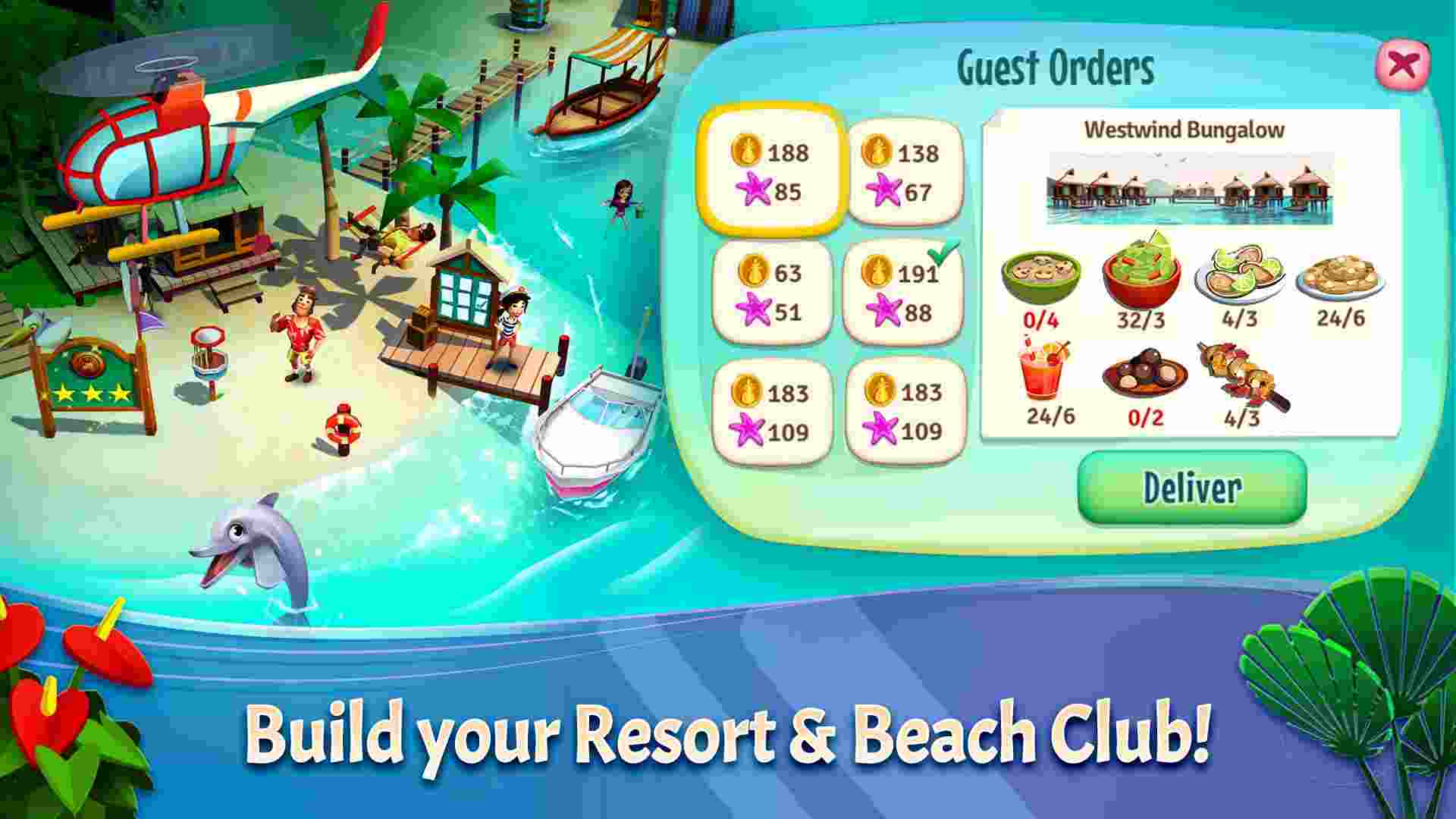 Cultivate, breed, and process
Your island is ideal for farming. You just need to unlock the land and seed squares in the shop. Then, just a few basic steps from seeding and watering to harvesting to own a bountiful season. So, what can you grow? There are dozens of different crops that are unlocked gradually as the level progresses. It can be wheat, corn, pineapple, watermelon, tomato, flowers, and more. You can design your own planting area as you like. But the best thing to do is to gather growing areas close to each other and categorize them for easy management. After harvesting, you can take the agricultural products to the factory and make them into delicious dishes.
To unlock the factory, you just need to visit the store. But at each level, you can only unlock certain types of factories. It is a sushi factory, a wine factory, a processing factory, a bakery… Each processing station can make many different dishes. Each dish will require certain ingredients that you need to supply. Besides agricultural products, you can earn more materials from livestock. Accordingly, you need to raise chickens, pigs, dairy cows, and more. They will help you create eggs, meat, and milk. But remember to feed them regularly to produce continuously.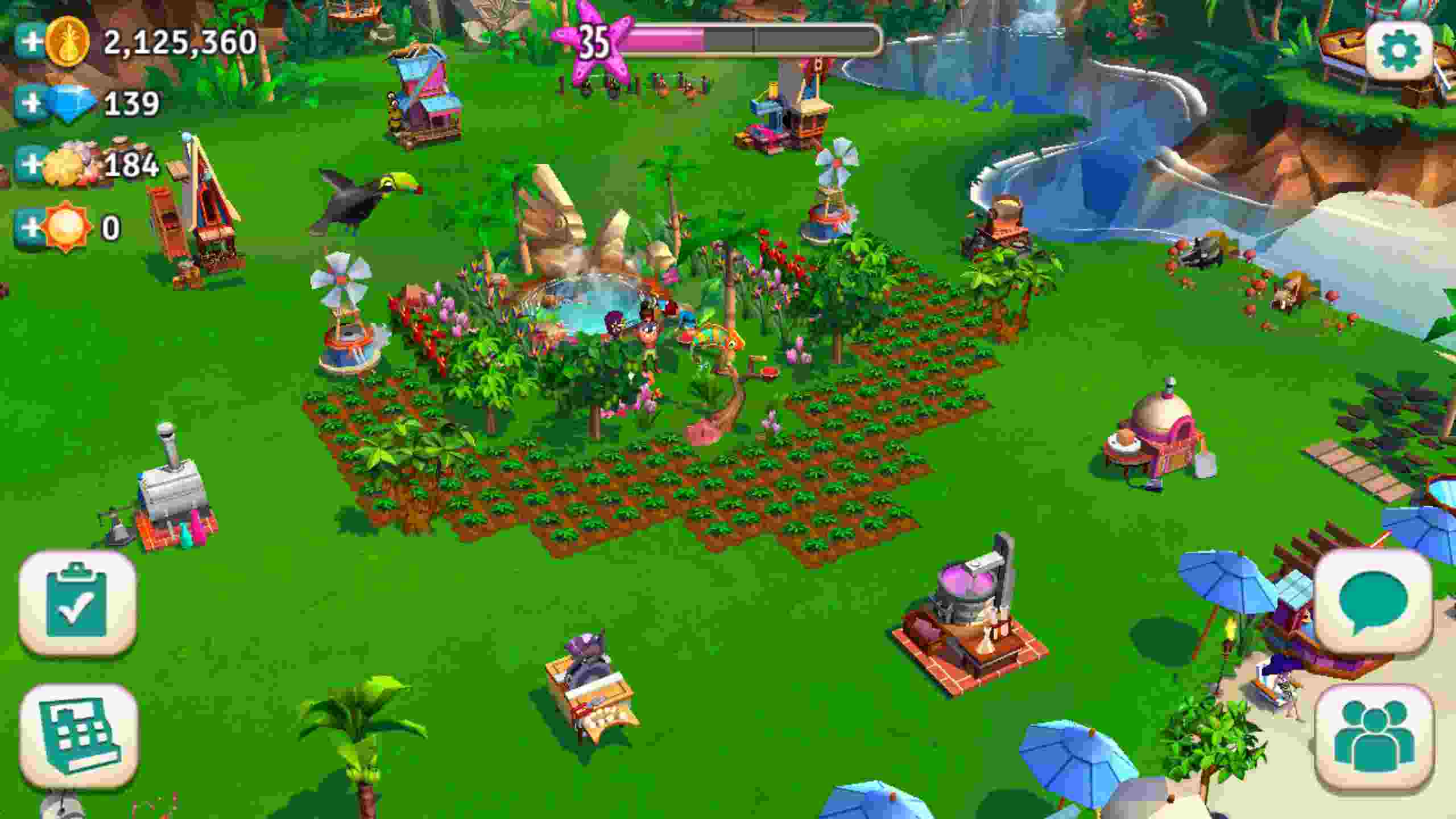 Trade with neighboring islands
After processing agricultural products into delicacies, what do you plan to do with them? There are two ways to consume your produce in FarmVille 2: Tropic Escape. Firstly, you can sell ingredients, agricultural products and dishes on the "Market". This is where many players will trade with each other. Before you sell, price your product based on comparison with the competition. Second, you can trade with neighboring islands. There are many other inhabitants also living on the island and they need your agricultural products. You can view orders and get to work on them. After that, the products will be loaded on the boat and transported to the required place. You will receive money immediately after each delivery.
Uncover the mysteries
The world of this game is a large open space. It consists of many islands and peninsulas that are adjacent to each other and hide a lot of interesting mysteries. Over time, you will unlock different locations to explore. From jungles to coral seas, bubbling volcanoes, and ancient monkey temples… you'll find a lot of cool stuff. But to discover and unearth them, hire experts. They are the inhabitants of the island and are archaeologists, divers, surfers, and more. Each resident has unique skills to assist in exploring the island.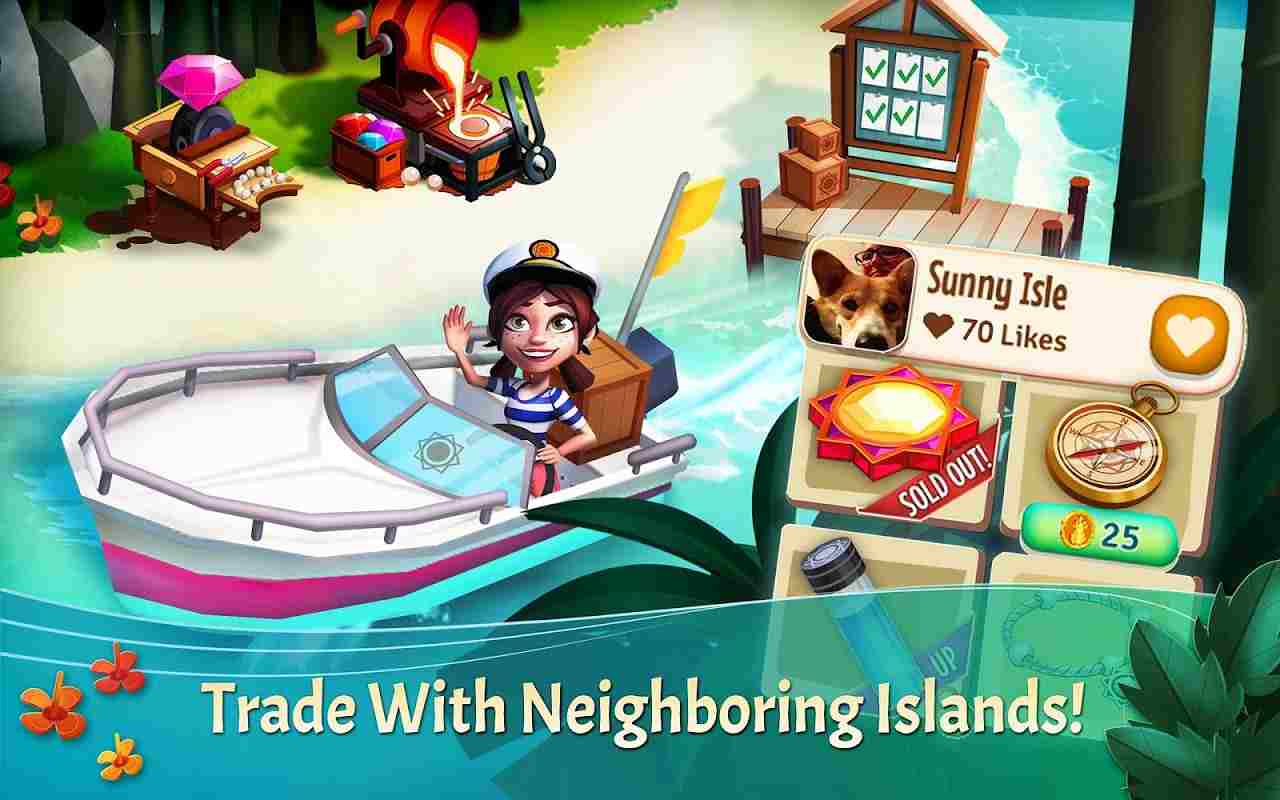 Realistic and vivid 3D graphics
This game is meticulously built on a 3D graphics platform. It opens up a colorful virtual world on a large tropical island. There, you can see green beaches, mysterious forests, and many other fun places. Moreover, the plants and animals here are extremely rich and authentic. So this is truly a tropical island paradise. Enjoy it with soothing and relaxing background music. Many other fun residents will join you.
MOD Feature of FarmVille 2: Tropic Escape
MOD Menu
Unlimited coins and keys
As can be seen, FarmVille 2: Tropic Escape is really a great island simulator. It has everything you need to build the resort world of your dreams. Work hard to grow crops, raise livestock, process agricultural products, and trade with many other islands. With the money earned, you can freely unlock more crops and discover many hidden locations on the island. So are you ready to do these things?