Come to Hungry Dragon Mod and join the hearty party with your legendary dragon. It is a brutal action-adventure game that promises to keep you excited to play every day. Join the game, you will transform into a dragon possessing superior hunting ability. Your job is to control it to hunt the best prey and hunt for ancient treasures. Eat everything you see except traps and poisonous spiders. Moreover, do not hesitate to swallow the golden dragon – the most precious thing in the fantasy kingdom. Want to eat more and earn more gold? Upgrade your dragon and unlock even more powerful skins.
Download Hungry Dragon Mod – Hunt for prey to become a legendary dragon
The game context takes place in fantasy land – where dragons are the rulers of all species. They possess powerful powers with the ability to fly, breathe fire, and devour anything. But you didn't come here to be the hero of humanity. Join the game, you will become a dragon and find ways to hunt. Your food is creatures from small to large, including animals and people. They bring great nutritional value and profit for you to become a legendary dragon. Get ready to find the most value on each of your hunting trips.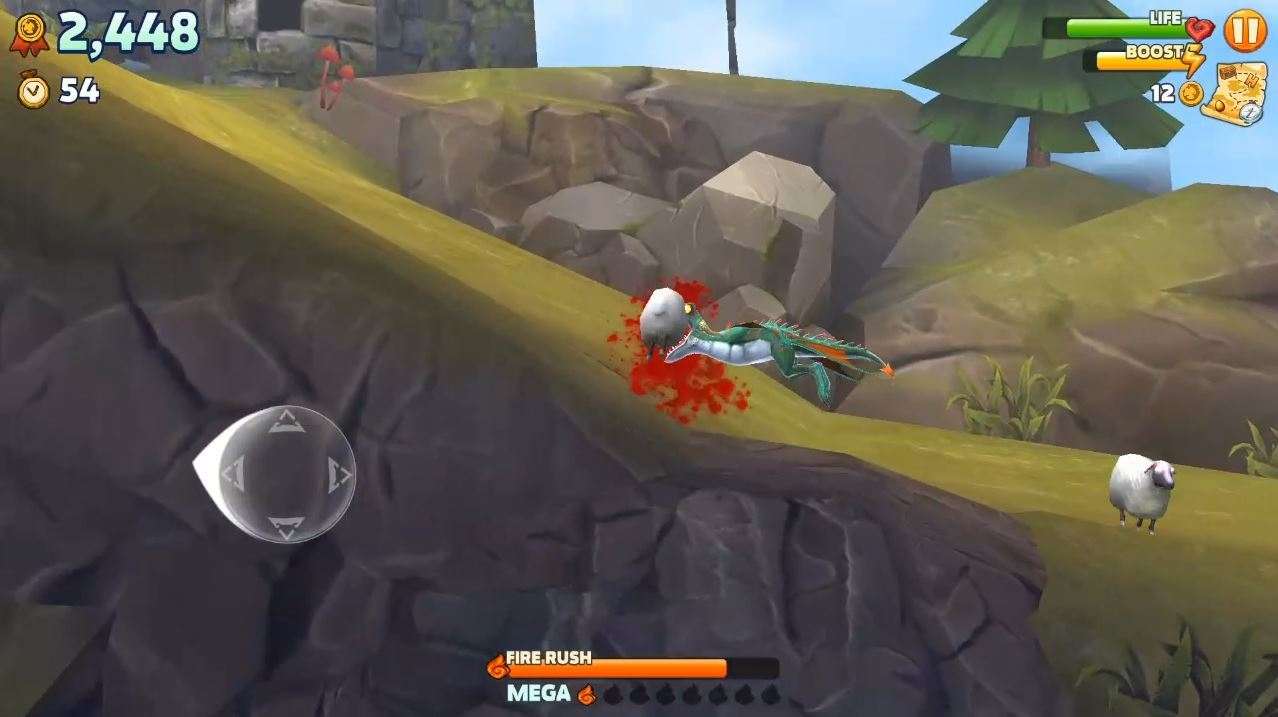 Simple, addictive action mechanism
Enter the fantasy world, your task is to control the dragon. Just use the joystick on the left side of the screen to move in the direction you want. At the same time, you can use "boost" if you want to perform the fire skill. On each hunting trip, you need to combine both moving and using special skills. The most important thing is to move wisely to catch the most prey. The prey will constantly move and even respond with attacks. For example, humans will shoot arrows at you, spiders will spray poison, etc. There are dozens of other traps such as hammers, spears, and more.
That's why you have to move skillfully to hunt. Moreover, don't miss out on great loot like golden chests, golden dragons, and especially eggs. They will appear randomly on the map and you need to use "map" to find out where they are. Where the eggs are guarded, you will have to overcome more difficult challenges. But they do give you well-deserved rewards. The eggs will hatch into adorable creatures, called pets. You can take them with you on your new hunting journey.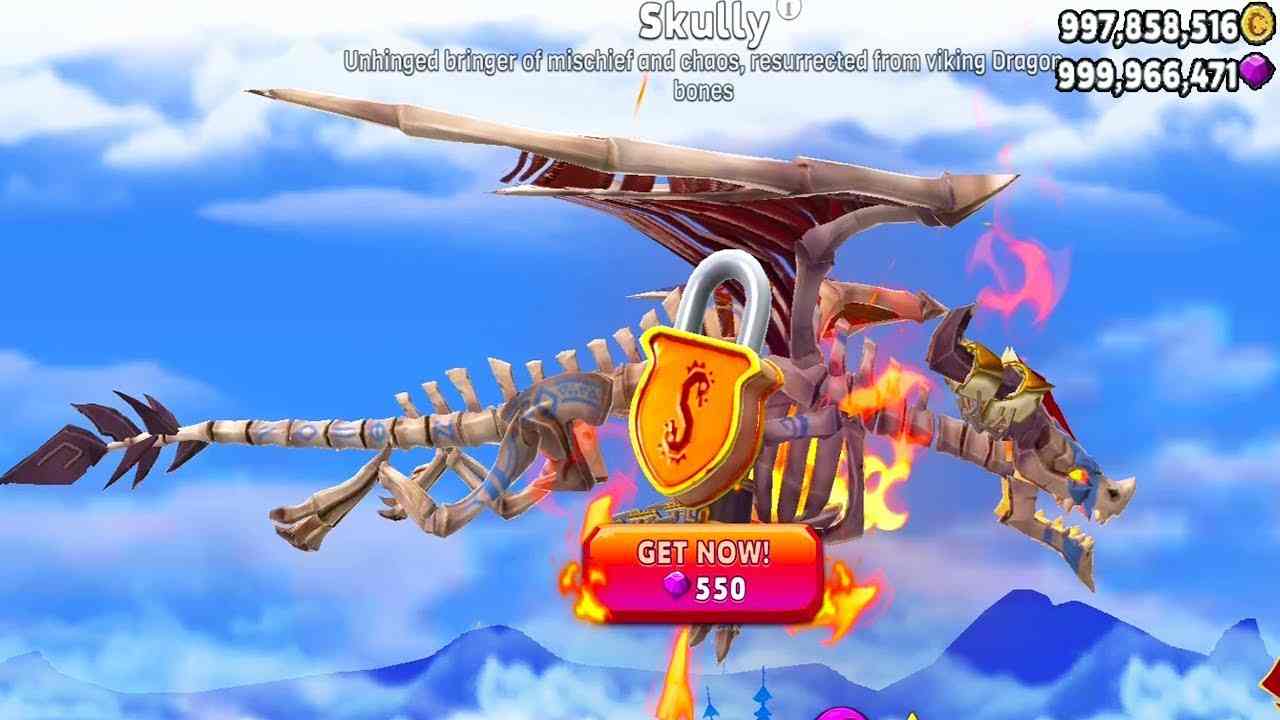 Unlock skins and skills
Hungry Dragon Mod gives you many cool things that can be unlocked in the store. There you will find amazing dragons with different characteristics. You can unlock them when you reach a certain level. Besides, you can also unlock skins for dragons. Skins not only make your warrior look cooler but also stronger. Some skins will help to fly faster and burn more intensely. Try equipping them to your dragon and enjoy unprecedented progress. In addition, you can also upgrade dragons. When reaching a certain level, the game allows dragons to evolve to new sizes (in order from size XS to XL). Do you want to see its largest size?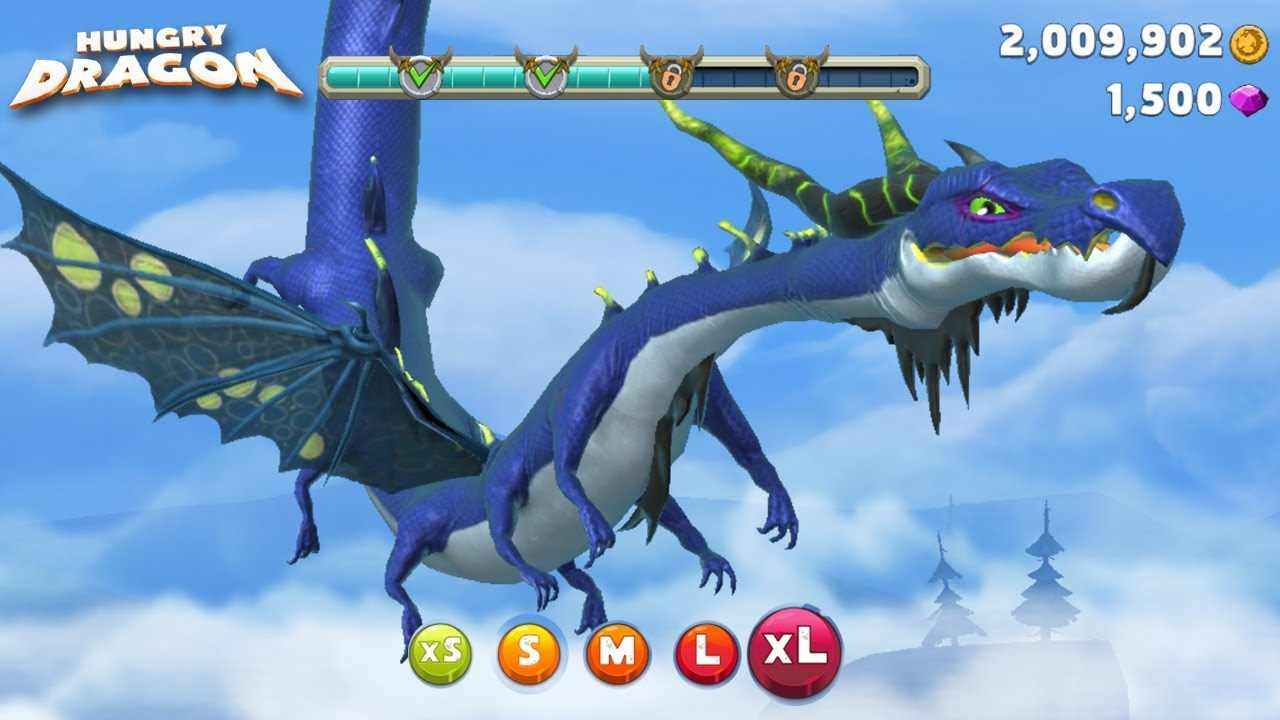 Discover many hidden areas in the world
A huge world in epic 3D is waiting for you to explore here. It consists of various areas spanning villages, hills, forests, Goblin cities, and more. In each place, you will meet new prey and enemies. Moreover, you will have the opportunity to enjoy the beauty of new landscapes. Countless mysteries revolving around the fantasy world will surprise you. But if you want to explore them all, be ready with great power. Ancient treasures lurking in the ocean are held captive by scary things. You should only touch them when the ability to spit fire is in effect.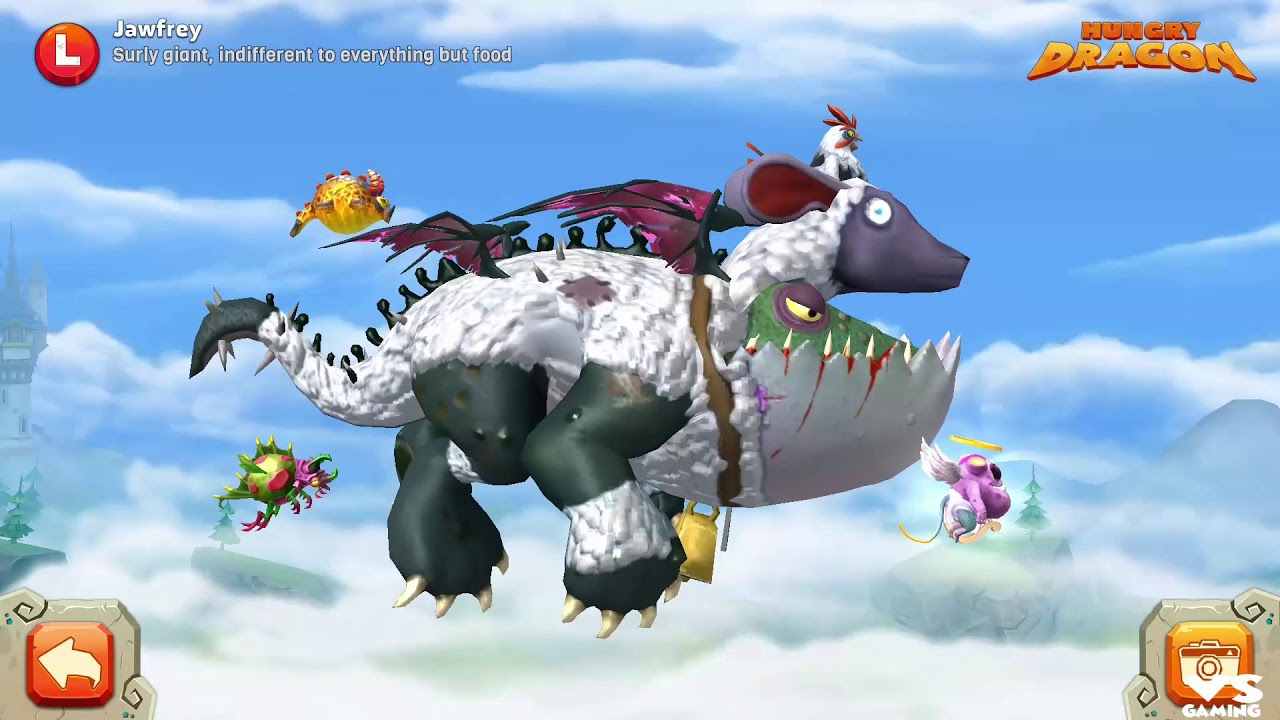 Beautiful design, eye-catching effect
Everything in the game is designed with 2D graphics. It vividly depicts the legendary fantasy world with countless beautiful scenes. Besides, the dragon image is also designed quite impressively. Especially, it becomes unique when you unlock to the highest level and skins. The skill effects such as fire, ice, magic, etc. are also very eye-catching. Enjoy a variety of effects in your battles for survival. Moreover, a large beautiful world will make you mesmerized.
So are you ready for the fiercest hunt? Do not worry because you are the legendary dragon – the lord of all species in the world of Hungry Dragon Mod. Gobble up your favorite prey and hunt for treasures and precious eggs. With the loot you get, you can unlock skins and the most powerful dragons. With great power, you will be the new ruler on the global leaderboard.