Join Lucky Looter and show you are the smartest thief. This is a super addictive action puzzle game that you should not miss. It brings hundreds of levels with difficulty increases over time. Your mission in each level is to steal as many items as you can and escape safely. Sounds easy, doesn't it? But in reality, you will encounter many difficulties. As a thief, you will have to dodge the light from the flashlights of the police and guards. If caught, your career as a thief will be over. So do you want to challenge yourself in this role?
Download Lucky Looter – Learn how to become the richest thief
This game has no cumbersome storyline or complicated gameplay. It opens with the first level – where you are destined to become a thief and have to try to steal the most. If you steal successfully, the game will unlock many new challenges. Just like that, you will have the opportunity to learn how to become the king of thieves. There are many places where you can go. Those are the wealthiest but most heavily guarded locations. Can you steal it all there? If you want to know the answer then jump right into your game.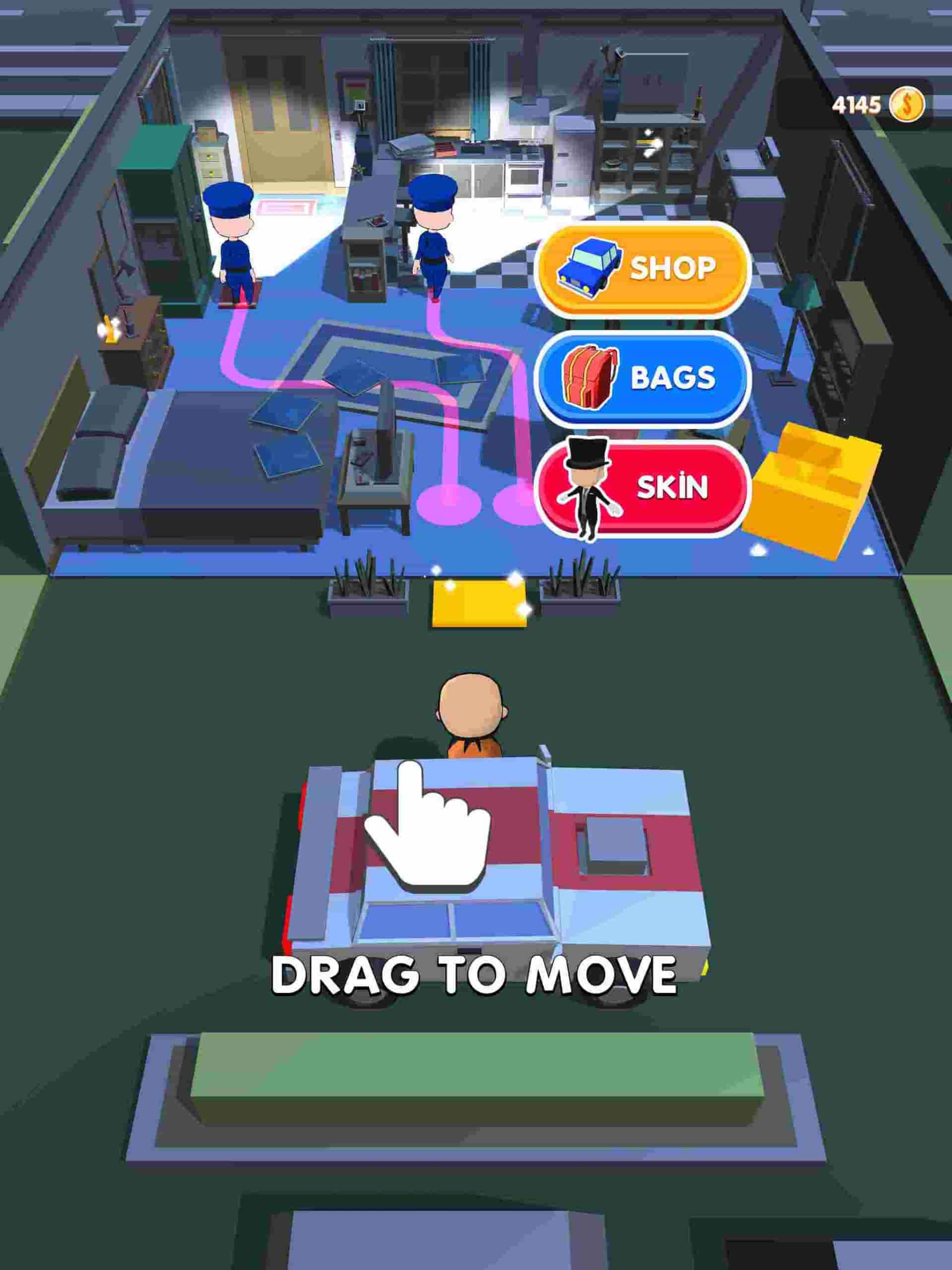 Simple but addictive gameplay
Being a thief is probably the hardest thing, but everything is simple in this game. At each level, your mission is to steal as much as you can and return safely. To do this, you just need to click – release your hand on the screen. Specifically, you will click on the joystick in the middle of the screen to control the thief as you like. You can then release your hand to hide in a box. But you have to click – release flexibly depending on the situation at each level. And this is your chance to show off and practice your agility.
So how to win? Here are some tips you can refer to.
Understand the mechanism of police operation: At each level, you will be supervised by one or several policemen. To outsmart them, you need to grasp their movement mechanics. Each policeman will move on a certain path. If you dodge this path, you will be safe.
Get 3 stars max: Your max goal in each level is to get 3 stars. To do that, you need to steal all available items. But if you get stuck, you can also leave with an empty backpack.
Run fast: This is the only way when you are discovered in Lucky Looter. At that time, hiding in the box no longer works. You need to quickly run to the waiting car and escape.
Unlock new unique skins
To refresh your experience, the game offers tons of unique items in the store. Accordingly, you can find new characters and many beautiful costumes for them. Besides, you also have the right to unlock and collect new bags. Bigger and nicer bags will make you a professional thief. Moreover, don't miss the chance to get new cars. It can be a normal car or an ambulance, a police car, a racing car… As can be seen, there are many ways to change your experience. Mix things up and create your favorite look. But to unlock items, you need to reach the allowed level.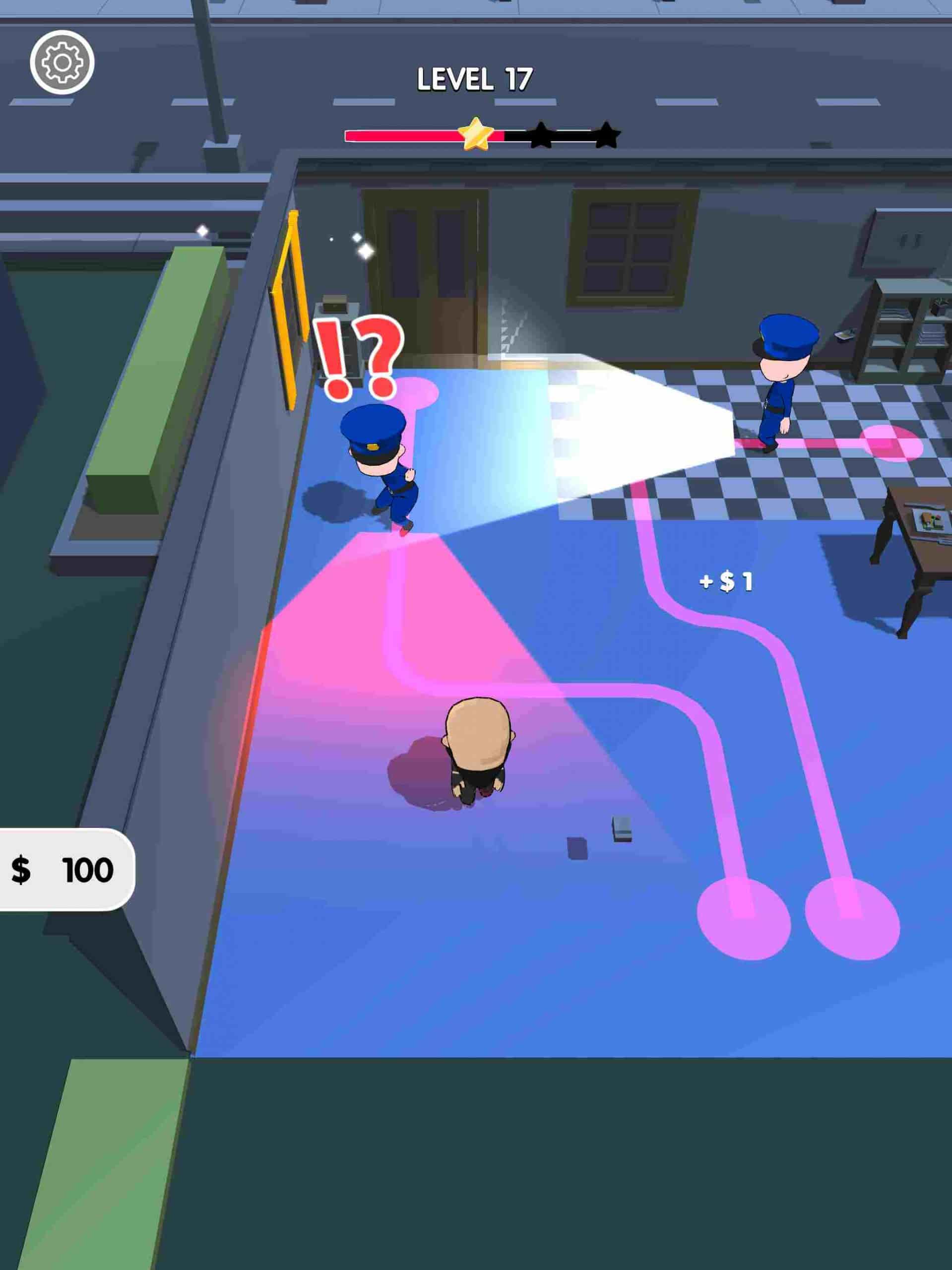 Randomly changing context
Each level in this game is a unique challenge as the game context will change randomly through the levels. When you come to a new level with a new context, you will see that everything is changed. You will have more items to steal, while the location of the items will be randomly arranged. Besides, you will face more challenges when you have to face more guards and police. But the reward for you is very attractive. So try to conquer every level and become the richest thief in the city.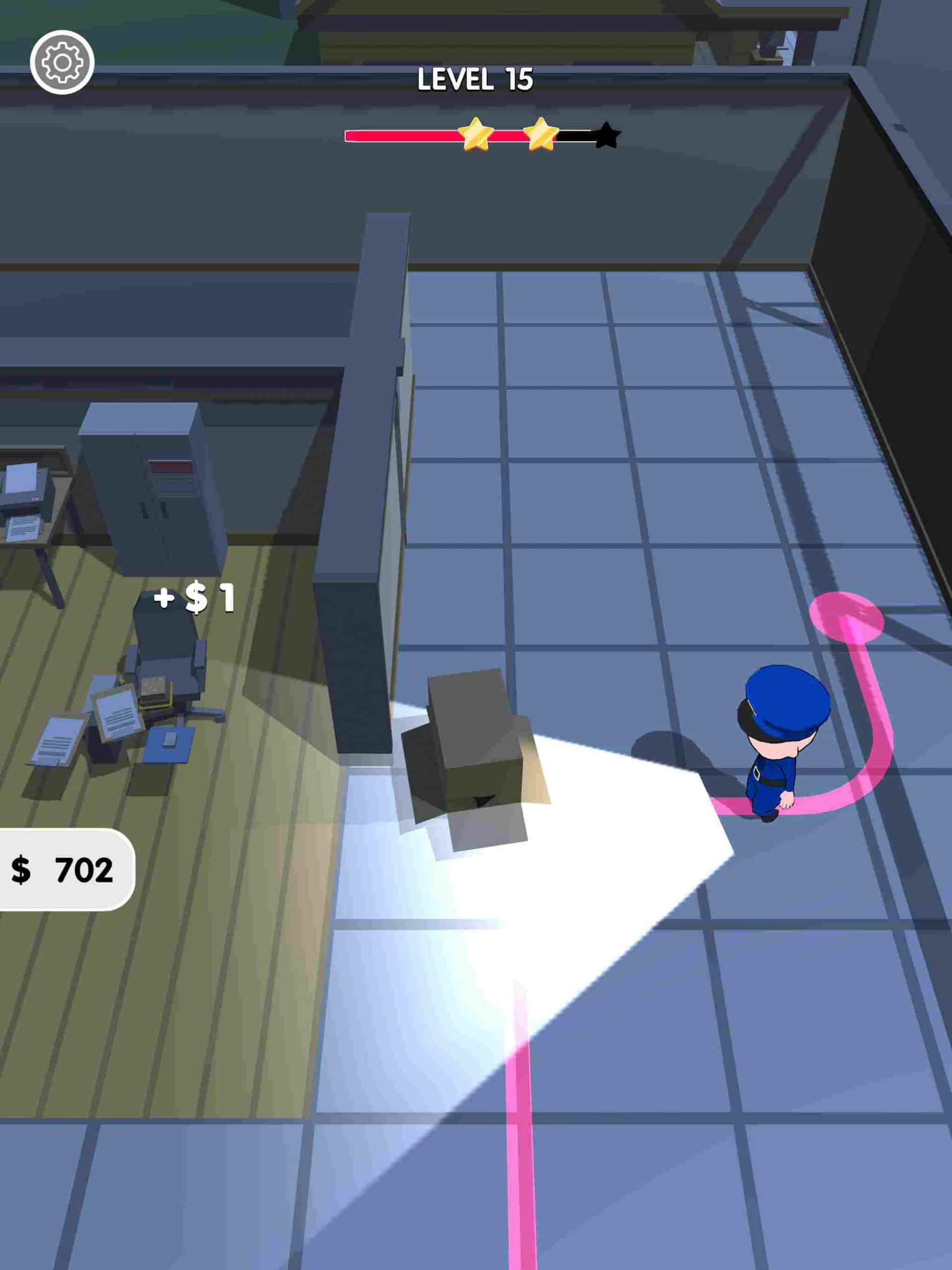 Fun and colorful pictures
The game will help you relax all day every time you visit here. It brings fun cartoon images that are realistically depicted on 2D graphics. You can see everything from a top-down perspective. Items from tables, chairs, and bonsai to computers, kitchen tools, and cabinets… are very close and authentic. Besides, you can move smoothly on the map without any lag. Moreover, the vibrant background music will help you enjoy the relaxation while playing the game.
MOD Feature of Lucky Looter
Unlimited Money
Unlimited Gems
Are you really a lucky thief? Try Lucky Looter to find the answer for yourself. It gives you hundreds of levels with fun but thrilling challenges. Accompanied by attractive rewards that you should not miss. Try out these challenges to hunt for rewards and train your agility. The faster, more skillful, the better the ability to steal.