Monster Truck Vlad & Niki is a fun obstacle course racing game for all types of players. It brings you exciting truck chases on your phone screen. Just click on the screen to drive your truck through various tracks. But can you master it? Be careful with the obstacles on the way and also your opponents. Don't let their car overtake and finish first. You should choose the best trucks in the store. Don't forget to unlock more helmets and super cool clothes to refresh your racer. When everything is ready, show your personality on the track.
Download Monster Truck Vlad & Niki – A racing game for kids
This is the game for you if you are looking for a racing game for kids. It is recommended for children aged 5 years and up with the effect of making them fun. So what is the difference between this game and other racing games? It has simple controls and friendly visuals. Instead of having to learn dozens of racing skills, you just need to click on the screen. Furthermore, there will be no in-game upgrades. You just go to the store and choose the luxury cars to drive. And everything is simply designed in a cartoon style.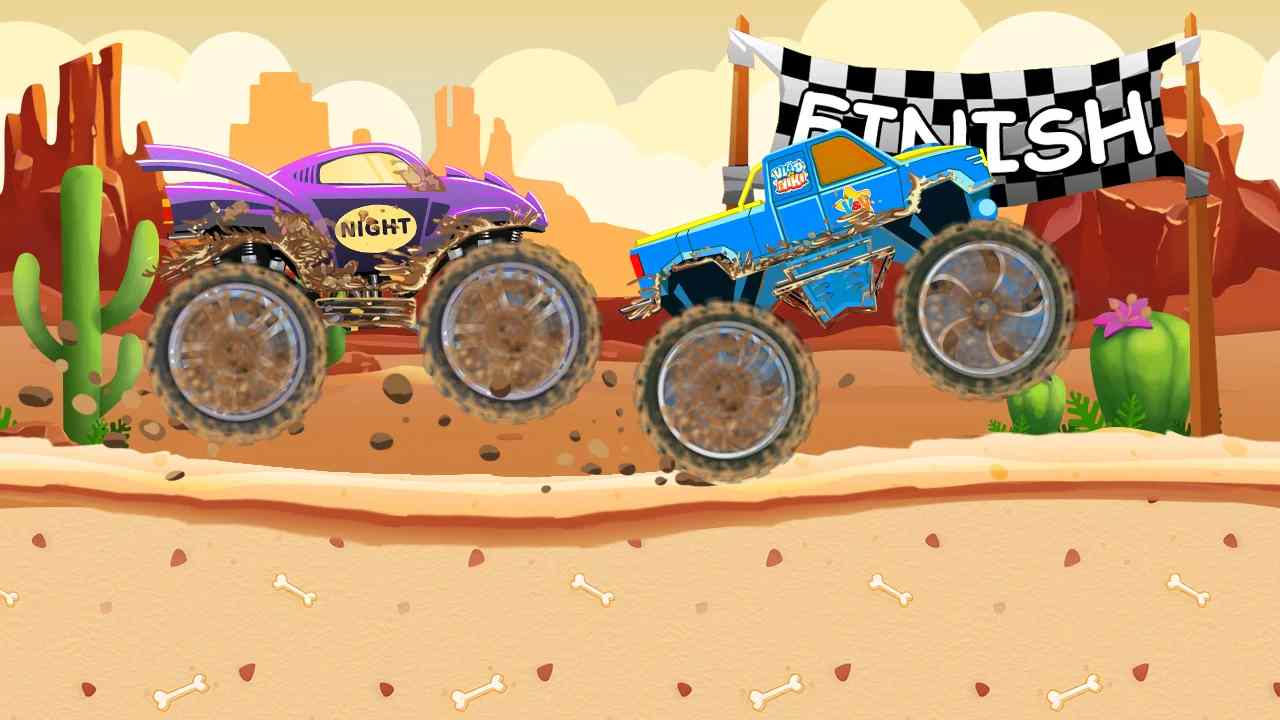 Simple and fun driving mechanics
The game only has a single mode and can work even when offline. This mode includes hundreds of levels. At each level, your task is to drive to the finish line first to earn all 3 gold stars and bonuses. During the race, you have to overcome dozens of challenges from terrain to obstacles, other vehicles, and tailgating opponents. To overcome them all, you should practice driving and experience off-roading. Just use the two virtual buttons "Brake" and "Gas" to drive. But you need to combine them properly to drive straight ahead. Don't win too much if you don't want to roll.
Besides, you need to control the speed of the car. When encountering obstacles, you should slow down to easily control the situation. Don't hesitate to encounter other cars, piles of crates, an empty space, a ladder, or anything else. The monster truck's two big wheels can cross any terrain, as long as you control it properly. Besides, pay attention to your opponents. Accelerate as needed to overtake your opponents and reach the finish line first. You will get 3 stars if you reach the finish line and make no mistakes along the way.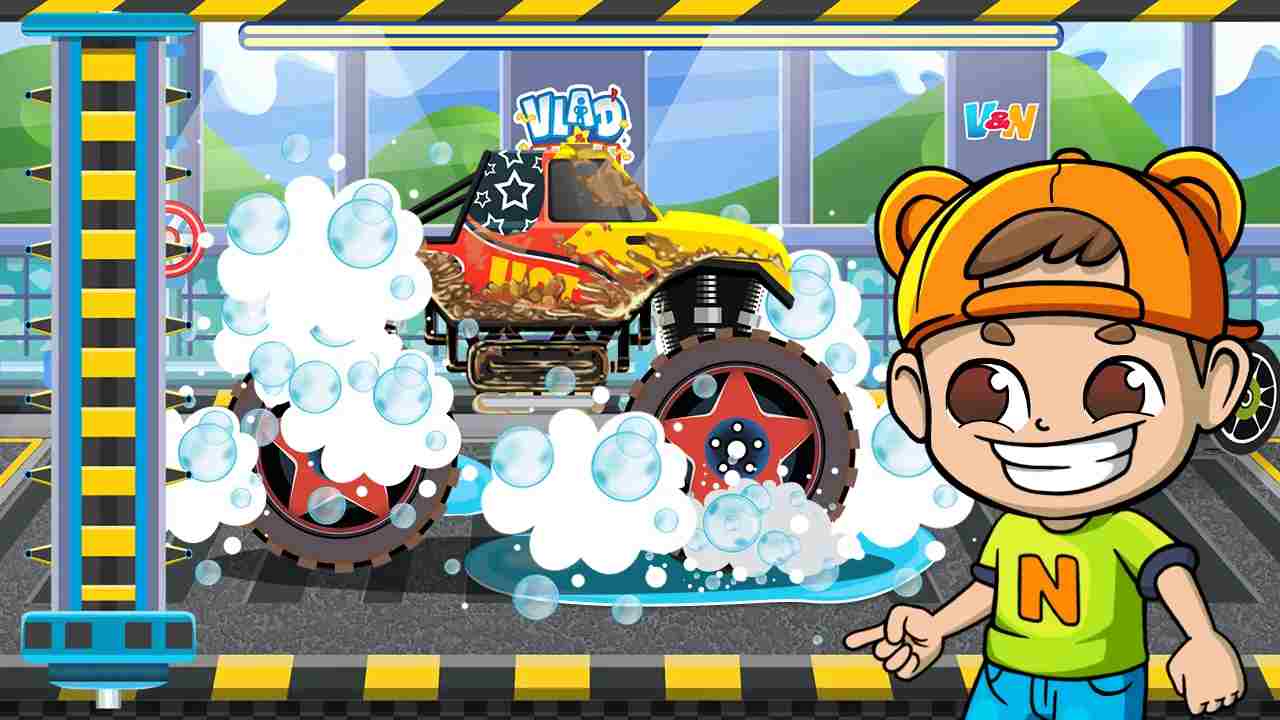 Visit the store with lots of cool stuff
In the shop of Monster Truck Vlad & Niki , you will find unique items. Firstly, it's super cool clothes for real racers. They come in a variety of patterns and vibrant colors and are suitable for both men and women. Don't hesitate to try on one of your favorite outfits. Besides, you will find colorful helmets. They will help protect the driver's head during the driving journey. In addition, there are many beautiful shoe models that you should not miss. But most especially, there are dozens of genuine monster trucks here. You can unlock them when you reach a certain level. Cars with sophisticated shapes and powerful performance will make you fall in love.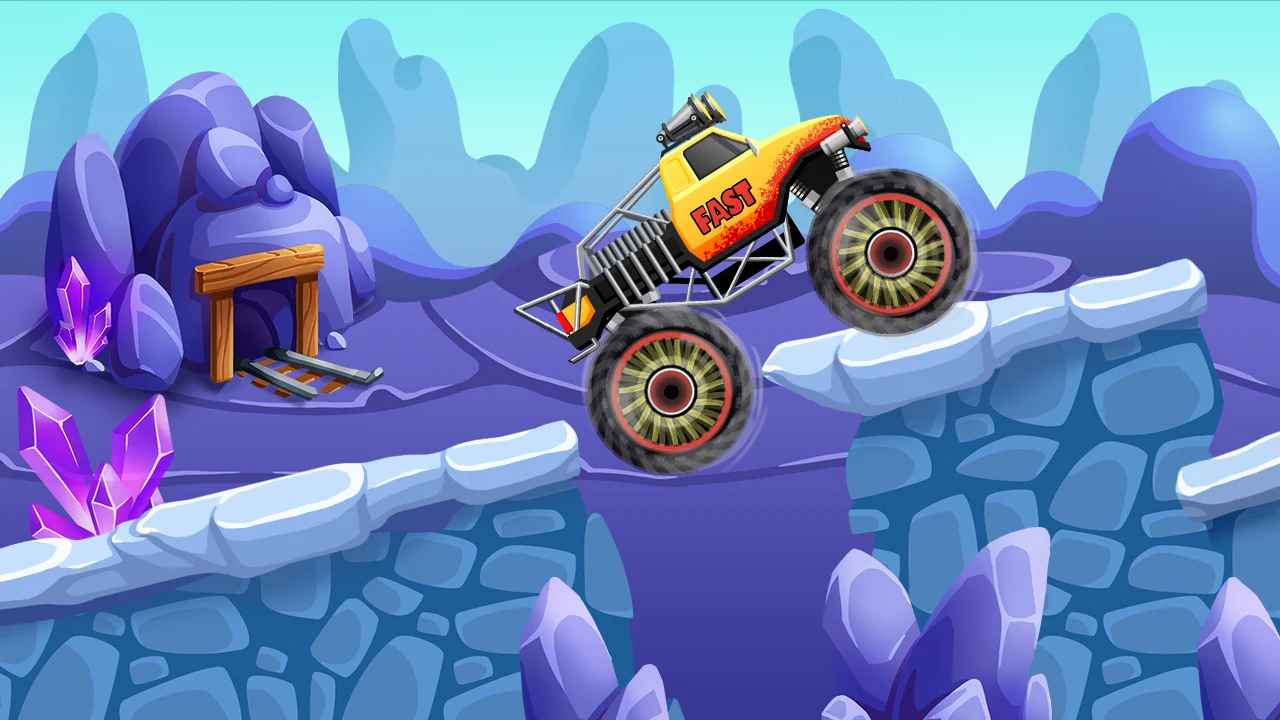 Explore a variety of terrains
What terrain do you want to drive on? This game features multiple maps with the most common terrain types from desert to street, jungle, snow, and more. Each map is designed with theme colors and has a different effect on your journey. You don't need to unlock the map as it will change after some levels. So you will have the opportunity to adventure through many different places and find new sensations. The further you go, the more there is to discover. Moreover, there will be dozens of interesting challenges waiting for you ahead.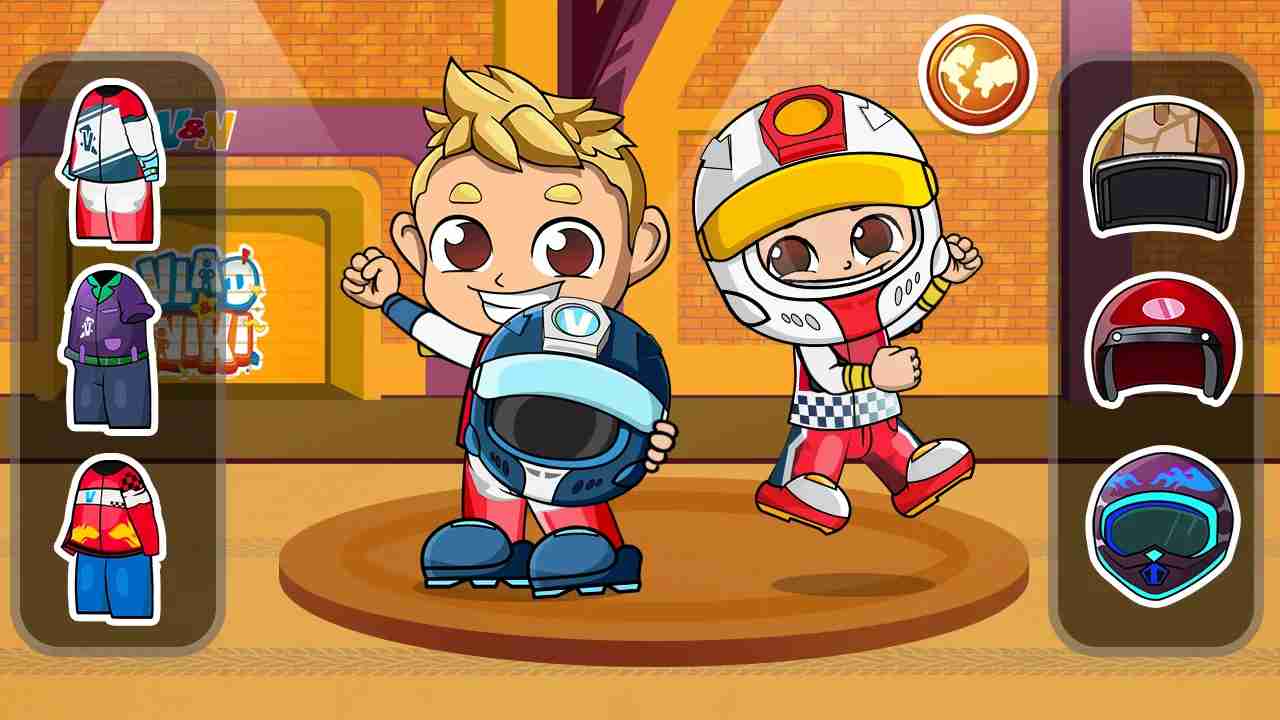 Fun and colorful design
With a game aimed at children, this game is designed with fun images. You will have the opportunity to meet Vlad and Niki in the animated version. Besides, they will accompany you in every race on extreme monster trucks. In addition, the powerful and realistic engine sounds will keep you excited. The voiceover sound is equally fun when simulated on the voices of Vlad and Niki. Along with that, background music with vibrant melodies will create an attraction for your race.
So are you ready for the races? Let's download Monster Truck Vlad & Niki and you can do it now. You can play it anytime, anywhere even offline. So ads will not disturb your experience. Moreover, you can explore dozens of beautiful truck models and drive them through a variety of terrains yourself. Show your skills to pass as many levels as you can.