Space Survivor is an action-strategy game inspired by "Silent Castle". But this game will bring you new, more interesting survival nights. Each night, your job is to protect yourself from evil monsters. First of all, you need to find a safe haven. Next, spend money wisely to build weapons and defenses and repair broken doors. You will survive if the monster does not enter the room. You will not be alone in this survival. There are some other friends who also have to think about how to survive in the next room.
Download Space Survivor – Survive in the monster's spaceship
The setting of this game is a bit different from Silent Castle. It takes place on a spacecraft that is on a journey to find new planets. Unfortunately, this spaceship is attacked and a crazy monster sneaks onto the ship. Now, you and some other crew must find a way to survive the nights. In terms of gameplay, Space Survivor still retains the same tactical survival style as Silent Castle. But it brings many new equipment and weapons to help you survive better.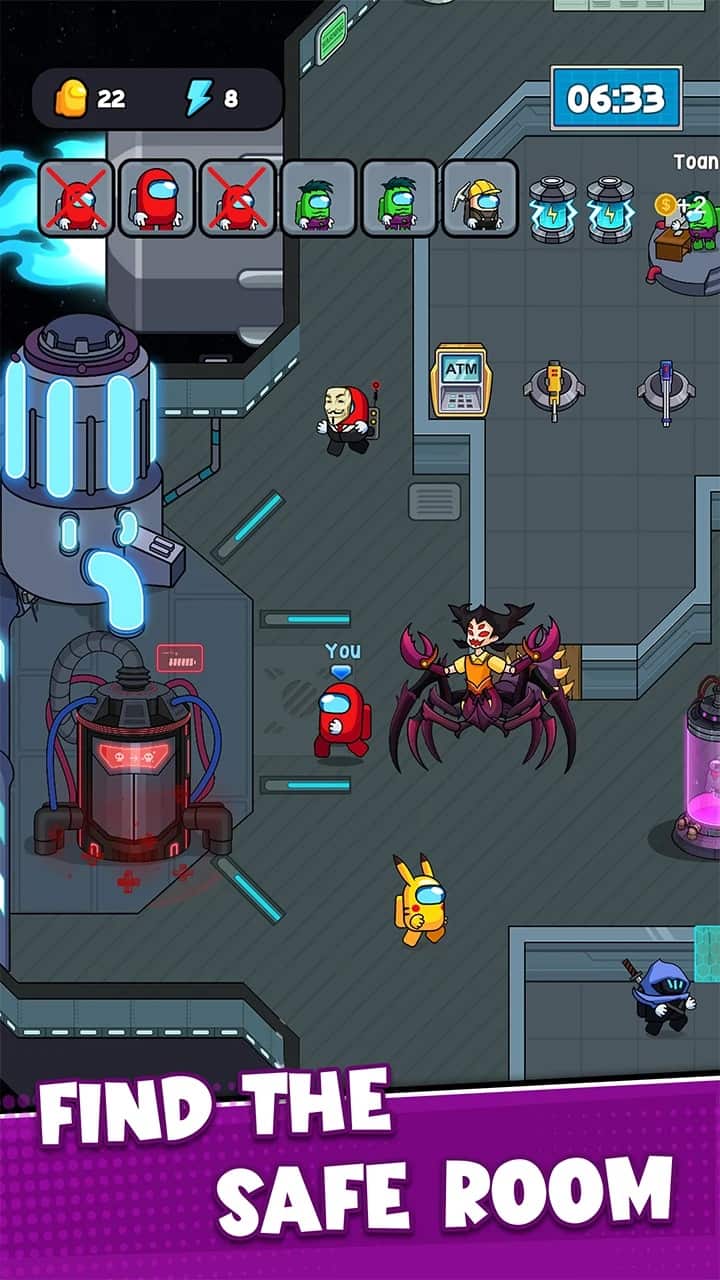 The gameplay is simple but fun
The journey of survival will take many nights. Each night, you and some other characters have to do everything to survive. Each night will be guarded by a certain monster. They will become more and more powerful the longer they survive. At first, you will have a few seconds to find shelter. On the spaceship, there are dozens of different rooms, some of which are silent. You need to avoid these rooms and quickly find a valid room. After the preparation time is over, monsters will come to each room.
During the shelter, you need to work continuously to make weapons and equipment. The game will grant you a certain amount of gold at the beginning of the level to do this. Then, every second that passes, you have more gold coins to continuously craft. You also need to upgrade everything to improve your defense. When monsters come to your room, the best way is to stay in the room. If it knocks on the door, you need to fix the door quickly. Just like that, you will win if you defeat the monster.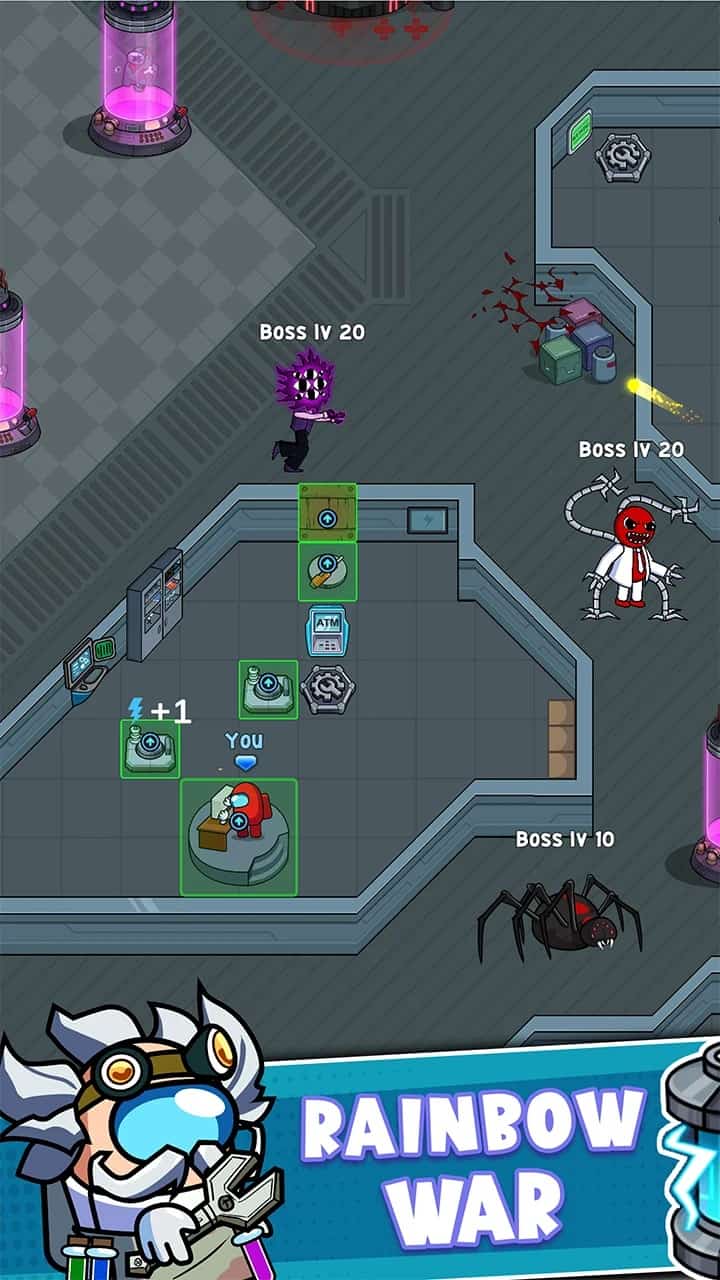 Lots of equipment to craft
Compared to Silent Castle, Space Survivor brings more equipment. It has hundreds of unique items for you to unlock and craft. It can be electric traps, bows, guns, barricades, potions, and more. Each item has its own effect, and you need to consider choosing the right one. Each item also requires you to pay a different fee. So choose equipment that really helps. Not only do you need to craft, but you also need to upgrade everything.
When you level up, you will receive more gold coins to shop and upgrade. This helps you survive longer against the "visits" of monsters. During survival, you can also view other people's rooms and their equipment. But don't leave the room and go there if you don't want to fail early. Besides equipment, the role of the character is equally important. Each character will have their own skills, deciding what equipment can be crafted.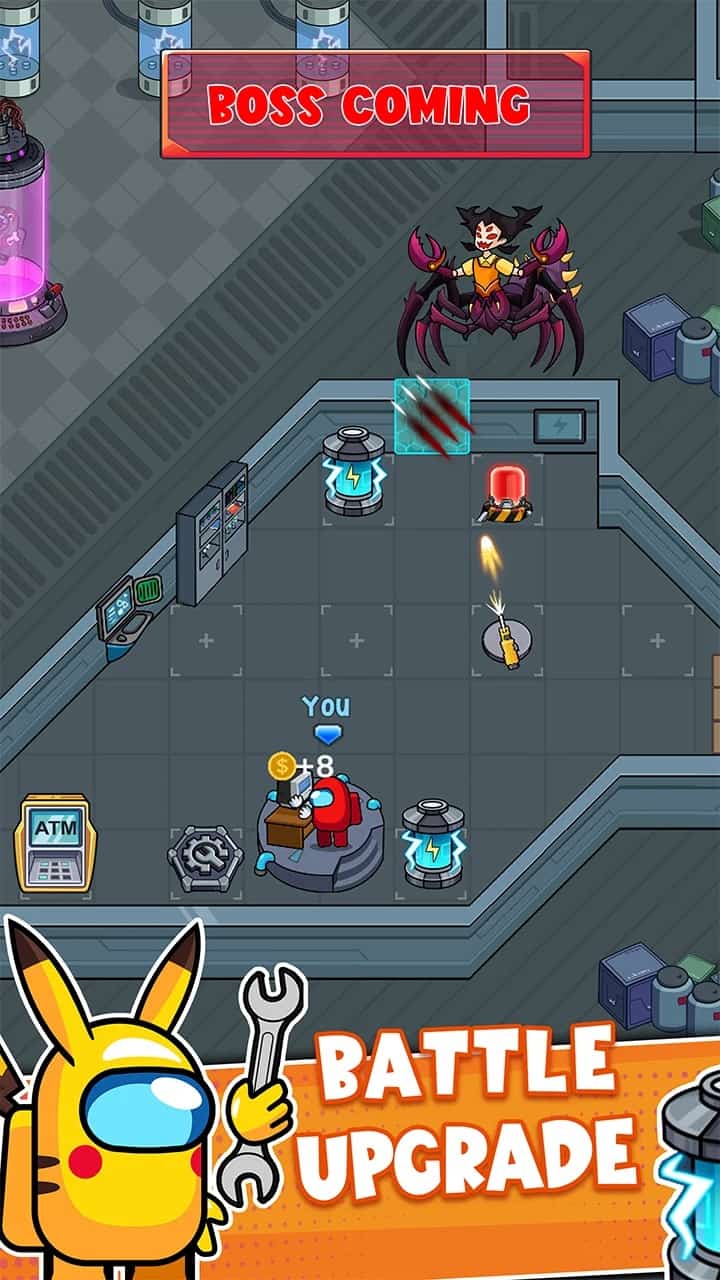 Unlock unique characters
There are dozens of characters appearing in this game. More specifically, the characters are inspired by many famous movies and games. These include the Iron Man crew, Mad Scientist, Pikachu, Digger, Imposter, Mage, Ninja, and more. Each character will have its own special talent, so you need to choose the appropriate character before each survival night. Besides the main character, the monsters are equally diverse, including Venom, Wednesday (monster version), and Rainbow monster,…
Play with friends
Your survival night is not alone. You will play with other friends and survive with them. Each person will have their own strategy, and from there, the results will be different for each person. In fact, everyone can work together to defeat monsters. But don't visit other people's rooms when monsters are roaming.
Colorful 3D design
This game impresses with 3D graphic design. The image of the characters is the best part because they are inspired by the classics. Besides, every image is sharp and colorful. The effects when fighting is also quite eye-catching, accompanied by vivid sound. In general, everything is well-designed.
Those are the reasons that you should try Space Survivor at least once. This game will make you enjoy fun survival nights. You will decide the survival strategy by choosing equipment and weapons. It doesn't need to be done too much, but the strategy is important. Show you are the best survivor of all players!