If you are a fan of the stickman series, Stickman Party Mod is the ideal place for you. This game offers a library of minigames designed with a stickman style. In other words, you will find here dozens of different games. In particular, each game also allows you to choose many modes and maps. You can play alone with up to 3 other friends. You don't even need an internet connection to play. Moreover, each game here has a very simple control mechanism. So it takes less than 1 minute for you to get used to the game and enjoy it on your phone.
Download Stickman Party Mod – Fun stickman game party
Why is this game called a party? That's because it has dozens of different games integrated here. You can unlock and enjoy any game without paying any fee. This is also an opportunity to challenge friends or family members to play games together. Most of the games are designed simply with a friendly stickman style. Therefore, whether you are a child or an adult, this game is for you. Just download the game to your phone and enjoy your favorite game all the time.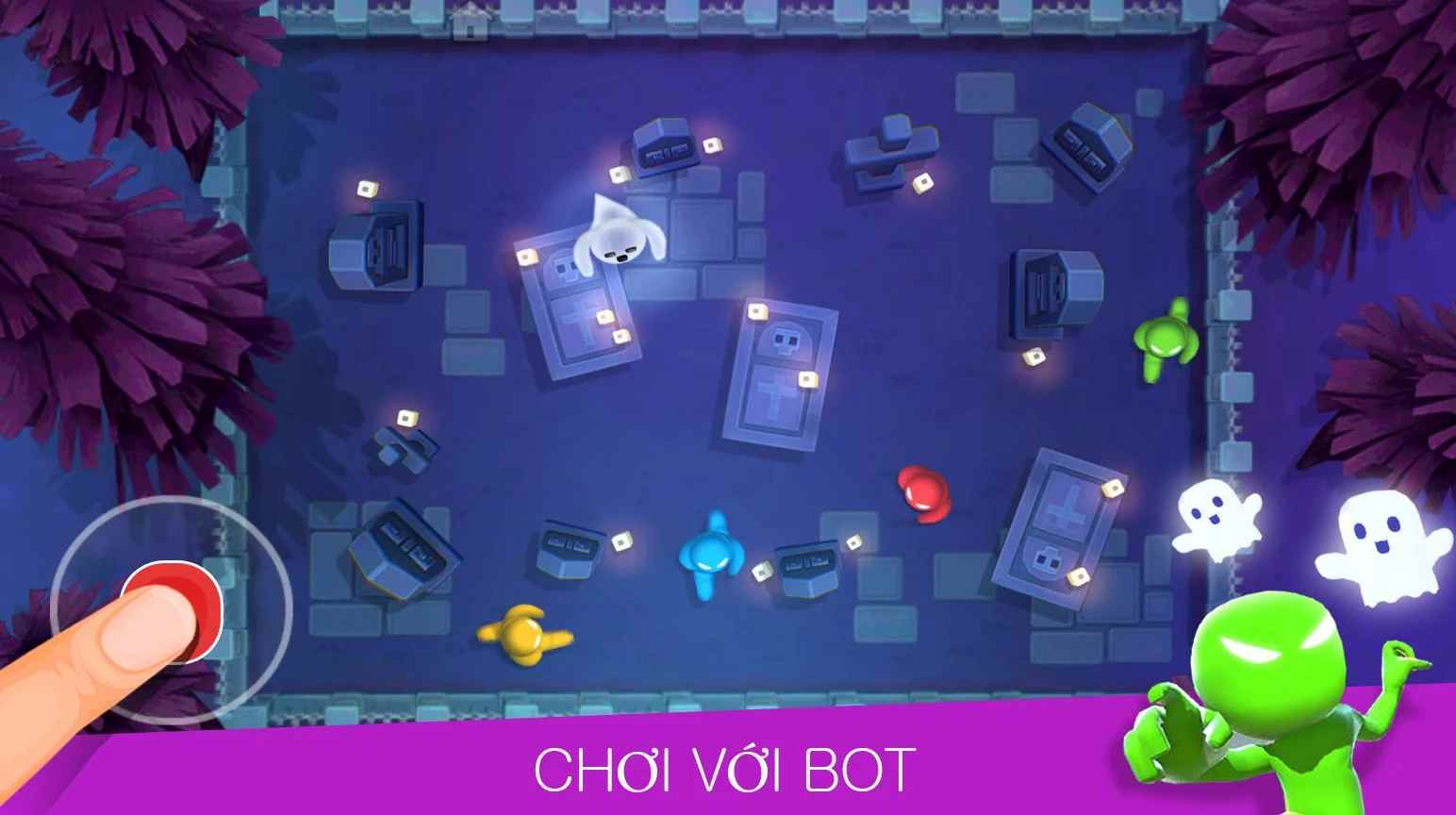 Explore a collection of free minigames
Currently, this game has up to 45 different minigames. The number of minigames is constantly being added and updated, so the game library is increasingly diverse. Let's take a look at the hottest minigames in this library:
Ghost Attack: Join the game, your task is to dodge the pursuit of a ghost on the map. You need to move very skillfully to become the last one caught. Then victory will be yours.
Stickman Run: This is a parkour challenge with stickman style. You can play with your friends to challenge the score with them. Challenges for you are obstacles such as wooden crates, traps, rugged terrain… You must overcome them all to survive as long as possible.
Tank Battle: This is your mission: destroy other tanks on the battlefield. In 2 minutes, whoever gets the most "kills" wins.
Race: You can choose one of the many track maps before racing. The goal is to drive to the finish line as soon as possible to beat the other racers.
Sea Battle: Your waters are being invaded by pirate ships. Take control of the giant cannons and aim accurately to destroy them all.
Chicken: Up to 4 players participate in the battlefield of Stickman Party Mod. The goal of each player is to catch as many chickens as possible for their camp.
Push All: You and other players are transported to a strange land. You must push all opponents into the cliff or into the water to become the last survivor.
Fun Race: This minigame is quite similar to Race. But you will race on a slippery ice road. Many funny situations will bring joy to every player.
Apart from that, the game has other series of minigames like Soccer, Ninja Warriors, Color Switch, Shockwave, Wild West, and more. So what is your favorite game?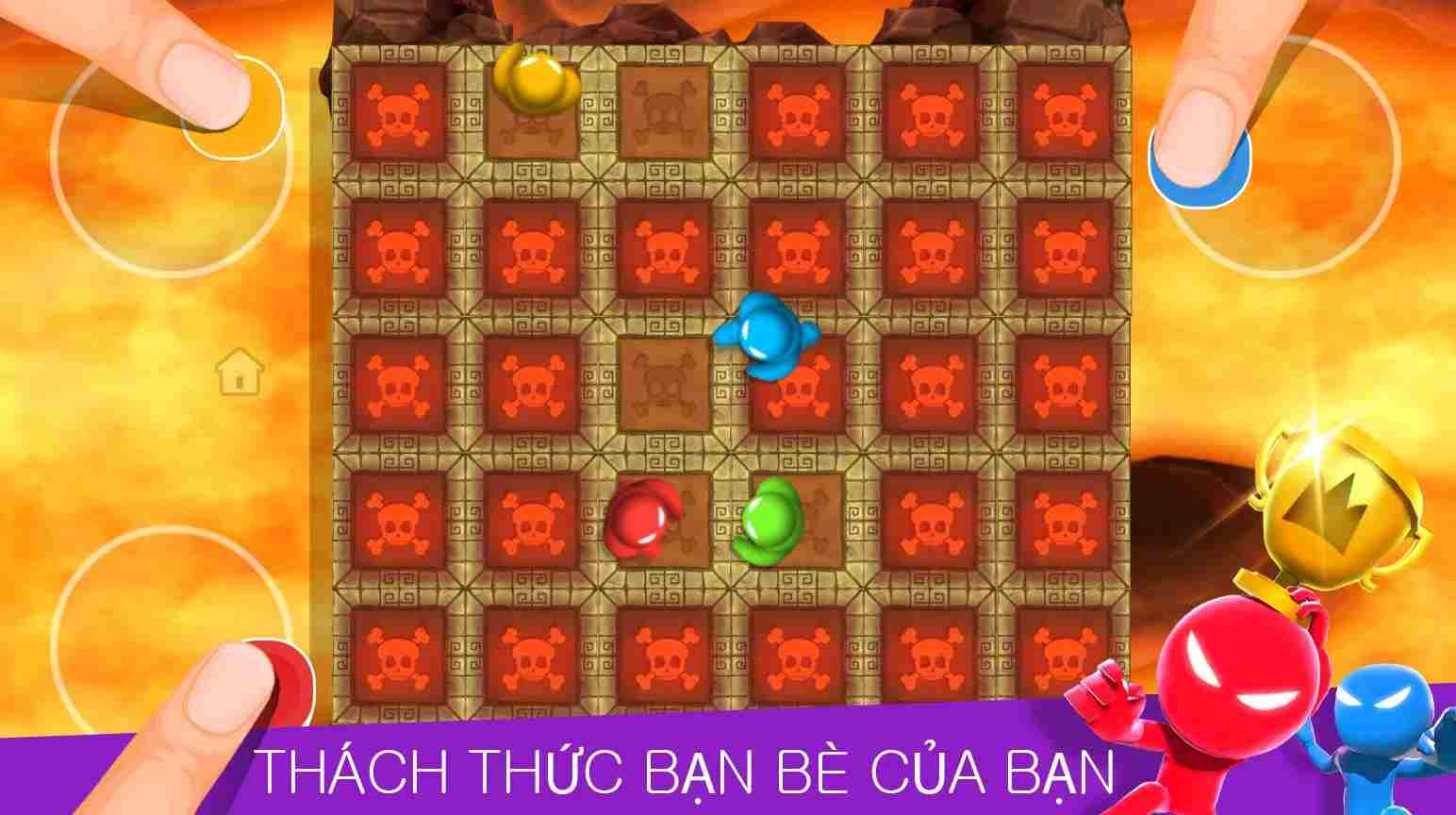 Simple, easy-to-access control mechanism
Most of the minigames in this game are built with simple gameplay. Therefore, you do not need complicated operations to conquer each game. Just tap, swipe, and click on the screen to control your character, drive, shoot, and more. You don't need a few minutes to master all of these operations, right? Besides, the game interface will be displayed visually on the screen in a top-down view.
This viewing angle allows you to observe the entire battlefield and operate conveniently. Moreover, the battlefield context will change flexibly depending on the theme of the minigames. Thanks to that, you will find new inspiration when entering a new game. In particular, most minigames allow you to choose a mode (1, 2, 3, or 4 players). Note, multiplayer mode only allows local connections. In other words, you and the others will play on the same screen.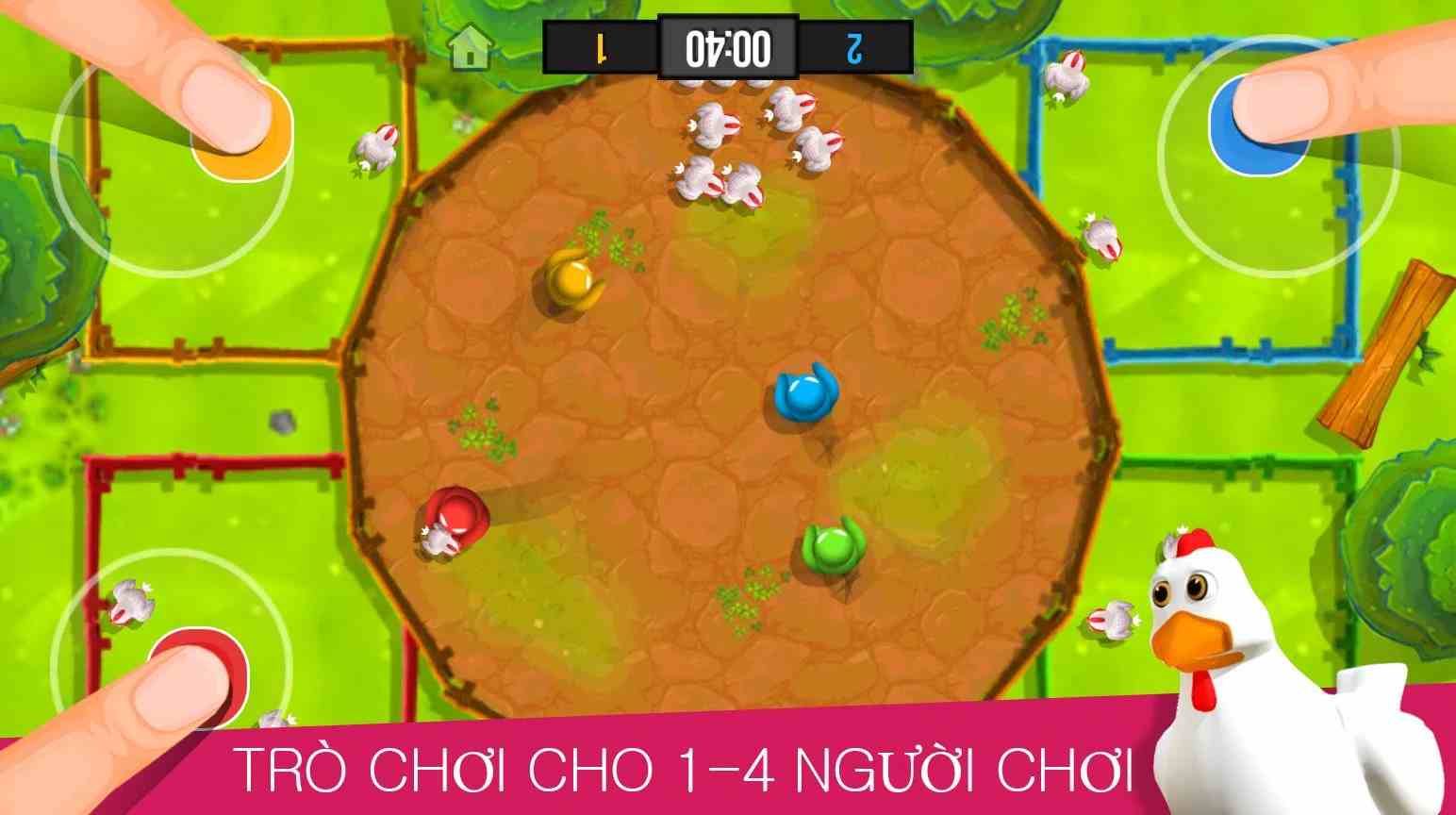 Simple and colorful design
With stickman style, this game promises to satisfy every gamer. Most of the games included in the library are designed with friendly and colorful images. The battlefield scene is bright and diverse, providing endless new inspiration. Moreover, the touch and swipe operations on the screen will come with eye-catching effects. Along with that, you will play the game on many different musical backgrounds. Enjoy vibrant sound throughout the experience.
If you like Stickman Party Mod, quickly download this game to your phone. There is a collection of dozens of minigames waiting for you to discover here. Invite more friends or family to play along in your favorite minigames. It only takes a few taps to play the game, so you'll get to everything quickly. But to conquer the game, you must show your wisdom, skill, and agility.