Come to Sushi Bar Idle and grow your sushi restaurant! This is a simulation game with idle "click" gameplay and a friendly 2D design. Join the game, you will become the manager of a newly opened sushi restaurant. Your mission is to develop it into the most famous sushi empire in Japan. Don't worry if you don't know where to start because just touch the screen to manage it all. You will manage staff and upgrade and expand your restaurant as you progress through the level. Hundreds of unique sushi dishes are waiting for you to discover here.
Download Sushi Bar Idle – Sushi restaurant management simulator
You probably already know that sushi is a famous dish in Japan. But have you ever thought of opening a sushi restaurant? Sushi Bar Idle will help you do it right on your phone. This game is built with idle gameplay combined with management elements. Thanks to that, you will have the opportunity to become a hands-free manager when participating in the game. Just tap the screen to cook, serve, upgrade, manage and unlock everything. What could be simpler? But think about the business strategy a bit if you want to become a rich tycoon.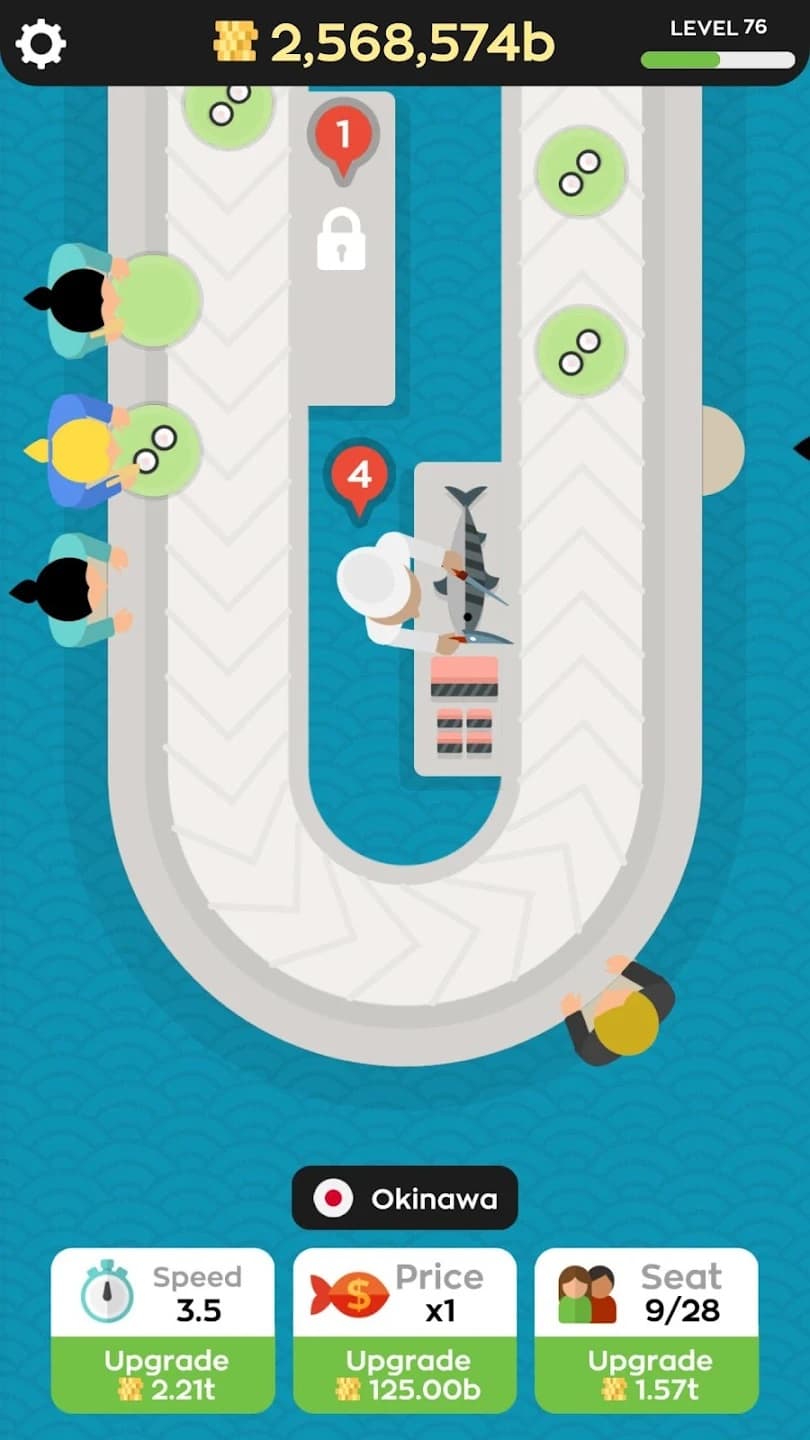 Serve customers on the conveyor belt
At the beginning of the game, you will own a sushi restaurant with a small conveyor belt. This carousel can only accommodate a few customers. Your chef will stand in the middle of the conveyor belt and prepare the sushi. You will click on the chef to create delicious sushi plates. Customers will automatically take the plate and enjoy your sushi. Just like that, the sushi conveyor belt will make a profit after a customer leaves. And you will have money to continue to develop the restaurant further.
Over time, you will have enough money to expand the restaurant. There are three important metrics to upgrade, including speed, price, and the number of seats. You need faster speed to create dishes faster to satisfy diners. You need to upgrade prices for sushi items to improve your restaurant's brand and profitability. Moreover, when the restaurant is popular, you need more seats to meet demand. The higher the level, the more money the upgrade requires. But that's when you can make more profit from your sushi restaurant.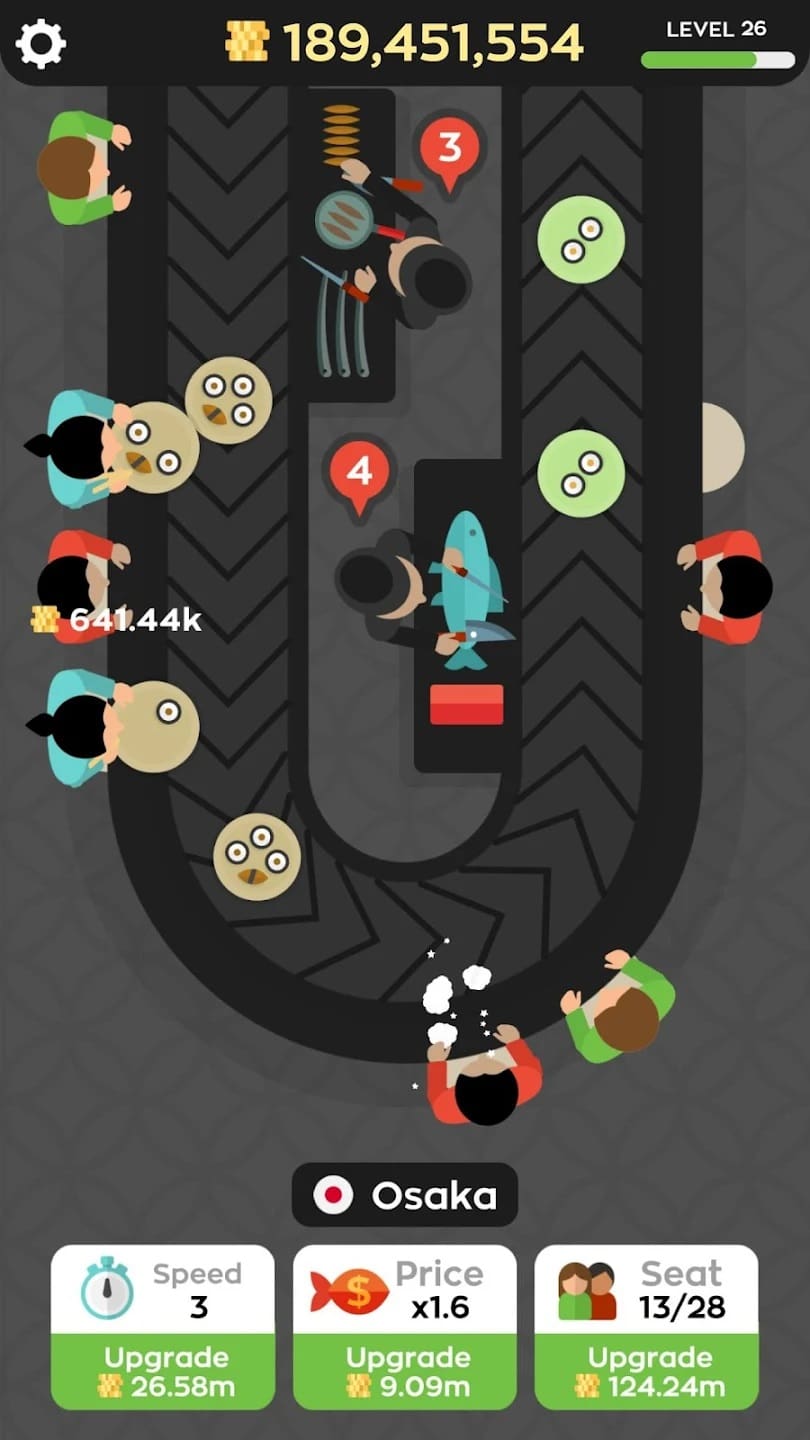 Unlock and upgrade chefs
As a manager in Sushi Bar Idle , you will do everything yourself. Instead, you can hire staff and chefs to take care of cooking and serving. Each chef in the game will have a certain level and know how to create different sushi dishes. You need to upgrade them to improve the cooking level. The higher the level, the faster the cooking speed. Furthermore, new skills are also unlocked as the chef levels up.
Specifically, new sushi dishes will be unlocked when the chef reaches a certain level. As a result, you will have new menu items to attract more customers. Not only that, you can upgrade the chef to make more sushi in one plate. Initially, a plate has only one sushi, but the number of sushi will increase. To speed up the cooking process more, you should use boosters. There are dozens of different types of boosters and each has its own function. Explore them to upgrade your sushi restaurant.
Expanse your sushi restaurant chain
Not only owning a restaurant, but you have the right to expand the chain of sushi restaurants if you want. You will book restaurants at iconic locations in the country of Japan. These include famous landmarks like Tokyo, Osaka, Okinawa, and more. Each restaurant will be designed in its own style and serve unique sushi dishes. There are no limits to your creativity. The more sushi restaurant chains grow, the richer you become. And you will be known as the sushi tycoon in Japan.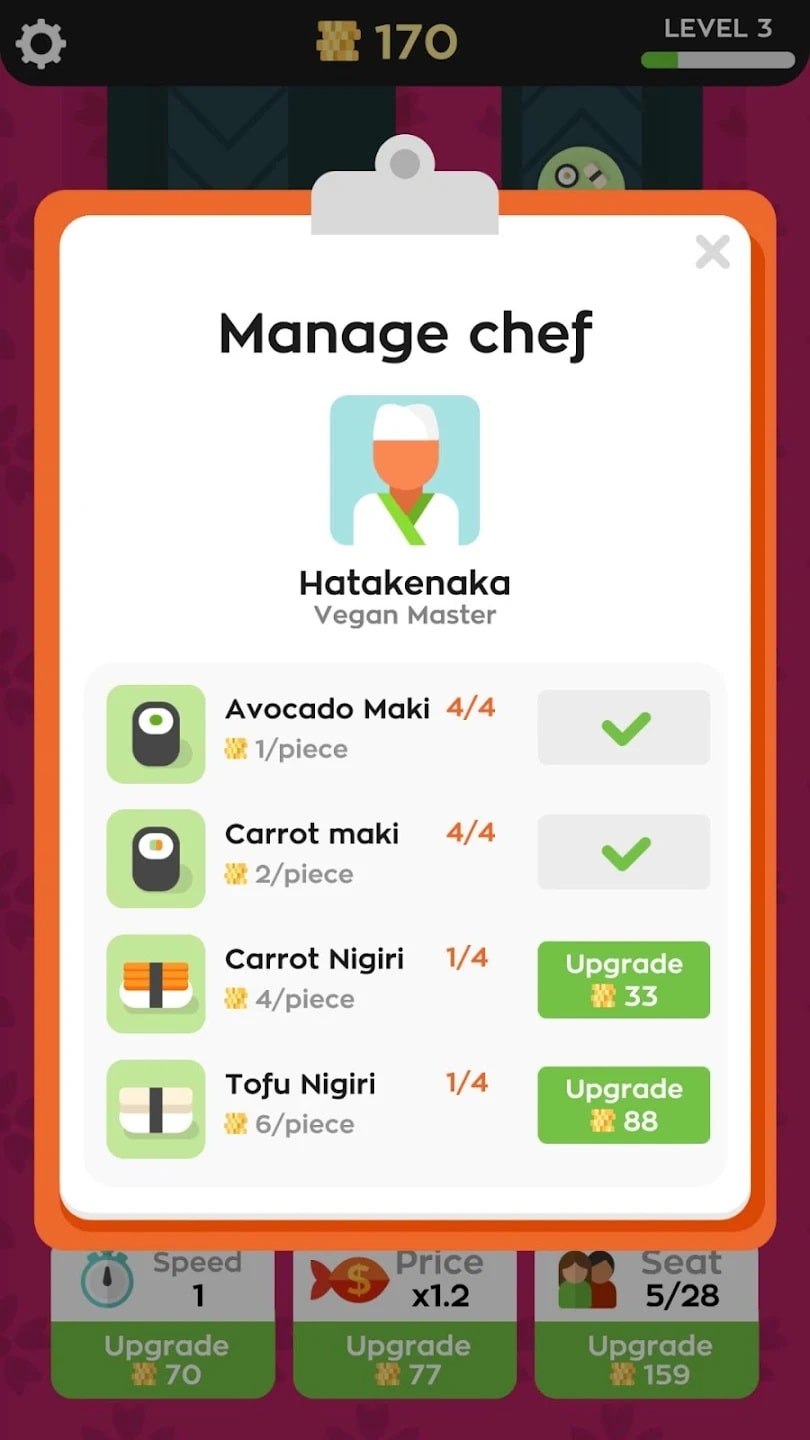 Colorful 2D design
This game will be suitable for all players when owning a friendly 2D design. Everything is designed with a simple but colorful cartoon style. The outstanding colors will bring a fun and relaxing management space. Besides, the moving effects of the carousel and the "click" operation on the screen are also quite eye-catching. The background music is cheerful and vibrant, providing inspiration throughout your restaurant management process.
Don't miss Sushi Bar Idle if you are a fan of the idle management game series. This game will make you fall in love with hundreds of sushi recipes. But you don't need to cook and serve yourself, you will play like a real manager. You just need to hire a chef to process, cook and bring profit to the restaurant. From there, you will have a great profit to continuously unlock and upgrade.