Tap Tap Fish AbyssRium is a beautiful 3D aquarium simulator game. This game will help you relax and calm down while watching the dreamy sea world. Your job is to build an aquarium out of rocks and coral reefs. At the same time, you can unlock hundreds of sea creatures, even whales and dolphins. There are many other adorable friends like dogs and cats that will visit your aquarium. You also have the opportunity to explore other aquariums and design them in your own way. Soft and relaxing music will help you relax while playing this game.
Download Tap Tap Fish AbyssRium – Relax with idle simulation gameplay
There are many ways to relax after tiring working hours, and Tap Tap Fish AbyssRium is one of them. This game is designed with idle gameplay, beautiful 3D graphics, and relaxing background music. These are the factors that help you feel lighter after playing the game. Moreover, in the context of the aquarium with fish swimming every day, you will feel more relaxed and calm. It can be said that this game is not only for entertainment but also a sedative.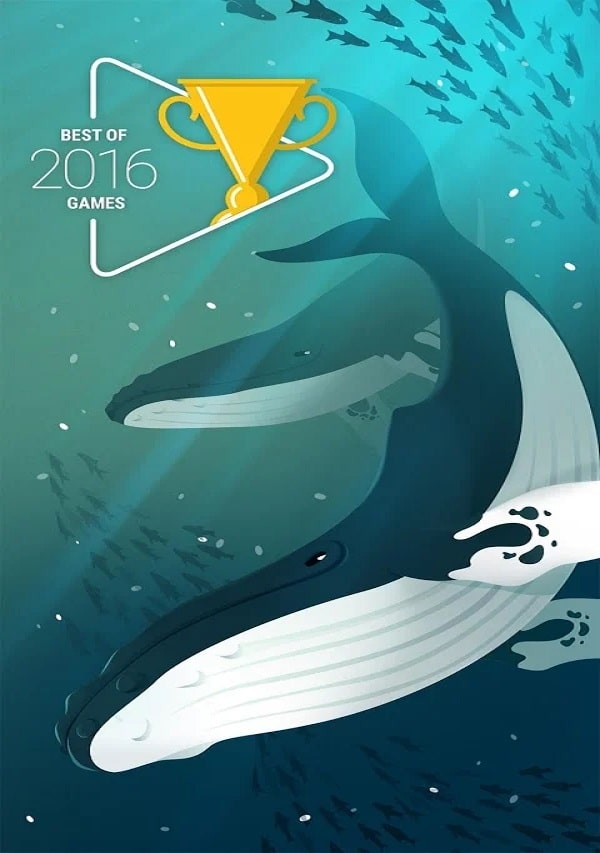 Grow your aquarium
At the beginning of the game, your aquarium only has a big smiley face rock. You need to click on it repeatedly to grow coral reefs around the rock. As the coral grows, the aquarium will attract sea creatures to visit and live. Just like that, you can make the aquarium more and more crowded with just the "click" mechanism on the screen. Besides, you can also unlock new aquariums when you reach a certain level.
Over time, the game will unlock a series of unique items. You can use them to decorate your aquarium. Not only coral, the aquarium also needs glowing stars, balloons, lanterns, decorations, an ice cream house, a guitar, sea plants, and more. Unlock the items you love and make the aquarium the best place. The starfish will glow and attract more creatures.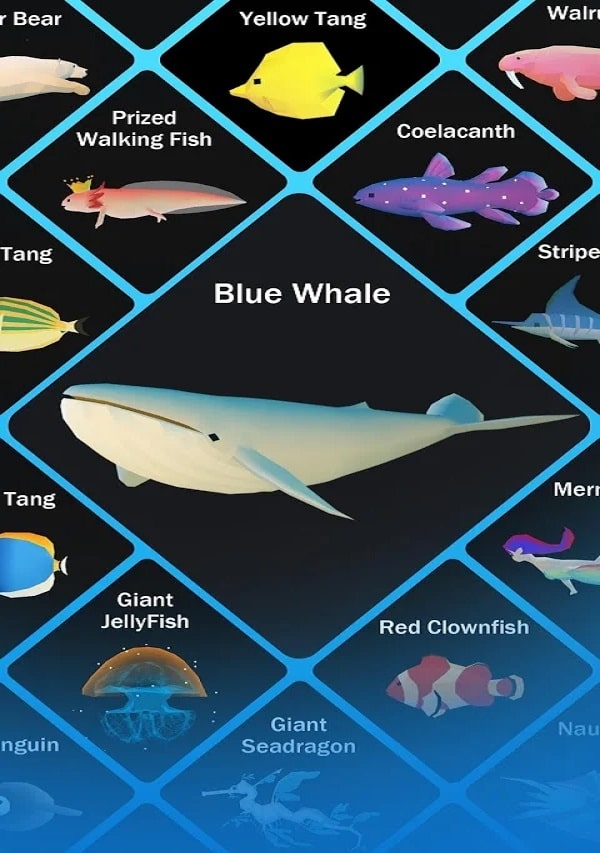 Meet the adorable creatures
What creatures would you like to see in your aquarium? Tap Tap Fish AbyssRium has hundreds of species of sea creatures from familiar species to precious species. Specifically, you can meet sharks, tuna, rays, and even dolphins and whales. The fishes here have both familiar and strange appearances, creating an unprecedented diversity of marine ecosystems. Moreover, each species has its own characteristics, making your aquarium like a miniature ocean.
The higher the aquarium level, the more new creatures it attracts. Up to a certain level, you may even encounter rare exotic creatures. Sea creatures will wade around the aquarium's foundation rock, creating a rare sight to behold. Gentle swimming movements combined with rhythmic music make for a wonderfully relaxing experience. Do you like these?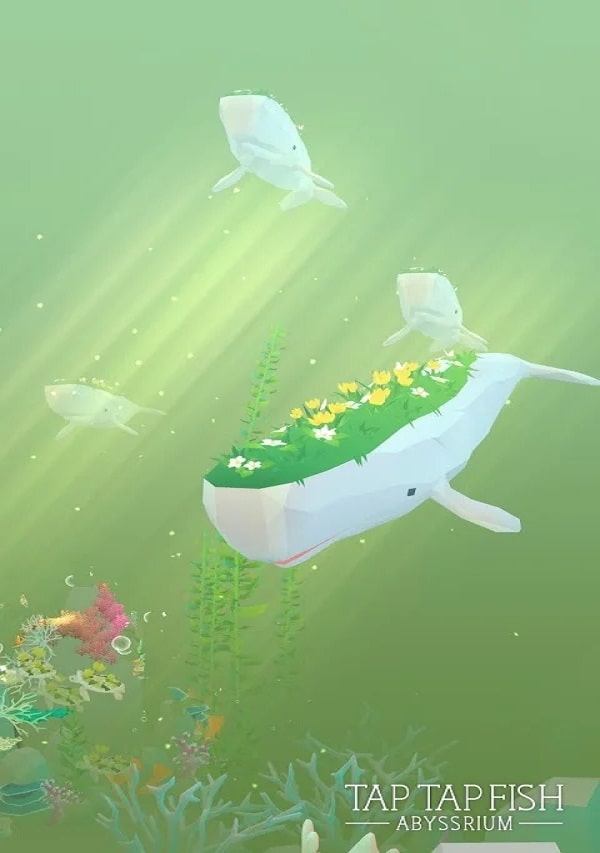 Discover lucky rewards
During the construction of the aquarium, you can collect support rewards to level up faster. It can be lucky bubbles, heart bubbles, mystery eggs, and bonus chests. Take advantage of them to unlock new creatures and new areas. At the same time, the rewards also help to level up the marine life in the aquarium. As you level up, you'll see them look better and more novel.
Expand the aquarium world
You will start with a single aquarium, then dozens of different aquariums. This game covers more than 10 aquarium zones, and each aquarium starts from a rock. From this rock, you just need to "click" on the screen to upgrade it, grow corals, unlock marine life and create the marine ecosystem of your dreams. Each aquarium can be designed in a distinct style and color. Therefore, the marine ecosystem in each place is also different.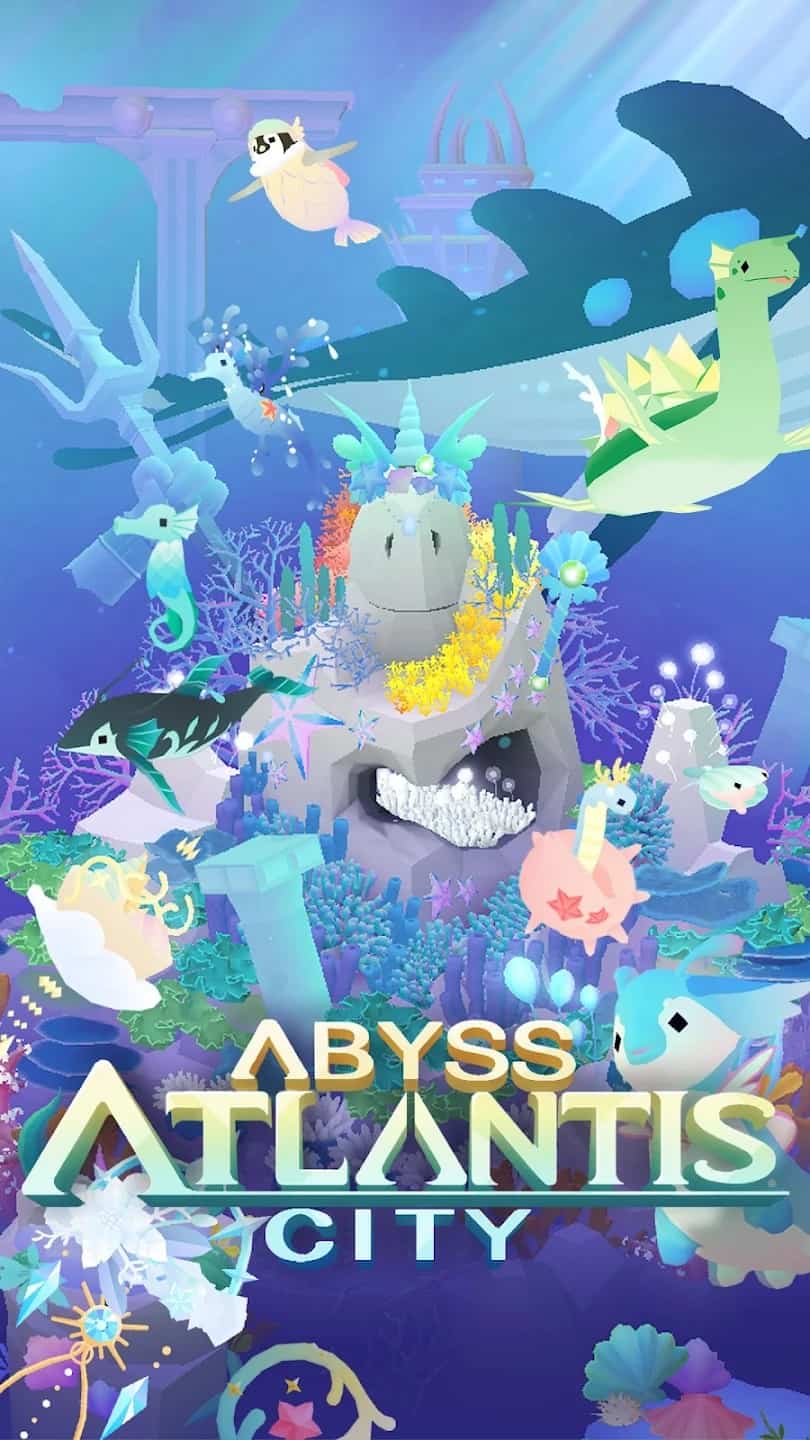 Enjoy soft, relaxing music
The best thing about this game is the music. Those are gentle and relaxing melodies, which have the effect of relieving stress for players. Besides, the image in the game is also very friendly. The images of fish swimming in the aquarium, and glowing coral reefs,… all bring incredible scenery. Enjoy this in your experience, especially during times of stress or pressure. Soothing music and images provide a rare relaxation.
MOD Feature of Tap Tap Fish AbyssRium
MOD Menu
Unlimited money
Unlimited everything
Unlimited pearls
free shopping
So are you ready to build your own aquarium? Tap Tap Fish AbyssRium will delight you with its idle aquarium simulation gameplay. You just need to touch the screen to build and upgrade the aquarium. But you will have amazing marine ecosystems when you level up. It is an ecosystem with all kinds of fish, corals, and many other lovely creatures.