Are you ready to become the boss of a pet restaurant? Come to Animal Restaurant to do it now. This is a 2D simulation game with a fun story and an adorable design. There, you will be the owner of a restaurant run by cats. How will you manage them to cook and make a profit? Make wise decisions from unlocking recipes and hiring waiters to promotion strategies and restaurant upgrades. There are dozens of quests for you every day. Don't leave this adorable cat restaurant if you have some spare time!
Download Animal Restaurant – Fun pet restaurant management
The game story begins when you encounter a stray cat in the forest. You decide to adopt him and open a restaurant dedicated to pets. This is a restaurant served and runs by cats. Your job is to manage them for profit and fun. Not just one cat, but dozens of different cats. You can unlock them as the level progresses. Each cat has its own personality and appearance. Take them back to the restaurant and see what they can do for you.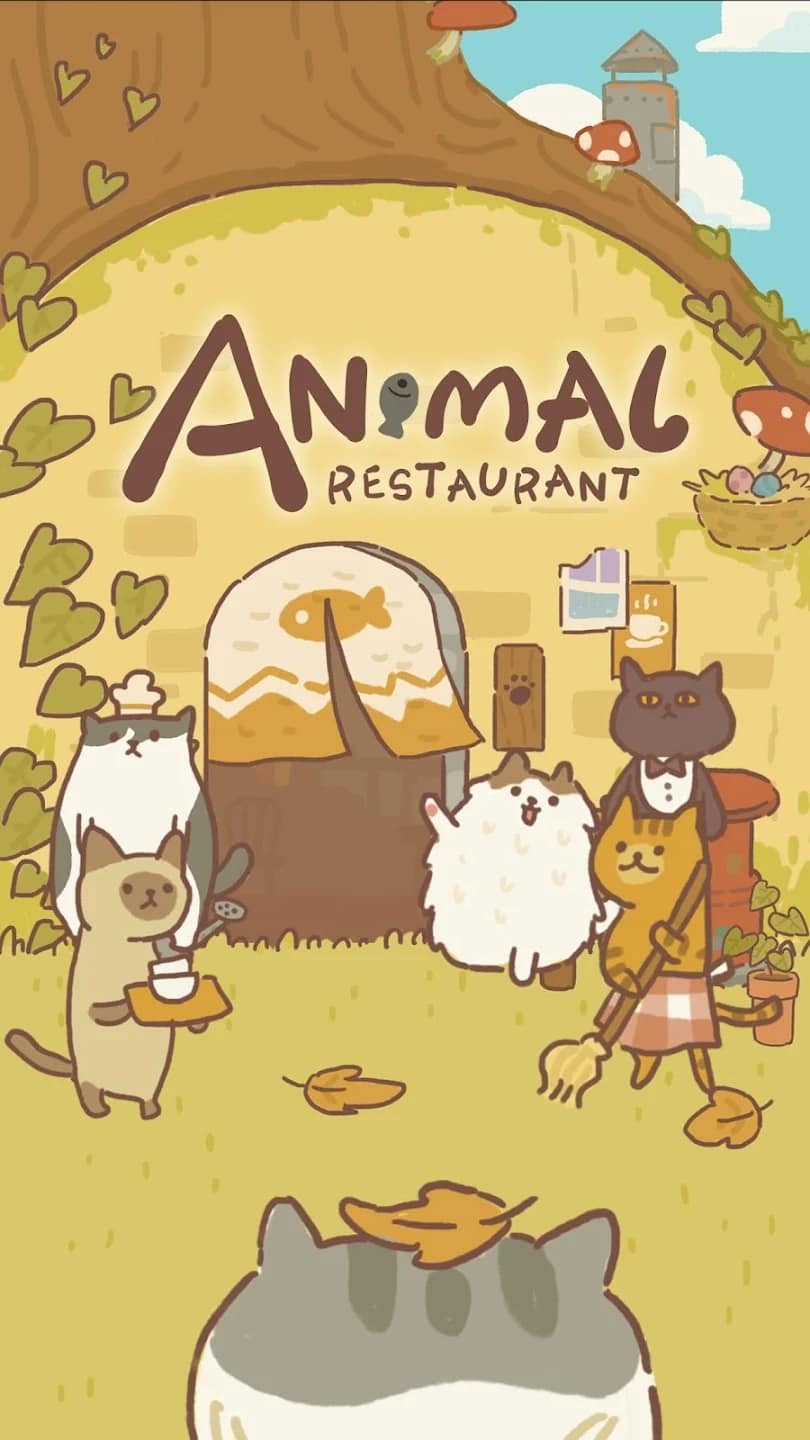 Cat customer service
In the beginning, your restaurant was just a small restaurant. The restaurant menu has only one main course – grilled fish. But you can attract the first few cat customers. They will come to enjoy the food and pay accordingly (the money is "fish cake"). With the money earned, you can unlock many new recipes. It can be strawberry pancakes, shaved ice, spaghetti, snail noodles, hot pot, and more. All the weirdest cooking styles are here.
To run a restaurant, you need a team of hard workers. In the "Staff" category, you will find a series of cats with different roles. You need to hire cats to clean, clean tables and chairs, serve, cook, promote the restaurant, etc. Each cat has its own role to help the restaurant create an effective operation. Your job is to consider hiring the right employees. If you want to cook faster, you need a more professional chef. If you want to serve faster, unlock more service cats.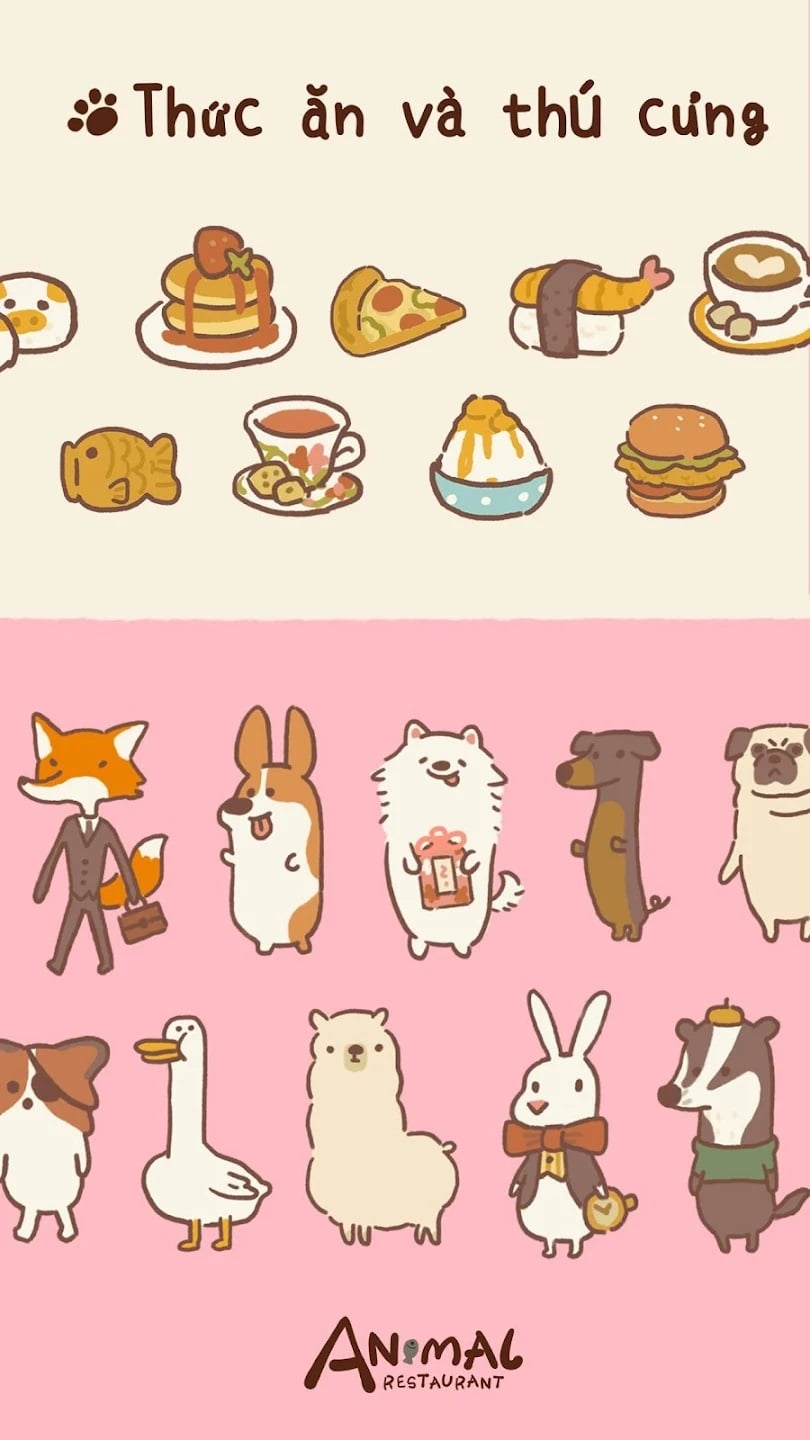 Upgrade your restaurant
As the level progresses, Animal Restaurant allows you to upgrade the restaurant. From a small shop to a 5-star pet restaurant, why not? To get to the desired level, you need to spend a lot of time in your restaurant. You need to manage the staff system properly, serve customers faster, unlock more recipes, etc. In particular, you need to upgrade the restaurant's facilities from cooking utensils to furniture, decoration, and more.
This game offers hundreds of unique items in the store. There, you can find items such as tables, chairs, ovens, kitchen tools, ingredients, decorations, etc. Each item will have a different price and will only be unlocked when you reach the required level. If you want to unlock premium items, speed up the restaurant's development even further. In addition, you can expand the restaurant to serve more customers. Expand your kitchen, serving area, garden, and more. What could be better than seeing the growth of a restaurant?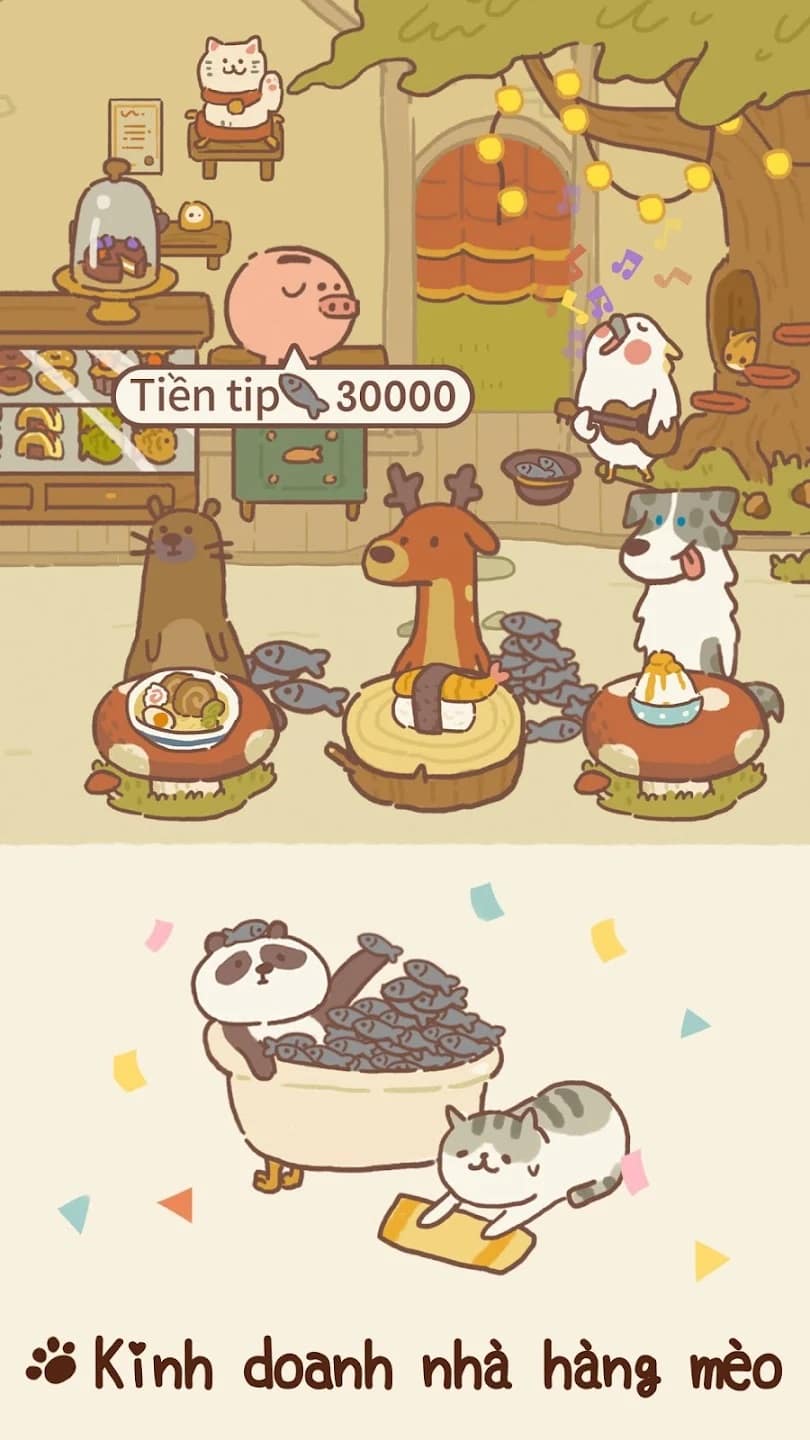 Attract more customers
Hundreds of cats will come to your restaurant. It could be the staff in the restaurant or the guests from the mysterious forest. Each cat is designed with its own look and personality. But they look cuter than you can imagine. Besides, each cat will have its own story. Don't be afraid to chat with them to discover interesting stories. Moreover, unlock more cats to bring more fun to the pet restaurant.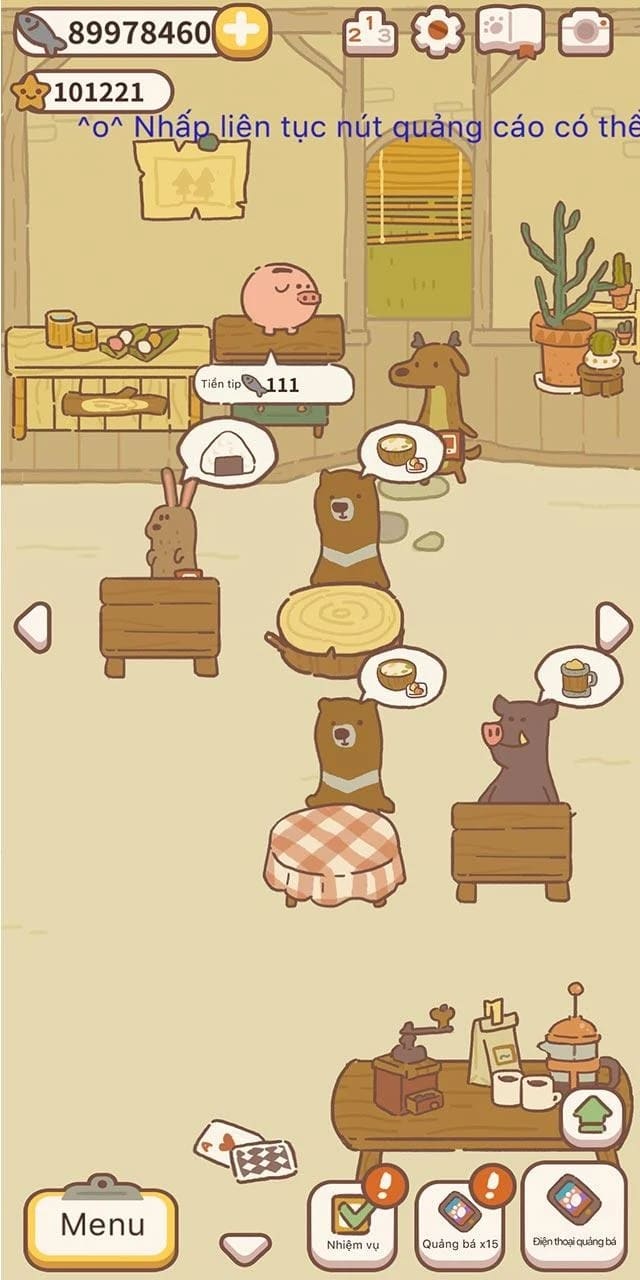 Lovely and colorful 2D design
This game will make gamers fall in love with its lovely design. The cats are the main characters here and they look extremely funny, funny. Each cat also has flexible movements when cleaning, cooking, serving, drinking tea, playing the piano, etc. Thereby, a world of cats appears with many interesting fantasy things. Besides, the game also integrates soothing and relaxing background music. Thanks to that, you will have a great experience when managing a pet restaurant here.
MOD Feature of Animal Restaurant
MOD Menu
Unlimited money
Unlimited gems
Unlimited fish
Unlimited cod
free shopping
What are you waiting for? Let's download the Animal Restaurant game and enjoy the fun here. How will you manage the pet restaurant to make a profit? That's the question for you throughout the game experience. But sometimes, profit is not as important as fun and relaxation. Get ready to meet, chat and create funny stories with the smart cats.