Ant Legion is a strategy game that combines simulation elements with an anthill theme. Join the game, your task is to build a strong army of ants. To do this, you need to complete many different small tasks such as building ant nests, unlocking new species of ants, upgrading queens, and fighting and defending the legion. Moreover, you need to exploit enough food sources for the entire ant colony. Each species of ant here has its own attributes. And your job is to find ways to exploit the advantages of each species. Linking species together will create a powerful army of ants and an underground empire.
Download Ant Legion – Build your ant empire
Are you curious about the underground world? This is a natural environment dominated by ants. Inspired by this fact, Ant Legion offers you an exciting experience revolving around ants. This game is well done in terms of gameplay and visual design. Thanks to that, you not only find entertainment inspiration but also learn a lot of useful knowledge about the world of ants. You will discover the living habits, nesting, and laying eggs,… of ants through intuitive 3D images and movements.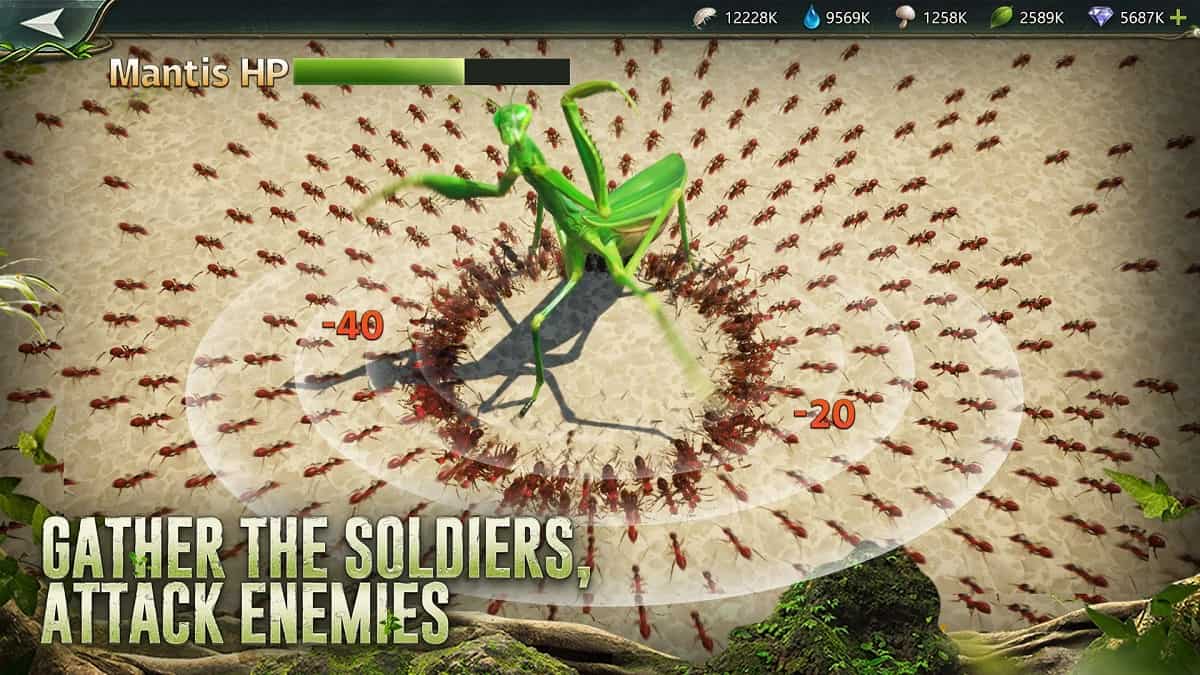 Build nests, search for food
At the beginning of the game, you get a queen – an ant class capable of spawning. Your job is to dig a nest deep in the ground. After that, the queen ant will give birth to the first egg. During the time of laying and incubating eggs, the queen needs to be provided with adequate food. When the eggs hatch, the ants will automatically go to search for food and explore other areas in the ground. You can control them to go where you want. Furthermore, you will decide what the ants should do in situations.
The most important thing in the process of building a legion of ants is to create nests and find food. In the beginning, you may just have a small and close-to-the-ground nest. But over time, you need to expand the nest size to accommodate more ants. Besides, you need deeper nests to avoid surface hazards. Finding food is equally important. Pay attention to water tracing, food transportation, and daily food storage for ant colony growth.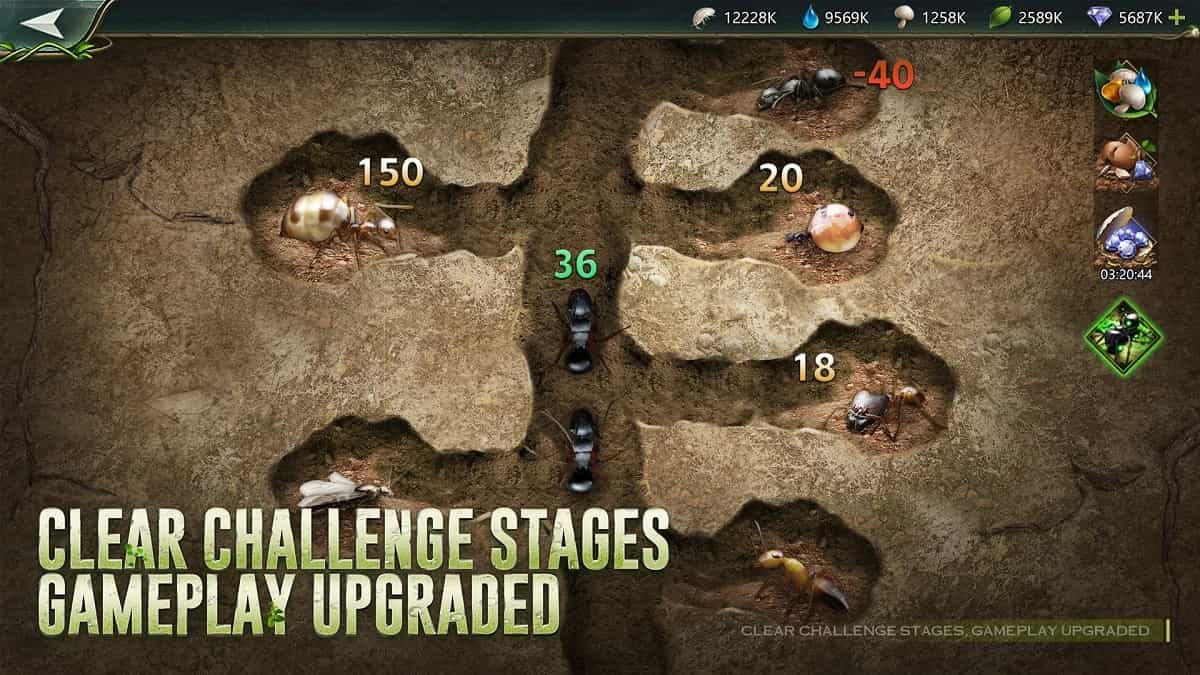 Upgrade the ants in the swarm
Each egg in Ant Legion will hatch a certain species of ant. Each species has different attributes and powers. So far, this game has more than 100 species of ants. There are common species such as redwood ants, jumping ants, etc. Each species will have a colony of ants with basic attributes such as HP, ATK, and DEF. You need to upgrade them to improve these properties. Over time, you will have a growing army of ants.
To upgrade, you need to accumulate resources including food, water, and currency. You need to spend a certain amount of resources on each evolution. After evolving to a new level, the ant will become stronger. At the same time, it is improved in terms of appearance, level, number of stars, and number of skills. Evolve continuously to build a legion of ants that dominate the ground!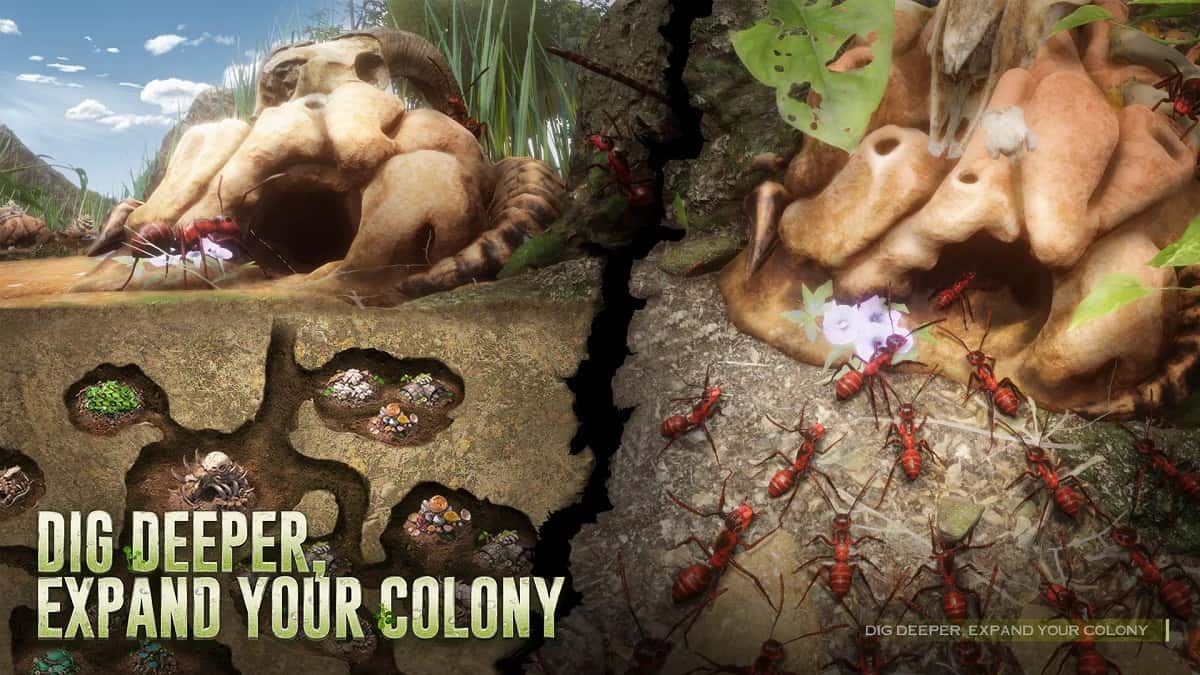 Expand the territory, protect the empire
As the army of ants grows, you need more and more new places to live. You can dig deeper into the ground or explore the surrounding areas. Of course, you need to build the strongest team of digging ants to speed up digging and building nests. Moreover, you need a team of warrior ants to protect the nest when the enemy attacks.
The biggest enemies of the ants are insects such as frogs, crickets, mantises, etc. They can come to the ant's lair anytime they are hungry. Therefore, to protect your achievements, have a battle plan ready at all times. Combine ants with good damage and defense as a defense team. Moreover, you should upgrade the nest regularly to create a good barrier.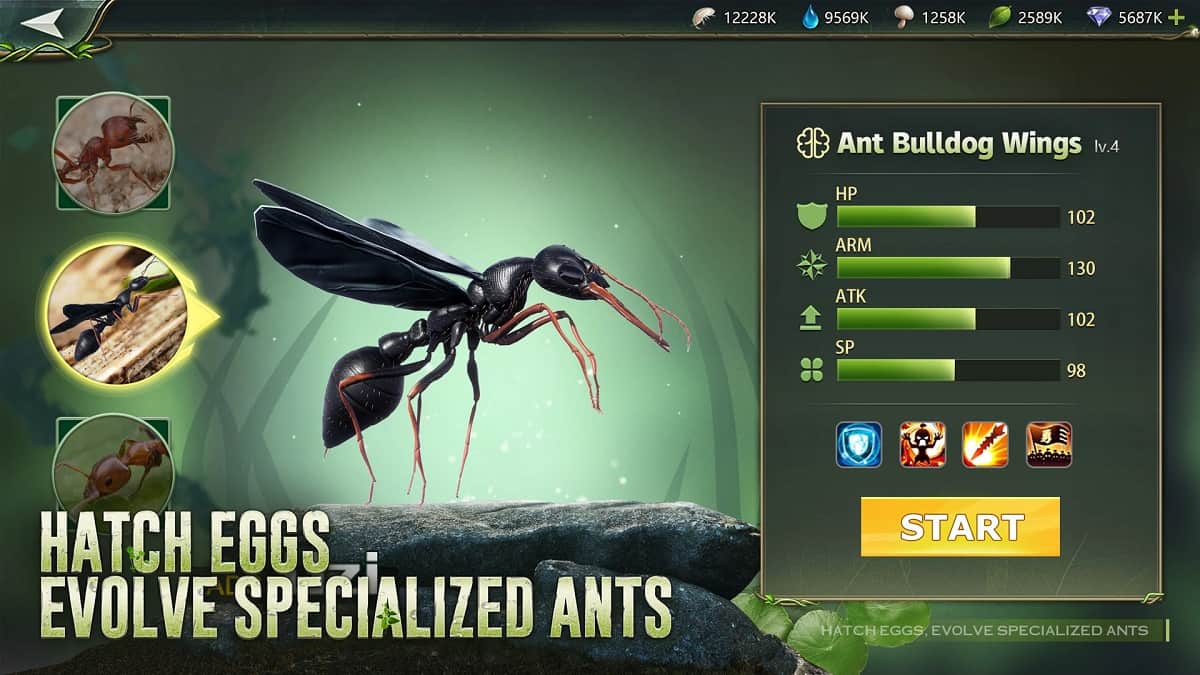 Realistic and vivid 3D design
This game not only impresses with its interesting tactical gameplay but also with its design image. Everything is built on high-quality 3D graphics. In particular, the images and movements of ants are inspired by thousands of global photographic works. As a result, you'll see everything with great sharpness and true-to-life motion. The underground world is equally lively. This game will make you fall in love with the surprisingly realistic natural environment.
MOD Feature of Ant Legion
MOD Menu
Unlimited money
Unlimited everything
free shopping
no ads
Download Ant Legion now to explore the world of ants. Start with a large queen and you will have a large nest later on. Show smart strategy on how to build nests, stockpile food, and upgrade everything. The power of the ant colony will help you get everything you want. You also have the opportunity to compete with many online gamers on the leaderboard.