Clash of Legions is a real-time strategy tower defense game. It will bring you into the epic battle between humanity and the evil Orc legion. It is also an online battlefield for you to compete with many global leaders. Therefore, you need to prepare wise strategies to conquer them all. To join the war, you need a strong squad of soldiers. Search the store for your favorite unit cards and assemble them into your squad. You can put them on a large battlefield that can hold up to 200 units. Your mission is to defeat the enemy and earn loot to build the country. A long battle journey with interesting strategic elements is waiting for you to explore.
Download Clash of Legions – Classic strategy game online
Clash of Legions gameplay isn't new, but it's engaging enough to keep you in the game for a long time. It's like many other strategy gamers with its idle card arrangement. You can enjoy this mechanic in exciting modes, including PvE and PvP. In PvE mode, the game offers hundreds of quests for you to fight orcs and explore the world map. Meanwhile, the PvP mode allows you to connect and compete with online multiplayer. You can also join clans with friends to explore quests big and small. In clans, players can share troops, resources, and rewards with each other. Choose your favorite mode and get started.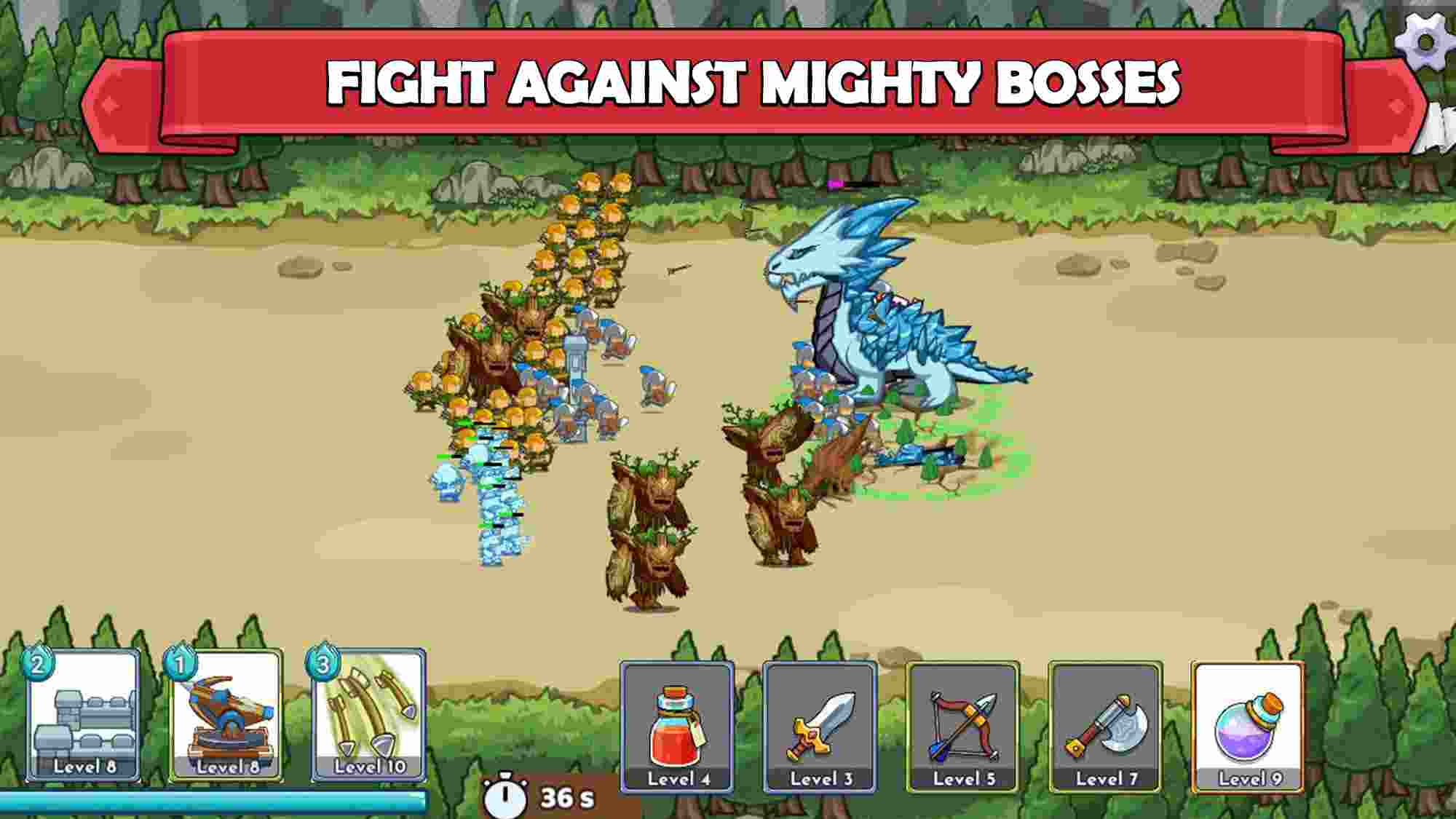 Gather the cards into the formation
No matter what mode you start in, you always need formations to fight. You can set up multiple reserve squads and choose one of them before each battle. Each squad will be composed of many different cards. In it, you can find typical cards like Human, Orc, Dwarf, Elf, Taurent, Troll, Undead, and more. Each card has unique characteristics and skills. You need to learn about them if you want to harness the power of all the cards. Besides, think of card combinations strategies. At the same time, they also need to be upgraded to improve the strength-defense indicators.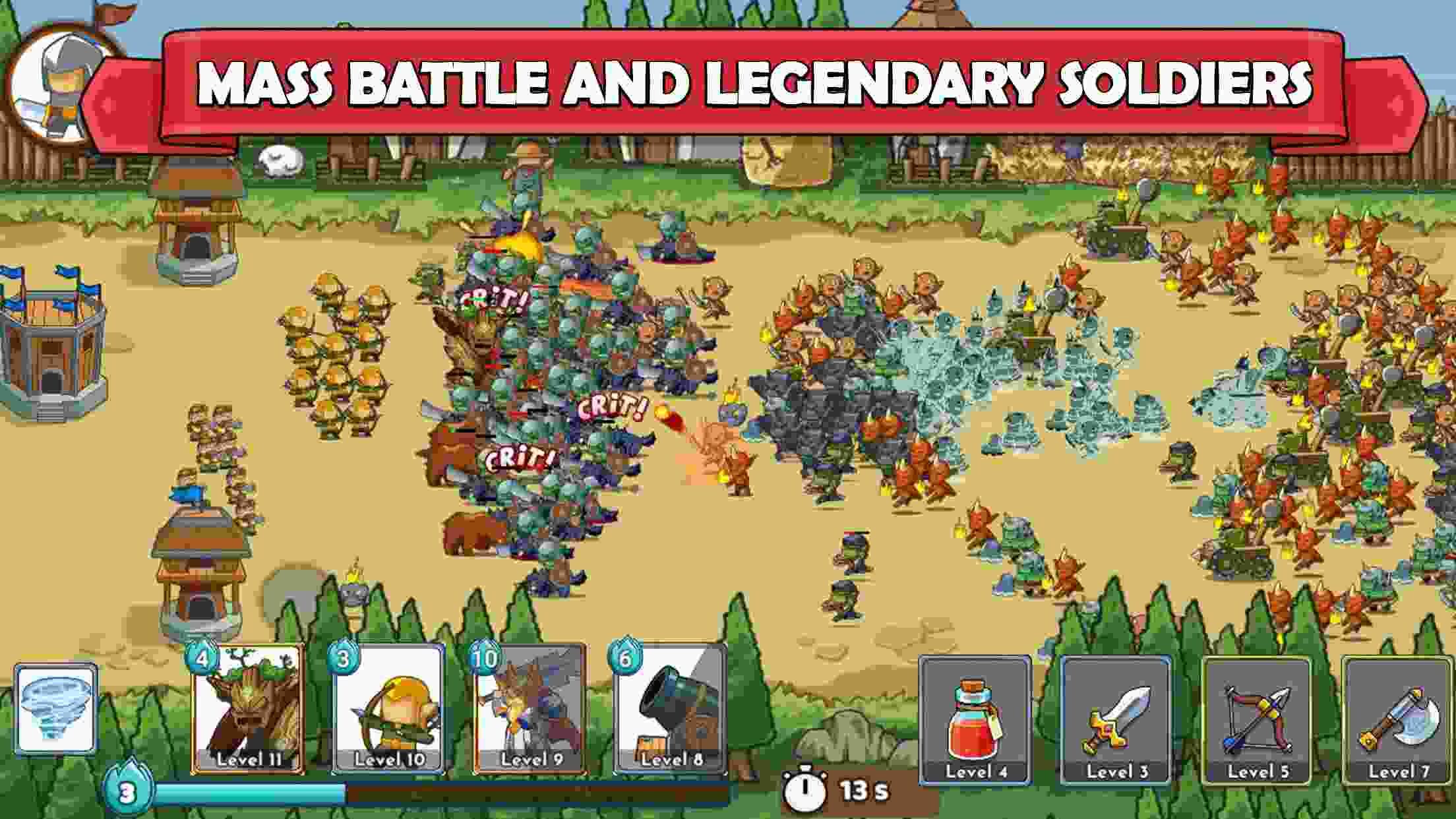 Take part in strategic battles
Before going to war, you have the right to choose your favorite squad. On the battlefield, you will use the cards in the team to defend and attack. If you play in PvE mode, you will experience level battles. In each level, you need to pass a certain number of levels to complete. Each level is a war with a maximum scale of 200v200 units. Your mission is to defeat the enemy and capture their stronghold. To do this, you need to summon the cards properly. Just touch the corresponding cards and place them on the battlefield. Groups of troops will automatically attack to defend the citadel.
Everything in Clash of Legions seems simple right? But you need to pay more attention to strategy. In other words, you need to know when to summon which group of cards. At the same time, think about how to coordinate groups of troops together to create a solid defense. Besides army groups, you can also take advantage of weapons and special skills. Don't miss any chance to win. Rewards for your efforts include bonuses and precious cards. If you are lucky, you can get rare cards to summon legendary dragons and giant monsters.
Explore the vast map
The diverse battlefield system makes this game's unique fantasy world. You can fight in the fiery desert arena, in the frozen land all year round, or in the steppe, jungle, dungeon… In each place, you will have to encounter unique types of enemies. And for each type of enemy, you need your own strategies to conquer. Thus, the more diverse the arena system, the richer the enemies. It is this that leads to the diversity and flexibility of the player's strategy.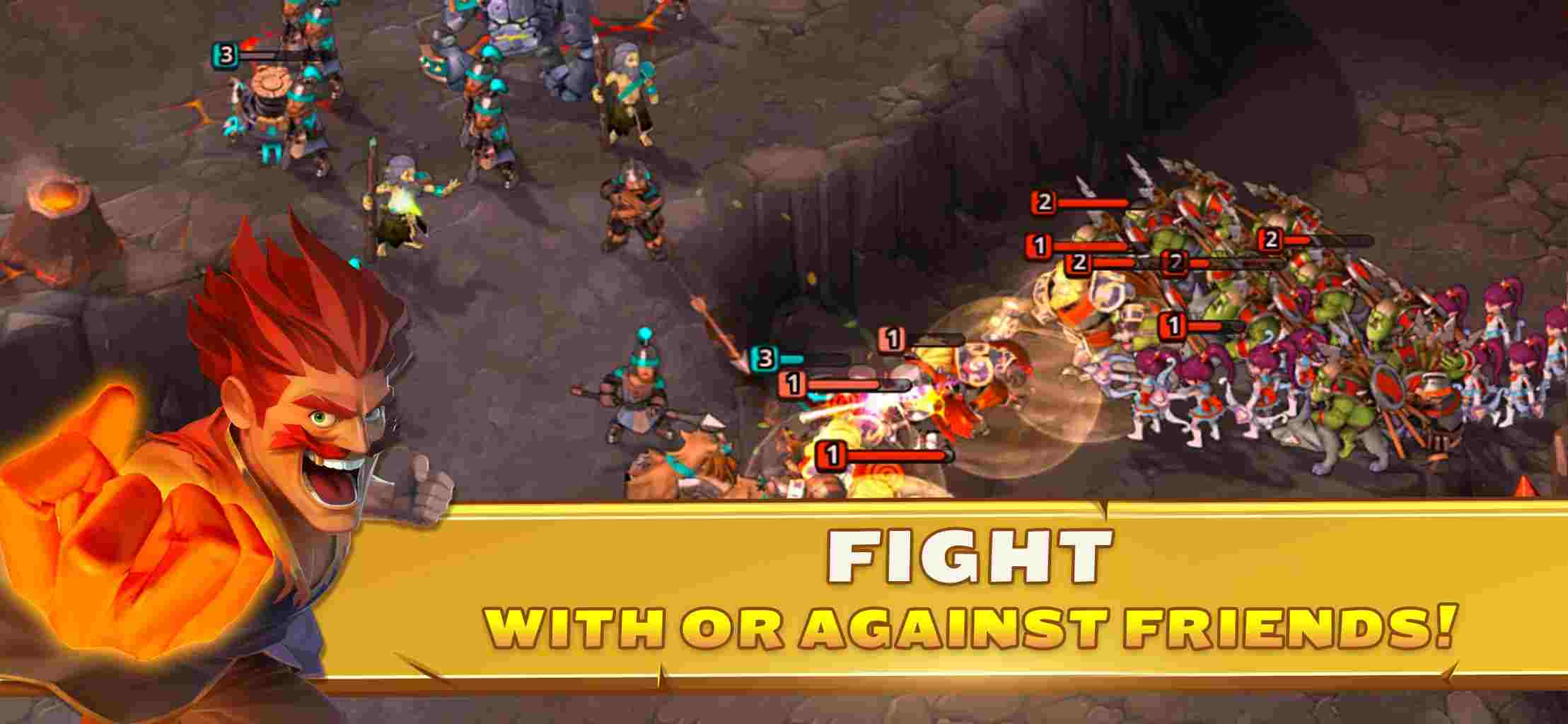 Detailed and friendly graphics
Compared to many similar tower defense games, this game has less attractive graphics. But it is still quite well described to provide a complete strategy experience. The most special is the appearance of the card units. They are extremely diverse with many genres from humans to monsters, orcs, dragons, and more. Besides, the arena scene always explodes with a series of eye-catching effects. Background music with vibrant melodies also adds to the attractiveness of each battle.
Overall, Clash of Legions is an easy-to-play and addictive strategy game. You can download it for free here and start the battles right away. Gather legendary cards to enrich your squad. Then you will enjoy their true power on the battlefield. It's also your chance to show your strategic talent to multiplayer and move up the leaderboard.