If you are looking for a fun tower defense game, Crazy Defense Heroes is the choice to try. This is a strategy game with a classic tower defense style, a lovely chibi design, and a diverse mission system. This game has two modes, classic and online. You can co-op with friends in online mode to form a clan and compete against many other guilds. Each battle in each mode is a fascinating battlefield. Your job is to recruit units like towers, heroes, and equipment to fight the enemy. Strategy is the most important to make victory.
Download Crazy Defense Heroes – Familiar defense gameplay
The "tower-defense" gameplay is so familiar to every gamer. But Crazy Defense Heroes still brings a new feeling despite owning this gameplay. The game is set in a time of turmoil when monsters and insects invade the world. Heroes are gathered again to fight and protect humanity. Contexts like this aren't new, are they? What's new is found in the hero card system. There are more than 400 cards with different characteristics and classes, making for a variety of strategic gameplay.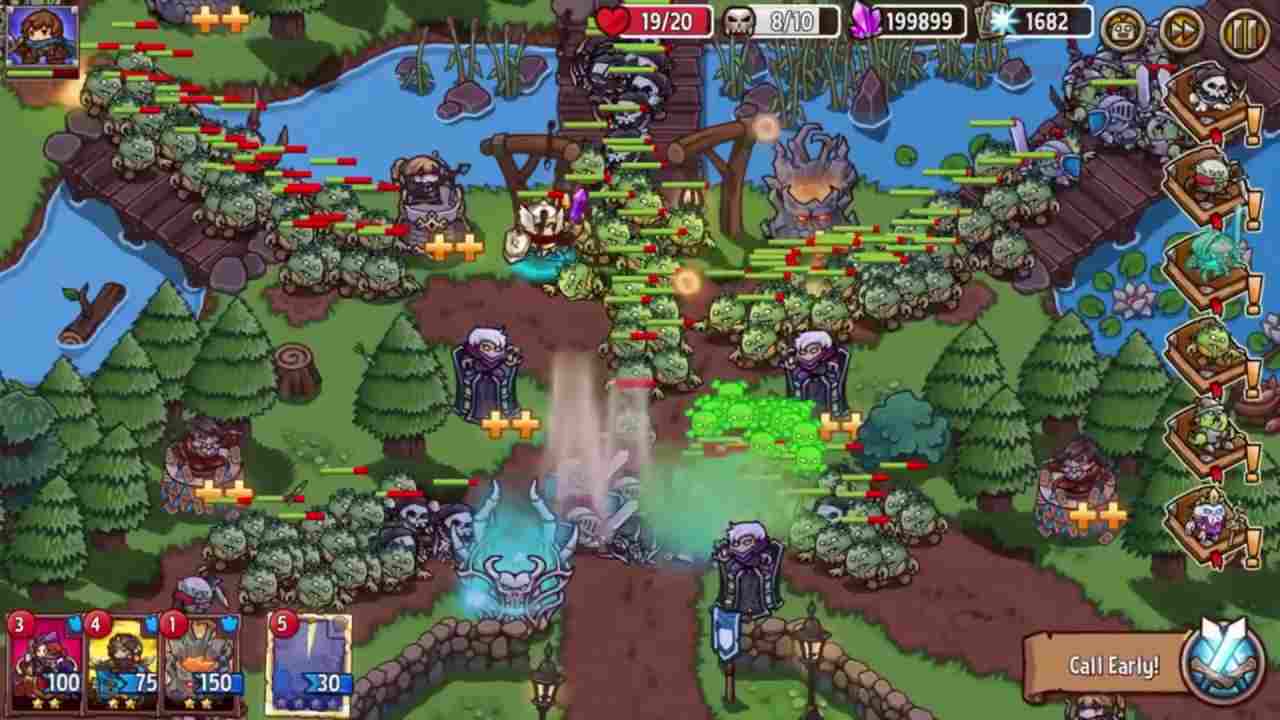 Discover fascinating quests
This game has two main modes, the classic mode (or adventure mode) and the co-op (guild) mode. In the classic mode, the game offers a series of quests that follow the level of progress. In each level, you will have a battle with enemies from ox-headed demons to dragons, rats, orcs, and more. Your task is to build defenses against attacks from them. The defense is a combination of many different units. Each unit assumes its own role on the battlefield.
Your job is to find the right unit cards to combine them together, thereby creating a solid defense. Besides, when entering the battlefield, you have the right to control the battle by using cards. Each card like hero and trap has its own cooldown. When your energy is full, you can activate the corresponding card to create an effect. The way to play in co-op mode is similar. But your opponents are other guilds. Work hard for your clan's victory and achievements.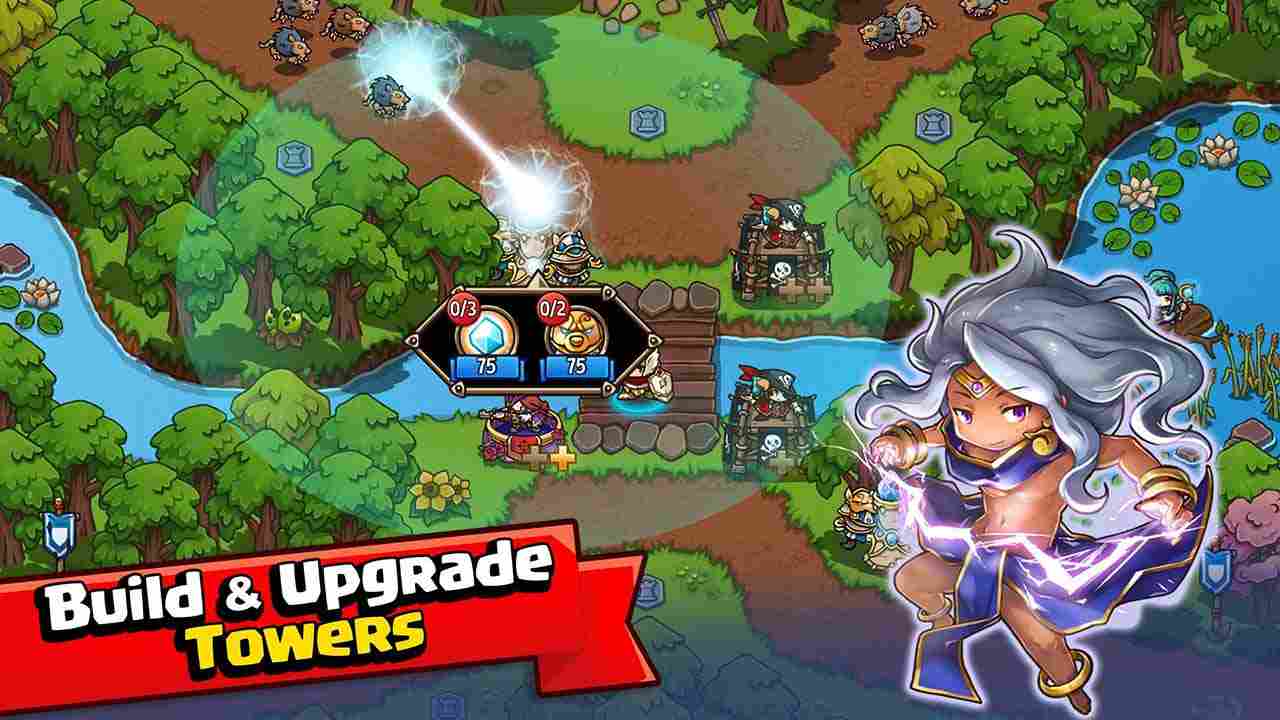 Diverse hero system
So far, Crazy Defense Heroes has owned more than 400 cards. The card system consists of many classes, and each class corresponds to a type of unit. Specifically, there are 4 typical classes including heroes, towers, spells, and equipment. Each class will possess its own strengths, determining its role on the battlefield. For example, the hero class is considered the commanding force. This class includes many types of heroes such as archers, warriors, magicians, and support,… And each hero will cause its own effect in the battle.
In addition, the tower layer acts as a unit to keep the citadel, the equipment class has the ability to upgrade, and the magic class can "boost" damage or heal. So how would you combine the classes? Besides the combined strategy, you also need to pay attention to the upgrade progress. Each card will have attributes such as speed, damage, defense, and healing. Please add the necessary equipment to upgrade these attributes. The higher the attribute stats, the greater the strength of the defensive squad.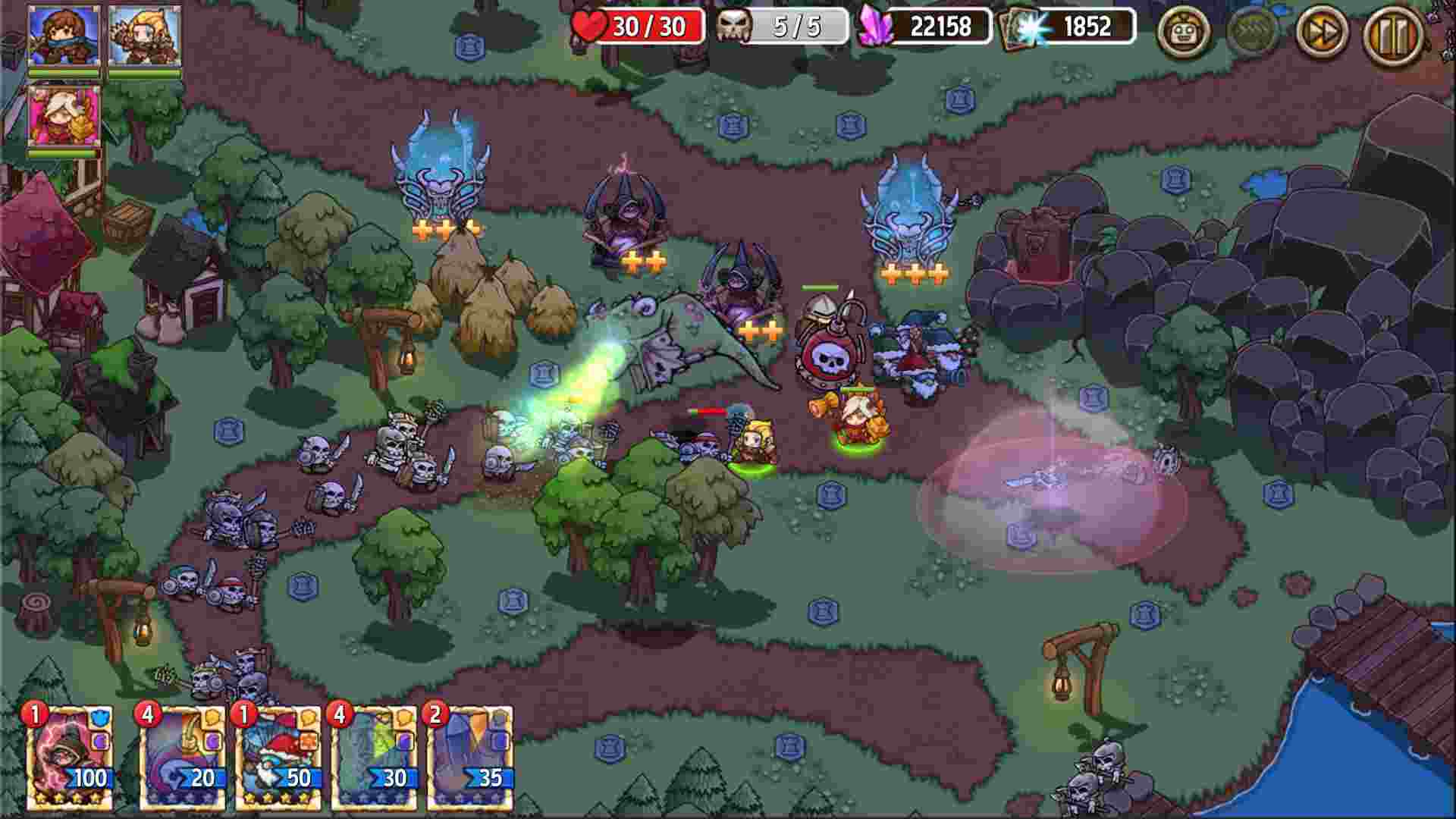 Adventure through multiple battlefields
A majestic world is waiting for you to explore in this game. It is the land of Evil with many beautiful battlefield areas from forests, mountains, and wasteland to the land of ice. In each place, you will meet different types of enemies. Of course, enemy types always have different characteristics. The enemy force is getting bigger and stronger. As a result, defense battles are getting longer and more unpredictable. You should create a defensive formation to refresh the strategy.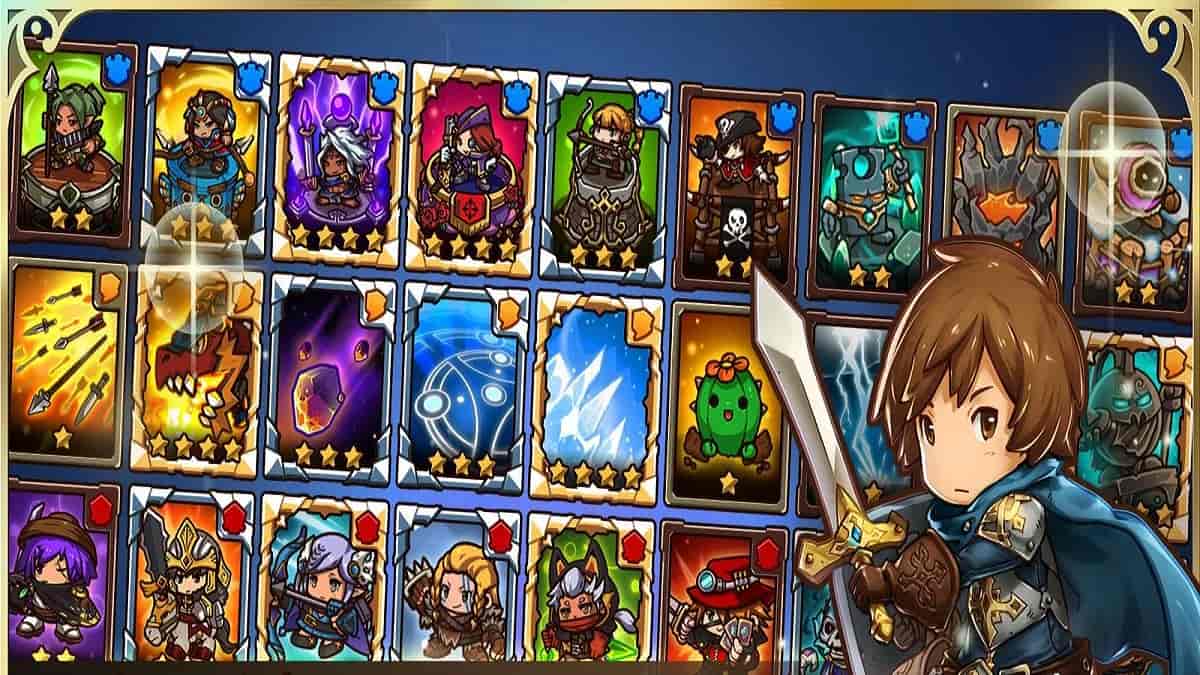 Fun and colorful chibi design
This game will make you enjoy the chibi design style. Heroes and towers look small but detailed and well-built in appearance. Besides, the combat effects are also very exciting. The enemy system is as diverse as the hero classes. Moreover, the battlefield context changes flexibly across levels. Thanks to that, everything is always new when you go to new levels and new challenges.
MOD Feature of Crazy Defense Heroes
MOD Menu
Unlimited money and gems
free shopping
Despite the familiar defense gameplay, Crazy Defense Heroes has great appeal. This game refreshes the defense gameplay with a new and rich unit system. You'll find hundreds of unit cards and thousands of ways to combine them. But how to combine is up to your strategy. There is no limit on battle time, the number of units, or strategy. Enjoy creating a squad to conquer the most challenging.