Welcome to the magical land of Dragon & Elfs. This is a classic puzzle simulation game with a beautiful fantasy setting. Your mission in the game is to save the magical land of the elves. This land has been ravaged by evil dragons from the dead land. To rescue it, you need to merge the trees to restore all species. At the same time, you need to incubate eggs and nurture elves to form a powerful army. Not only restore trees and rocks, but you also have to fight the dragon army. Get ready for every mission waiting for you.
Download Dragon & Elfs – Merge to restore the land of elves
The game takes place in the land of dwarves and magic. This place witnessed peace for hundreds of years until dragons appeared. They come from the Dark Land and destroy everything in their path. The Elf Queen and her army of goblins fought against them and suffered heavy losses. Now you need to continue the queen's mission. You will lead the elf army against the black dragon and restore the beloved land.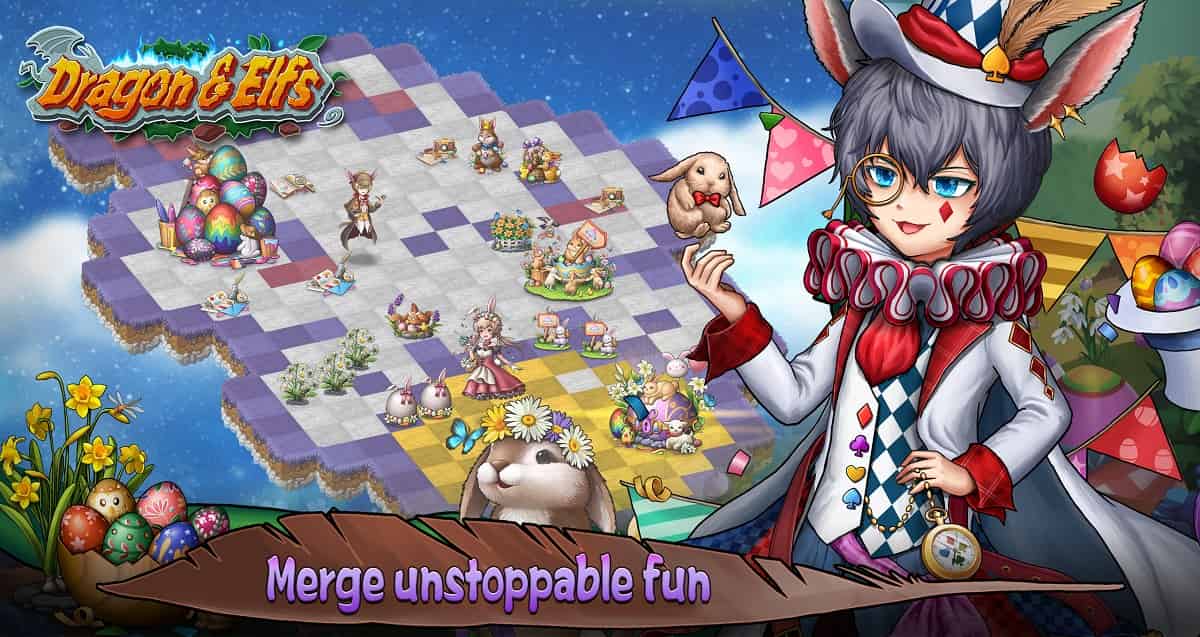 Hundreds of levels to explore
At the beginning of the game, everything looks pretty wild. But the game has clear level progression, which helps you to explore everything from low to high. There are over 400 levels to explore. At each level, you will reach a certain area and item. Moreover, there are more than 1000 quests and 800 items to collect. Every time you level up, you also have the right to unlock new items and species of elves. Your job is to bring them back to the magical land to recreate the ecosystem here.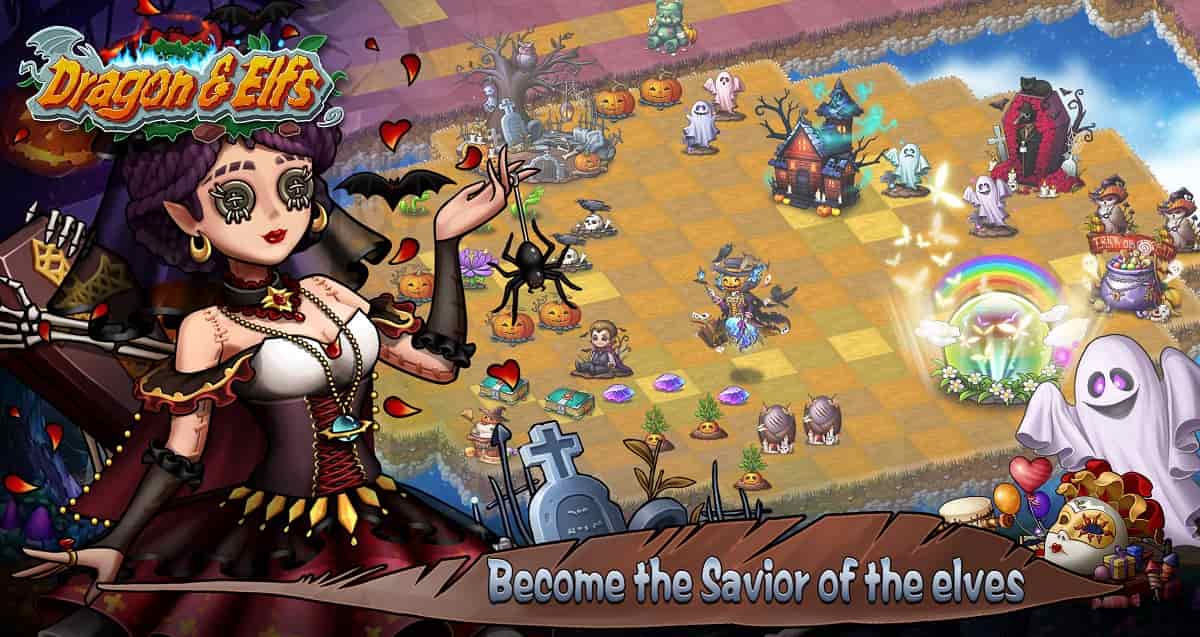 The familiar fusion gameplay
The main gameplay here is merge-style puzzles. This style is not strange to the majority of mobile gamers. The gameplay is quite simple: merge at least 3 similar items to create new items. If you merge 5 of the same item at the same time, you will get an extra Bonus. Just like that, each successful merger will create something new in the magical land. It can be trees, fruits, goblins, and many other creatures.
So the fusion mechanism is the principle to restore the dead land in Dragon & Elfs. The more consolidation, the more diverse and rich the ecosystem. However, when there are not enough items to merge, you need to unlock new items. Usually, you need to unlock elementary items and gradually combine them into high-level items. For elves, you can merge eggs. Over time, the game will open up more species to collect.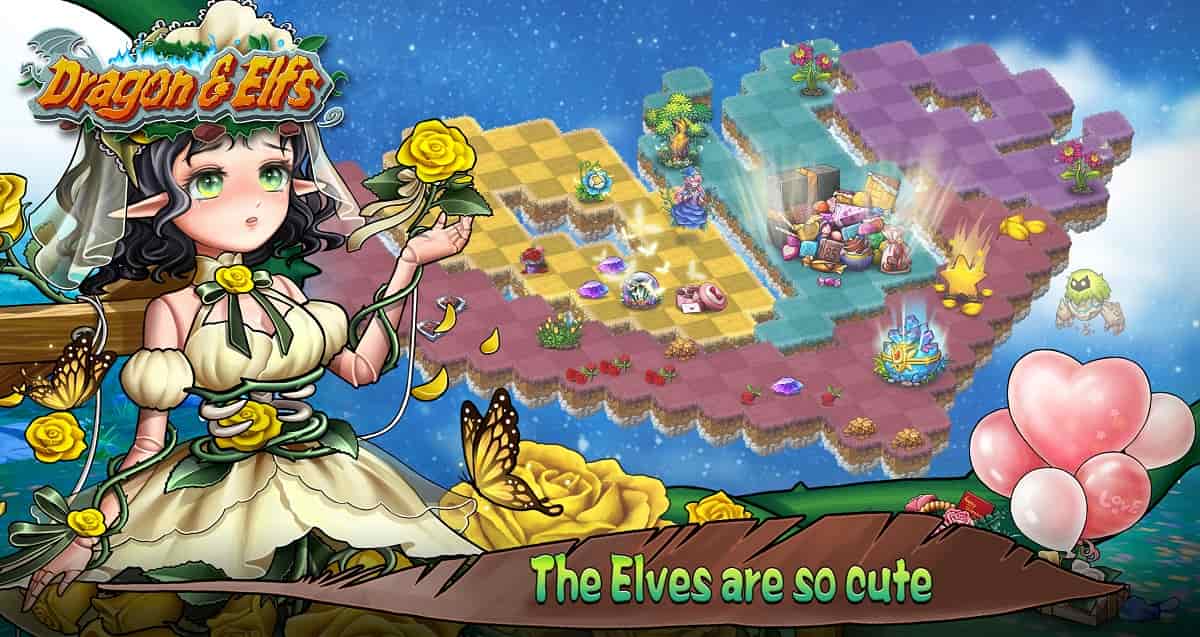 Nurture the elf army
Besides the merge mission, you have another equally important task: combat. The dragons will visit your land often. And you need to fight them if you don't want your rehabilitation efforts to go in vain. To fight dragons, you need to cultivate a powerful elves' army. Every elf is incubated from an egg. You have to unlock the eggs, merge them together, and upgrade continuously. Each time you level up, the elf will have a new look and power threshold.
Each goblin in the game has its own skill. You should explore them all and assign them to logical tasks. There are some elves who specialize in restoring trees, while others are warriors. Find out how to exploit them to maximize efficiency. Don't forget the construction quest if you have elves that specialize in it.
Countless new lands to adventure
Dragon & Elfs has over 400 levels and a huge world. That world consists of many areas with different characteristics. Each area has its own unique type of ecosystem. And in each place, you will find new creatures, new quests, new rewards, and enemies. Be more adventurous to discover more. Everywhere in the beautiful fantasy world is always waiting for you to set foot.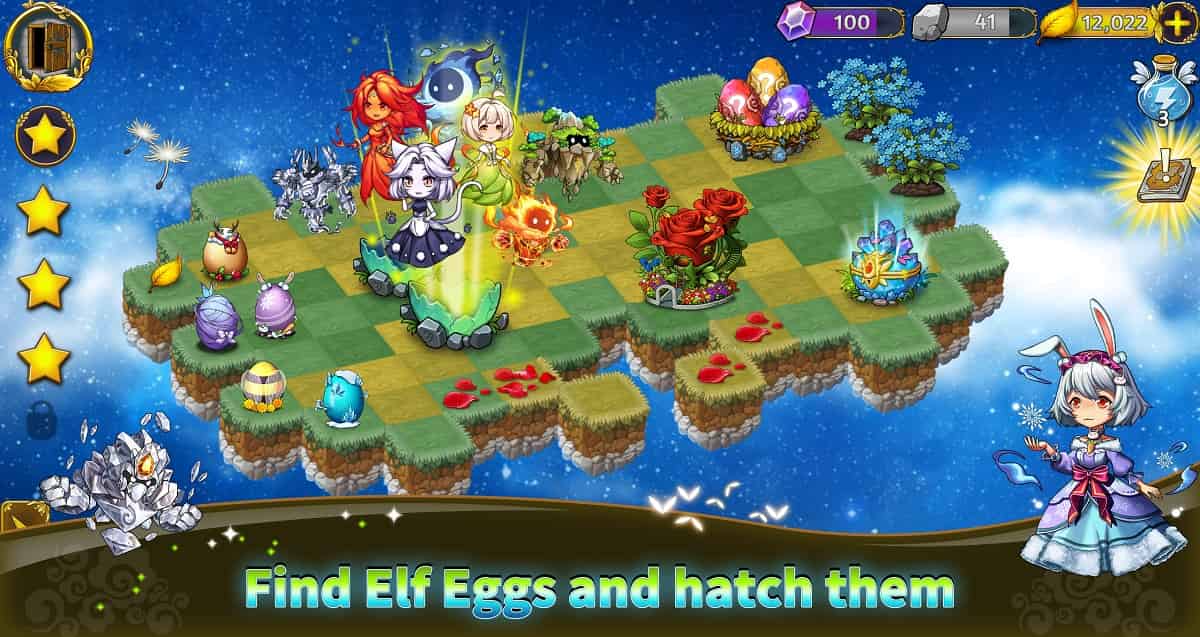 Enjoy the magical 3D beauty
This game will impress you with its beautiful 3D design. From there, it brings a magical fantasy world with hundreds of different species. You will see wonderful plants, flowers, and creatures. Most especially, the image of elves with fantasy beauty will make you excited. The merge effects are equally impressive. Each merge leaves a catchy sound and effect.
MOD Feature of Dragon & Elfs
MOD Menu
Unlimited money
Unlimited gems
Unlimited food
free shopping
So what else do you hesitate? Now is the time to download and play Dragon & Elfs on your phone. This puzzle simulation game brings you into the beautiful world of elves. There, you will accompany the elves to rescue the dead land. Merge as many items as you can to recreate all kinds of species. You will witness the true beauty of this land with your own eyes after hundreds of levels. Moreover, the puzzle process will help you relax.