Put aside your real-life worries for a while and come to FarmVille 2: Country Escape. This is a great farm management game that you can play alone or with friends anytime and anywhere, even without the internet. Here, you will immerse yourself in your daily routine on a beautiful seaside farm. You can grow crops, raise livestock, fish, produce and trade agricultural products. There are no limits here, so you are free to do whatever you want. You can play it for a few minutes or spend hours on your beloved farm. Moreover, there are many online events waiting for you to discover here.
Download FarmVille 2: Country Escape – Build and manage a farm
This game is the latest in the hit FarmVille series, and it will keep you entertained all day. Like the previous two parts, this is where you will become a real farmer. You have just moved to the small countryside on the advice of your grandparents. They want you to take over their farm and develop the countryside your way. Don't worry if you don't know anything about farming, raising animals, or producing agricultural products. You will be guided through the lines of the game's narrator.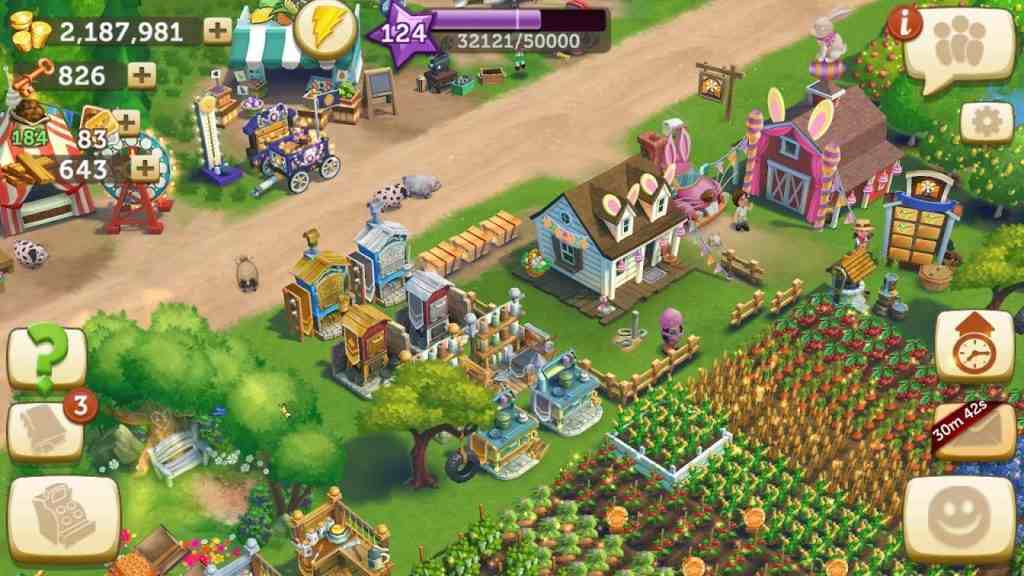 Join fun activities every day
Entering the farm, you have quite a lot of work every day. The game's quest system will tell you what to do next. Basically, your job will revolve around activities such as farming, livestock, agricultural production, trade, farm design, and more. Farming and animal husbandry are the main activities. Accordingly, you can grow dozens of different crops from wheat to potatoes, crowns, strawberries, tomatoes, apples, asparagus, flowers, and more. They will produce fresh agricultural products on the farm.
Next, for livestock, you can manage dairy farms, goats, pigs, chickens, and more. They will provide your farm with milk, meat, and eggs … Combined with fresh agricultural products, you can create valuable foods. For example, you can process wheat into flour, cow's milk into dairy foods, and combine flour and eggs to make cakes… Don't worry if you don't know how to do these things. Just feed the necessary materials into the factory, and you will create everything easily.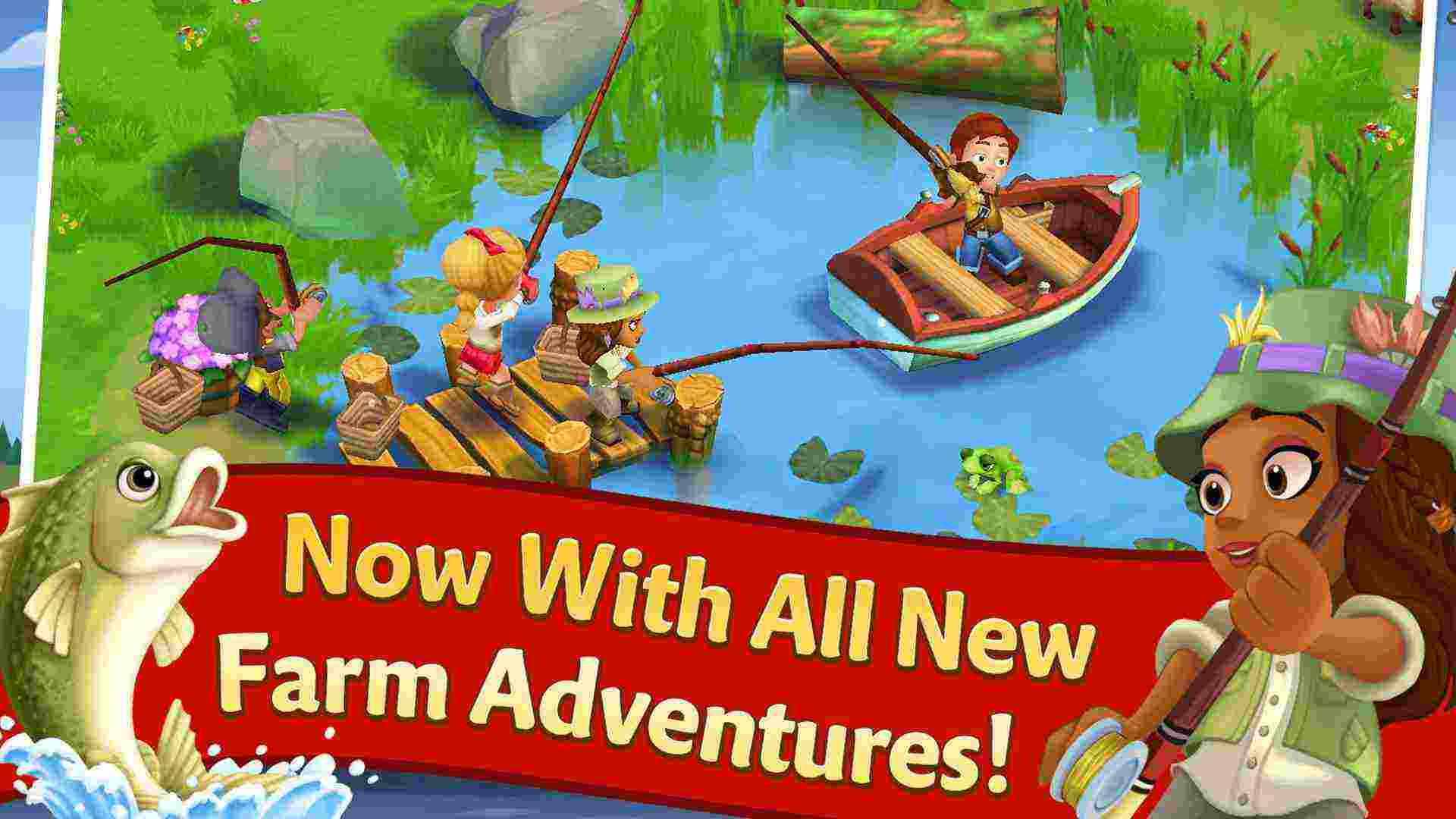 Build your own farm
When you set foot on the farm of FarmVille 2: Country Escape , it is just a small and empty land. But you can turn it into the largest agricultural production center in town. To get there, you need to build and upgrade things over time. Besides farming and livestock areas, you need to build processing factories. It could be a winery, flour factory, dairy food manufacturing facility, and more. In addition, your farm needs new buildings.
Some buildings on the farm have been damaged, and you need to repair them. Just click on any building and use the necessary tools to make it newer. Besides, you can add to the farm buildings such as windmills, warehouses, houses, bridges, aquariums, and wells,… You have the right to place them anywhere you like to freely decide. farm design. However, pay attention to the location of special buildings. For example, you should place water wells and processing plants near the growing area.
Interact and share online
You will not be alone when enjoying this game. Because the game allows you to connect with other players through Facebook. You can share your farm with everyone, visit other people's farms, chat with friends and share gifts with each other. Besides, there are many online events for you and others. It could be a spin event or a special mission with exclusive rewards. Don't miss any chance to earn more rewards and upgrade your farm.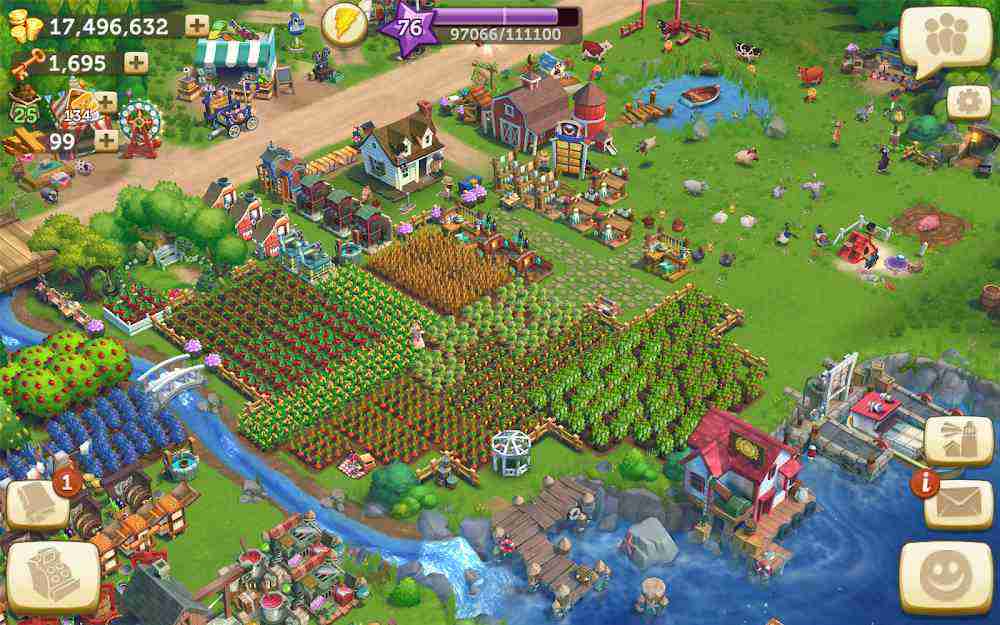 Meet funny friends
On your farm, there are many friendly friends waiting for you to play with. These are the inhabitants of the town or the merchants who specialize in buying and selling agricultural products between the farms. Besides, you will meet funny animals from pets to pets. They will make your farm more vibrant and fun. You can even chat with your pet. They have many funny expressions, enough to make you happy all day when immersed in the farm.
MOD Feature of FarmVille 2: Country Escape
MOD Menu
Unlimited coins and keys
max level
Do not hesitate to explore the beautiful farm in FarmVille 2: Country Escape. It allows you to play anonymously or connect with many friends online. No matter how you play, you will always find endless fun here. Immerse yourself in jobs from farming to fishing, livestock to production, and farm construction. It is you who will turn the small countryside into the main source of agricultural produce in the town. Are you ready to do this?