Have you heard about the prehistoric times of underwater dinosaurs? If you want to explore it, try Jurassic Dino Water World Mod. This game is a fun dinosaur simulator. It is built based on real documents combined with fantasy elements. So, it brings an unprecedented world of ocean dinosaurs. There you can collect, raise and train dinosaurs. At the same time, you can bring them into the battlefield to compete with many sea animals. The wars give you loot to unlock and upgrade. As a result, you will have many opportunities to create an underwater Jurassic world with a rich ecosystem.
Download Jurassic Dino Water World Mod – New ocean dinosaur world
This exciting game will give you a new perspective on the world of dinosaurs. It exploits the fantasy theme beyond your imagination but is very relatable and easy to play. Your task in the game is to build the ocean dinosaur world. Starting with a small house, you can collect eggs and raise dinosaurs. You can even breed different species to diversify the aquatic ecosystem. Besides dinosaurs, there are many other sea creatures. Choose a few viable species to breed or fight. In general, there are a series of quests waiting for you here.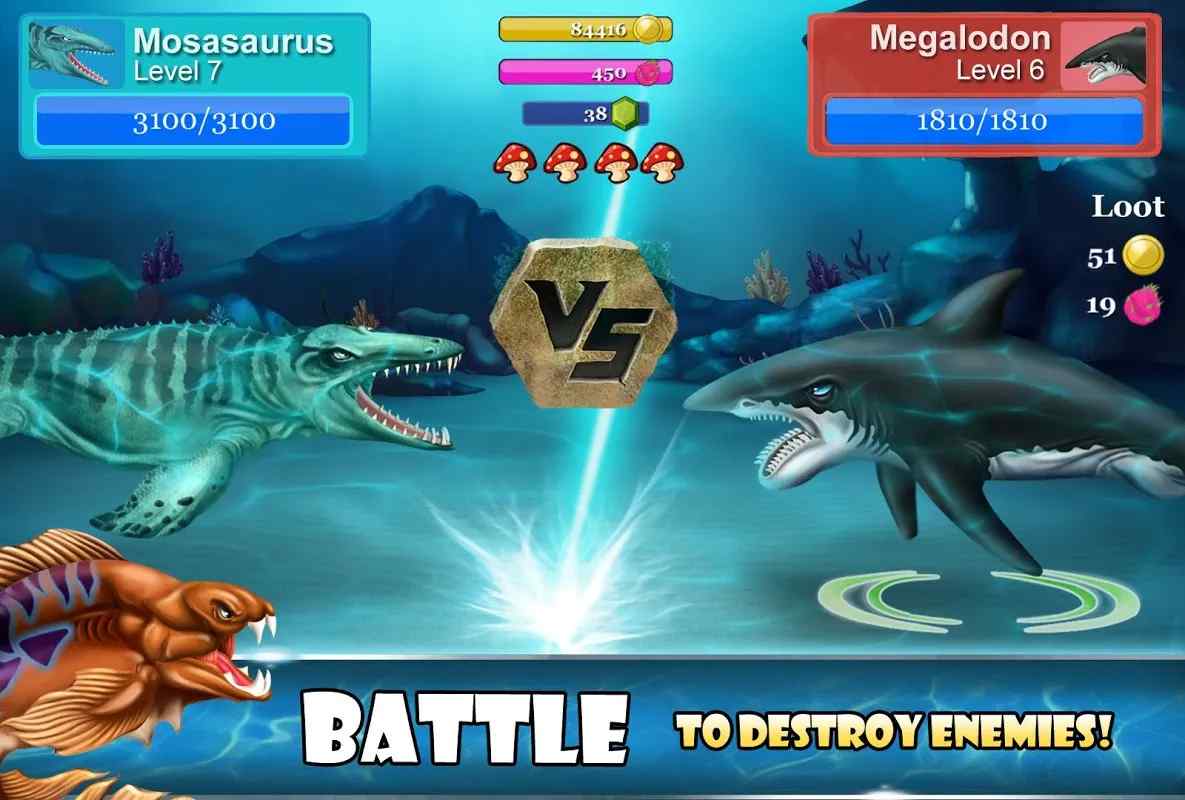 Build an underwater house
Unlike many similar games, this game takes place in an underwater setting. It exists a mysterious prehistoric dinosaur ecosystem that you will discover on your own. At the beginning of the game, this ecosystem has not been formed. It's just a small area deep in the ocean. To develop it, you need to start by building the habitat. Then you can visit the store to unlock the dinosaur eggs. Each dinosaur species will be suitable for its respective habitat. Furthermore, each species will eat different types of food. So this game gives you an interesting amount of knowledge about the underwater Jurassic world.
Over time, you can unlock and nurture dozens of different species of dinosaurs. Each species will begin its evolution from the egg, then the juvenile form, and go through many stages to reach the final appearance. Along with the evolution of appearance and size, species will develop different stats. Those are HP, damage, defense, and speed. These indicators are important to determine the viability of each species. You need to take care of them before forming a dinosaur squad and going to war.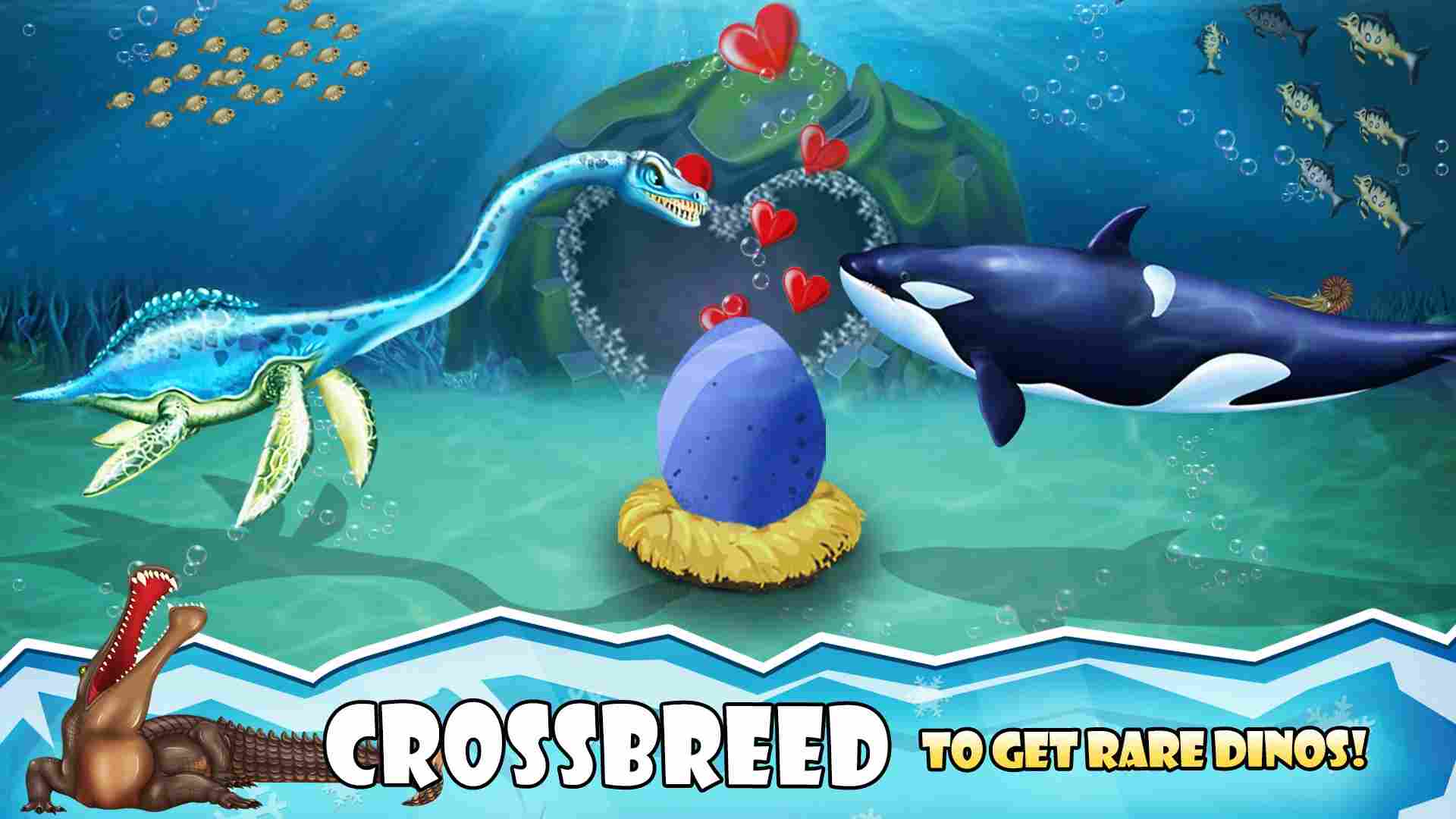 Breed dinosaur
To diversify the aquatic dinosaur ecosystem, you can conduct hybridization. Jurassic Dino Water World Mod allows you to do this at the breeding site. You just need to choose two adult dinosaurs and use gold coins to breed. Besides, you need to upgrade the evolution to promote the growth of the hybrid. Species formed through hybridization often have DNA that is superior to the rest. So you can leverage this to improve your ecosystem. In addition, the game also offers simple jigsaw puzzles. You will join and conquer them to unlock more new species of dinosaurs. Do whatever it takes to build and develop your oceanic Jura world.
Fight with sea creatures
In any environment, competition and survival are inevitable. In particular, in the environment of dinosaurs, this happened more often. You will have many combat missions to complete. To join them, you need to build a squad of dinosaur warriors. Then just bring them into the arena and enjoy the idle battle. Your opponents are sea creatures in the ocean, usually sharks or crocodiles. If you win them, you will get gold coins to upgrade. Moreover, the dinosaur warriors will get experience points to be stronger.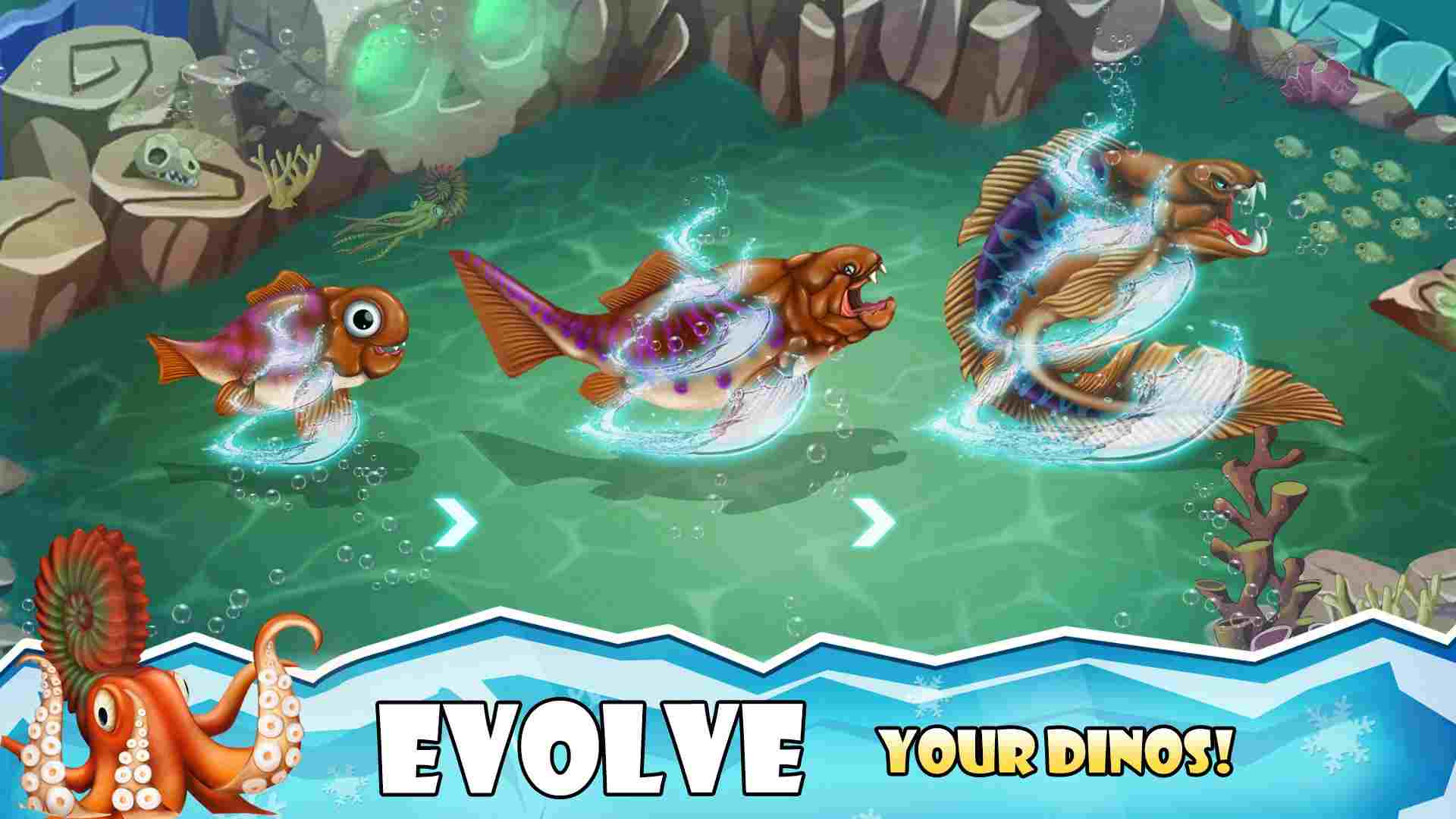 Realistic and beautiful 2D graphics
Although only owns a 2D graphics platform, this game still makes a good impression. It successfully depicts the vivid oceanic Jurassic world with detailed images. You will see dinosaur species like never before. Moreover, you will have the opportunity to explore the mysterious and beautiful ocean. A variety of creatures, species, and scenes come to life on the screen. Explore them during your experience.
Jurassic Dino Water World Mod is available and free here to download on your phone. Don't miss this opportunity to explore the new world of dinosaurs. You will become the initiator for the founding and exploration of the ocean Jurassic. It's an opportunity to admire the beauty of dinosaurs only in fantasy. Moreover, the fascinating dinosaur wars will make you enjoy it.