Tensura: King of Monsters is an action role-playing game adapted from the anime series "That Time I Got Reincarnated as a Slime". This game will recreate the epic anime world with a combination of 2D and 3D graphics. Besides, you will meet the cult characters from the original anime series. You will even become one of them and have the task of leading the anime hero group. Your mission is to form a federation of all races to protect the world. That mission will lead you through hundreds of battles with interesting strategic elements. Be prepared for any challenge.
Download Tensura: King of Monsters – RPG adventure in the anime world
The story of this game will be taken from the original anime series. In it, you will play as Satoru, an unlucky employee stabbed to death by a stranger, then reincarnated in another world as a slime. Satoru later takes the new name Rimuru and has a new mission in the alien world. You will accompany him on his new journey in Adventure mode. This mode will lead you through chapters of meticulously designed content. In each chapter, there are always dozens of quests for you.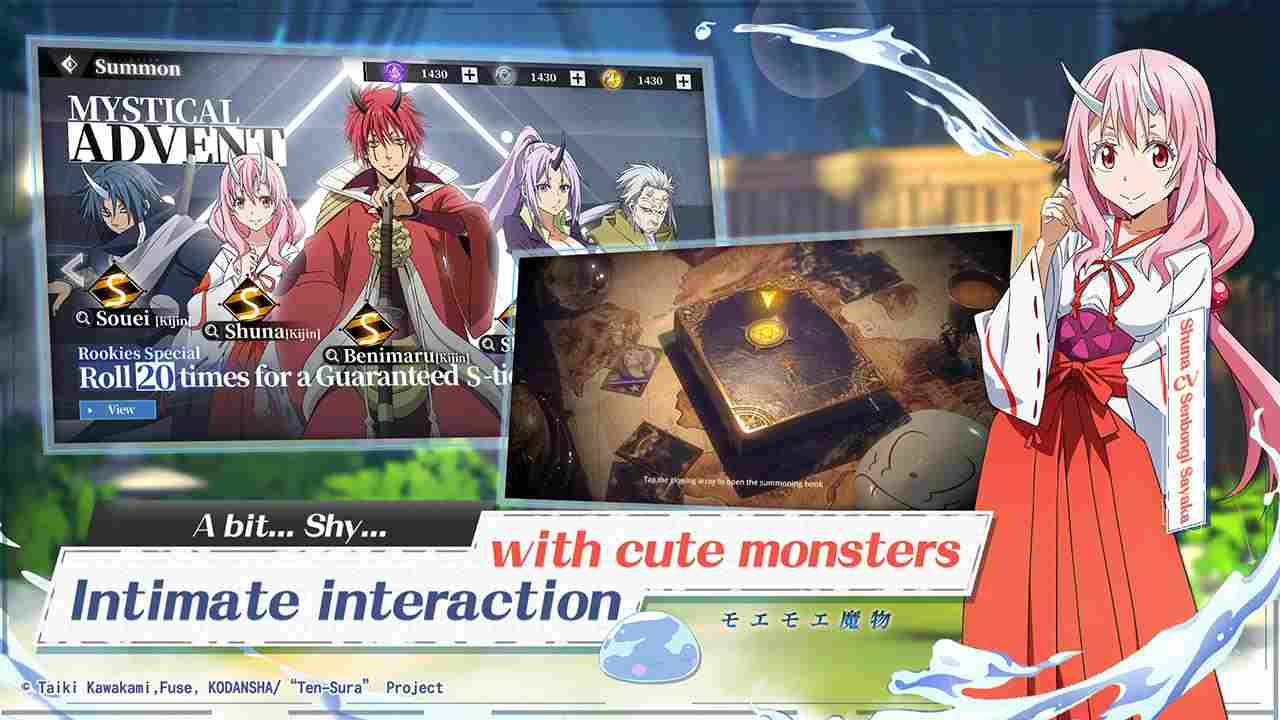 Take part in strategic battles
Basically, the task of gamers in the game is to recruit a squad of monsters and anime characters. Then you will have fascinating battles against other races to protect the world. Those battles will take place on the battlefield with a 3×3 structure. That is, there are up to 9 different squares for you to arrange and arrange characters on the battlefield. You need to choose powerful heroes and arrange them properly. When everything is ready, you also have full control over the strategy of the battle.
The battles will take place in a typical turn-based mechanism. On your turn, you can choose your target, choose your character cards, and your battle skills. When summoned, characters will automatically deploy skills to the selected target. That's when you'll enjoy epic 2D cuts with breathtaking effects. The battle will end when either side loses all HP. If you win, you will get rewards and experience points to level up.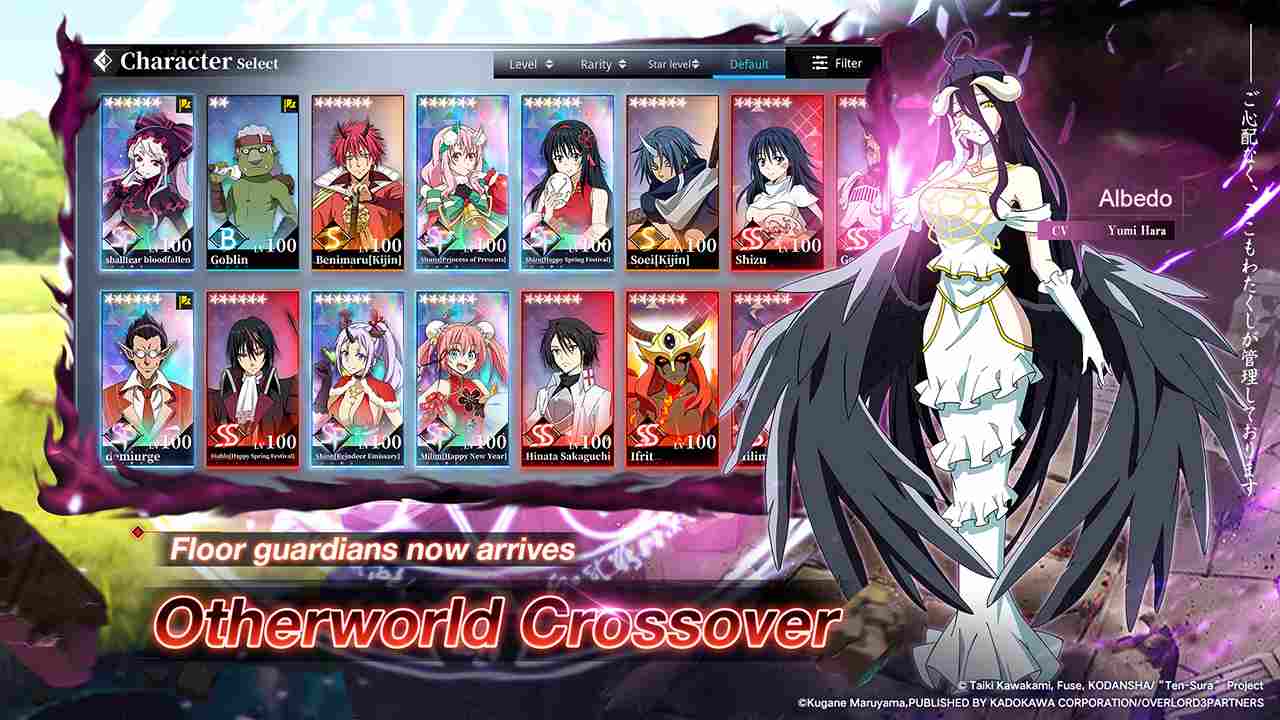 Discover and upgrade the group of heroes
Tensura: King of Monsters will bring back characters from the original anime series. Therefore, you will have the opportunity to meet familiar faces like Shuna, Shion, Ranga as well as Benimaru and many other members of the Monster Federation. Each character is built with its own appearance and skill set. At the same time, each character will belong to a certain class, which can be a sortie, a defense, or an assistant. Each character class naturally has its own advantages and roles in the battle lineup.
In addition, the character system is also hierarchical from B to S. But you can upgrade them to improve rank and Level (level). Each character will have basic attribute stats such as ATK (damage), DEF (defense), and HP (health). The higher the level, the higher these stats, that is, the greater the strength. Besides, when reaching a certain level, the character will have new skills. You can also collect equipment pieces and items to upgrade your character. Save your account to spend on upgrades.
Go through many interesting story chapters
In Adventure mode, the game will organize the story according to the chapter system. You will have the opportunity to go through many chapters if you complete the quest and level up. In each chapter, the details of the original anime will be reproduced. Thereby, you will enjoy beautiful 3D and 2D cut scenes from the characters. It is the relationship between the characters that will create many interesting things. Moreover, the monster world always contains mysteries that you cannot know all about. Explore more to experience more.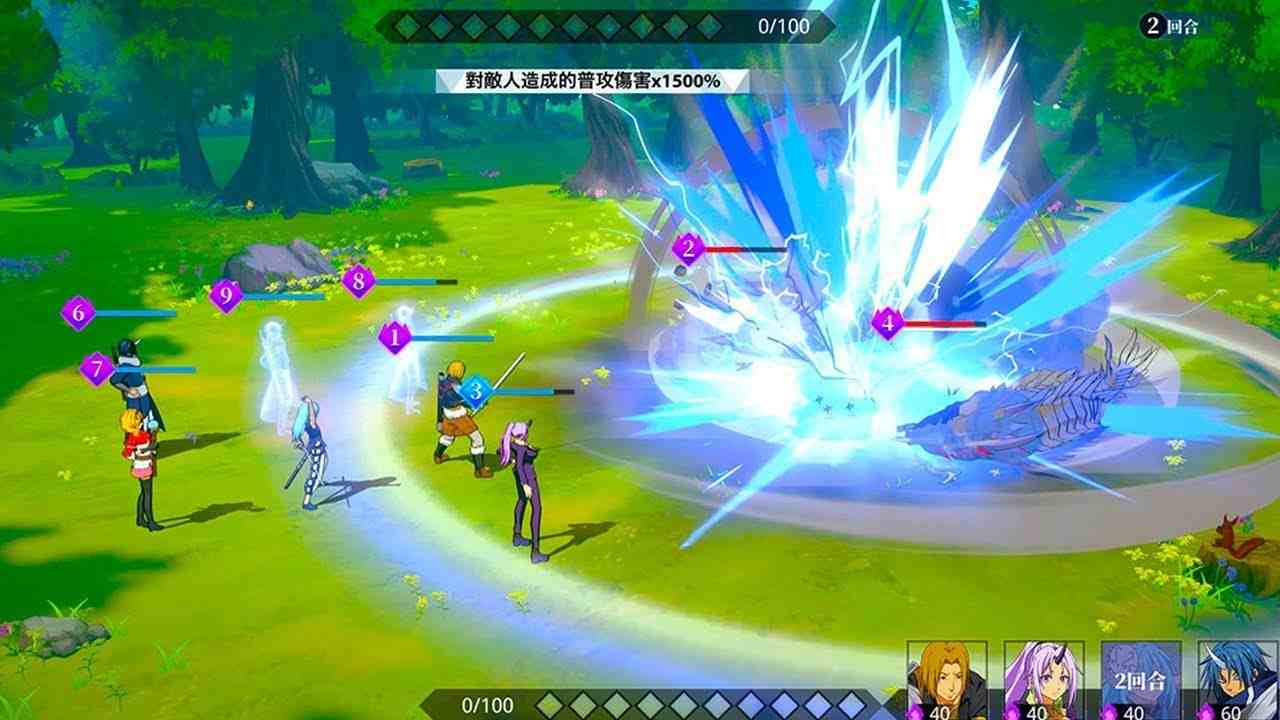 3D design combines 2D with anime style
This game will not disappoint you with the quality of its graphics. Most of the images in the game will be built with 3D graphics. In particular, the character system will be inspired by the original anime story. Therefore, you will see how great they look with their impressive skins, bodies, and skill effects. In battle, the combination of skills between the characters will give great combat effects. Moreover, each character has a realistic voiceover.
MOD Feature of Tensura: King of Monsters
MOD Menu
Unlimited money and gems
Do not hesitate to download and play Tensura: King of Monsters right on your phone. Now is the time to accompany slimes and embark on an unprecedented journey. You will be the one to summon heroes and monsters to battle. Don't forget to upgrade them and create different types of squads. Many interesting challenges are waiting for you to discover and conquer here.