Beat Shooter Mod's music gameplay will make you unable to ignore it. This is a music game combined with shooting mechanics on the vertical screen. Join the game, your task is to complete the tracks by shooting. You need to shoot at all the blocks running on the screen without missing any blocks. Points will be calculated based on what you show. But achievements are sometimes not as important as how you feel. Each level will bring you more exciting melodies than ever. Those are the tunes from the hot hit songs of the year. Do a good job to enjoy the songs!
Download Beat Shooter Mod – A combination of music and shooting
Music is associated with many game genres. But music and shooting is a creative idea of Beat Shooter. This game takes music as the foundation, and the shooting mechanism is the supporting part. As such, you will find this gameplay similar to music games like Magic Tile or Tiles Hop. However, instead of touching the keys, you now need to shoot the gun to complete the tracks. This gameplay promises to bring an unprecedented sense of fun.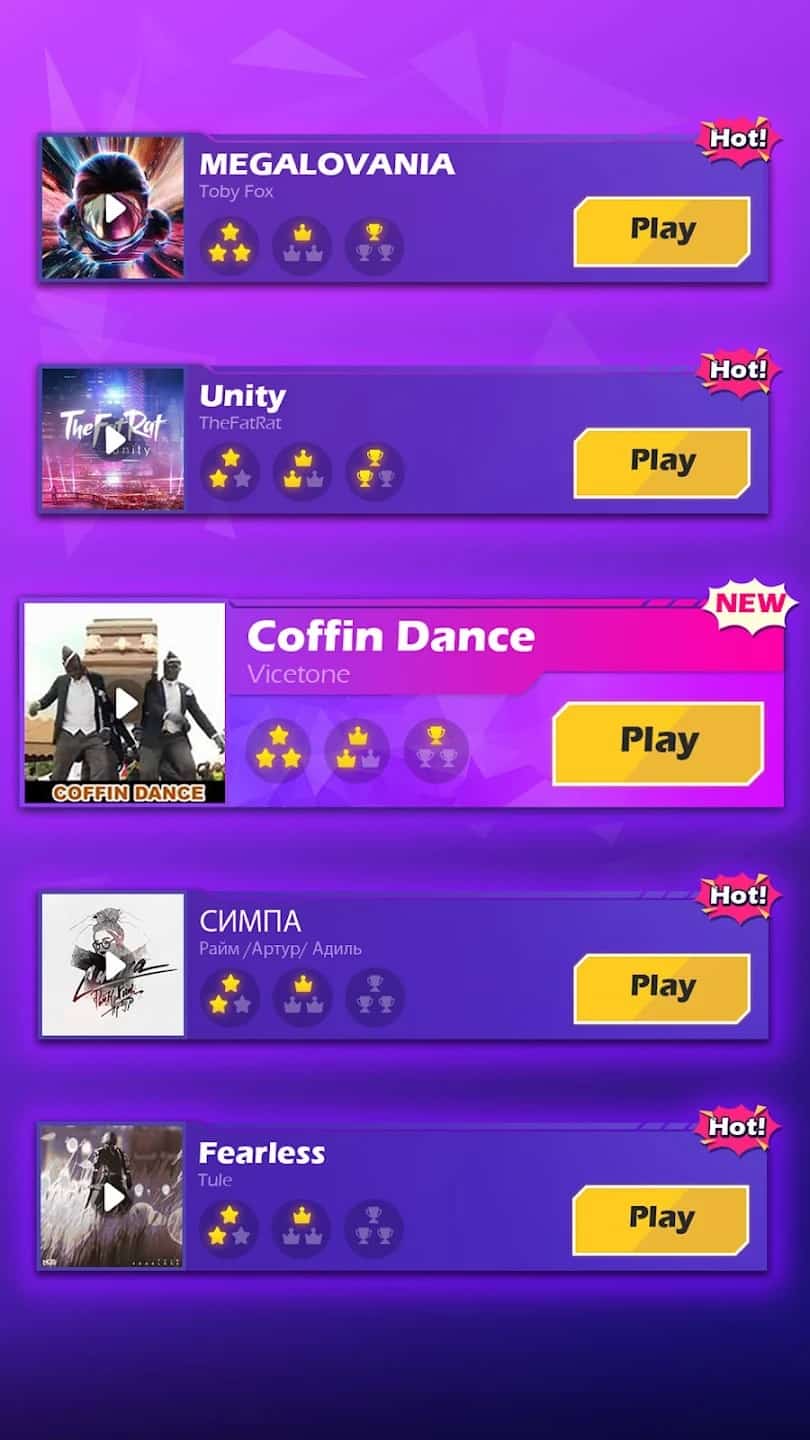 Complete exciting tracks
This game has more than 100 songs updated weekly and monthly. Those are carefully selected songs from the top music charts. Each song has a different melody, but they all bring a vibrant and fun feeling. Furthermore, the tunes of some tracks are slightly different from the bash sounds, for better listening inspiration. These include popular tracks like Coffin Dance, Fearless, Unity, and more. Select your favorite song and select "Play" to start playing. Each track will have 3 levels to conquer.
Your task is to complete the song from beginning to end. To do this, you need to use the gun skillfully. Specifically, you need to touch and hold your hand on the screen to navigate the gun to the desired location. The goal is to hit the blocks that run across the screen from top to bottom. If you miss any block, you lose a turn. In each level, you have a maximum of 3 turns. If you complete the track without any errors, you will get up to 3 stars for the level. And that is a great achievement that every gamer wants to achieve.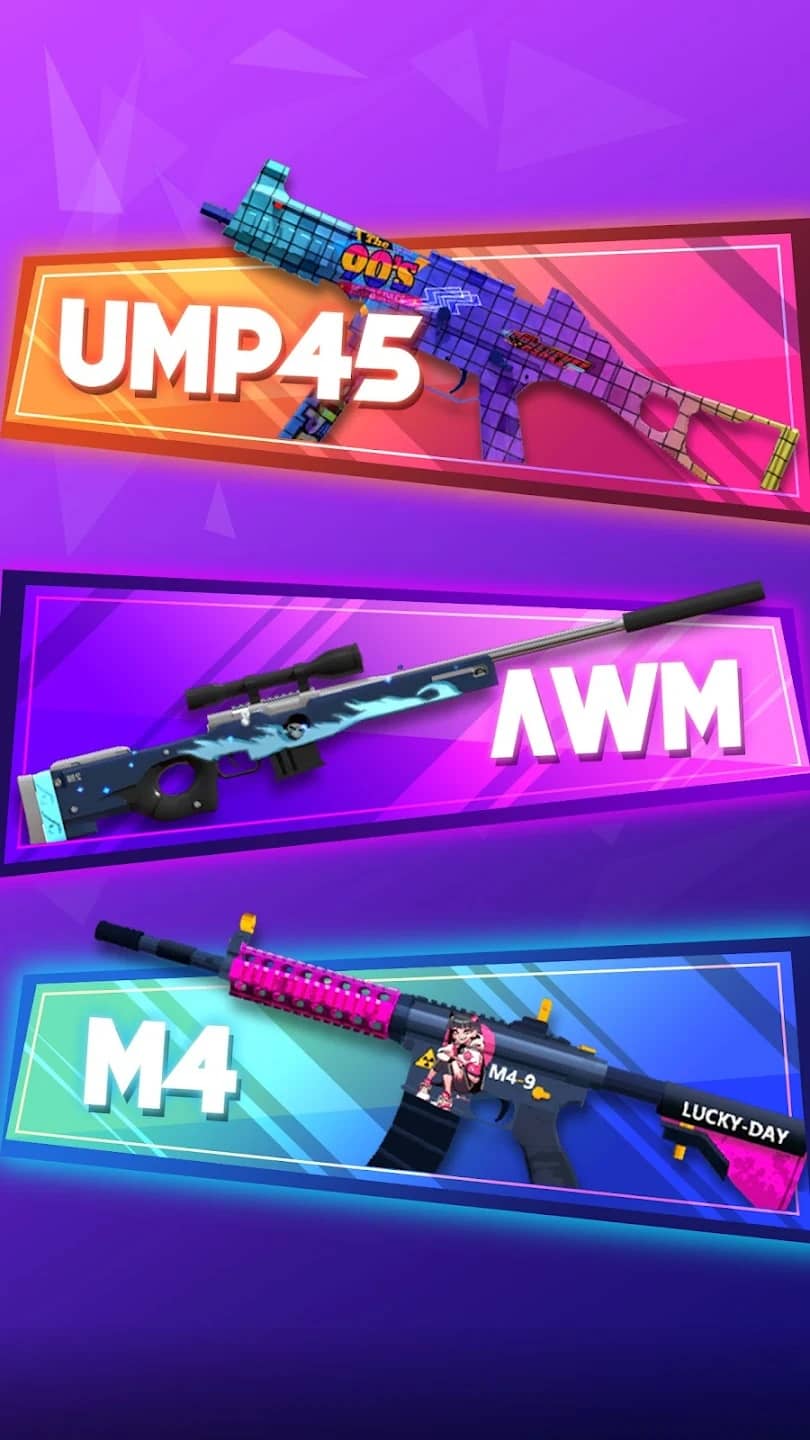 Unlock more guns
As can be seen, the gun is the weapon that makes the appeal of Beat Shooter Mod. This game offers a variety of unique guns to explore from shotguns to rifles and sniper rifles, typically the UMP45, AWM, and M4. Each gun will bring different effects to the music track. Moreover, the sound from each gun has its own feel. You can also unlock new skins for each gun. Save your bonus to own all your favorite guns.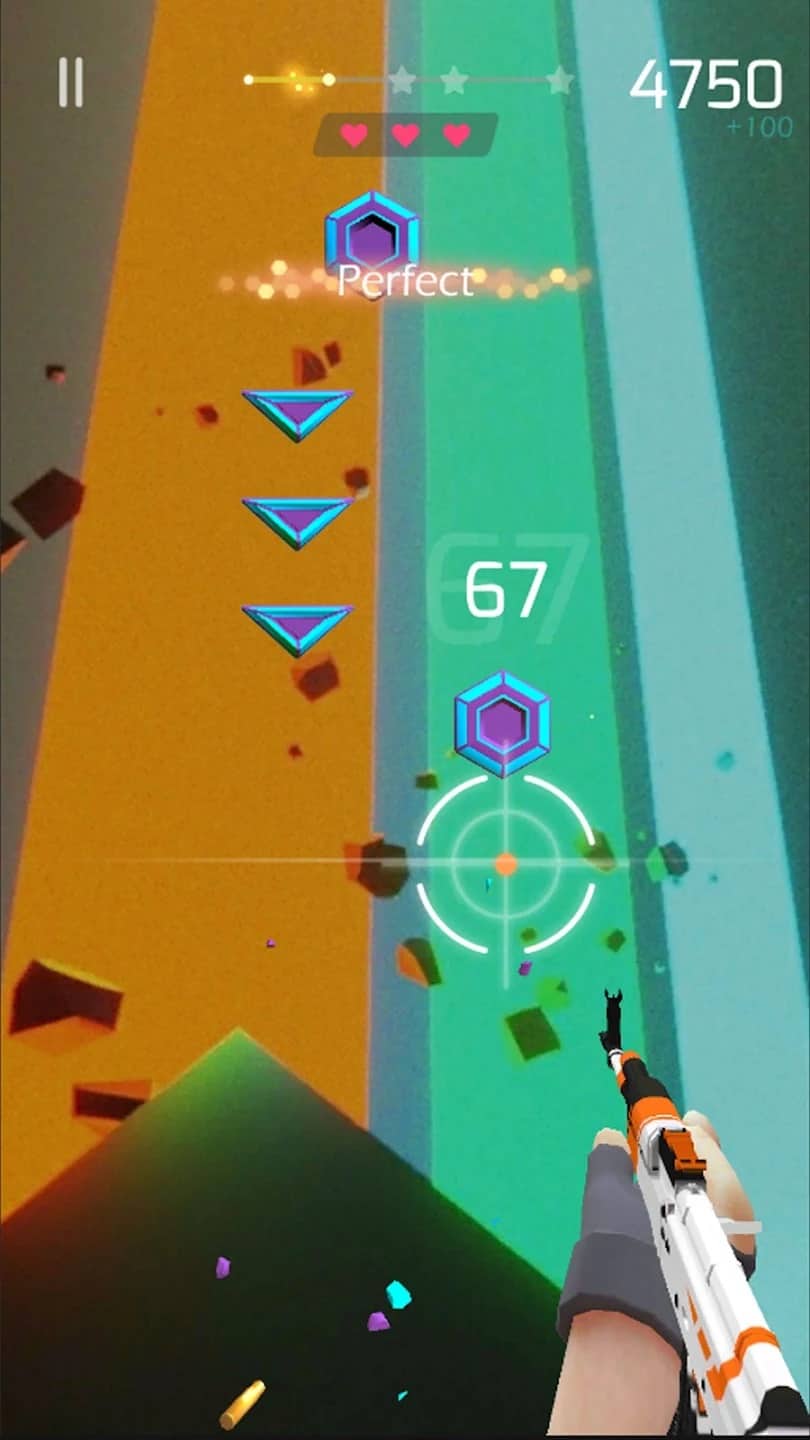 Enjoy new songs
This game constantly updates new songs from time to time. Thanks to that, the music store becomes richer and richer, bringing great newness. However, at certain levels, you only have access to and play certain tracks. If you want to unlock more songs, work hard to conquer higher achievement milestones. In addition, each track has multiple levels to experiment with. The higher the level, the faster the music speed, it's worth checking your progress.
Enjoy the eye-catching effect
This game will not disappoint you with image and sound quality. Everything from gun skins to the musical track scene is vivid and eye-catching. Besides, the tracks all have premium sound quality. The melodies become even more vivid when combined with gunfire. The effects from each shot also feel great. You will see interesting crashing effects after every shot. This fuels your excitement.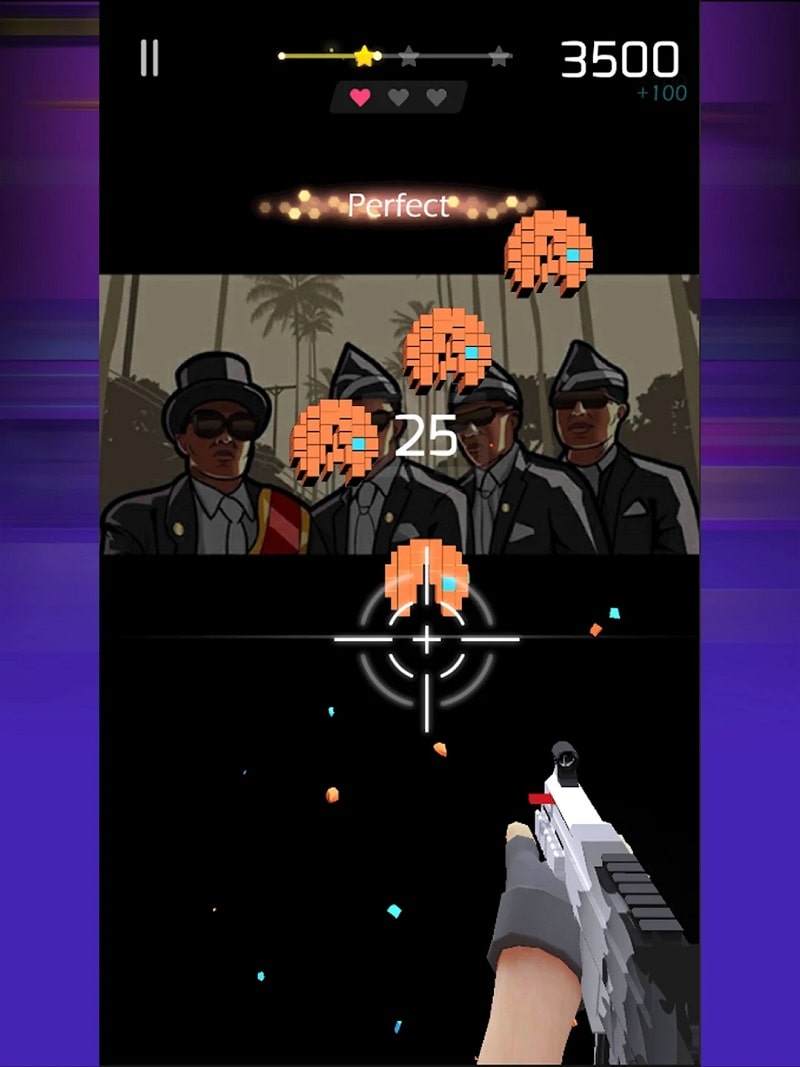 Compete with friends online
Although there is no multiplayer mode, this game has an online leaderboard. So you will have the opportunity to compete with many friends online. You need to work hard to conquer high-achievement milestones, thereby climbing to a higher position on the leaderboard. When you level up, you'll receive attractive rewards including gun skins and new songs. Don't forget to challenge your friends to your favorite tracks. Musical tracks are always more fun to play with competition.
Don't hesitate to download Beat Shooter Mod and play it now if you like music. Here you will find the hottest music to enjoy on the vertical screen of your phone. Control the gun skillfully to shoot blocks and complete tunes. When the music is faster, you need to move faster and stay focused. Show you're an expert at playing music with guns!