Drive your car through the zombie apocalypse in Earn to Die 2. It is the sequel to Earn to Die and has attracted more than 100 million installs. Is this impressive achievement enough to get you excited about it? It is even more interesting than what you see in the pictures. It offers hundreds of addictive action levels where you drive while fighting zombies. Moreover, realistic crash effects will make your journey real. In particular, with the simple driving mechanism, you can approach this game for the first time. But will you conquer all its challenges? It is not easy to do this.
Download Earn to Die 2 – Survival adventure in the apocalypse
Earn to Die 2 will take you on a new journey in an old setting. It continues the story from the first part, which is a thrilling escape from zombies in the apocalyptic world. Your mission is to find the evacuation ship waiting in the west. You will start from the East coast with an old car and have to overcome thousands of kilometers to reach your destination. It is a long journey and even 5 times longer than in the first part. In story mode, you will fully explore this journey. Besides, the game has many other modes such as Misson, Freeride, and Exploration. Explore the story mode and prove your level to unlock more modes.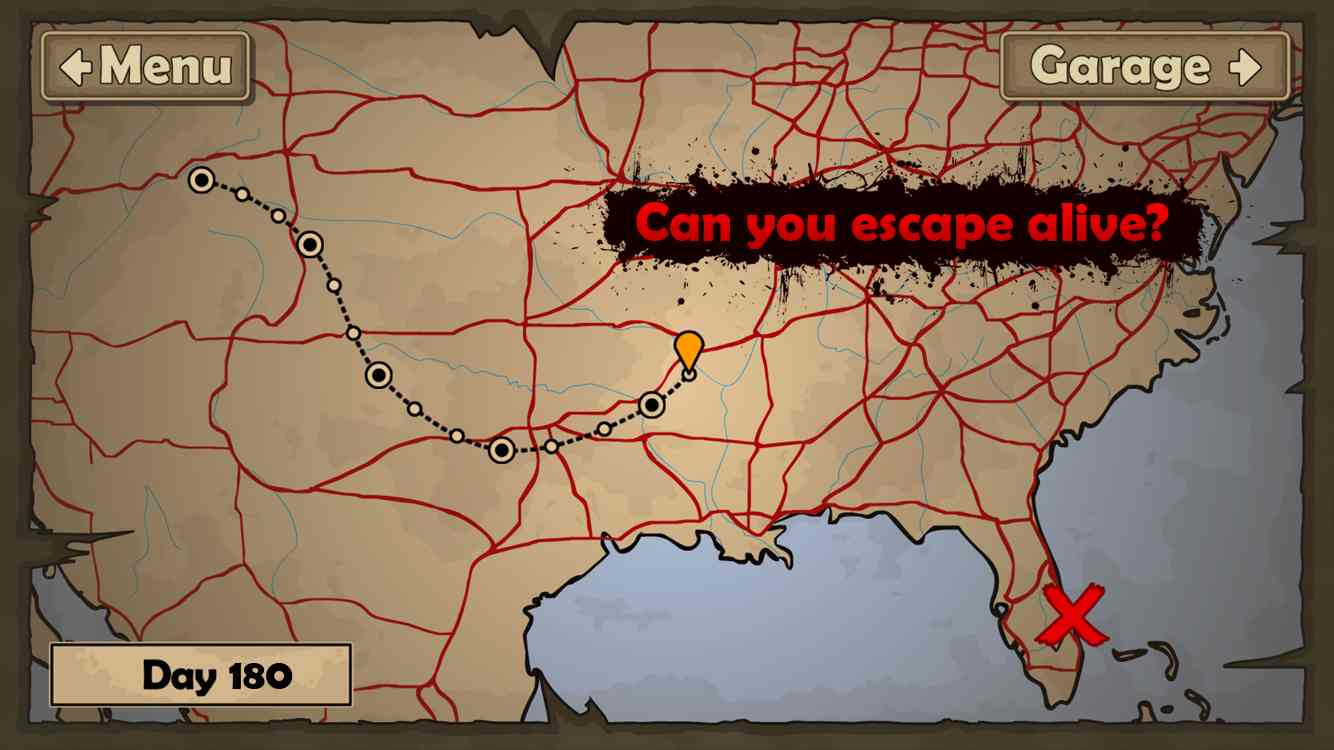 Drive and kill zombies
Can you reach your destination before the evacuation ship departs? It is the motivation to push you forward without hesitation. But whichever path you take, the zombies will stand in your way. There is only one way to survive and complete the goal – that is to destroy them. You will own the best zombie-killing car ever. Customize it with a variety of accessories and weapons before taking them on the road. Along the way, you will meet dozens and even hundreds of different zombies. You need to keep steady on the steering wheel to crash through them while overcoming obstacles and traps.
The challenge for you is the roads filled with zombies. They go through the streets and areas devastated by the pandemic. So those are not smooth highways. You need to familiarize yourself with dozens of pitfalls that can appear from the rubble to paint barrels, explosives, and broken bridges. To overcome them, you need to know how to combine operations. These are left rotation, right rotation, acceleration, and boost. These skills are performed via the virtual button on the screen. Thanks to that, you can combine both hands to enjoy the surreal physics of driving. The rest is your strategy. Show wisdom in handling situations along the way.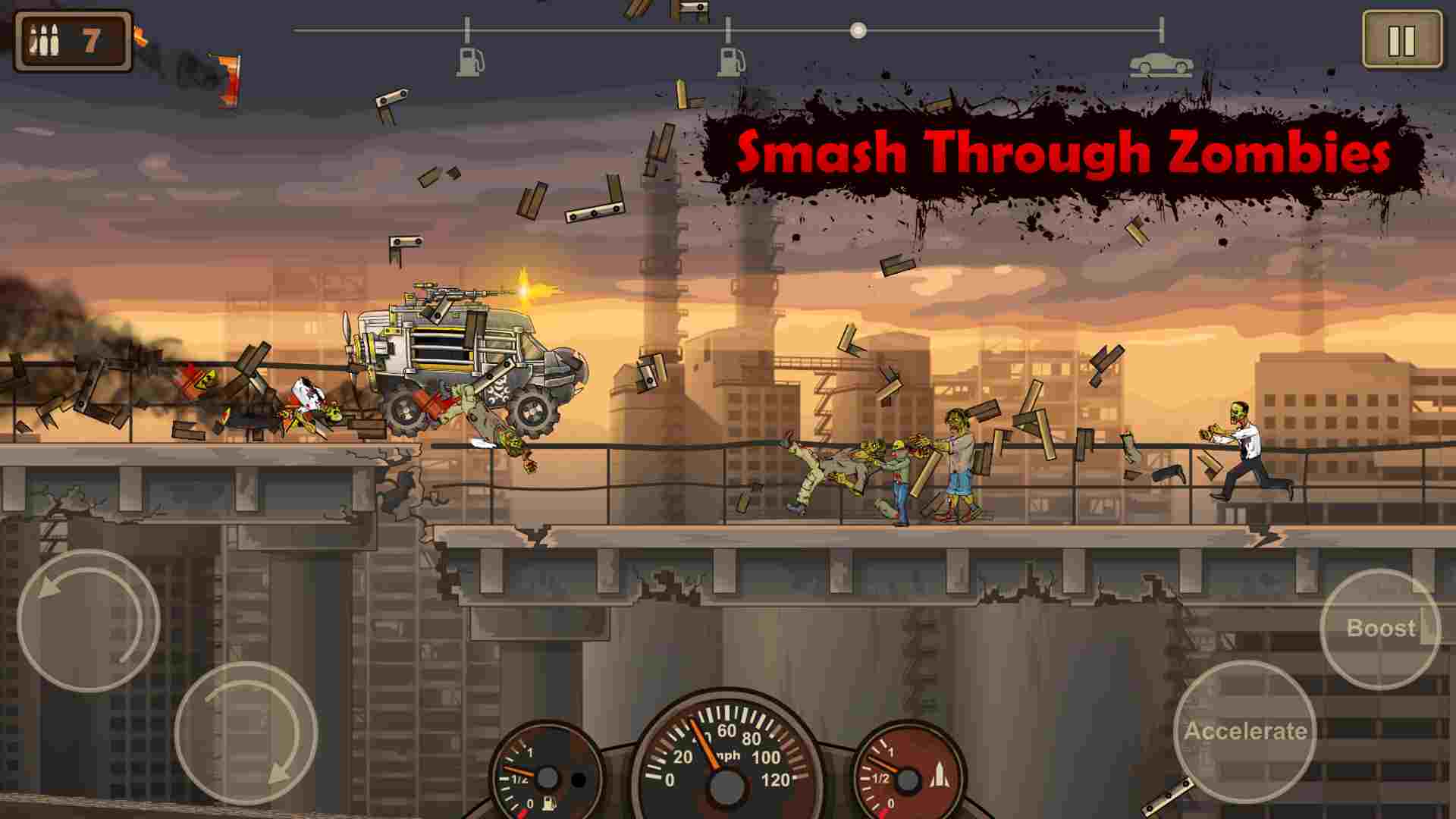 Unlock and upgrade vehicles
To conquer the craziest challenges in Earn to Die 2 , you need the most powerful cars. The game offers more than 10 different vehicles from sports cars, pickup trucks, racing cars, police cars, fire trucks, and more. Each vehicle has its own stats and can be upgraded with a variety of replacement parts. The game does not limit your creativity in upgrading. As long as you have enough money, you can enjoy shopping and upgrading from chassis to weapons, boosters, and more. Regarding weapons, you will find many great guns. Regarding the chassis, armored steel is usually the best.
Besides, you will need to add many accessories to turn the car into a real zombie-killing machine. What do you think about attaching rotating saw teeth, cranes, and spindles…? They can help you increase damage and speed to easily conquer the most difficult survival routes. So think of more interesting upgrades. The challenge for you will become increasingly fierce as you get closer to the West Coast. Therefore, if you don't refresh your "machine", you will probably stop soon.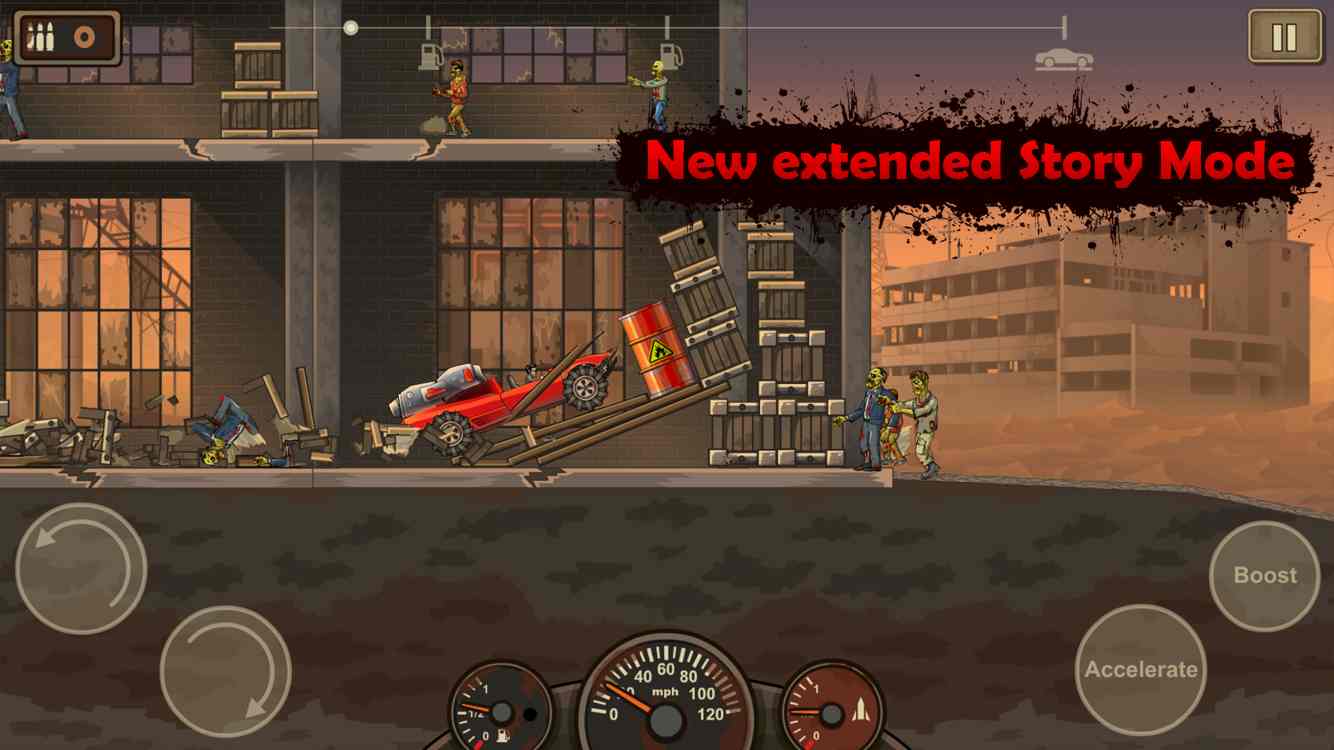 Realistic design, vivid effects
Besides addictive gameplay, the game also impresses with a realistic graphic style. Although only designed with 2D graphics, it still depicts every image in detail. The main character of the game is your zombie-killing car. It has a cool look and lively engine sound. In addition, the zombie system is also very diverse. Each type of zombie has its own look and behavior. In particular, the game scene is really impressive when faithfully recreating the apocalyptic world. Busy streets became dark and cold after the pandemic.
Don't miss Earn to Die 2 if you are looking for a refreshing racing game. It will help you temporarily leave the smooth and flashy highway racing, and come to the endless journey of survival. Drive your car through hordes of zombie corpses and traps. Do not hesitate to upgrade your car to be more and more powerful. And you will soon find your destination, where the rescue ship is waiting.