Reckless Getaway 2 is the sequel to Reckless Getaway, a racing game with crazy style. This new part will bring you new challenges and new locations and racing cars. But it still retains the crazy racing style from the beginning. Your mission is to drive and hide from the intense pursuit of the police force. To do this, you just need to master a few basic operations. Simple gameplay and unique pixel design will keep you in this game. Let's download the game and enjoy the hottest racing tracks.
Download Reckless Getaway 2 – Drive and survive in the pursuit of the police
If you've ever played Reckless Getaway, you probably remember the crazy chases. Now that's repeated in this second installment, but at greater scale and speed. Entering the game, you will become one of the most notorious street criminals. You will be chased by the police, so you have to find ways to survive. Your car only stops after suffering too many collisions. So learn to dodge obstacles and limit explosions to survive longer.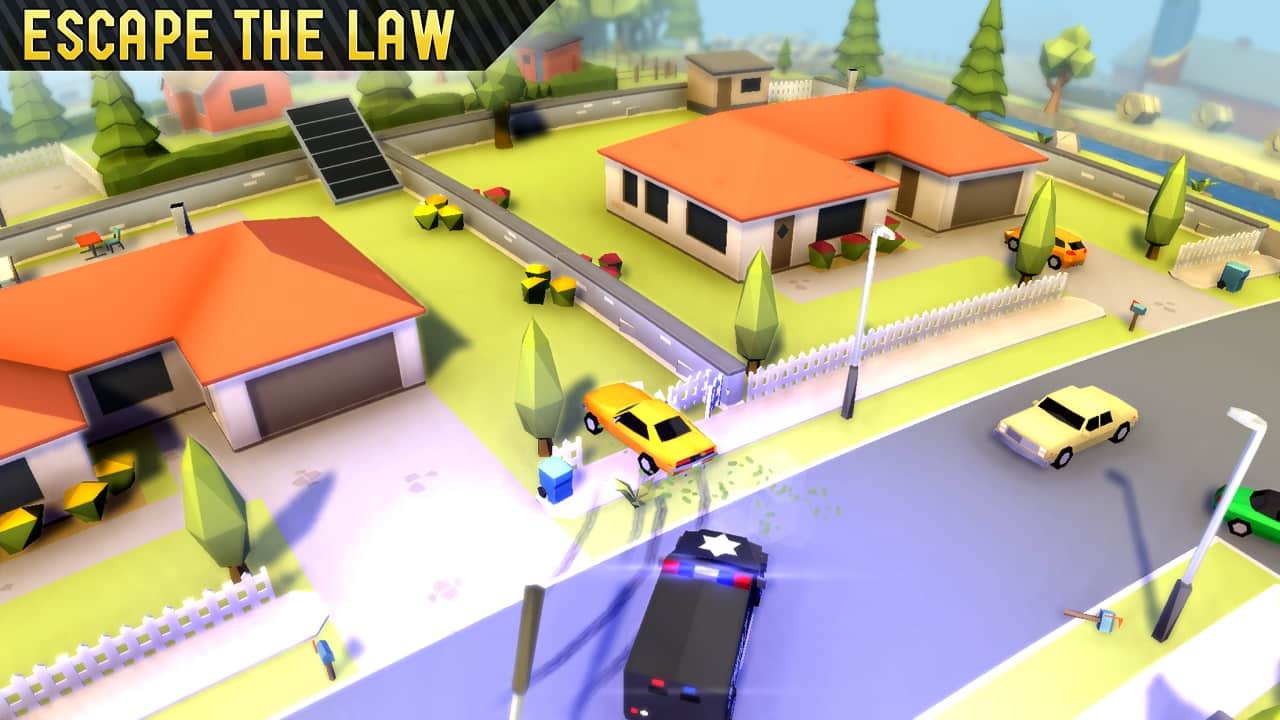 Survive your way
After downloading the game, simply click "Play" to instantly start a challenge. Your mission in each challenge is to survive as long as you can. To do that, you have to learn how to drive and learn many wise strategies. Driving is not difficult when you just use two arrows (left and right) to navigate the car. The vehicle will automatically move forward at a constant speed. Your job is to help it keep its top speed by dodging obstacles along the way. Obstacles can be vehicles on the street, buildings, structures, and police cars.
So your advantage depends on vehicle navigation skills. The way you navigate will show your agility and sophistication. The best way to run the fastest is to choose to go on the big roads. But that is also the time when you encounter the most obstacles from the police force. Therefore, you should try going through the small alleys and find ways to deceive the enemy. Try driving fast through the turns and make the police car fall into the water or crash into the building. You can also take advantage of other cars to create terrifying explosions.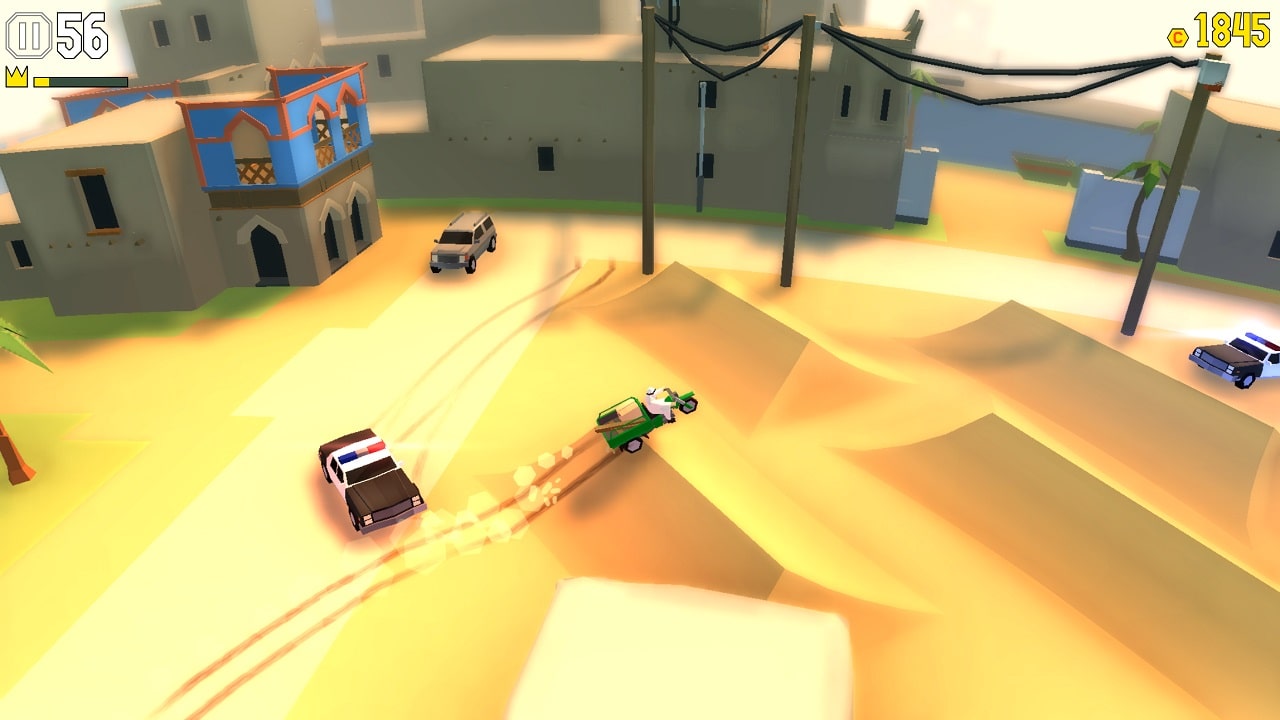 Unlock many unique car models
You will find in Reckless Getaway 2 the most unique cars. They are categorized by theme, such as industrial vehicles, agricultural vehicles, racing cars, road vehicles, resort vehicles, ambulances, etc. In each theme category, the game has dozens of other options. As a result, you will have the opportunity to drive from luxurious supercars to sports cars, pickup trucks, vans, SUVs, ambulances, army vehicles, delivery trucks, ships, ferries, and more. Each car has its own characteristics.
So how to choose a car? You should consider the vehicle characteristics to choose the right model for each challenge. Small supercars will help you wriggle easily through small alleys. Meanwhile, large vehicles such as trucks, and tanks… have greater endurance. If you are challenged with demolition missions, large vehicles are the more appropriate choice. On the contrary, if you want to drive faster, choose a car that is small and has good speed. To unlock the car, you should accumulate coins.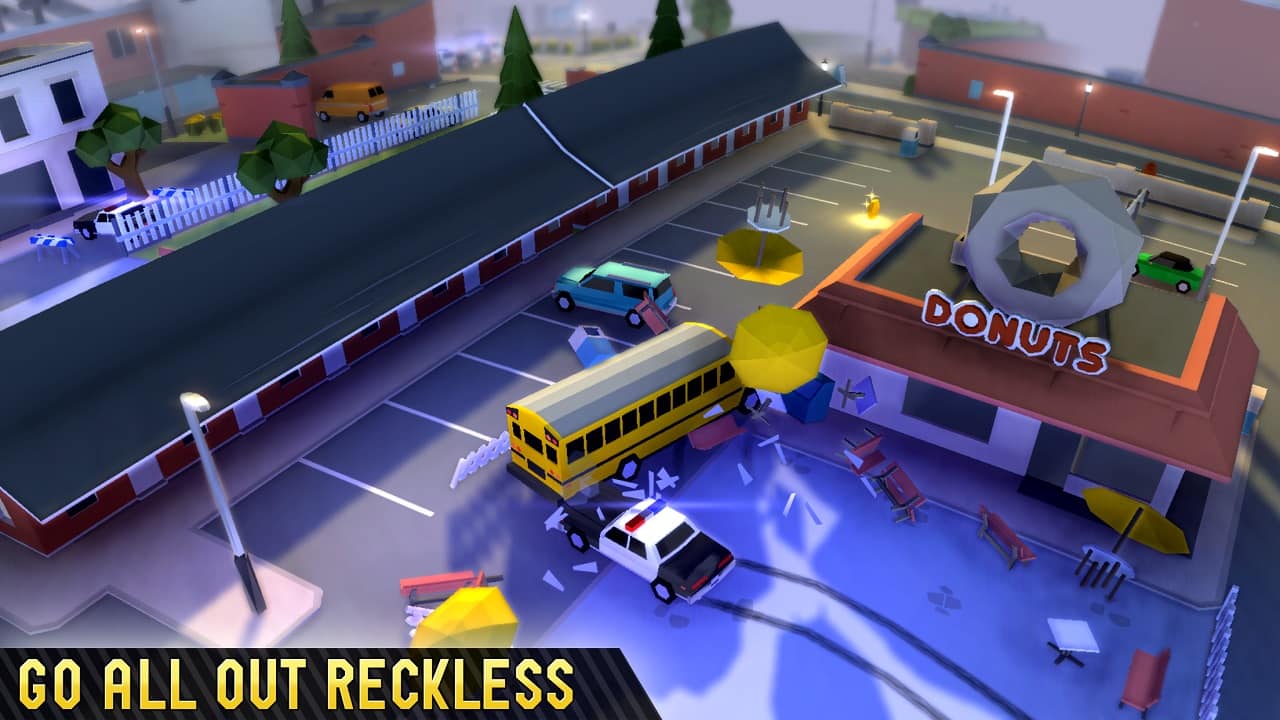 Explore many new maps
Besides the unique racing system, this game also has many different maps. Each map is designed with its own terrain, landscape, and weather in mind. It can be a city with busy roads, a seaport area with many ships, boats, and ferries…, or a small neighborhood at night. Each type of terrain will give you its own challenges. You need to choose the appropriate vehicle and strategy to conquer each environment. Moreover, unlock many new maps to admire their beauty.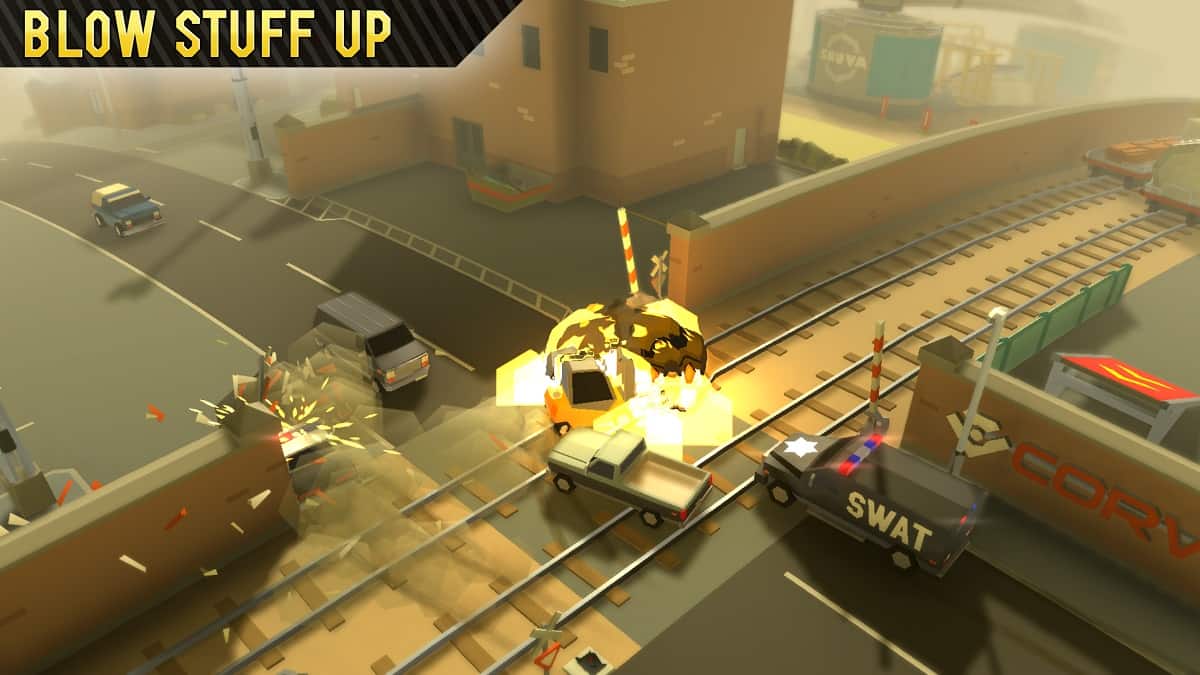 Beautiful 3D pixel design
This second part retains the same design style as the first part. Accordingly, the game owns a 3D pixel graphic style. The background of the racing environment is described in detail with harmonious dark and light colors. The color representation will change depending on the map and time of day, creating interesting mood swings. Besides, every detail on the map is extremely detailed. Pictures of cars, roads, and constructions… are all real.
So is there any reason you missed Reckless Getaway 2 ? This game will make you fall in love with the craziest racing missions. You can choose your favorite car to conquer the mission. Moreover, it is you who will control that car to cross every corner of the street. Remember that the police will pursue you from all sides and all the time. Drive wisely to make them smell your car's smoke.