As the name suggests, Sky Surfing is an action game with the mechanism of "surfing in the sky". You will enjoy this exciting mechanic in a never-ending adventure. In other words, it resembles the "Endless Run" gameplay in many hit games, typically Subway Surfers. However, the swipes have been shortened. You just need to touch and hold on to the screen to overcome countless challenges in the sky. Moreover, you can fly a real plane or a paper plane, or any animal. They will accompany you on an endless journey and record unprecedented records. Are you ready to do this?
Download Sky Surfing – Conquer the sky in your own way
Since the advent of airplanes, man has been able to conquer the sky in the most spectacular way. Sky Surfing is built on this idea and offers an incredible skateboarding game. Join the game, your task is to control an aircraft. You have to drive it through all obstacles and terrain surfaces to score as many points as you can. This is not as simple as you think. Moreover, it is an endless journey. Just one small mistake, you will start everything from the starting line. So this is a fun challenge to test your acumen and concentration.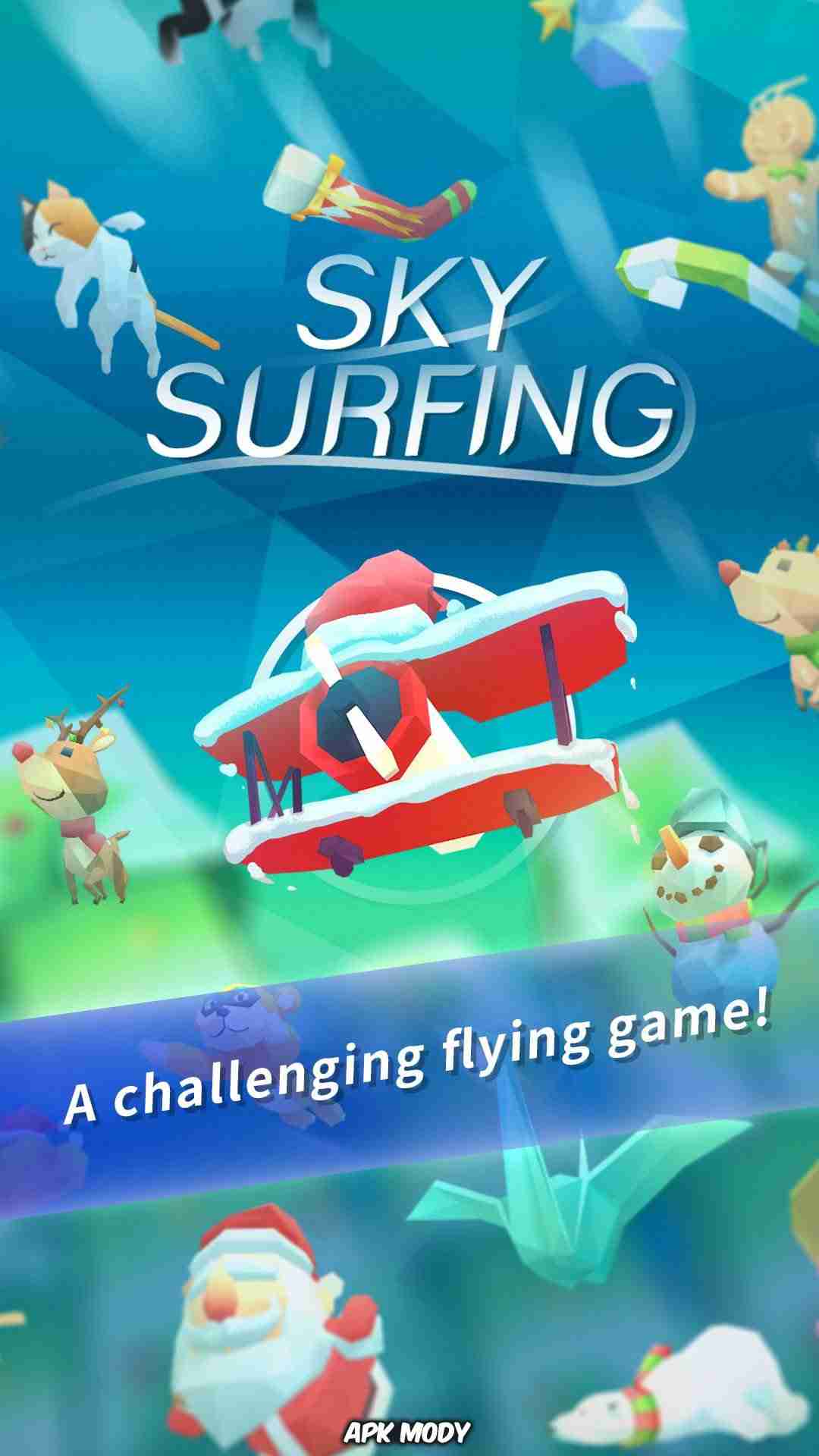 Show off your skills
There is no specific mission system in this game. Your journey will continue until you make a mistake. You will start at the starting position and have to steer your plane to slide over every surface. This glide mechanism is a way to refuel the aircraft, giving it enough power to fly long distances. So even though you can drive it in the air, it will result in a lack of fuel. That's why you must often land on the surface if you want to fly as far as possible. To fly the plane, you just need to touch your finger on the screen and swipe in the desired directions. Of course, you have to do it properly so that no collision occurs.
Your journey will have hundreds of different challenges. It can be unexpected rocks, strange shapes, narrow gaps, and more. To slide safely on surfaces, you must stay focused. Moreover, you need to observe quickly to promptly detect obstacles in front of you. In particular, the most important factor to win is the "timing" skill. That is, you need to choose the right time to slide and load as much fuel as possible without collision. Also, don't forget to collect loot along the way. You need them to unlock new skins.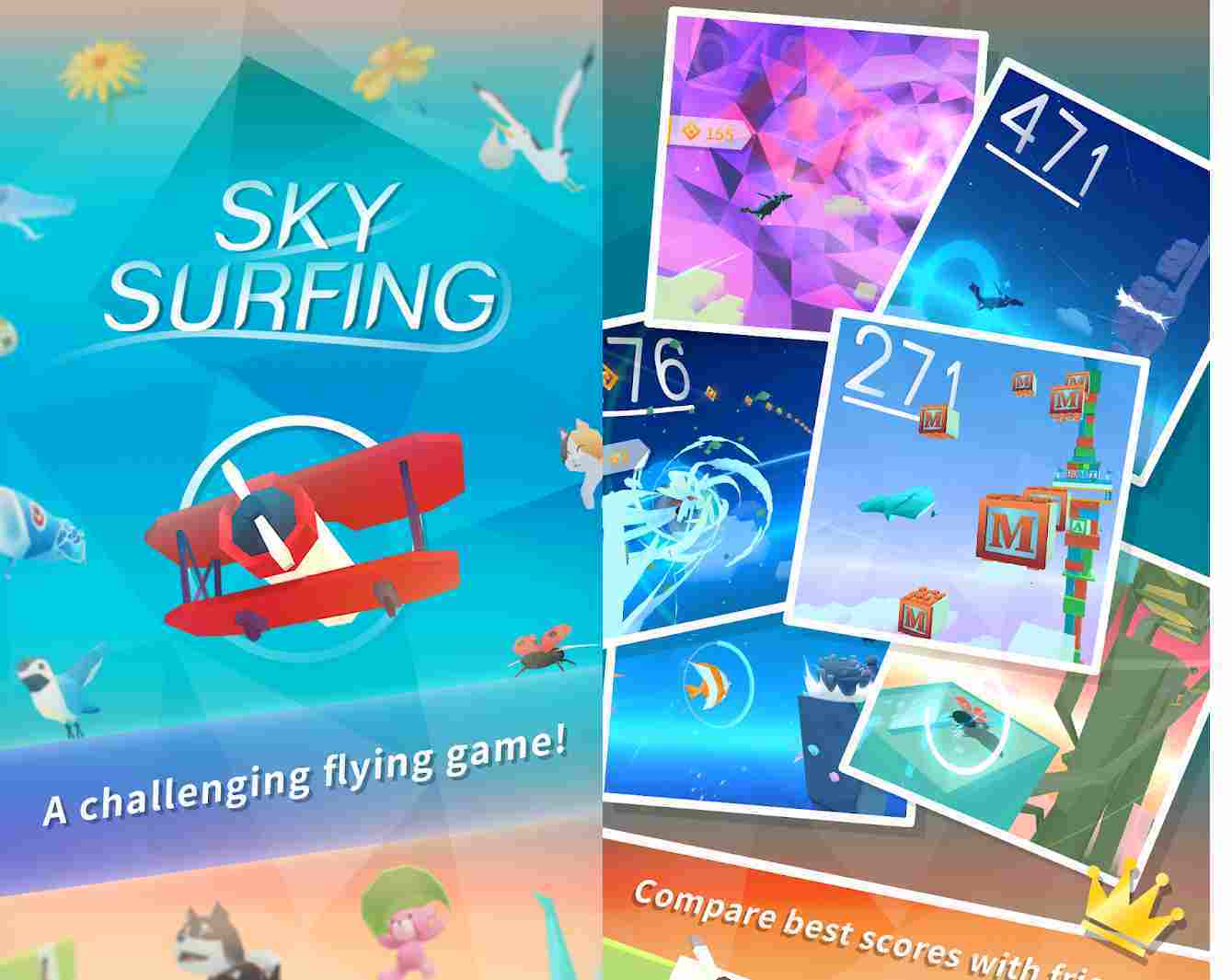 Unlock many unique skins
At the beginning of Sky Surfing , you can only fly one helicopter by default. But after that, you have the right to unlock many new vehicles when you reach enough levels and have enough items. Specifically, you can unlock a paper plane, a crane, a teddy bear, a dog, a cat, a bird, a stingray, a bee, a kite, and more. All can fly like a real plane through your control. In particular, they have no special skills that affect the outcome of the journey. So no matter which skin you choose, what makes you victorious is your skill. But the super cute new skins in this game will inspire you.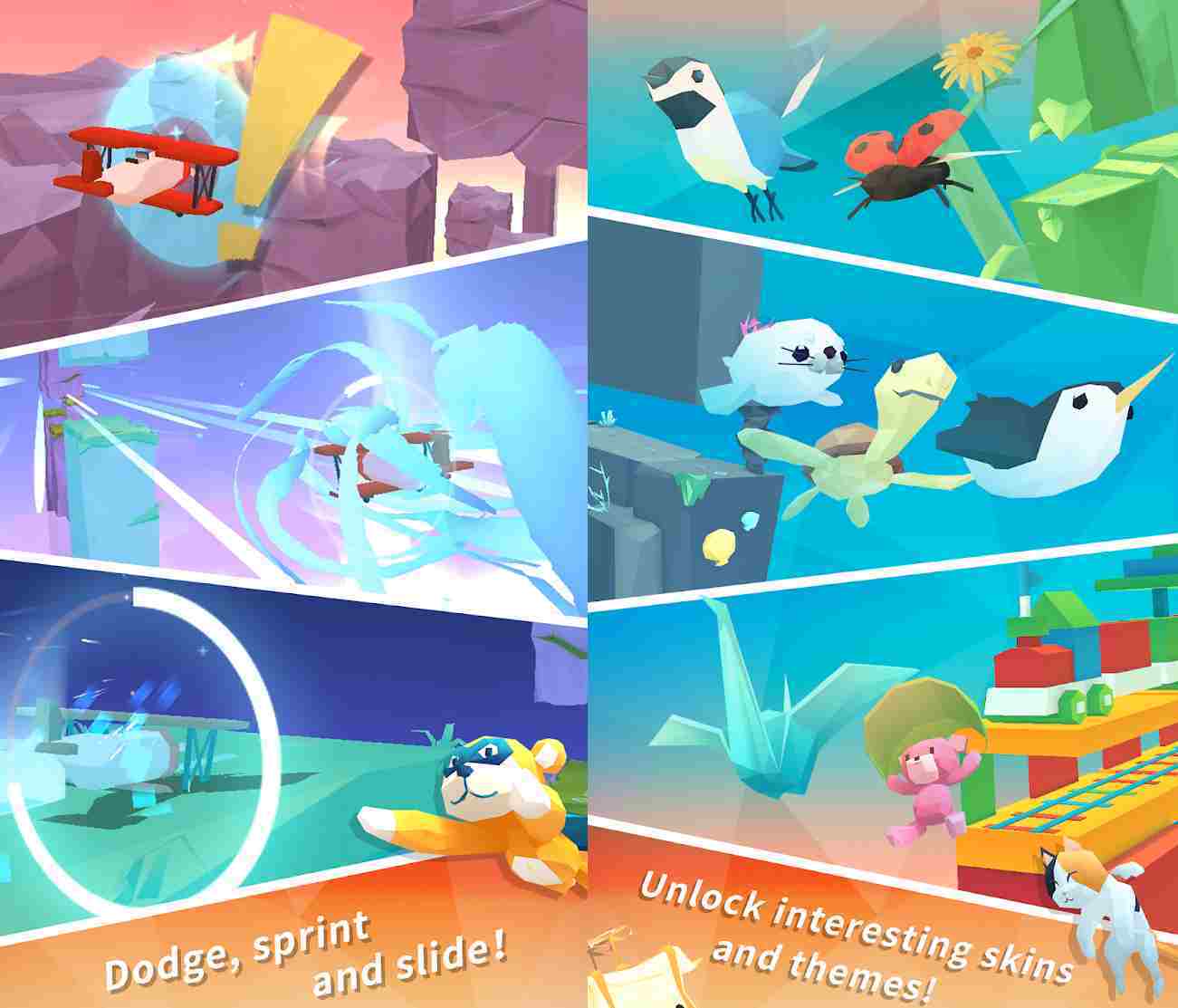 Explore different environments
Your endless adventure will go through various environments in the sky. It can be a beautiful blue space, the sky over a sunny desert, or on a green steppe. Besides, you will see that the scene will change flexibly over time. Each environment brings a unique scene with a special color. It highlights the beauty of the sky and the universe, which is extremely mysterious to humans. Besides, in each environment, you will encounter many different challenges. So, everything will be newer and newer, bringing endless adventure and inspiration.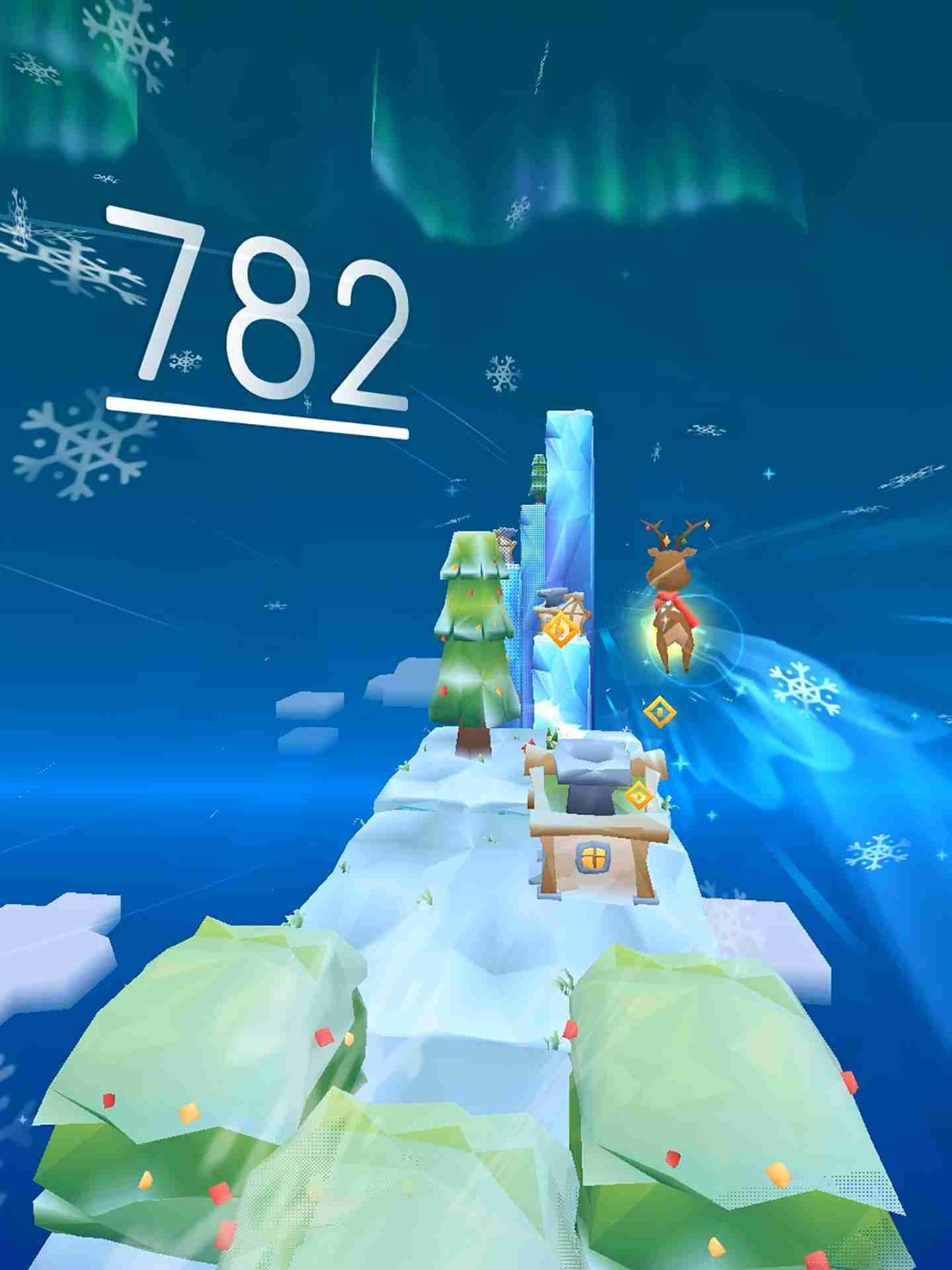 Funny pictures, eye-catching effects
Besides the fun gameplay, this game also impresses with the design style. It is depicted on 3D graphics with friendly images and beautiful color schemes. The sky scene with harmonious pastel colors will make you fall in love. Besides, the main characters in the game are very familiar icons. Moreover, their movements are very smooth, providing a feeling of gliding. Music with soothing melodies also contributes to the necessary relaxation.
MOD Feature of Sky Surfing
MOD Menu
Unlimited money and gems
Unlocked all
In short, Sky Surfing is a fun and relaxing action game. It will make your free time more enjoyable than ever. Just one download and you can play it wherever you are. An endless adventure in the sky is always available for you to explore. How far will you go and how much will you explore? Make an effort to glide and fly as far as you can to record your own record.