Swamp Attack 2 is the second installment of the humorous idle shooter action series. It will bring you into a new battle where Slow Joe must fight new enemies in the swamp. Again, you must help Joe defeat them with the gun in hand. You also get extra help from other members of his family. Besides, you can find many new weapons and useful auxiliary items. Combine them all for the best attack and defense. In particular, the enemy system is now much more new and diverse. They are mutant creatures plus hideous zombies. And they promise to bring a new breeze to your experience.
Download Swamp Attack 2 – Defend against the monsters in the swamp
Like the first part of Swamp Attack 2, you will participate in a long-term survival campaign against swamp monsters. But now your journey will have new chapters, new enemies, and many other surprises. In each chapter, the game gives you many missions with attractive rewards. You just sit on the porch, point the gun at the enemy and finish the game to receive the reward. But are things really that simple? Of course not. Enemies will become more and more crowded and powerful, demanding your relentless progress. So get ready for a new fierce battle for survival. It's still as funny as the first but more challenging.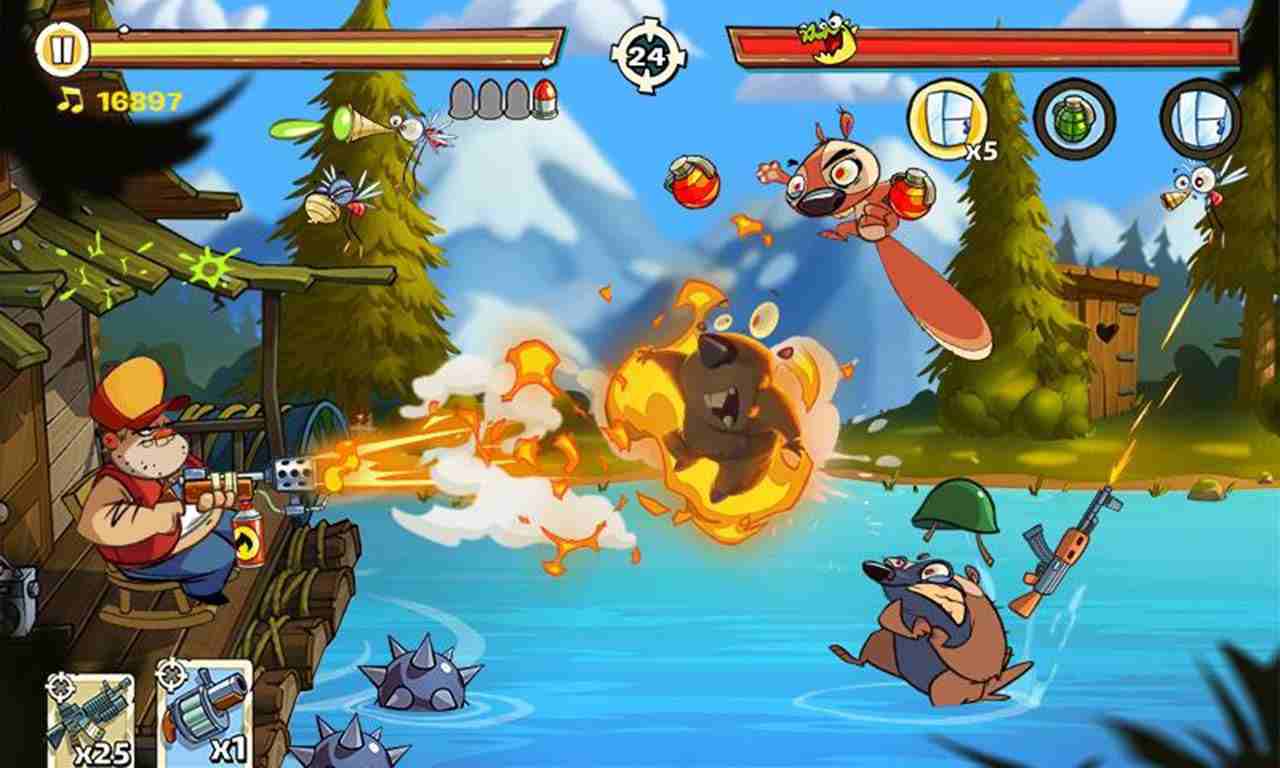 Simple and addictive gameplay mechanics
At the beginning of the game, you will start in the Deep South and proceed to the first level of chapter 1. Your task is to destroy all enemies entering the swamp. You just need to click on the screen to select the target to fire. But if there are too many enemies, you need to know how to prioritize targets. The enemy group will attack in waves, and the next wave will be stronger than the previous wave. They can be crocodiles, birds, beavers, rats, bears, and even zombies. All of them are mutant bodies and have their own characteristics. Some will move very quickly, while others will be slower but stronger. Classify the enemy to have a reasonable countermeasure.
Besides the enemy, you can find many valuable loots in the swamp. It can be weapons, ammunition, upgrade items… Just touch them to collect and use. As can be seen, the gameplay is very simple but addictive. You also need a bit of strategy if you want to conquer all levels. Then you can unlock new chapters with new quests. From the Deep South, you will pass levels to reach the Siberian swamps in China, then Russia. In each place, you will find many pleasant surprises.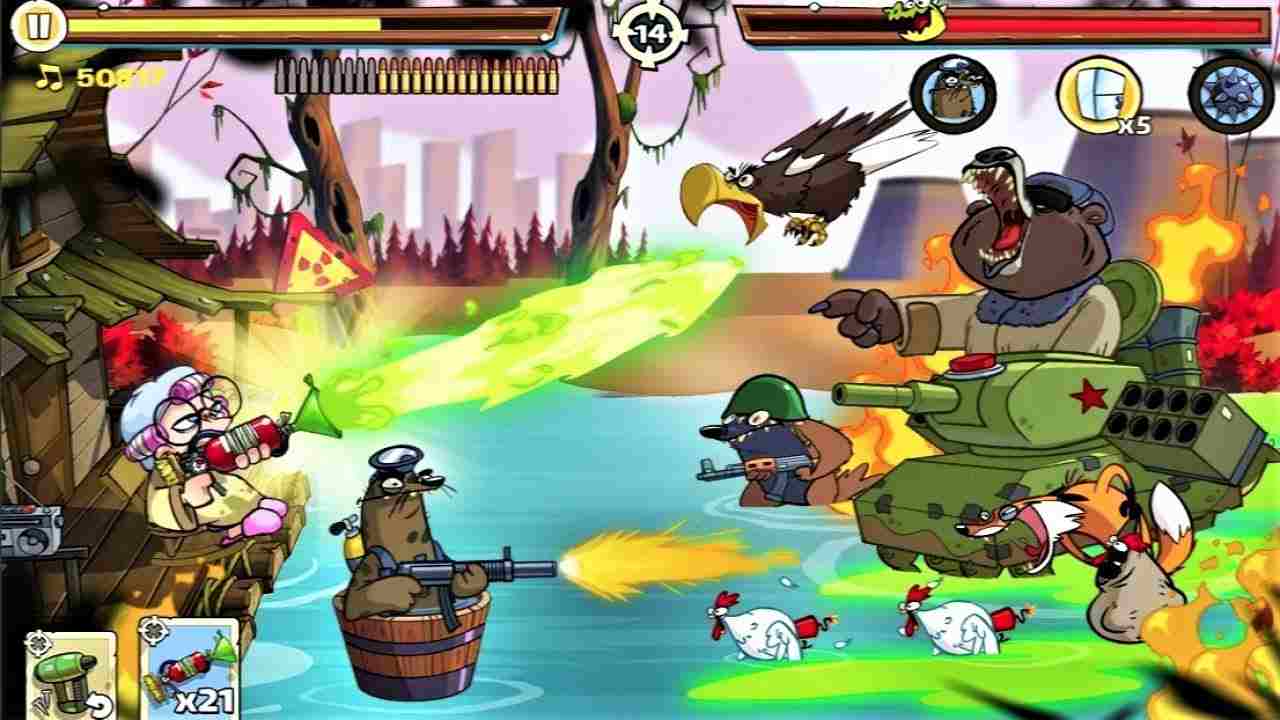 Explore weapons and characters
Compared to part one, Swamp Attack 2 brings more weapons. It also has more varieties with distinct parameters. Specifically, you can find in the store pistols, rifles, grenades, explosives, bombs, and even rockets. Each type of weapon will be suitable for fighting certain types of enemies. For example, guns will be effective against small and agile monsters. But bombs or explosives will help you eliminate large and slow monsters. Besides, in the store, you can unlock other accessories. At the same time, upgrade your weapons to improve damage.
In particular, in this new part, you will meet new characters. They are members of Joe's family. They are the Sister who owns the flamethrower, Hairy who has a dangerous weapon, the difficult old lady Mau… Each member has their own characteristics in terms of stats, weapons, and appearance. You can alternately play them or gather as a team to create a total attack. That is the basis for you to win on difficult levels when you have to face a "monster storm" from the swamp.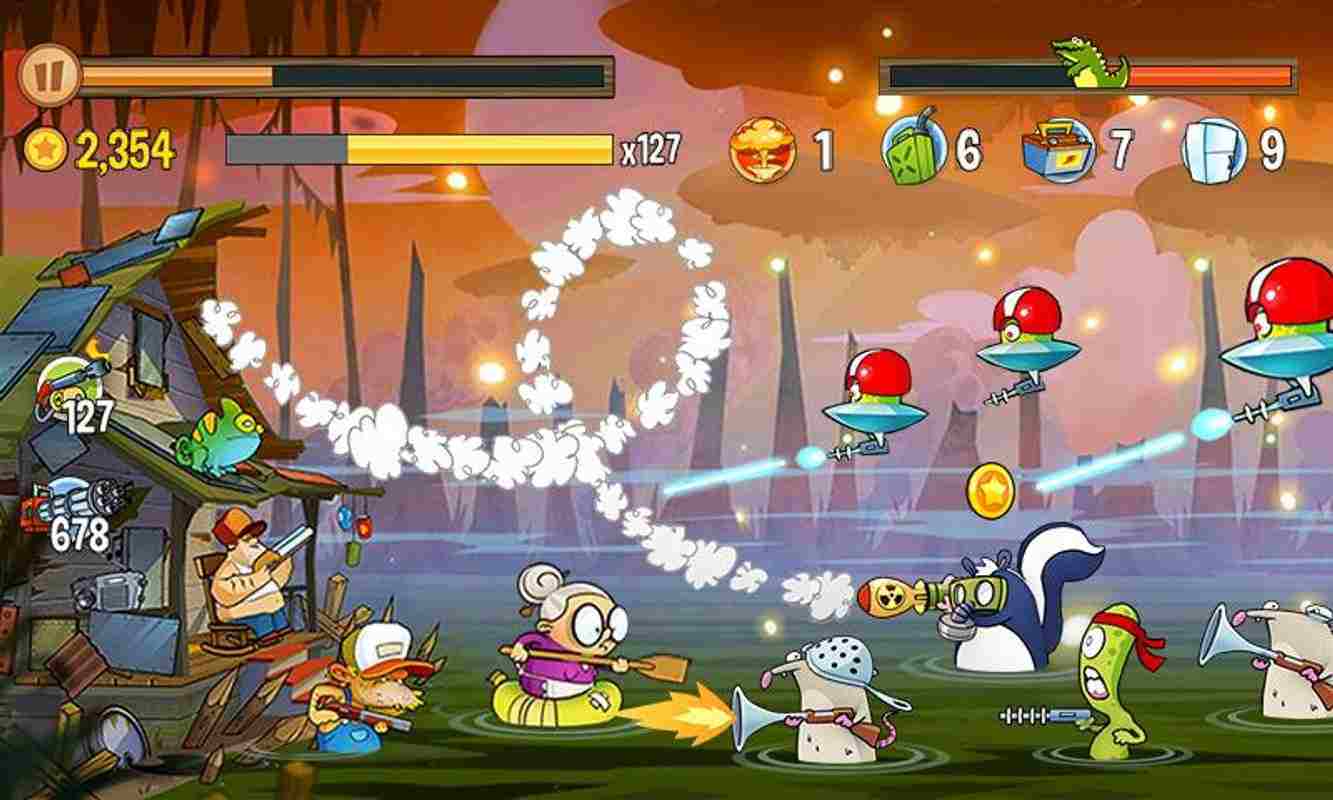 Funny pictures, lively sounds
In terms of graphics, this game retains the same humorous 2D design style as the previous part. So you will see Joe in his stout body sitting on his familiar porch. Besides, the new characters are equally fun. But the enemy's appearance is somewhat new. You will meet new mutants, typically zombies. In addition, the swamp scene is quite bright, plus colorful combat effects. Thanks to that, the game will give you a feeling of vibrant and eye-catching action.
MOD Feature of Swamp Attack 2
MOD Menu
Unlimited money
Unlimited coins and ammo
Don't miss Swamp Attack 2 if you are waiting to see Joe again in the addictive swamp fight. It will delight you even more with many new features and content. Get ready to participate in the new swamp campaign where you have to fight many mutant enemies. But before going to war, you need to equip the best weapons and accessories. If everything is ready, now is the time to fight and survive.