Used Car Tycoon Game is a fun and idle business simulator game. Join the game, you own a used car business. Your task is to develop it into a recycling car empire and profit from it. From old cars, you can turn into new cars thanks to accessories and paint colors. Then you will sell them at a higher price to racers, business people, drivers, or anyone. Just like that, find ways to upgrade your shop, unlock more car models, hire more employees, upgrade machines, etc. The higher the shop level, the more profit you earn!
Download Used Car Tycoon Game – Manage a car recycling shop
Have you ever thought about getting rich from used cars? Used Car Tycoon Game is the place to do this. At the beginning of the game, you have a small car recycling workshop and some mechanical machines. You can start collecting old cars, renew them and resell them at a higher price. Everything is as simple as that, and you don't need to do much except "click" on the screen. However, if you want to grow faster, think about your factory upgrade strategy.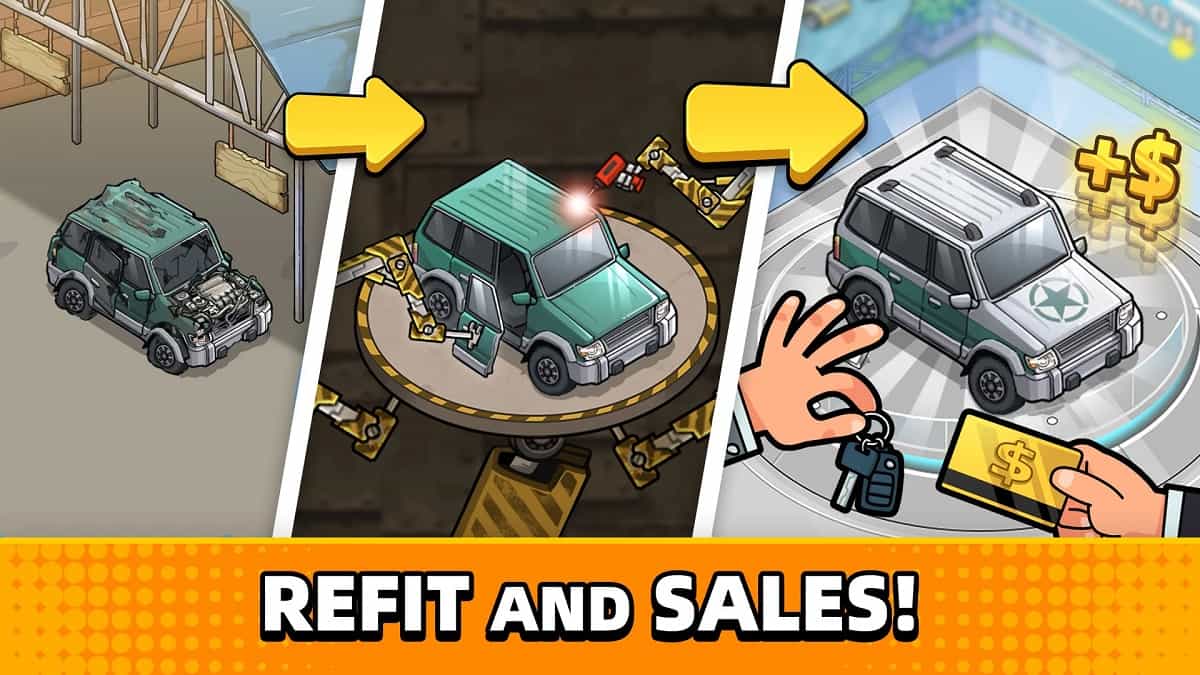 Manage the recycling process
Factory inputs are old cars or old car parts. You can find them in rivers or in public landfills. To collect them, you need to use a crane or a digger. You can also hire villagers to find pieces of antique cars, negotiate to buy back old cars from other people, etc. After that, old cars and accessories are brought back to the factory. You'll turn them into cars by erasing, erasing, painting, welding, swapping parts, and more.
In addition, some cars will need to have their aerodynamics, wheels, interior, and more replaced. You need to analyze the condition of your vehicles before deciding how to recycle them. The after-recycled cars are put in the parking area and for sale. You will receive offers from many different customers. Choose customers to buy with the highest price to make a profit. With the money earned, continue to upgrade your store. Over time, you will become a car recycling tycoon.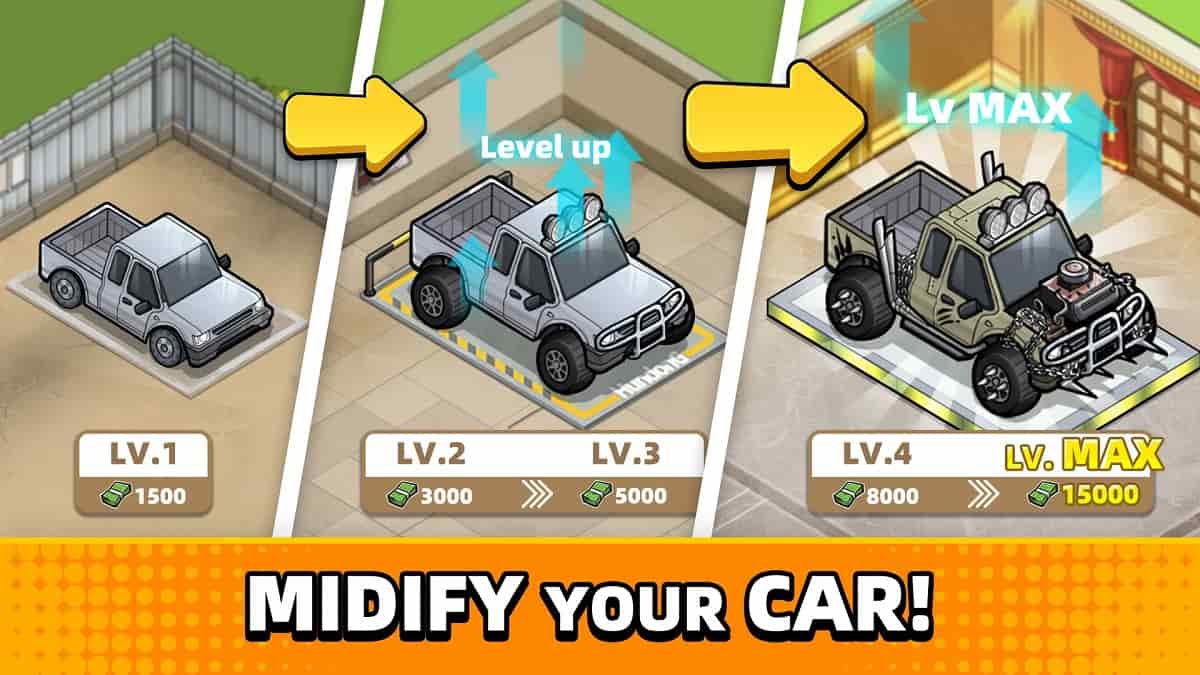 Upgrade everything
Used Car Tycoon Game has no level limit. So you can upgrade everything to your liking. From a small car recycling factory, you can turn it into a showroom, then a huge car center. Not only do you need to upgrade in terms of scale, but you also need to upgrade machines, expand workshop space and parking, hire more employees, and more. For an effective upgrade strategy, spend your money wisely.
The system of employees plays an important role in the operation of the store. This game brings many types of employees from researchers, salesmen, security guards, mechanics, etc. You need to upgrade all of them to improve working speed and performance. Furthermore, when unlocking a new facility, you need more staff to manage all the processes. When you have a talented staff, you will become an idle tycoon. In other words, you don't need to do much but the money automatically returns to your hand.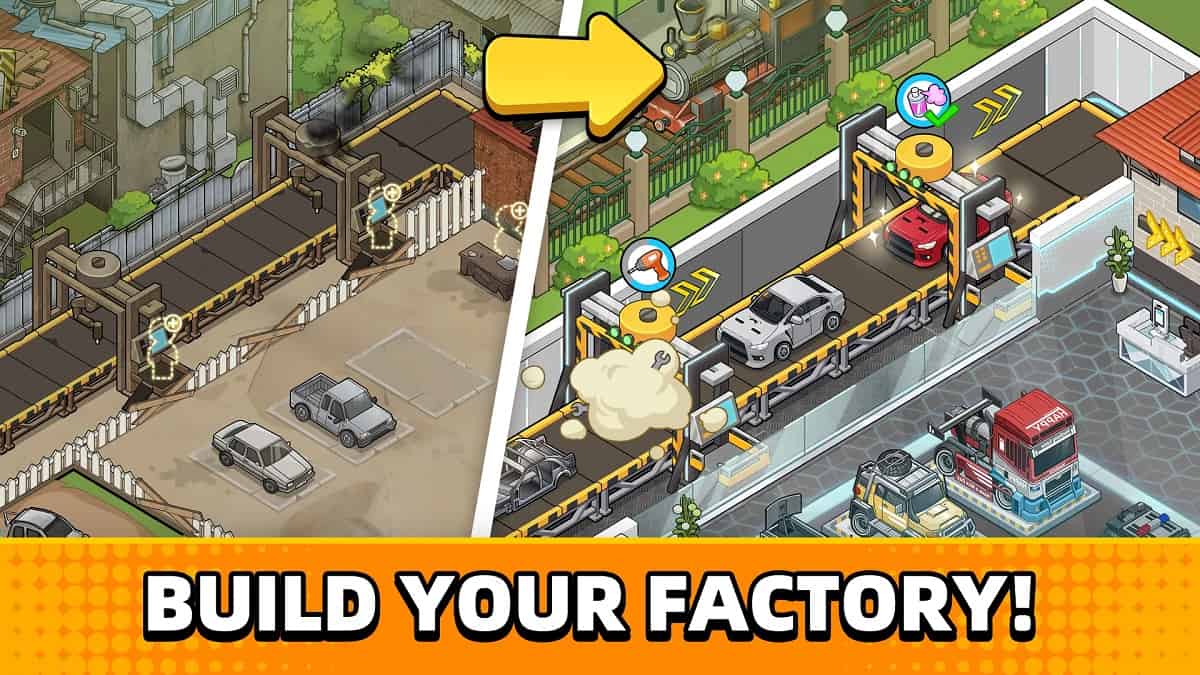 Meet rich guests
A lot of successful business people love cars and this is your important customer. Each customer has their own needs in terms of color, shape, and type of vehicle. Therefore, your job is to please them to sell the car at a bargain price. To reach higher-demand customers, you need to go higher. Continuously improve machines, unlock new cars and enhance the brand value. Big deals will make you rich.
Own a diverse car collection
The game gives you a lot of car models to unlock. It could be a car, van, sedan, race car, sports car, off-road vehicle, large distribution vehicle, and even a pumpkin car. Each type of vehicle has its own characteristics in terms of shape, color, and engine,… Therefore, the price of each type of vehicle is also different. To unlock expensive cars, you need to reach a certain level.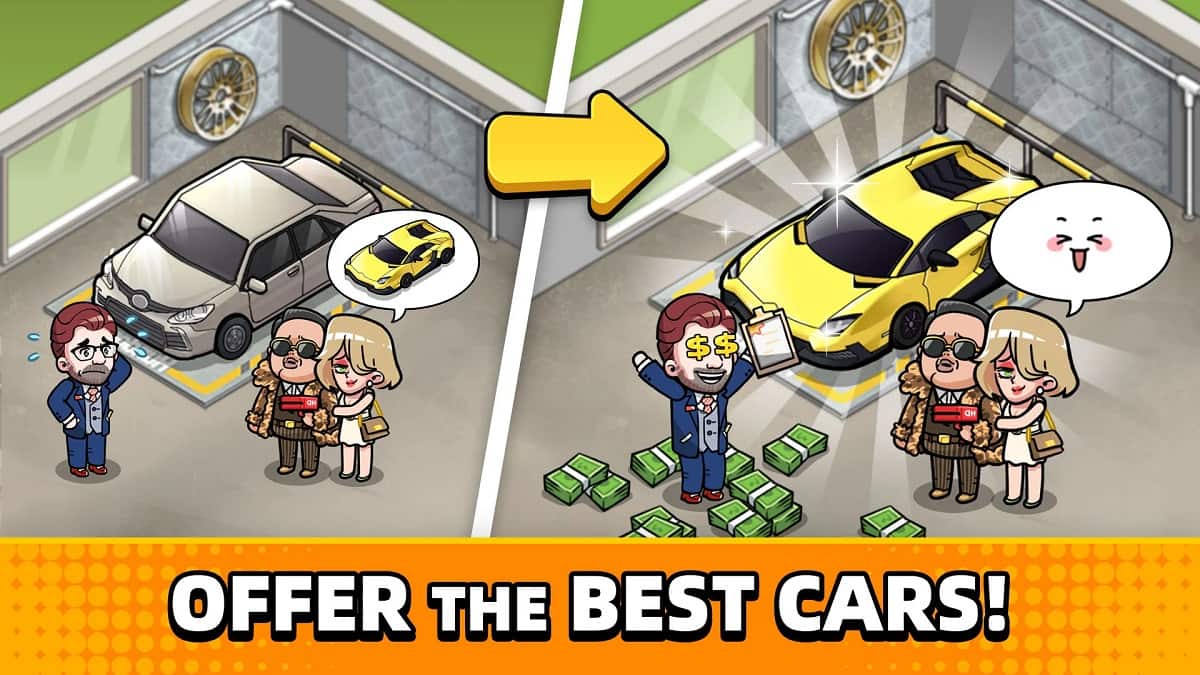 Colorful and vibrant space
This game will give you a bright experience space on 2D graphics. Every detail is realistically designed and vividly displayed on the screen. In particular, car models from classic to modern and a series of accessories and mechanical machines are also very realistic. During the experience, you can also enjoy soft, relaxing background music at all times.
MOD Feature of Used Car Tycoon Game
MOD Menu
Unlimited money
Unlimited gems
Unlimited diamond
Now it's time to download and play Used Car Tycoon Game on your phone. This simulator game will help you learn how to be a car tycoon. You can recycle old cars into new and more expensive cars. Moreover, upgrade your car empire to make it the most famous brand in the city.