Warriors.io is a compact but attractive battle royale game like the cult games. Join the game, you will compete with many players and strive to rank up. Battles will take place quickly in just a few minutes. But they happen at such a fast pace that there is no rest. You will encounter dozens of random enemies on the map. To take them down, you need to equip enough weapons from shotguns to sniper rifles and more. Besides, choose your favorite hero and upgrade them regularly. The higher the level, the greater the power and the higher the chance of winning. Are you ready to go to war?
Download Warriors.io – Multiplayer online survival arena
This game is quite suitable for those who are passionate about the survival genre but have little time to spare. Because it's like a miniature version of the famous battle royale games. It only takes a few seconds to enter the arena and a few minutes for a match. Moreover, you will play in the form of a tiny soldier that looks funny and super cool. Everything is quite simple and compact but not boring. On the contrary, the multiplayer survival matches here will make you addicted. Besides the direct competition in the arena, you have an achievement competition on the leaderboard. Do you want to be in the top 1? Make an effort to reach your goal.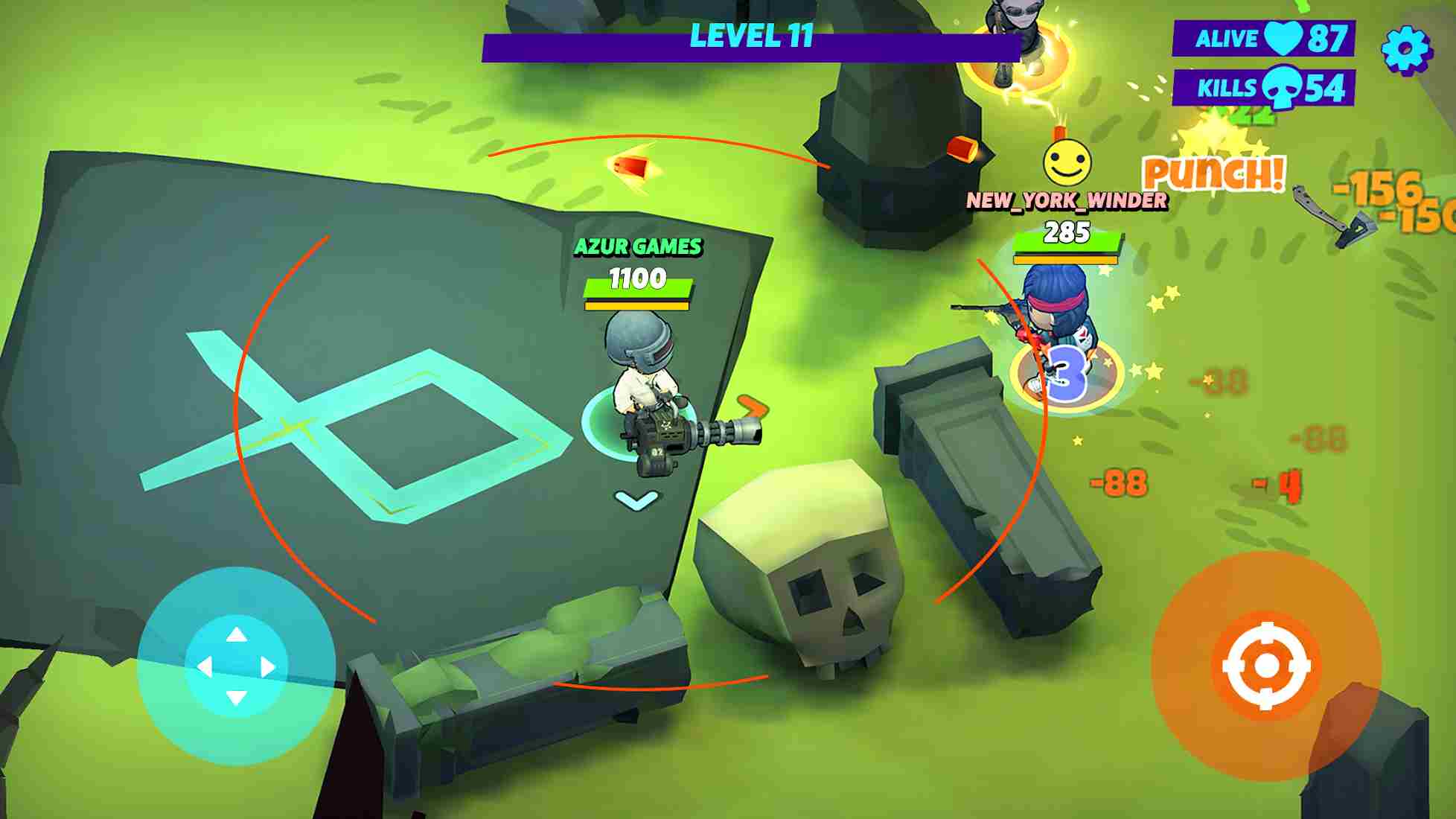 Enjoy the fast-paced survival gameplay
The game has several modes available, the most prominent of which is the Campaign mode. This mode consists of different chapters that are unlocked gradually as your level progresses. Each chapter will take place on a separate map and has a specific mission system. So you will find everything new during your survival journey. Besides, you can join limited-time online events. Usually, these events will come with great bonuses so you should not miss them. Either mode offers multiplayer arenas. In other words, you will compete against online players in each match. Sometimes, part of the players are AI but they are very quick and clever.
In the arena, your goal is to destroy others to become the last survivor. To do this, you need to master skills and have a smart strategy. You need to move skillfully and aim accurately. Remember, your character can only attack within the circle. So if you want to attack the target, move close to them. On the contrary, if you want to run away from other people's attacks, you should stay out of their attack range. Besides, the game will give you additional upgrades. You have the right to choose one of these add-ons (it can be a boost, improve fire rate or heal) to gain an advantage for a certain amount of time.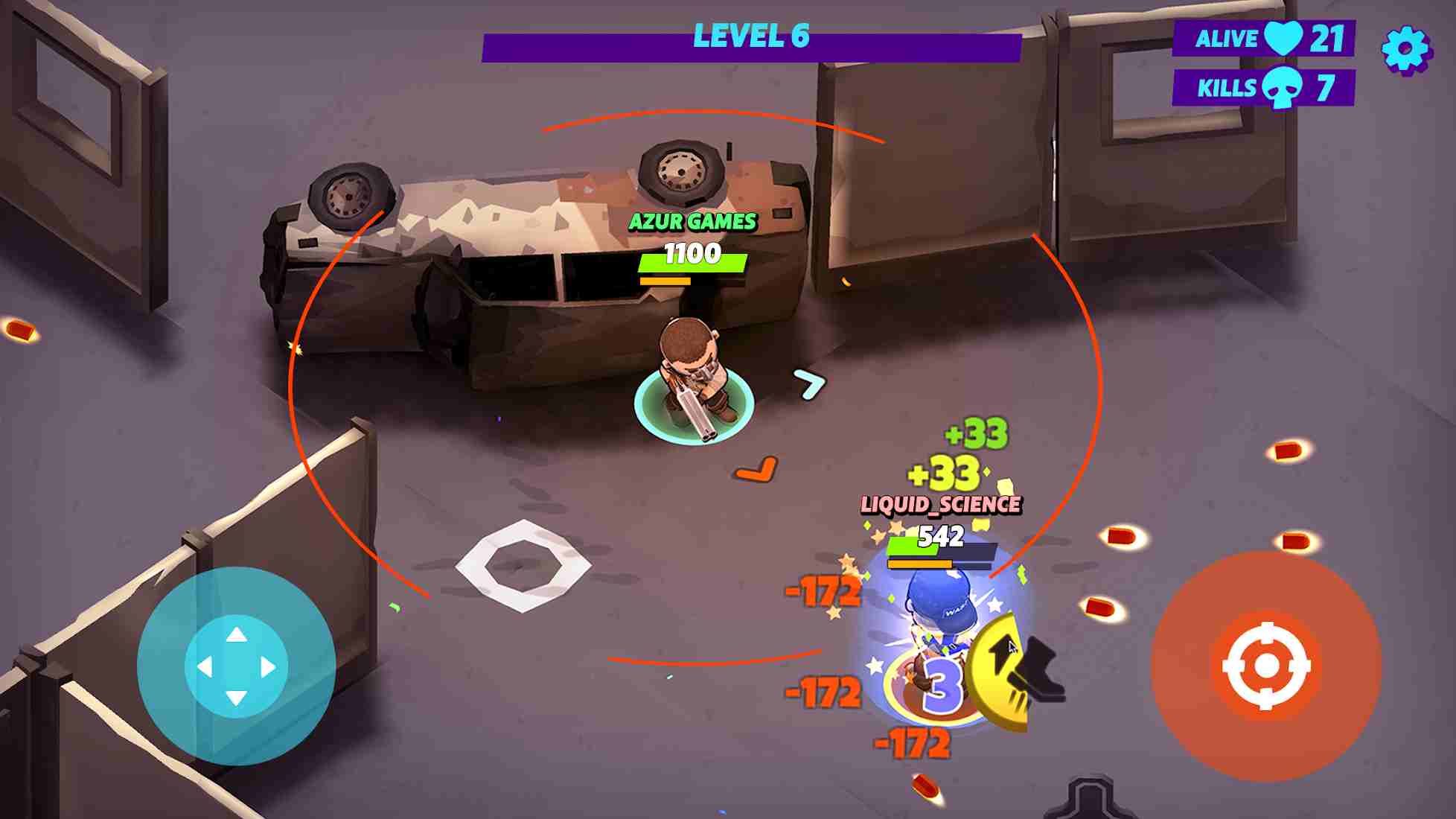 Explore the collection of soldiers and weapons
Currently, Warriors.io has more than 68 different types of soldiers. You can find them in the store under the "Heroes" category. The most popular types of soldiers are Agent, Ninja, Big Guy, Boss, Maniac, etc. Each type of soldier will have certain stats that determine its advantages and limitations. Besides, the soldier system is ranked from common to rare and legendary. To own the rarer cards, the more cash you have to spend (one unit of the game currency). So, carefully consider stats such as speed, damage, and reload speed… before deciding which character to unlock.
In addition, there are more than 50 different types of weapons that you can find in the "Guns" category. It includes melee weapons like short knives, long knives, swords, axes, shotguns, and ranged weapons like rifles, sniper rifles, and more. Each weapon will be effective in different situations. Besides, you need to choose a weapon that is compatible with the hero type. That is the condition to maximize the strength of the character and weapon. And this will give you the edge in the multiplayer survival arena. Note, if you want to refresh the character, go to "Hats" and choose unique hat styles.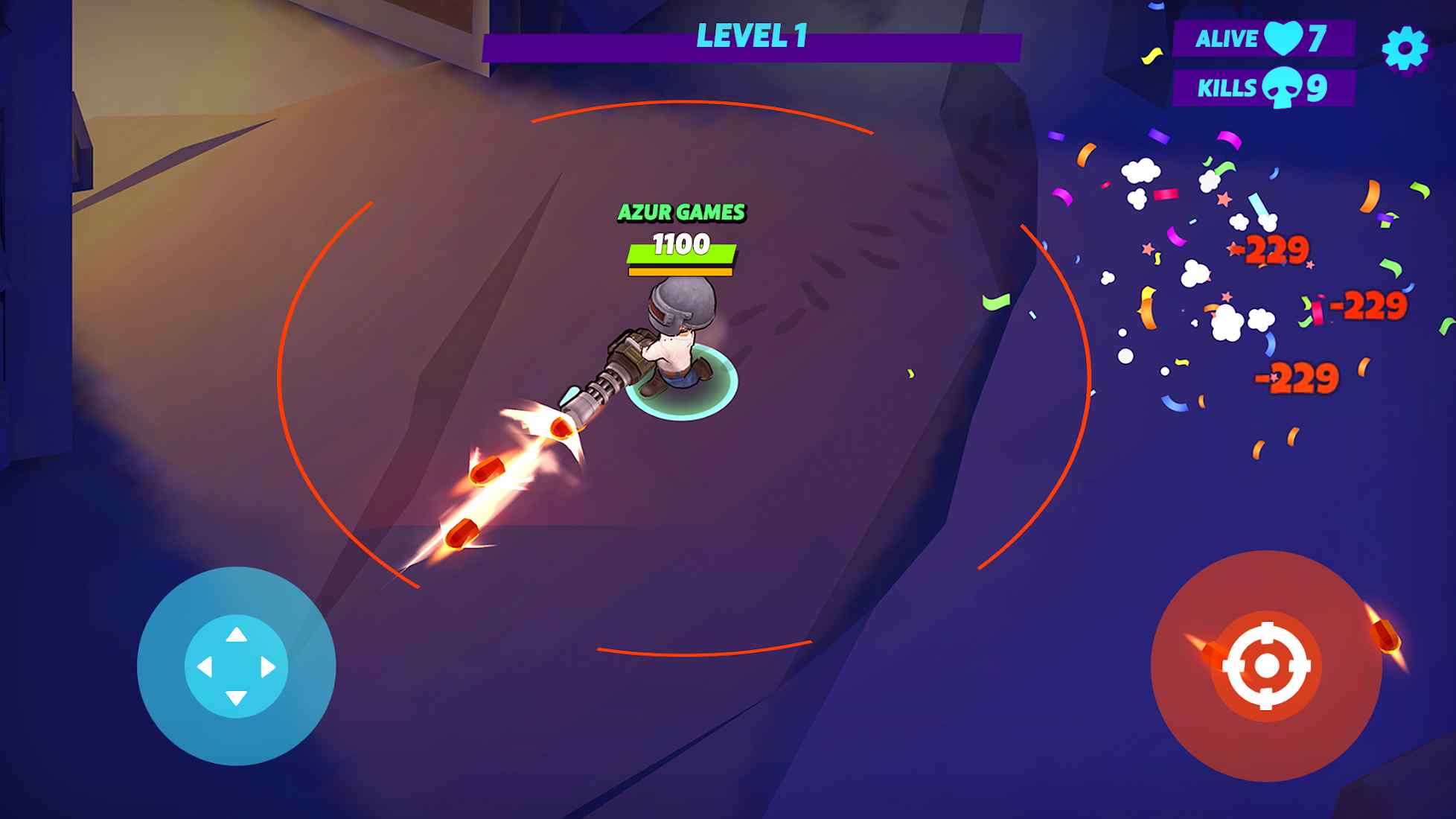 Colorful 3D map
This game offers a rich map system. They are unlocked through chapters in campaign mode. Specifically, it can be a map of a city, a jungle, a suburb, a snowy land, or a desert,… during the day or at night. The arena scene on each map is meticulously and beautifully designed. Prominent in that scene were the tiny soldiers trying to survive. A variety of eye-catching skill effects from their weapons make the arena even more impressive. In particular, the background music and battle sound are also very lively.
MOD Fetaure of Warriors.io
MOD Menu
Unlimited money and gems
free shopping
So, if you are looking for a simple battle royale game, Warriors.io is the choice not to be missed. Explore the game, enter the online arena and prove your survival skills. Don't forget to explore a variety of different weapons and unlock your favorite heroes. Moreover, you can upgrade them all to become more and more powerful, aiming for a high position on the leaderboard.