The world has changed after the pandemic, and now, you need to cure the zombies. That's what happens in Zombie Hospital Mod, a hospital management simulation game with different gameplay. Join the game, you own a large hospital funded by the government. Your job is to manage it properly to cure zombies and make a profit. There's a lot to do from patient care to staff management, construction, upgrades, and research. But you just need to "click" on the screen to complete all the tasks. However, show wise management strategy for patient management!
Download Zombie Hospital Mod – Manage a hospital and cure zombies
The game context takes place after the global pandemic crisis. At this time, most of the people turned into zombies and roamed everywhere. The few remaining survivors formed new settlements and shelters. Then some scientists found a cure for zombies. Now they need a special hospital to manage the zombie group and defeat the infection. You are assigned to this hospital management role. Your job is to manage the hospital to rescue zombies in the city.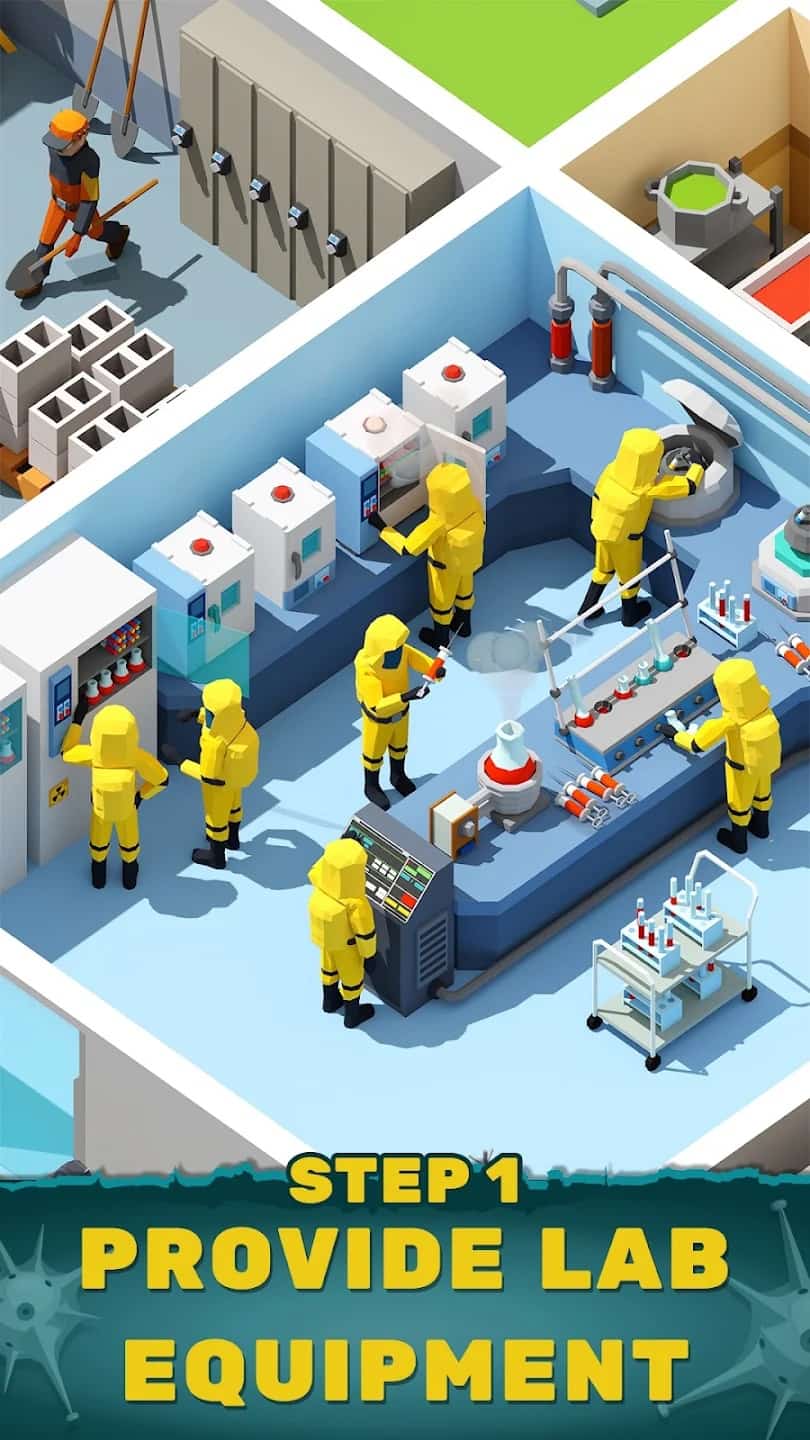 Build facilities
At the beginning of the game, you only have an empty area and a small amount of capital. You need to start building facilities to bring the hospital into operation as soon as possible. Specifically, you need to build rooms, corridors, toilets, canteens, living areas, gardens, and additional necessary equipment. Regarding the room system, you need to build many different rooms from emergency rooms and laboratories to treatment rooms, warehouses, and more. Of course, you also need the front desk to receive patients.
In terms of equipment, the game offers many different items, serving the medical examination and treatment process. However, in each stage, you need to consider buying the right items. Remember, the right spending will help the hospital grow faster. Besides the rooms and equipment, you also need to invest in water, electricity, and continuous upgrades. When there are more patients, you also need more room. Moreover, the equipment always needs to be improved over time.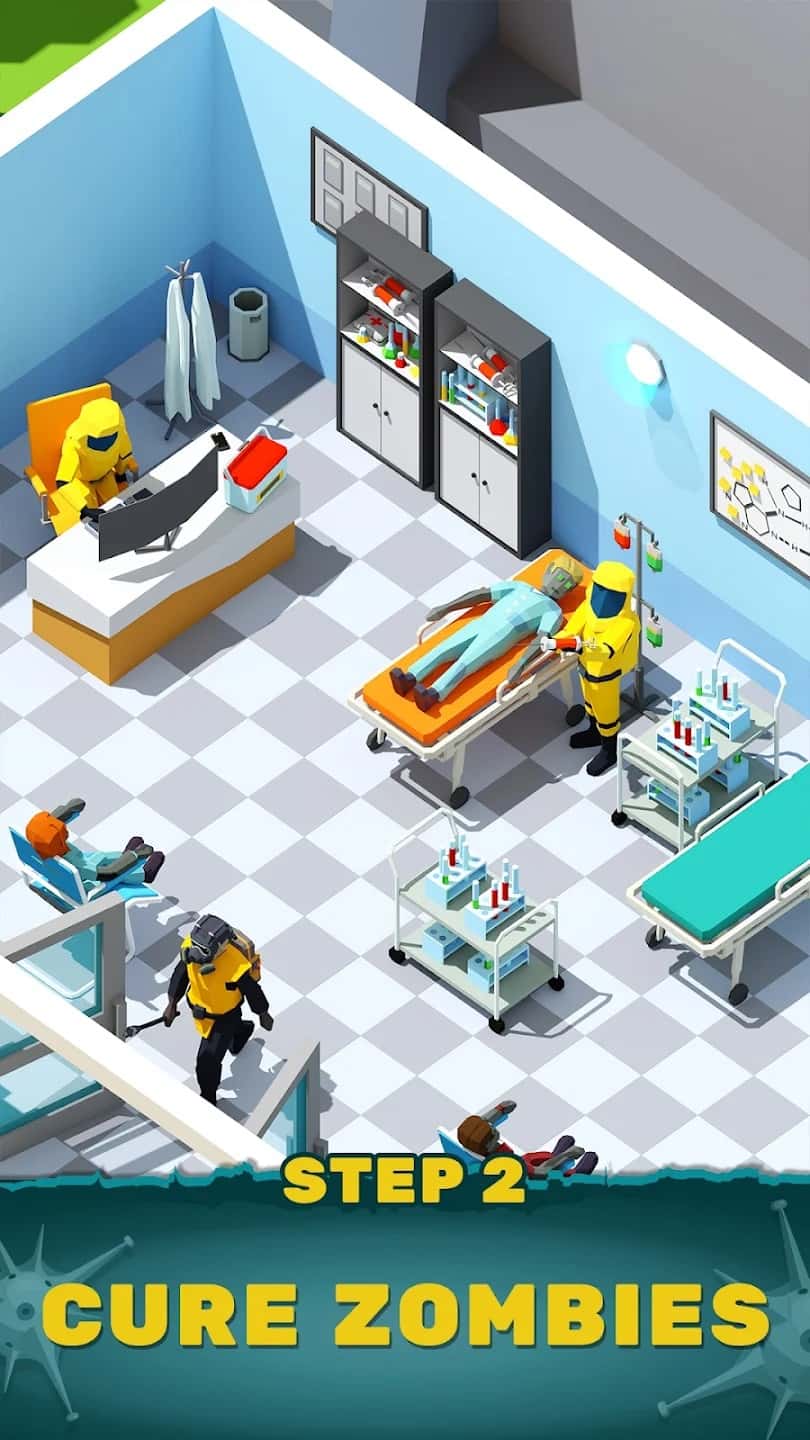 Employee system management
To manage the hospital in Zombie Hospital Mod, you cannot do everything alone. In other words, you need a system of talented employees to perform different tasks. For example, the receptionist will receive the patient; medical staff and medical examination and treatment doctors; scientists study therapeutic drugs; builders help build structures; hygienists ensure that the hospital is always clean and tidy. Your job is to select the best employees to accelerate the work's progress.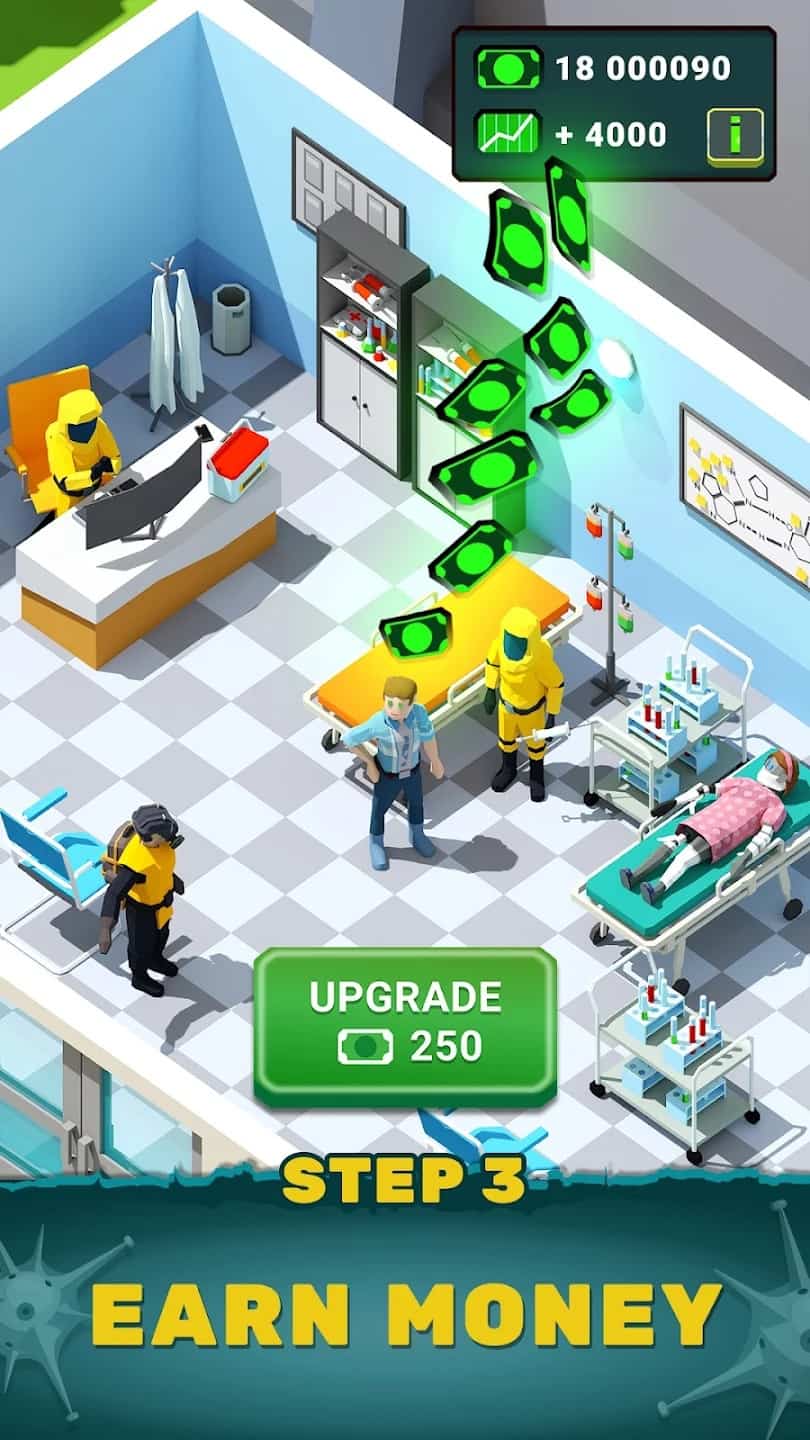 Solve problems in the hospital
Zombie hospital always contains more risks than any other type of hospital. Therefore, you need to prepare a plan to ensure security and order here. There are situations like a patient causing a riot, causing the virus to spread throughout the hospital. In that situation, you need to isolate the patients for a while to reduce the riot. Besides, you need to pay more attention to security and rest. Let's build amusement and entertainment areas to help patients relax more.
Non-stop upgrading
There is no limit to upgrade progression in this game. That is, you can upgrade as much as you want, as long as you have enough resources and cash. There are many things that need to be upgraded from the number of rooms and equipment to staff, premises, and more. You also need to upgrade staff qualifications to promote personnel quality. Better doctors will cure faster, better scientists will make more and better medicines. Focus on the important aspects of your hospital.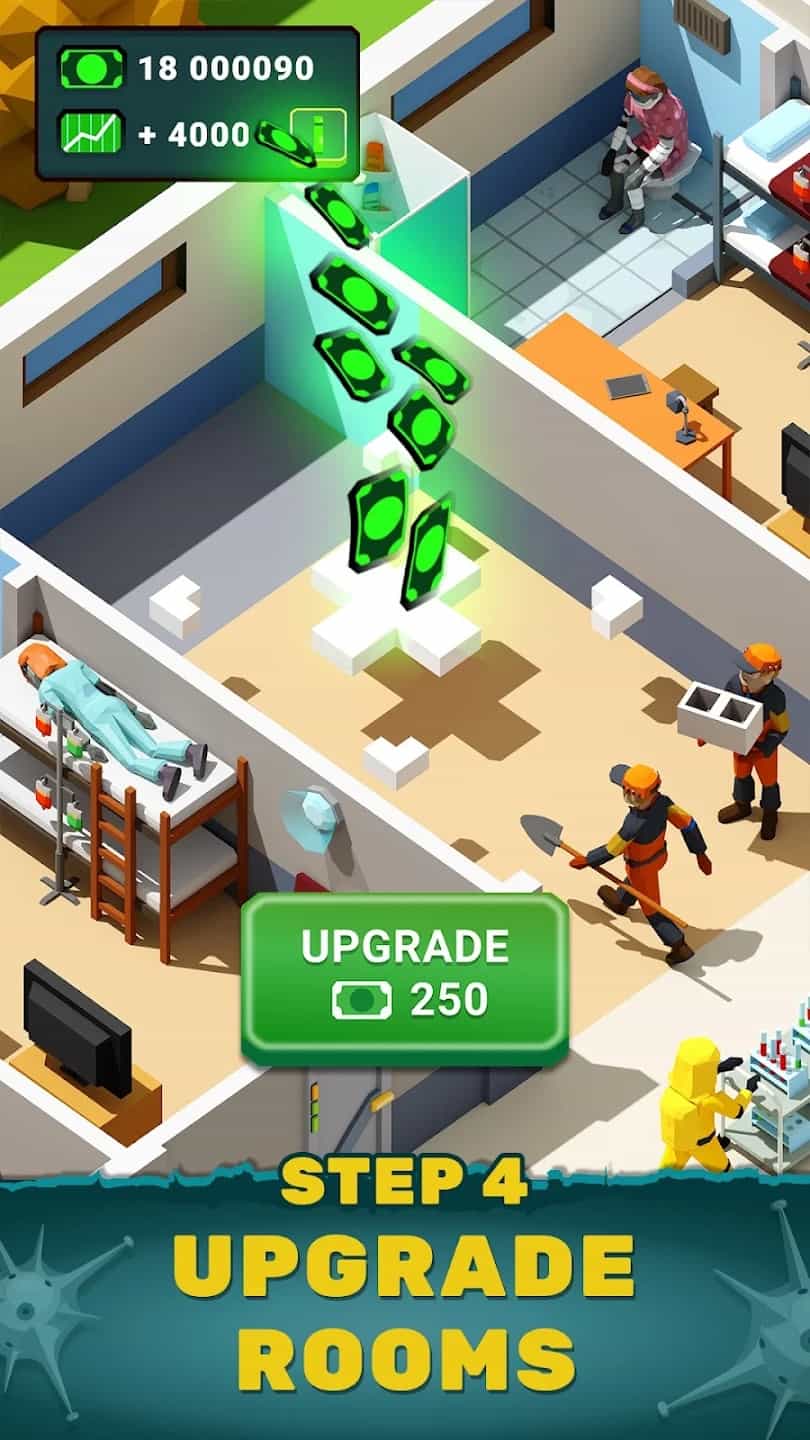 Enjoy fun music
Like many other emulators, this game has a simple and colorful design. Everything is vividly depicted and visually displayed from a top-down perspective. You will easily see the activities in the hospital and every person there. The sound from the background music and these activities are also quite lively and bustling. So you will feel the real rhythm of a zombie hospital.
Enjoy Zombie Hospital Mod if you want to own a hospital. Now is the time to test your management skills as the head of a government hospital. You can do whatever you want as long as you make a profit. Moreover, you will become the savior of the city when repelling the epidemic from here. Cure zombies and become a hospital tycoon, are you ready to do this?