Counter Attack Multiplayer FPS is a multiplayer first-person shooter game. It brings you a series of fast-paced battles in a detailed 3D map environment. Of course, it has many of the most popular game modes, allowing you to explore many different rules and weapons. There are hundreds of unique weapons and skins in the store to discover. Besides, this game supports many different languages. Whoever you are and where you come from, this is the playground for you. Get ready to join the fiercest battlefield and challenge your friends. Your goal is to climb to the top of the leaderboard.
Download Counter Attack Multiplayer FPS – Fast-paced shooting gameplay
This game is no stranger to many players. But if you've never played it, you should try it at least once. It is a playground for top-notch gunfights from the first-person perspective. That playground is for up to 10 players at once and takes place on 8 different maps. Therefore, competitiveness is indisputable. You must work hard to fight with agile speed and wise strategy to gain the advantage. If you want to do it with friends, customize your match and create your own room. If not, just click "Quick Play" and you will have a fight right away.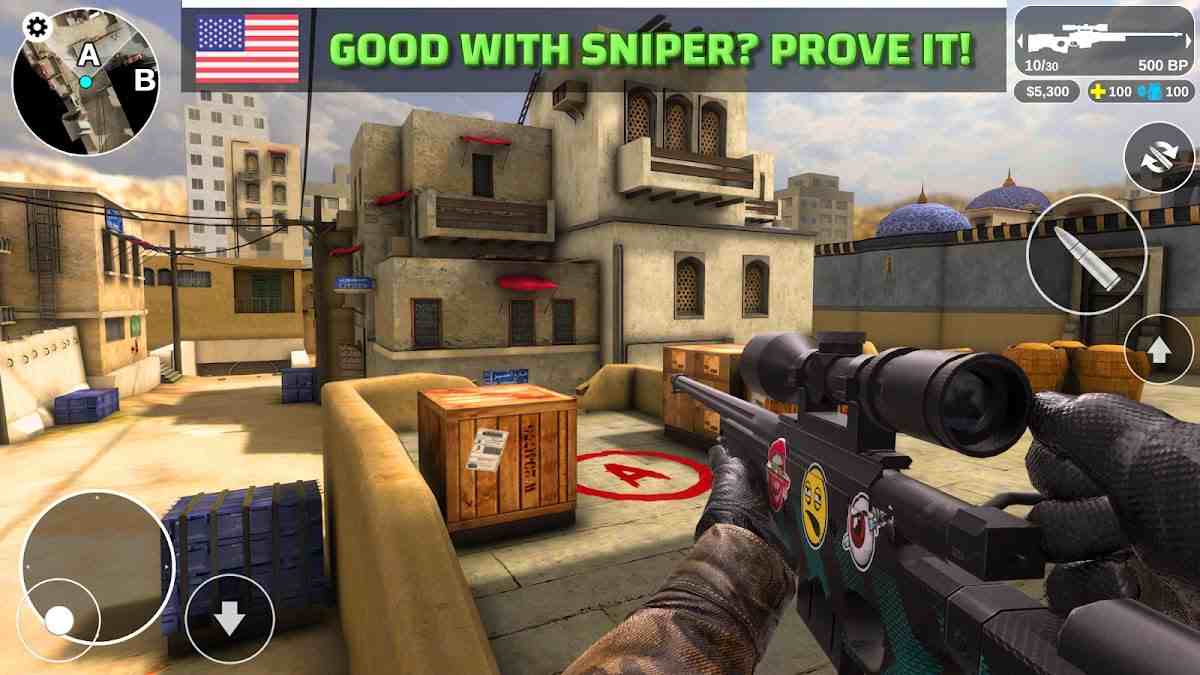 Some of the most typical modes
Currently, the game has 4 modes and these are the most popular modes in classic FPS titles. Let's take a look at these modes.
Heroes Arena: This is the place for the battle with up to 10 players. Your goal is to be the last survivor on the map.
Defuse Bomb: Your task is to remove the pre-installed bombs.
Gun Game: It is an arena dedicated to the main weapon, which is a gun. You can use any gun you like.
Deathmatch: This is the most familiar mode. Your goal is to coordinate with your allies to hunt as many "kills" as possible in the allotted time.
Either way, it only takes a few seconds to wait and a few minutes for each match. So you can play games anytime, anywhere right on your phone. Get ready for fast-paced battles with multiplayer around the world.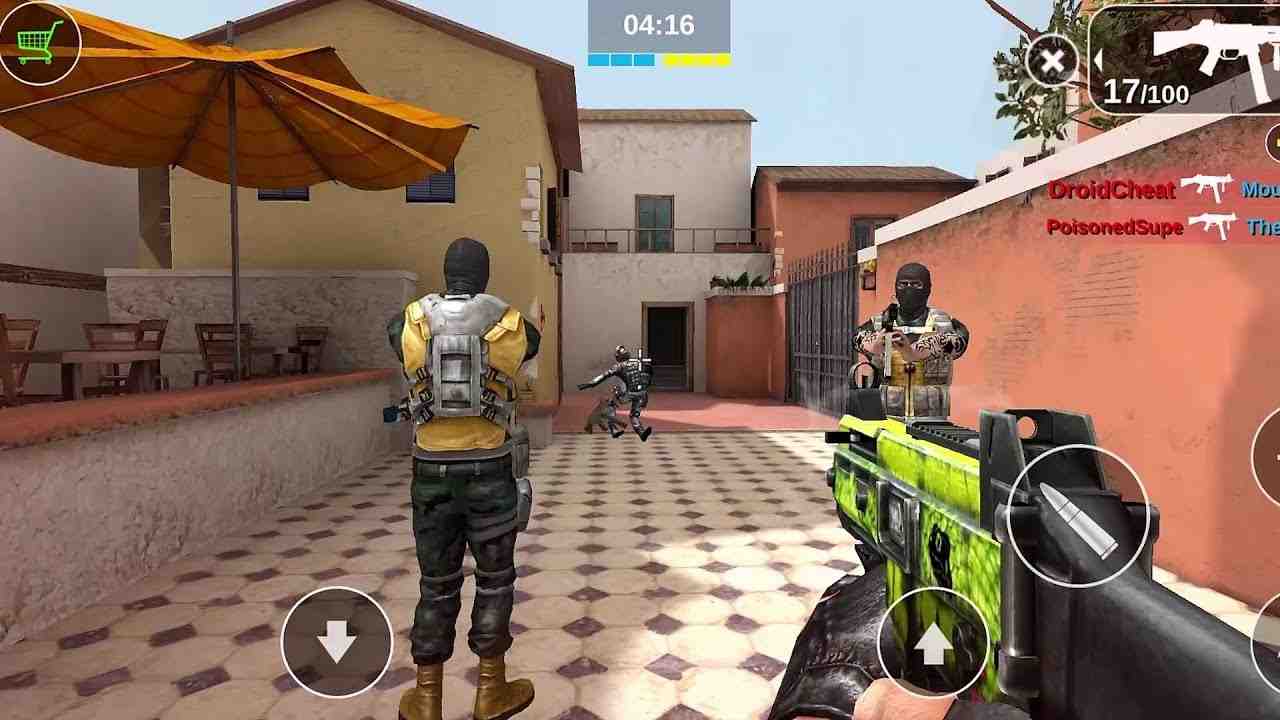 Show off your skills
Before entering the first fight, you will go through the game's tutorial. It will help you familiarize yourself with the main operations, such as moving, jumping, sitting, aiming, shooting, defusing bombs, and dropping bombs… When entering the battlefield of Counter Attack Multiplayer FPS , you need to combine these actions together. You need to move skillfully to dodge attacks, hide, and approach the target. Besides, you need to learn how to aim and shoot accurately based on the recoil of the gun.
Moreover, in team mode, work with allies to develop an action plan. Since you will have to fight against many players at the same time, support is needed. Besides, the game allows you to switch weapons in a fight. You can also pick up weapons on the map and alternate using different weapons. Consider stats like ammo, damage, and reload time before choosing a gun.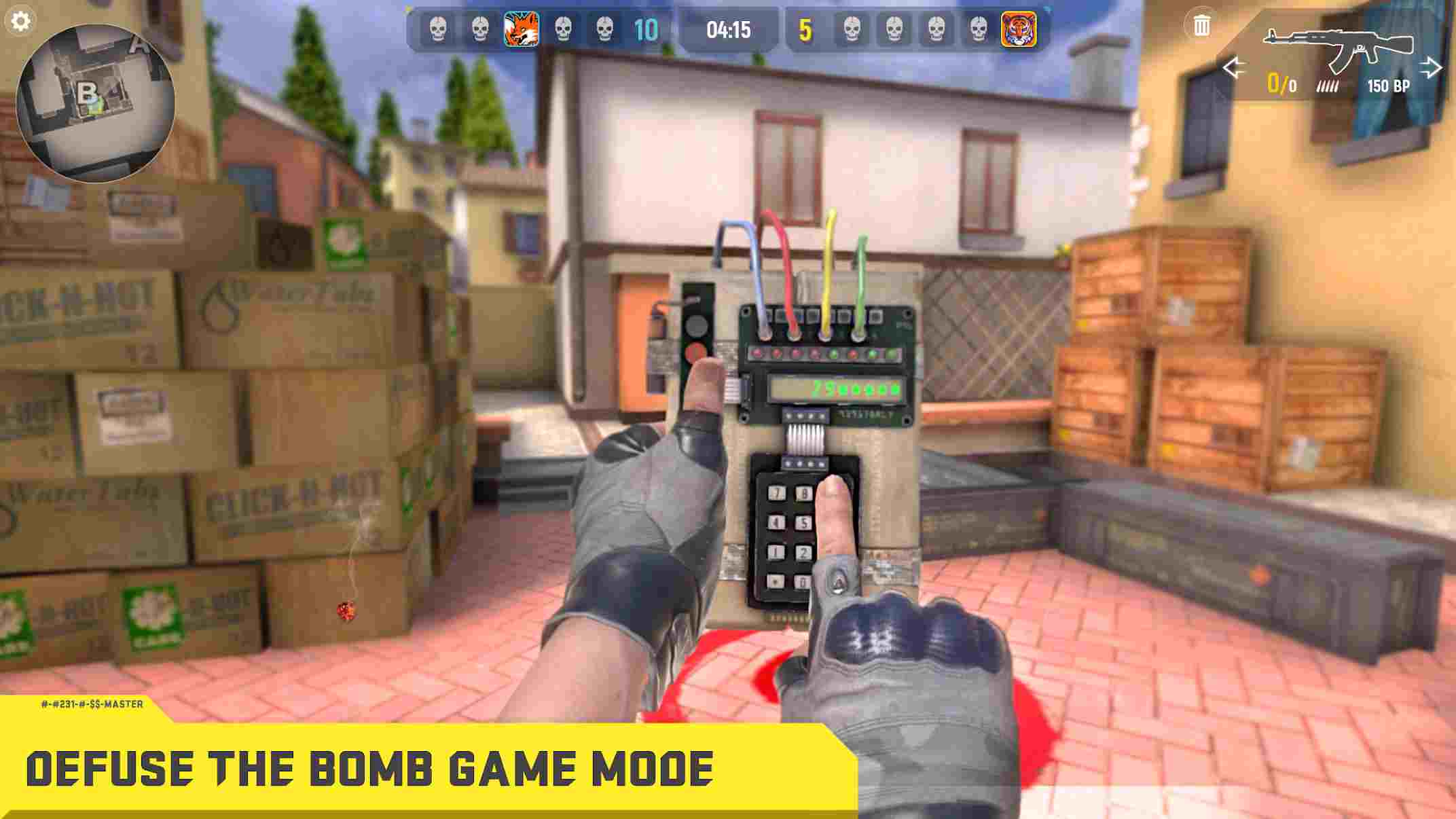 Explore weapons, accessories, and skins
So far, this game has more than 300 different weapons and skins. In it, the main weapon is always a gun with types ranging from pistols to rifles, machine guns, sniper rifles, and more. The most typical guns such as AK47, M4A1, Desert Eagle, and Molotov cocktail… Each gun has different characteristics, so it will bring unique effects. Besides, you can find dozens of unique skins for guns.
Besides guns, the game also offers many other weapons of the melee type, typically knives. It also has dozens of beautiful skins to customize your favorite knives. Moreover, you can shop for costumes, masks, gloves, and more for the character. So, mix everything together and create your favorite look. Who doesn't want to be the most prominent on the battlefield, right?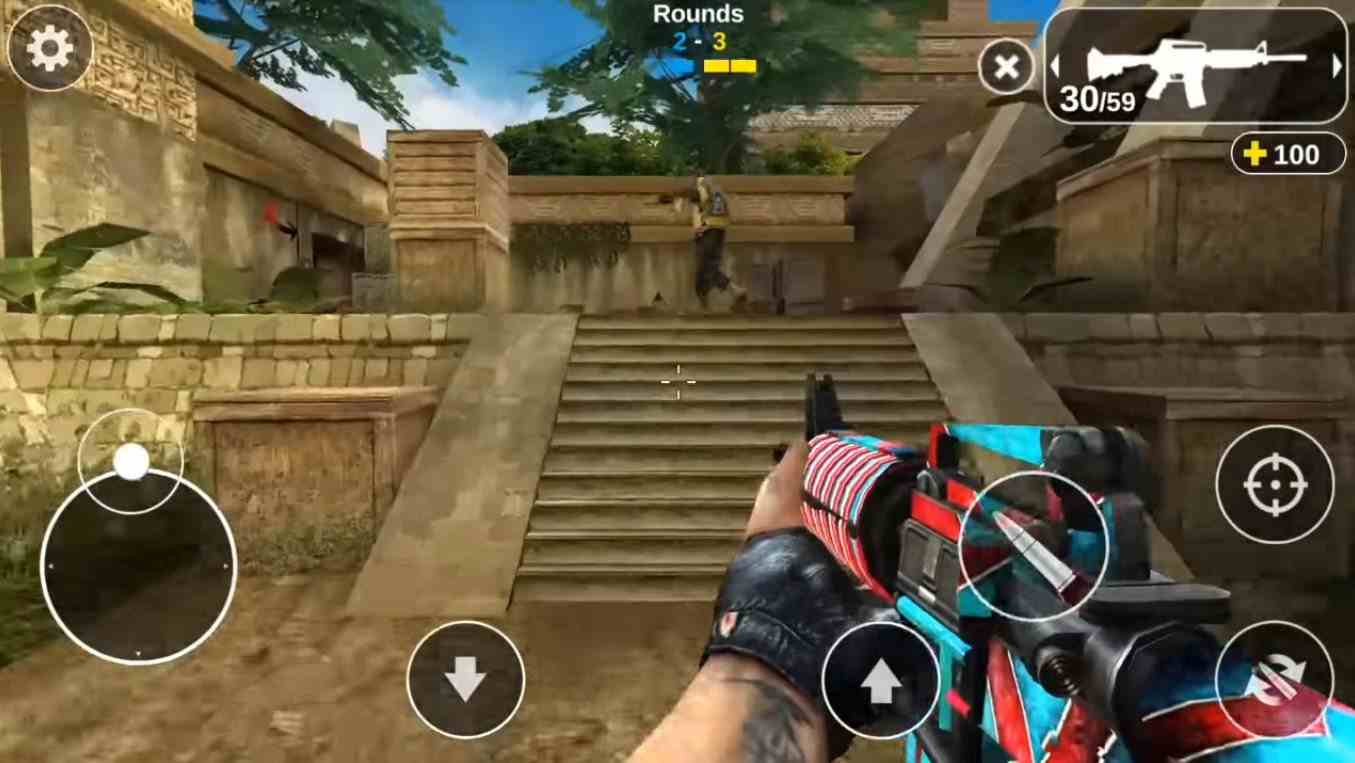 Maps with detailed and realistic design
The game offers 8 different maps designed with 3D graphics. Each map will have themed colors and will be different from other maps in terms of terrain, the layout of obstacles, and scenery. Therefore, each map will bring you a new feeling. Moreover, every detail on the map is described quite meticulously, providing a beautiful survival environment. Your battles are also highlighted with realistic effects and sounds.
MOD Feature of Counter Attack Multiplayer FPS
So are you ready for the battles in Counter Attack Multiplayer FPS? It will make you enjoy the fast-paced gunfights from the first-person perspective. Enjoy the ultimate battles here and show your talent. Do not neglect it because your opponents are agile and wise players. You need to make a winning effort to hunt for exclusive promotion bonuses.