Kung Fu Clicker is a super fun management simulation game that you should try at least once. Join the game, you will become the new manager of a dojo that is threatened by underground gangs. Your job is to develop the dojo back to its heyday. At the same time, you must protect this martial art before the brutal attack of the enemy. But what if you don't know anything about martial arts? That's not too big of a problem. You do not need to fight the enemy by yourself, your job is to manage all the martial arts disciples and build a powerful team. With just "clicks" on the screen, you will help the dojo become rich.
Download Kung Fu Clicker – Manage the dojo and protect the city
At the beginning of the game, you receive an attractive offer from a martial artist in heaven. He said that you were chosen to become the dojo's successor with the help of your niece. In the scene where a dojo was opened, it was a tall but old building. As soon as you enter the dojo, you quickly realize everything has changed. The gyms have long since been closed and there are very few people left. But now you can turn it into a new and more powerful dojo than before. And in the context of underground gangs gradually invading the city, your mission is to protect this place.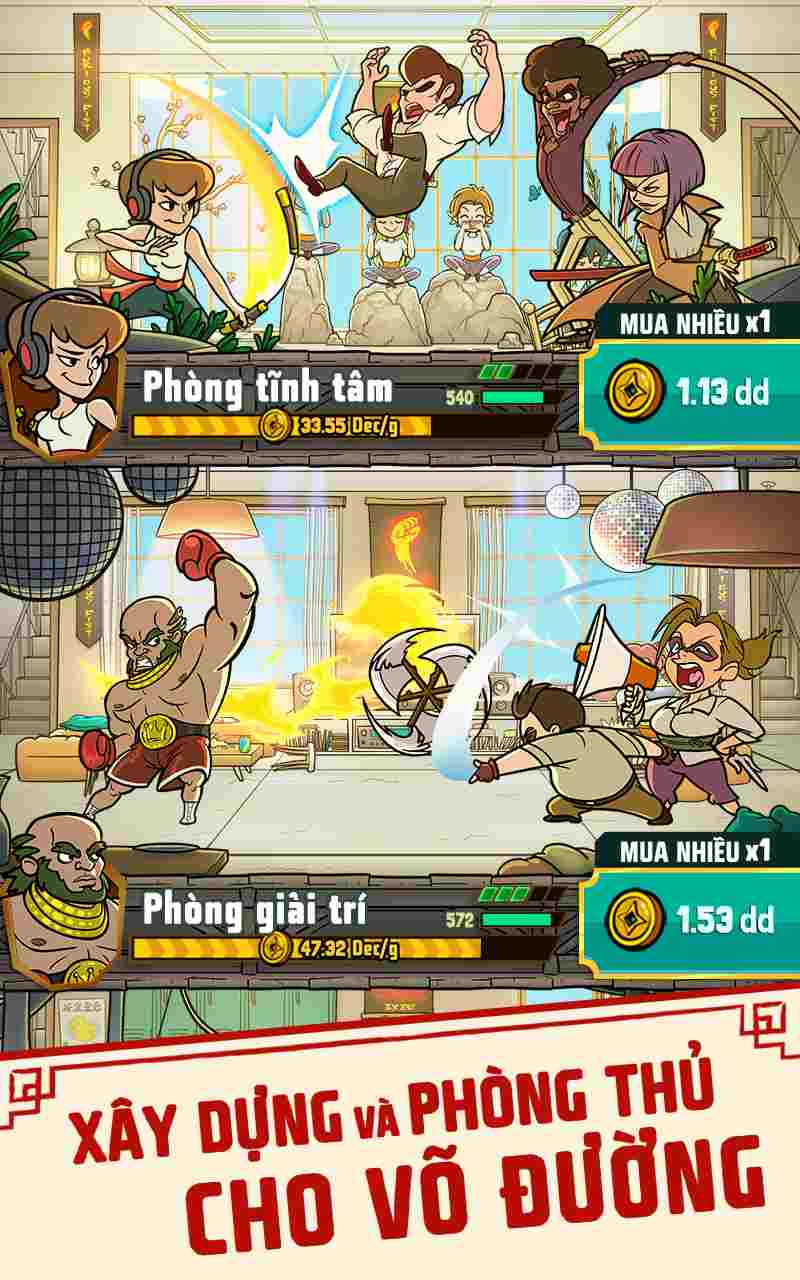 Build your dojo your way
Initially, you only have a small amount of capital to build a fighting room and kitchen. In the fighting room, there will be two disciples practicing martial arts together. Meanwhile, in the kitchen, someone is cooking with martial arts manipulations. Each room is located on each floor and has its own function. In particular, each floor after being unlocked will work at full capacity to generate profits. When you reach a certain amount, you will be eligible to unlock new floors. It could be a karate studio, relaxation room, meditation room, recreation room, mini-mart, and more. The more rooms unlocked, the more money your dojo will generate and become more prosperous than before.
However, in the process of building the dojo, you often face raids. They come from underground gangs in the city or rival dojos. So, to protect your base, you need to build a strong team of boxers. Besides, you have to upgrade everything in real-time. If you stop at any level, you may lose the campaign to protect the dojo. Your enemies will grow stronger and wiser. Don't let them go to the 1st floor, defeat them in the last raid room.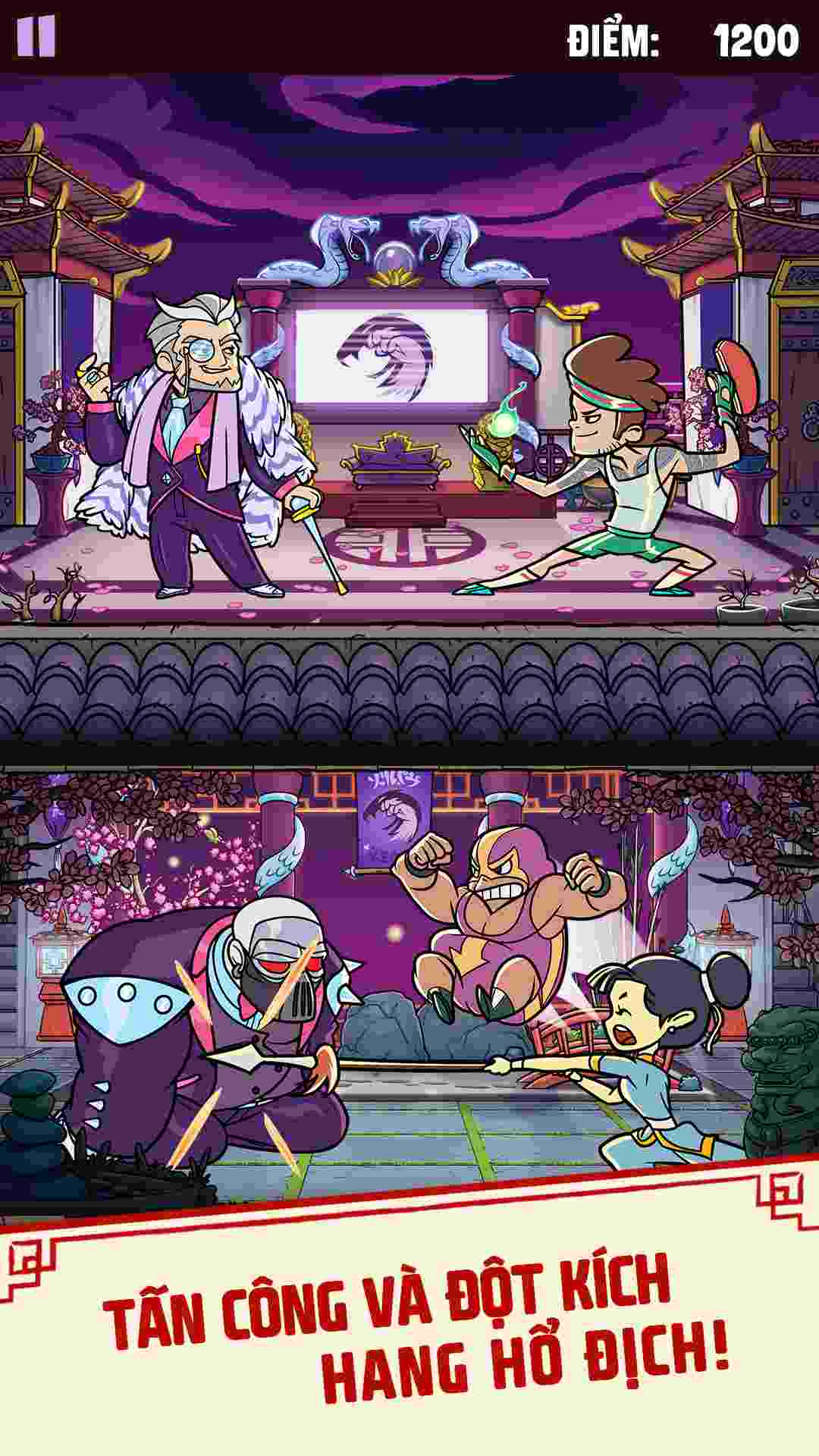 Non-stop upgrading
The upgrade factor is quite important in Kung Fu Clicker. You must do it as often as you reach the allowed amount. However, with limited financial potential, you need to have a wise upgrade strategy. There are a lot of rooms that need to be upgraded but prioritize the most important ones. Besides, the higher the level, the more expensive each upgrade is. If you do not have an effective strategy, you will lack the money to invest in many other things. Don't forget that there are many new rooms to unlock. Moreover, you also need to recruit more martial artists, masters, and other components.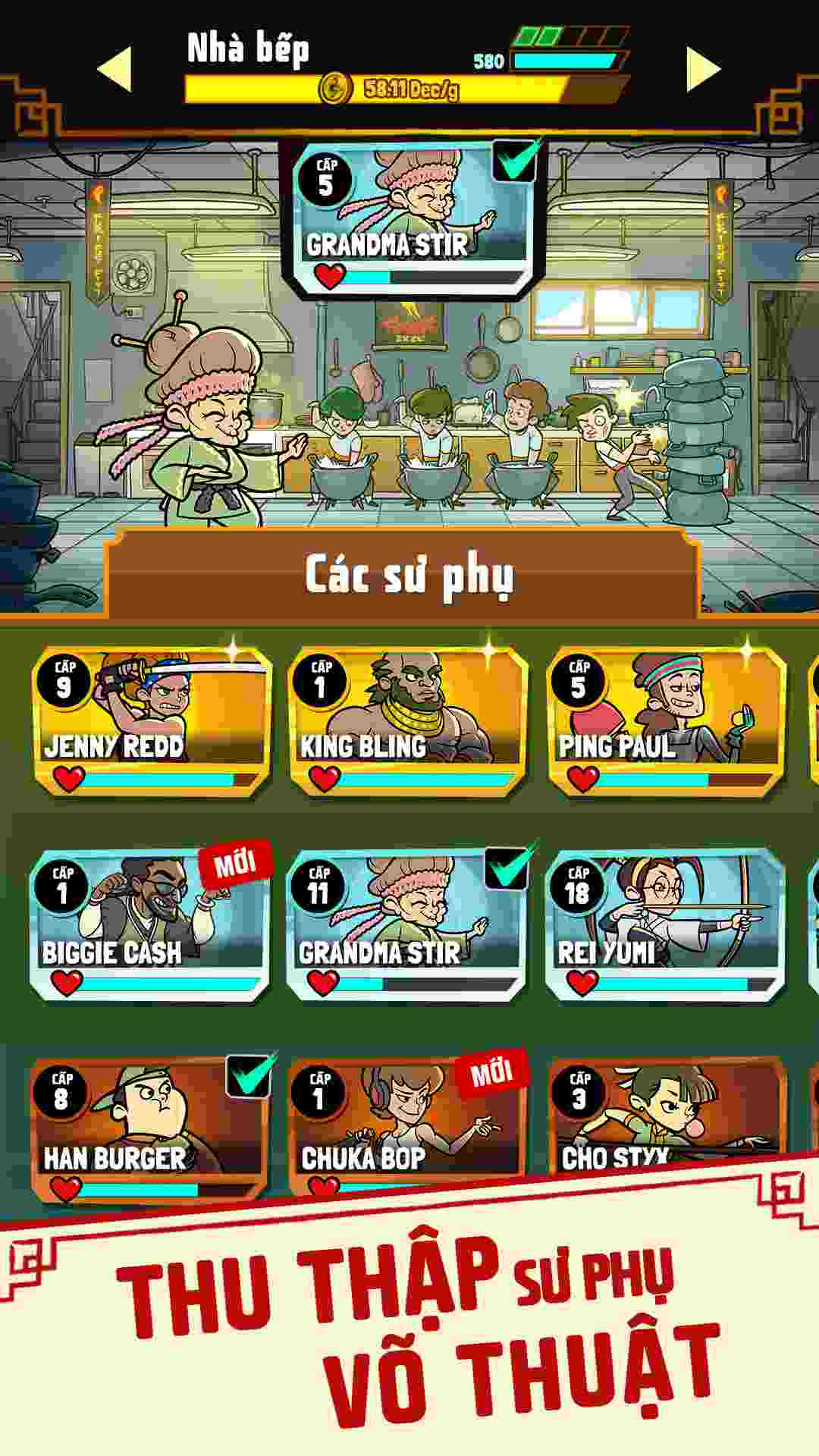 Collect martial arts masters
This game offers a very diverse character system. Those are popular martial arts masters with different skills. Specifically, you can unlock a swordsman (Jenny Redd), a weightlifter (King Bling), an archer, a ninja, and many others. They are people who have reached a profound level in any martial art. Therefore, you need to recruit them to the dojo to teach the new generation of disciples. They also increase the reliability of the dojo, which in turn generates better profits. Besides, they can also be upgraded unlimitedly to improve the level. After each upgrade, the boxers will be improved in terms of movement speed, attack speed, attack range, and damage.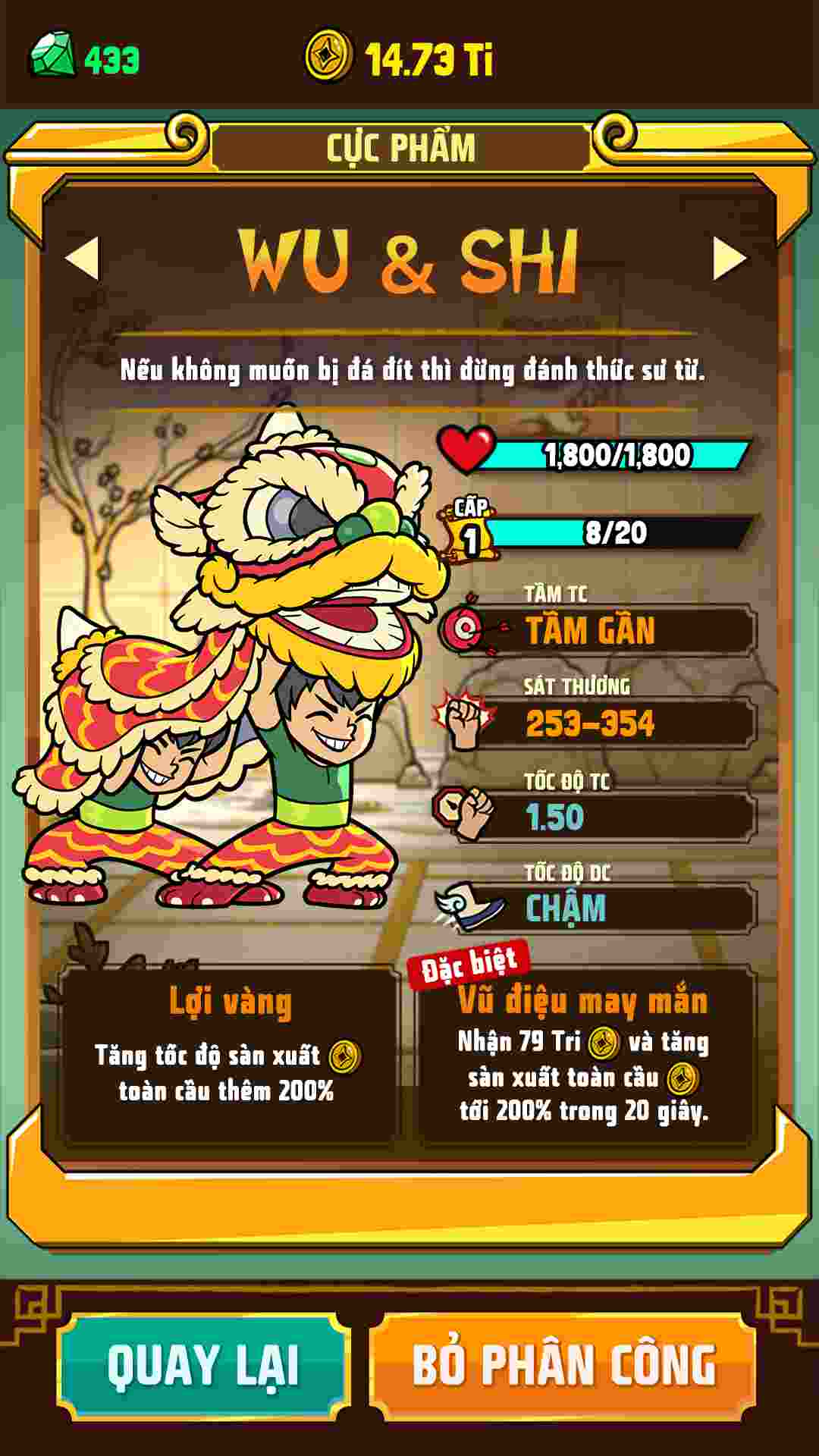 Funny design, playful music
As can be seen, this game is built with idle and fun gameplay. And its graphic style shows that too. The boxers in the game are described with a funny but no less "cool" appearance. Besides, they can perform soft but powerful martial arts moves. In addition, the dojo scene is always bright and colorful. Along with that, the music is gentle melodies, helping you relax while enjoying the dojo management process.
So have you made your decision yet? Are you ready to take on the role of dojo manager in Kung Fu Clicker ? There are many interesting jobs waiting for you to discover here. Come here and show your management talent to bring the old dojo back to its glory days. You will even make a lot of money from your dojo. This is also a chance to meet the best martial arts masters and enjoy martial arts competitions.