How to become a professional Vlogger? Lamar – Idle Vlogger will show you how to achieve that. This is a simulation game with idle "click" mechanics. There, you will play a poor young man living in the slums. Your job is to help him out of poverty by filming a vlog and posting it on social media. You don't need any experience to get started. What to do is click on the screen to get more coins from fans and followers. With the money you earn, you will change your life. Invest in clothes, cars, and lots of expensive real estate.
Download Lamar – Idle Vlogger – Simulate the life of a Vlogger
Vlogger is a job that recently appeared in the world and became an inspiration for Lamar – Idle Vlogger. At the beginning of the game, you are a true poor young man: eating an egg for breakfast, driving an old car, and living in the slums. But you can change your life with one bold idea – become a Vlogger. Working in a workshop or farm makes you boring, but filming vlogs do not. You can share with people what you know and see to get their love.
Starting from 0
In level 1, you only have one phone borrowed from your friend. You can start recording videos with it and earn your first coins. Different from the actual vlog simulation games, this game works according to the idle mechanism. When recording a vlog, you just need to touch the screen continuously to earn donations from followers. The more you click, the more money you earn. With the money earned, you can shop for some needed to upgrade yourself. The higher the level, the closer you get to your dream of being rich.
What do you plan to do with the money you have? The money in the early levels is only enough for you to buy new clothes and repair a rusty car. But do you want to spend it on buying a new phone or camcorder? It is up to your decision. You need a wise financial management strategy to achieve your dreams. Each decision affects many areas of the character's life. Therefore, you are the one who chooses the lifestyle in this game.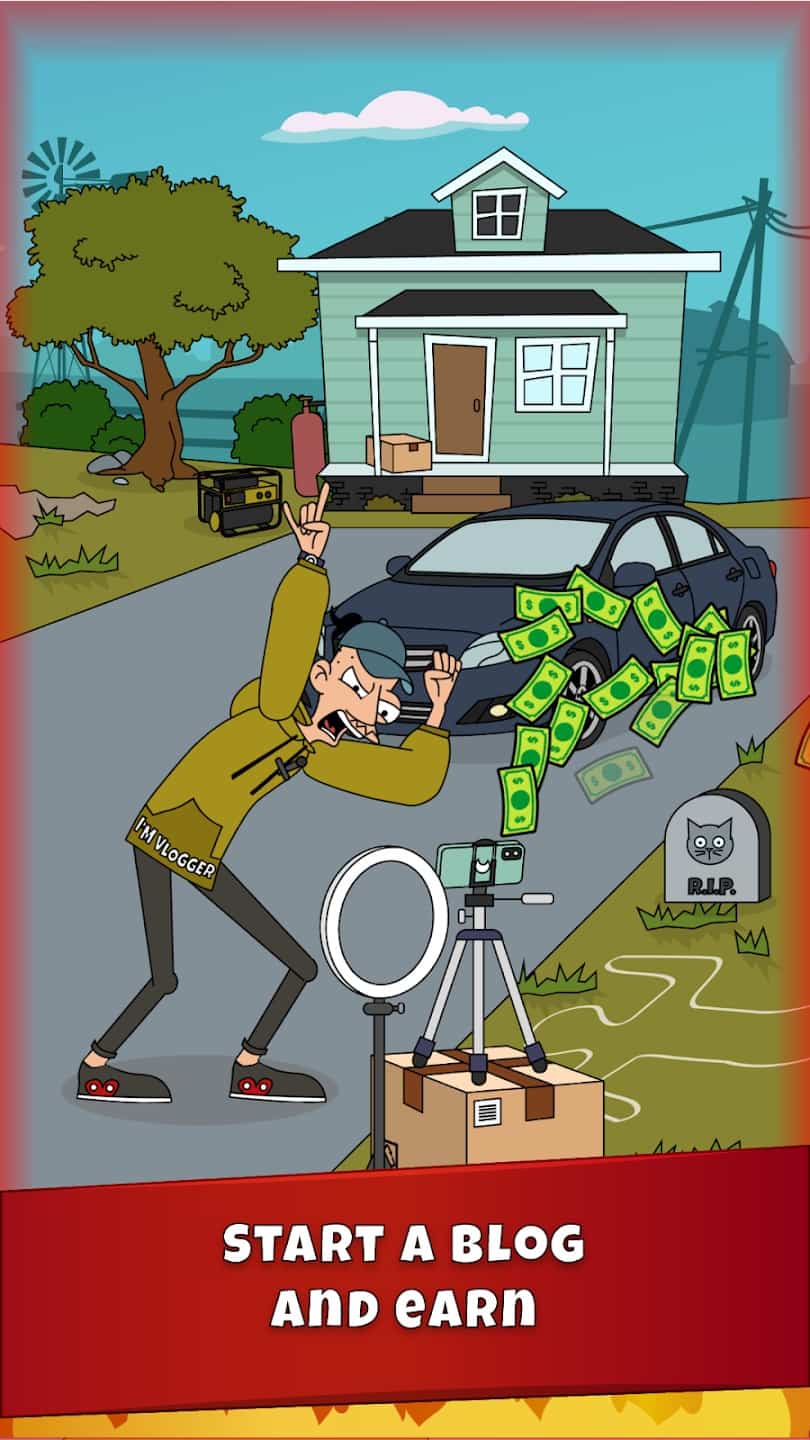 Invest in your life
If you have a wise strategy, you will soon become rich in Lamar – Idle Vlogger. Then, with the money you earn, you can invest in your personal life. First of all, you can return the phone and the amount owed to your friend. Then you can shop for some new clothes, hats, shoes, and a new place to live. Instead of living in the slums, you can now rent a new house or even buy a luxury apartment outright. Moreover, let's replace the rusty car with the supercar that many people dream of.
But don't give up on your job and your dreams. No matter what level you are, you are still a professional vlogger with aspirations of becoming the most famous person in the world. When you have more money, you can invest more in this work. You can hire a professional photographer to shoot and share the video. Besides, talk about your new life with a house, a car, and many other valuable real estates. New themes will help you attract more fans.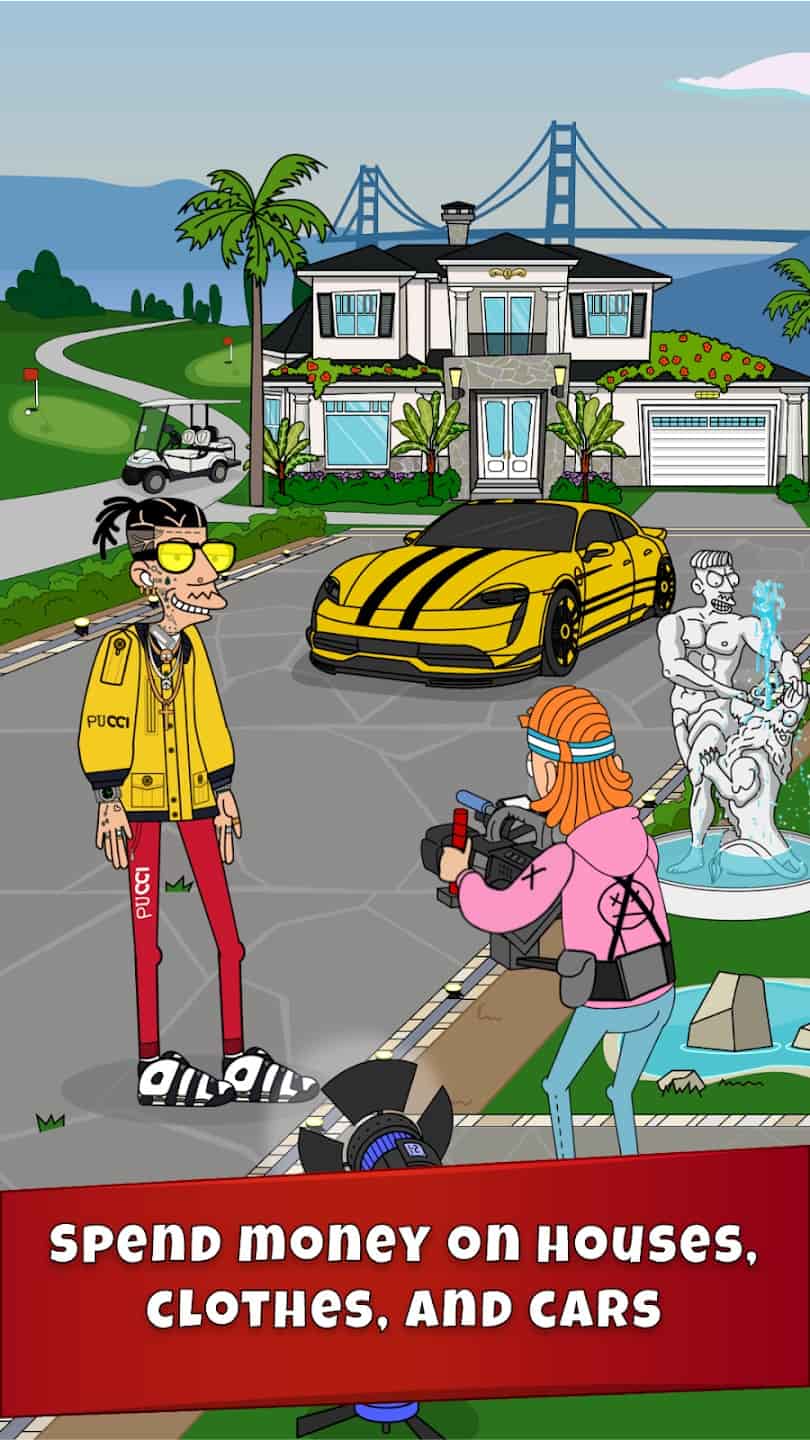 Explore many different places
In the process of becoming a professional vlogger, you can explore many different contexts. The first place is the slum where you live in poverty. Next is the new apartment that you just bought when you moved to the new city. Then you can travel through many different countries around the world. Each place will give you new inspiration to share with your fans. Your story will be more and more diverse and interesting, right? That's why this game is never boring.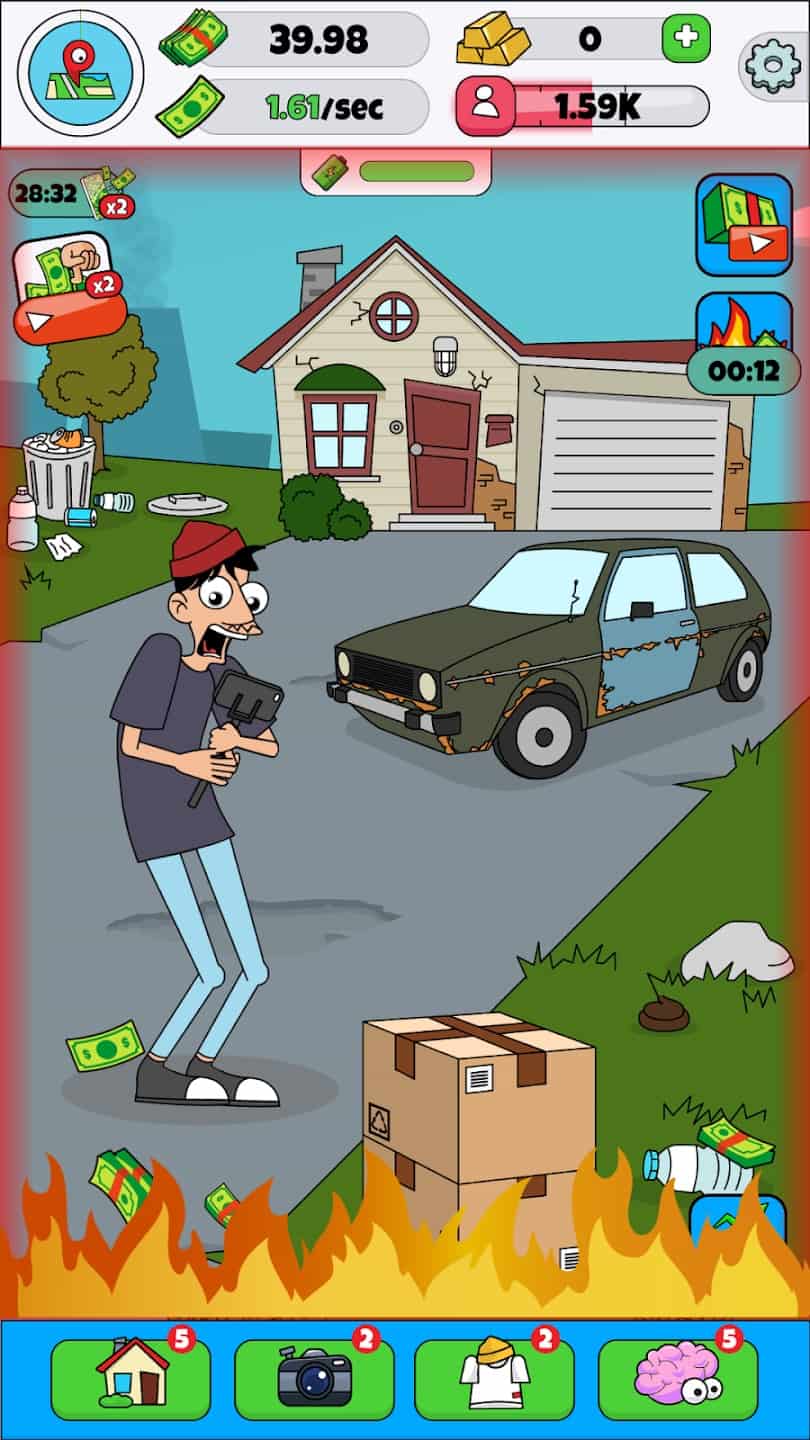 Funny pictures and sounds
The game is designed on the phone's vertical screen with a 2D style. Every detail on the screen has a funny cartoon design, suitable for many players. The experience context is also always full of life when depicted with different colors. Background music and sound elements also contribute to the appeal of this game. As you can see, everything is quite simple but neat. Enjoy this with just an idle "click".
MOD Feature of Lamar – Idle Vlogger
MOD Menu
Unlimited money
Unlimited gold
Unlimited gems
If you want to experience the life of a vlogger, then come to Lamar – Idle Vlogger right now. This game does not make it difficult for you when it has super simple and idle gameplay. But you also learn a lot from financial management to vlog development. Moreover, friendly visuals and cheerful music will help you relax while playing.