Based on the hit Ninja Turtles movie, the publisher Jam City has created the Ninja Turtles game for the mobile version. It will recreate the fierce battle between the turtle warriors and the villains. This battle will take place according to the turn-based mechanism, requiring the player's experience and strategy. Your mission is to recruit the most talented warriors to the squad to defeat the henchmen of Kraang Prime and save the world. The game offers a unique collection of characters to choose from. You can also upgrade your hero to discover quite a crazy power threshold. Exciting battles are waiting for you and the legendary turtle warriors. Are you ready?
Download Ninja Turtles – The battle between ninja turtles and villains
Inspired by the original movie, this title retains its plot. The game begins with a meticulously designed 2D cutscene to lead you into the game's setting. In it, the ninja turtles are trying to thwart the boss Kraang Prime's plan to destroy the campaign to turn the earth into the X dimension. However, his minions have used an air-transforming machine. time and suck the ninja turtles to another place. They plan to take the DNA of the most powerful ninjas to form an army of Ultra Mutants. The only one left is Leonardo, and he must plan to rescue his brothers.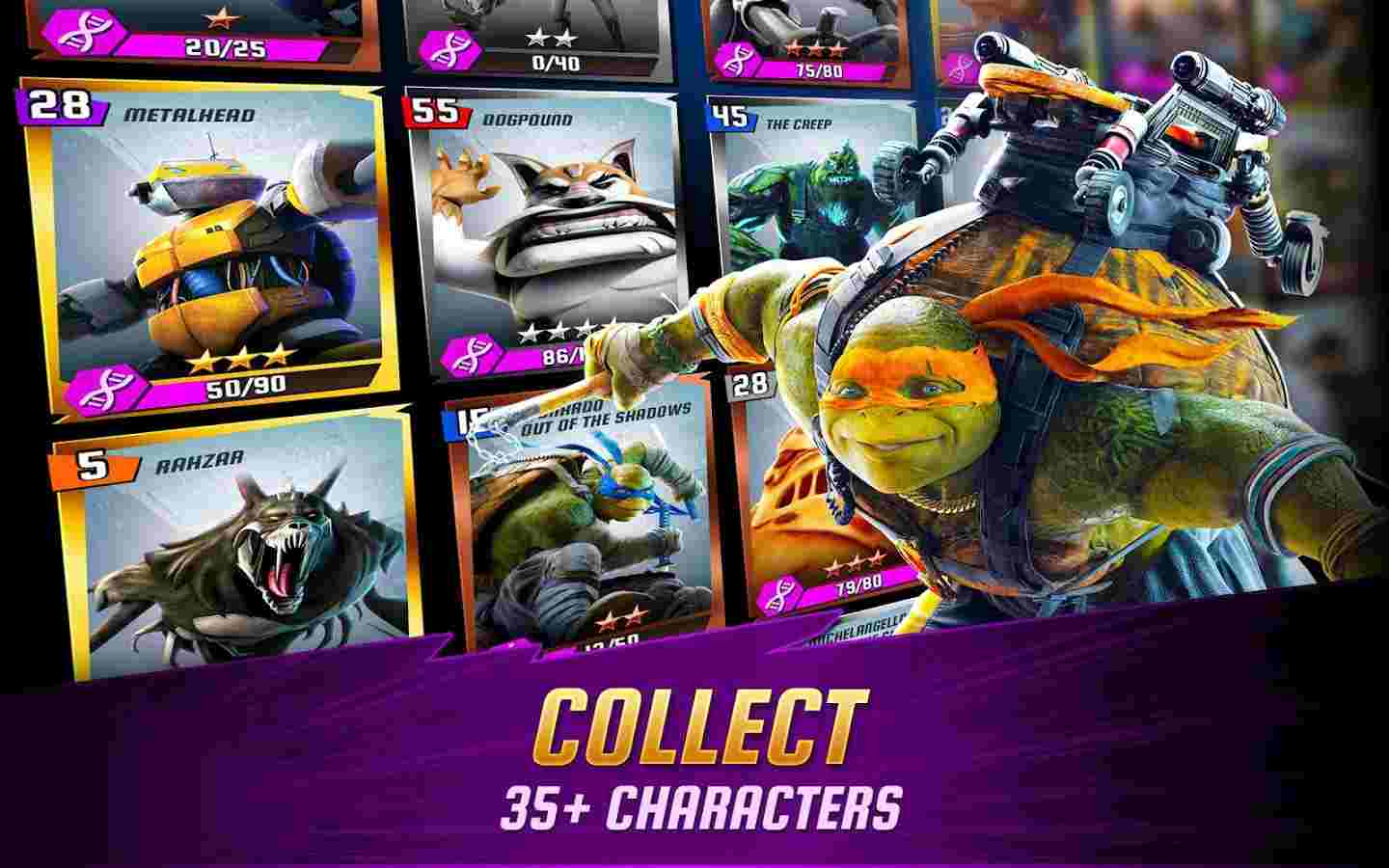 Typical turn-based battles
Join the game, you will play the role of Leonardo in the journey to find other ninja turtles and protect the world. To do that, you cannot be alone. You need to recruit other powerful heroes to participate in this long campaign. The campaign will include 7 chapters and more than 70 different levels. You need to conquer each level to unlock new chapters and new challenges. Before going to war, you need to build a hero squad. Consider many different factors to choose the most suitable candidates. During the fight, you just need to touch to select the target and the warriors will attack in turn.
In the first stages, you will not have too much difficulty because the number of enemies is quite small. However, through each chapter, the enemies will become more and more crowded and stronger, challenging your fighting spirit. So your squad will go from 1 person to up to 5 warriors. They will work together to fight enemies from weak minions to giant bosses and giant space robots. Following the tough battles are many great rewards, including gold coins, character cards, and many other valuable resources. Take advantage of them to improve your ninja squad.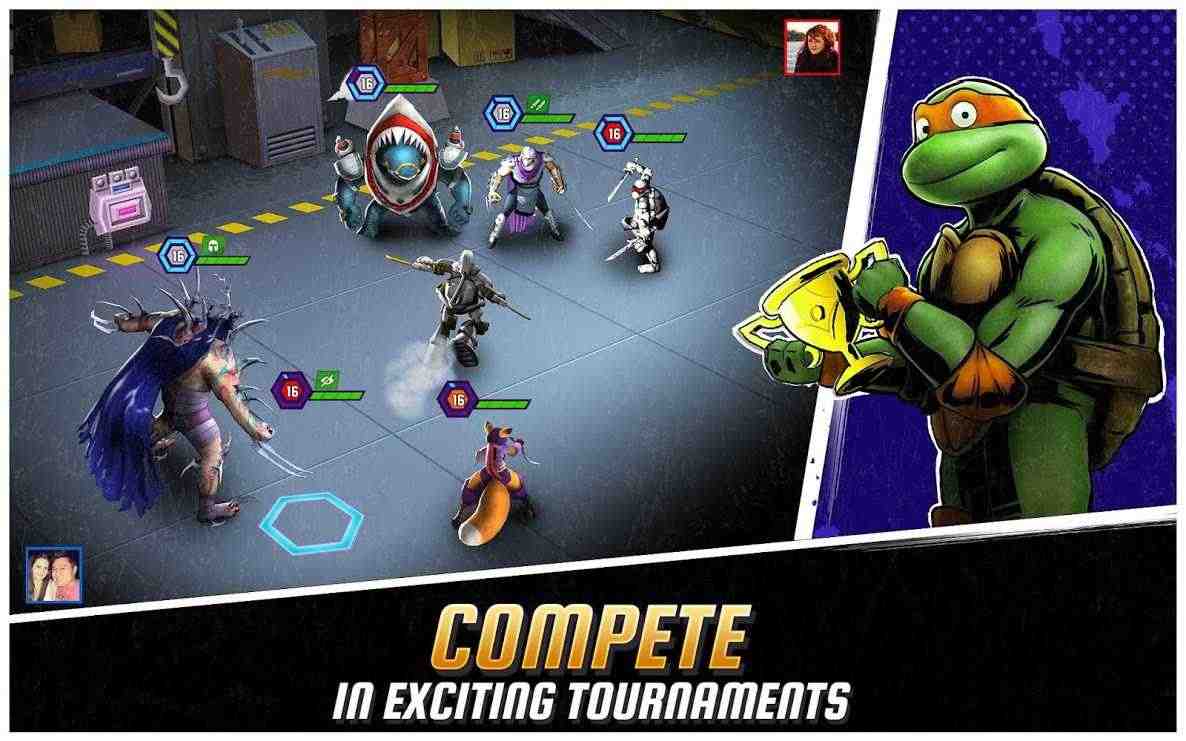 Explore a unique character collection
Ninja Turtles brings a collection with more than 75 different heroes taken from the original movie. You will meet the 4 turtle brothers again, followed by many typical faces such as Tiger Claw, Rocksteady, Bebop, and more. Each hero has a unique appearance, skills, and weapons. So you can think of hundreds of cool strategies from changing the hero cards in the squad. Warriors are also divided into different systems and are rated by the number of stars. They can also be upgraded to improve their Level, thereby becoming stronger in battle.
The upgrade mechanism in this game is quite simple. You just need to use the currency to upgrade the level, thereby improving the hero's stats. Besides, you can add equipment, enhancement items, and armor. To own these items, you must also spend money or collect from quest rewards. The game also has many unique events within a limited time that you cannot miss. Explore them for extra bonuses and a chance to get a hero card. With great power, your army of ninja turtles can conquer many arenas from sewers to TV stations and rooftops in New York.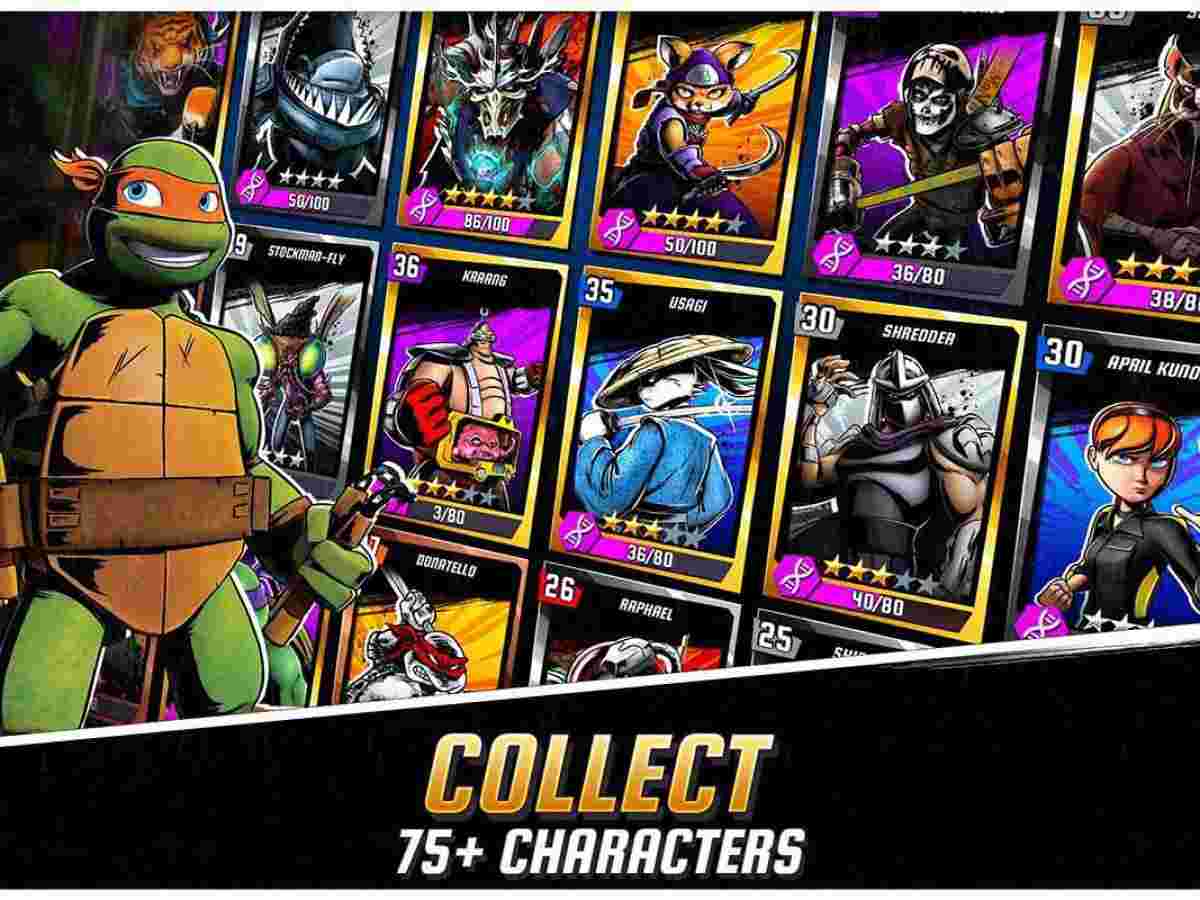 Realistic cartoon design
The game is designed quite realistically on 2D and 3D graphics. It successfully recreates the images of ninja turtles and other legendary warriors. Thanks to that, you will have the opportunity to meet your favorite characters from the original movie again. In addition, your warriors also have powerful and impressive skill moves. You will witness them in epic turn-based battles. Combat effects and vibrant background music also contribute to creating a real explosion for all arenas.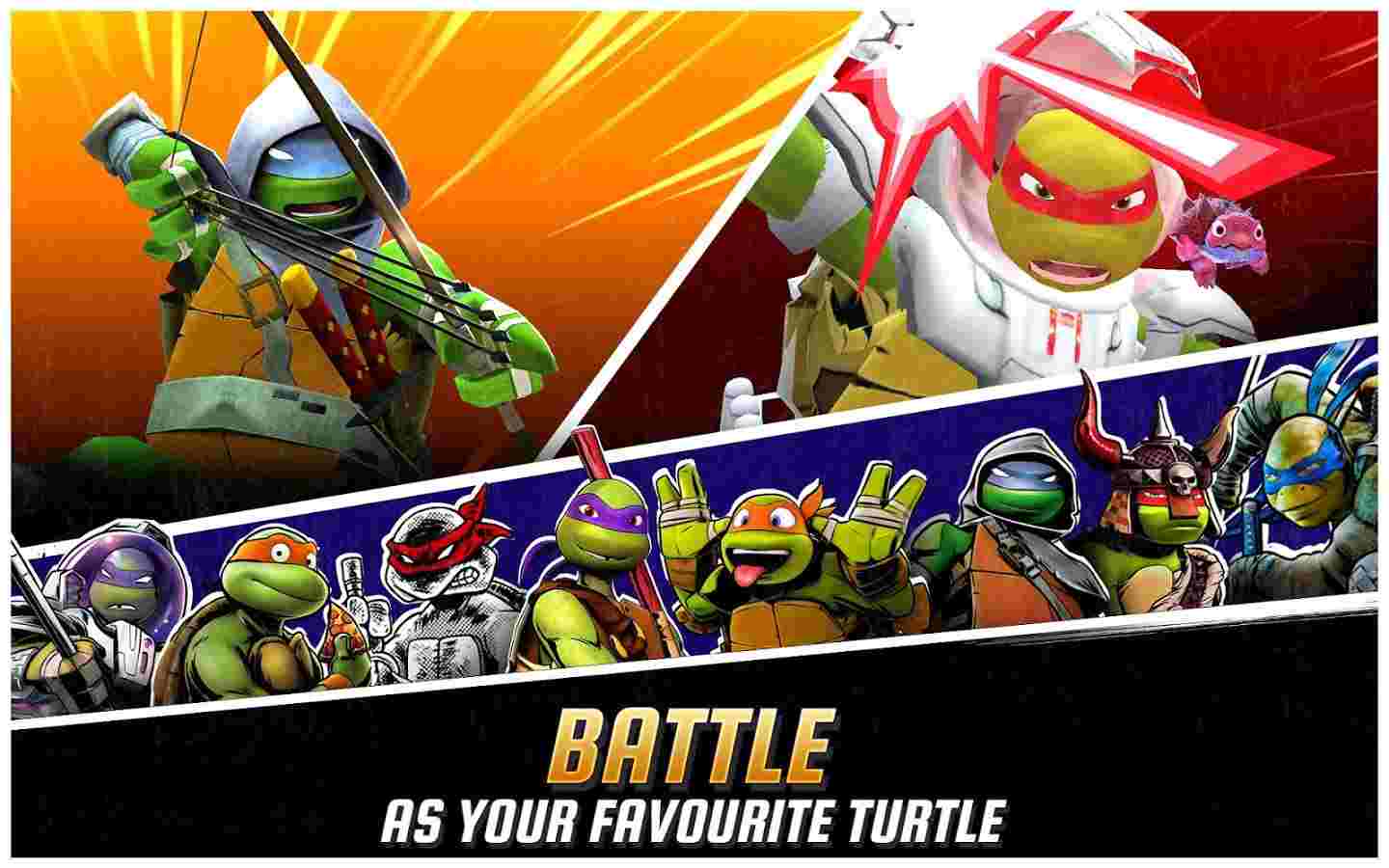 MOD Feature of Ninja Turtles
MOD Menu
Unlimited money
all characters unlocked
max level
If you love Ninja Turtles movies, don't miss this game on your phone. Come here and meet the legendary characters of the teenage ninja turtle group. You can even role-play them in epic battles with villainous bosses. Show your strategic talent in how to build a squad to conquer every war in Ninja Turtles.