Stick Super Fight Mod is a popular arcade action game on mobile. This game will make you excited with the epic fight series of stickman heroes coming out of Dragon Ball. Join the game, you will have the opportunity to explore dozens of different levels in the story mode. In each level, you will encounter one or more opponents from the original movie. Besides, the game also brings many good opponents from other universes. They will make it difficult for your battle journey. In particular, each character will have its own set of skills and have constant progression.
Download Stick Super Fight Mod – Action gameplay with stickman style
If you are a fan of the Dragon Ball manga series, Stick Super Fight might have you hooked. This game is inspired by the original movie but has a fresh feel. Instead of using the original images, this game has customized everything in stickman style. In other words, the heroes in Dragon Ball are now different. But they still keep the iconic skills and physical development of the original. Remember Son Goku's version of Super Saiyan? You will see it again in this game.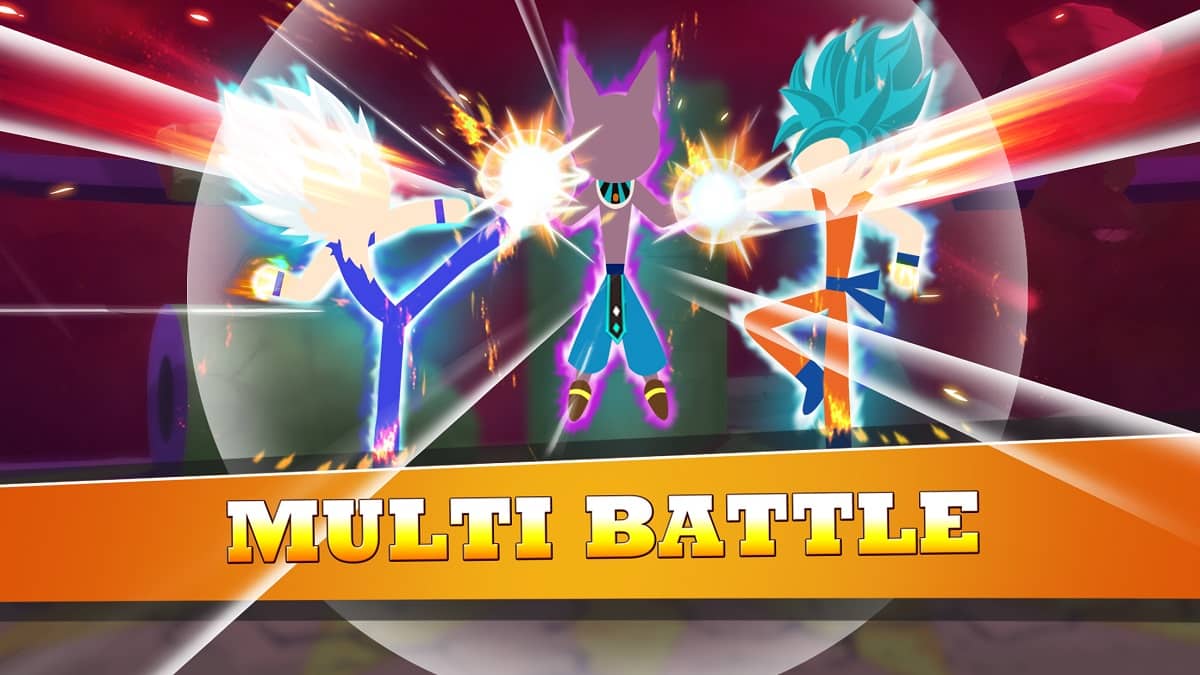 Dense level system
The game has only one main mode, Story. But this mode includes hundreds of levels from easy to difficult. In each level, you have to defeat certain opponents, then unlock new levels and new opponents. In each battle, you have two options: fight alone or form a team of heroes. The team battle will take place on a more epic scale. If your team has 2 heroes then you will face 2 opponents. Thanks to that, any battle will take place in a balanced position. Moreover, you will have the opportunity to meet dozens of characters from the original storyline.
In terms of gameplay, you will play the role of heroes and control them in battle. If you have 2 heroes, you have the right to alternate control of one of them. Basic controls include navigation and skill use. To navigate, simply use the joystick on the left side of the screen. To use the skill, touch the corresponding virtual. Each hero has up to 4 main skills and 1 normal skill. Besides, the hero can also transform into a new form when reaching a certain level.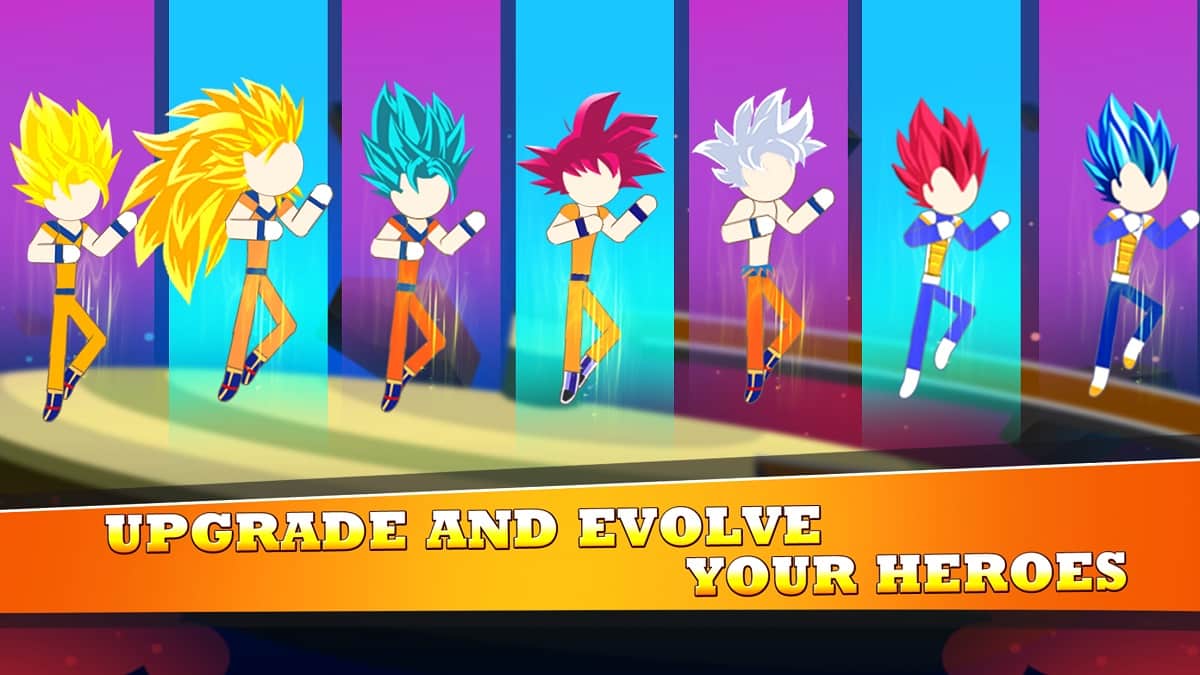 Discover a unique collection of heroes
Stick Super Fight Mod will overwhelm you by bringing back most of the characters. Those are hit characters from Dragon Ball and many other universes. There are a few typical faces such as Son Goku, Vegeta, Cell, Ma Bu, Piccolo, Broly, Frieza, and more. However, the names of these characters have been changed somewhat to create a new story. But the skills of each character are still designed exactly like the original version. This will make you feel both familiar and new.
Son Goku possesses the Kamehameha skill; Vegeta possesses the Big Attack skill… In addition, you will find a series of other iconic skills such as Blast Ball, Shadow Flash, Ki Batlle, and more. If you want to discover more skills, you need to unlock more characters. Besides, upgrade your hero to reach new levels. When reaching the maximum level, you have the right to take the hero into the tournament of power. Furthermore, a new power threshold will be unlocked as the hero levels up.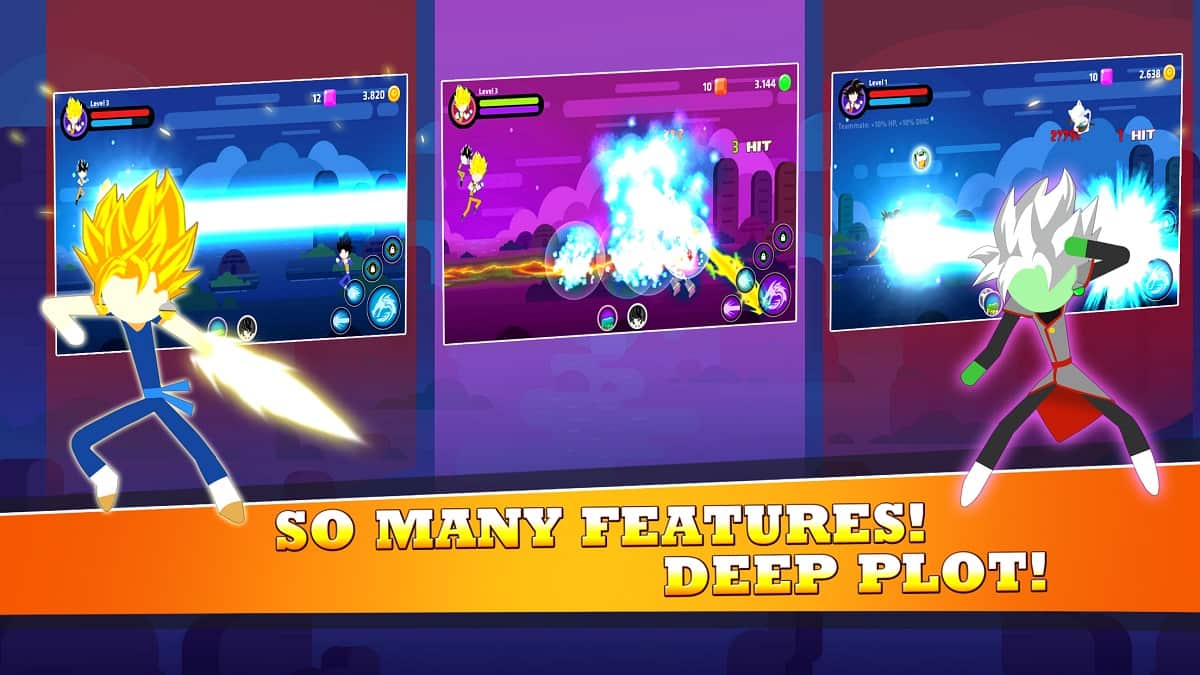 Great Boss system
In addition to the hero system, this game also has a series of Bosses with a great family. Of course, you will meet the cult villains from Dragon Ball. But there are also villains from the superhero universe. You will meet them one by one through the level of progress. The power of the Boss will be improved through each level. Therefore, the higher the level, the more difficult the match. You should prepare yourself for the craziest competitions here. The harder the battle, the more interesting it is, right?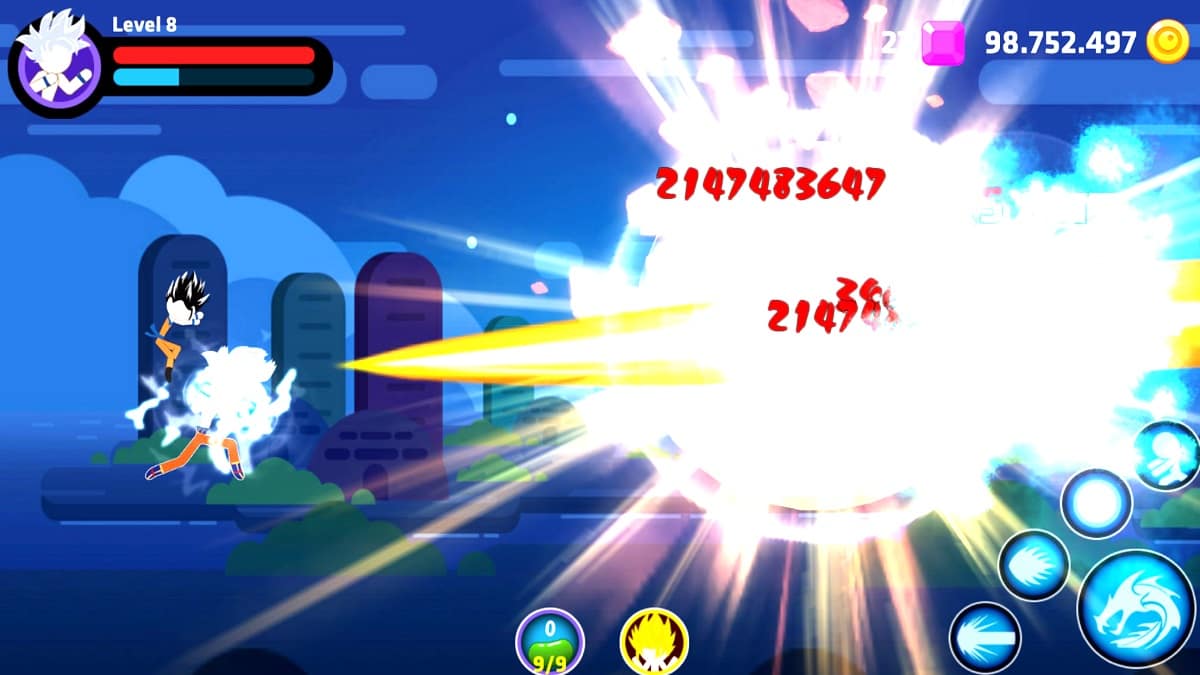 Eye-catching effects, vibrant sound
The battles in this game will make you unable to take your eyes off them. That's thanks to a wide range of effects and vivid sounds. They make each hero's skills more epic and eye-catching. Besides, the character image is inspired by the original movie and customized in stickman style. From there, the game can be suitable for many game objects. The battlefield context also changes flexibly through levels, providing endless new inspiration.
Are you ready for the battles in Stick Super Fight Mod? This is the time to enjoy the eye-catching competition on the phone. But first, choose and upgrade your stickman hero. Many formidable opponents are waiting for each level. You must show skill and wise strategy to take them all down. Winning will lead you to new levels and new challenges.