Have you ever thought of becoming a cat and going fishing? That is the story that The Fishercat will bring to you. This is a funny but lovely simulation game, suitable for relaxing anytime and anywhere on your phone. Entering the game, you will accompany the cat and learn how to fish to build your own aquarium. There are more than 150 species of fish with different characteristics waiting for you to discover. Besides, there are dozens of great support tools for each of your fishing trips. Unlock the most useful items to fish more. Moreover, don't forget to upgrade the boat and decorate the island.
Download The Fishercat – Learn to fish and explore the ocean
With no need for complicated gameplay or high-end 3D graphics, The Fishercat still attracts millions of players around the globe. That's thanks to the relaxation that this game brings. This game is designed with a funny, idyllic, and close story. It's a story about a cat who lives alone on a deserted island and has a hobby of fishing. You will become this cat's new friend when participating in the game. And what you need to do is learn how to fish or simply explore the majestic ocean.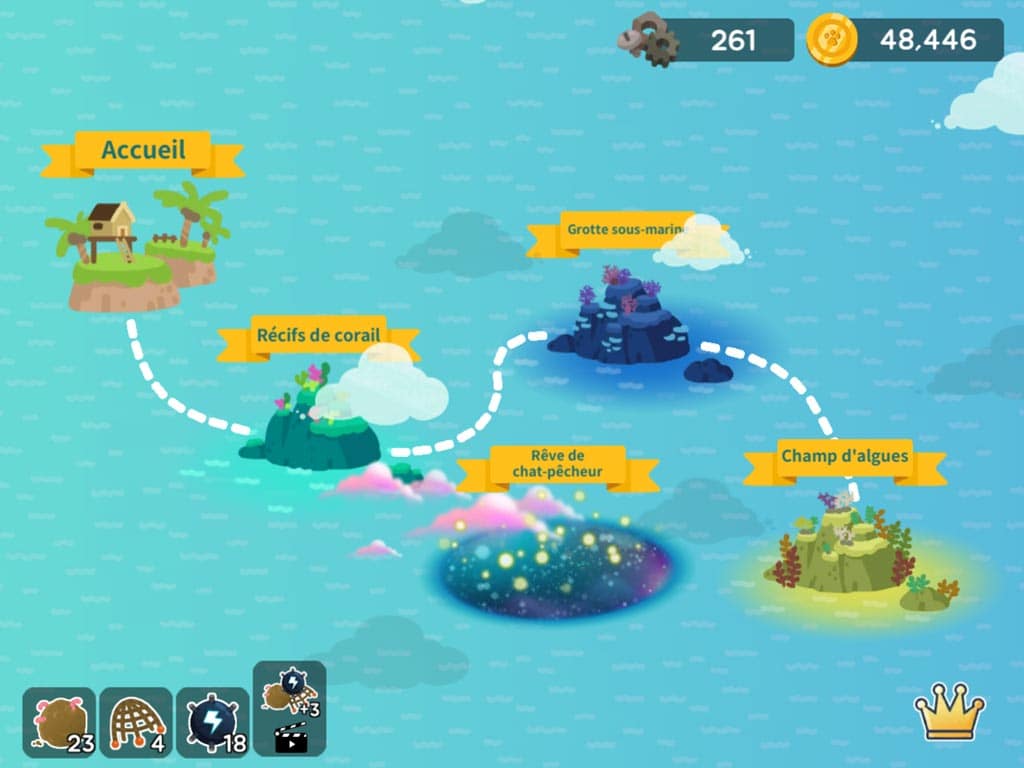 Simple and fun gameplay
Your cat will start a fishing trip with a small boat. Attached is an oxygen bottle with 100% oxygen. You will go fishing with the cat and must try to fish as much as possible. The fishing trip will end when the oxygen tank reaches 0%. In that precious time, show off your fishing talent. There are hundreds of fish and other types of marine life in the ocean. But in the early levels, you should focus only on the small ones, suitable for the pulling force and the length of the fishing rod.
So how do fish? You need to master two important operations. First, you need to touch and hold your finger on the target you want to fish. After adjusting the appropriate shooting angle, release your hand from the screen to launch the hook. The fishing process consists of only 2 such stages. But you will encounter many difficulties in the fishing process. The target will not stand still but move continuously in an undefined trajectory. Therefore, to hit the target with the hook, you must act quickly, neatly, and accurately.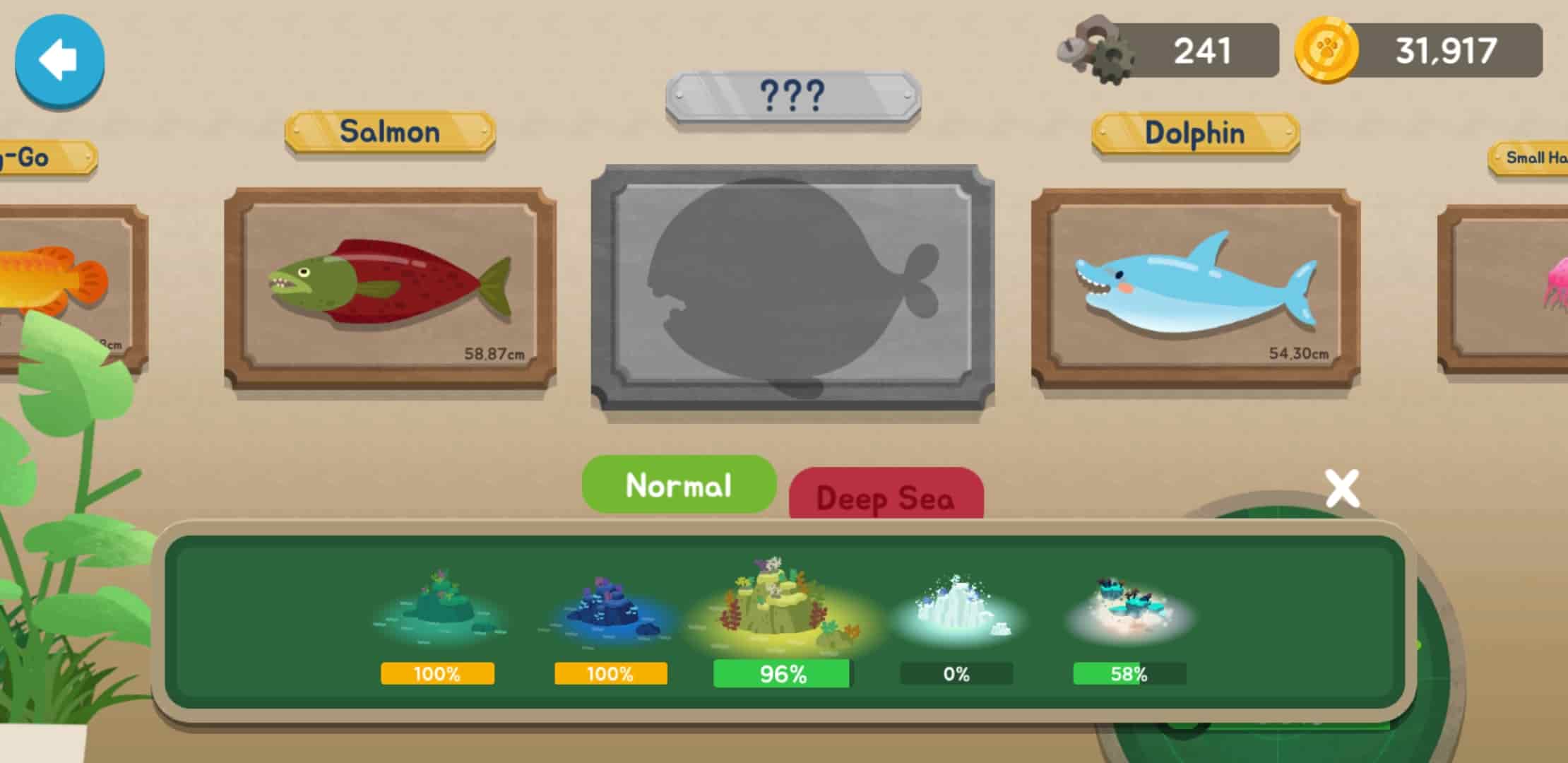 Upgrade to catch more
Over time, The Fishercat will bring you many new challenges. You will have the opportunity to unlock new seas with new species of sea creatures. But larger creatures require higher fishing skills. So if you want to catch big fish or giant squid, upgrade all you have. First of all, you need to upgrade the fishing rod to improve the fishing line length, rod pull, and hook launch speed. Next, unlock support items to fish more.
The game gives you many cool things to unlock. For example, you can use a net to catch several fish at once; an electric bomb to deal damage over a wide area; worm bait to attract targets… Besides, you can upgrade boats and oxygen tanks. More advanced boats will have better balance, making launches more accurate. With a higher-capacity oxygen tank, you will have more time for each of your fishing trips. To unlock these items, gold coins are indispensable.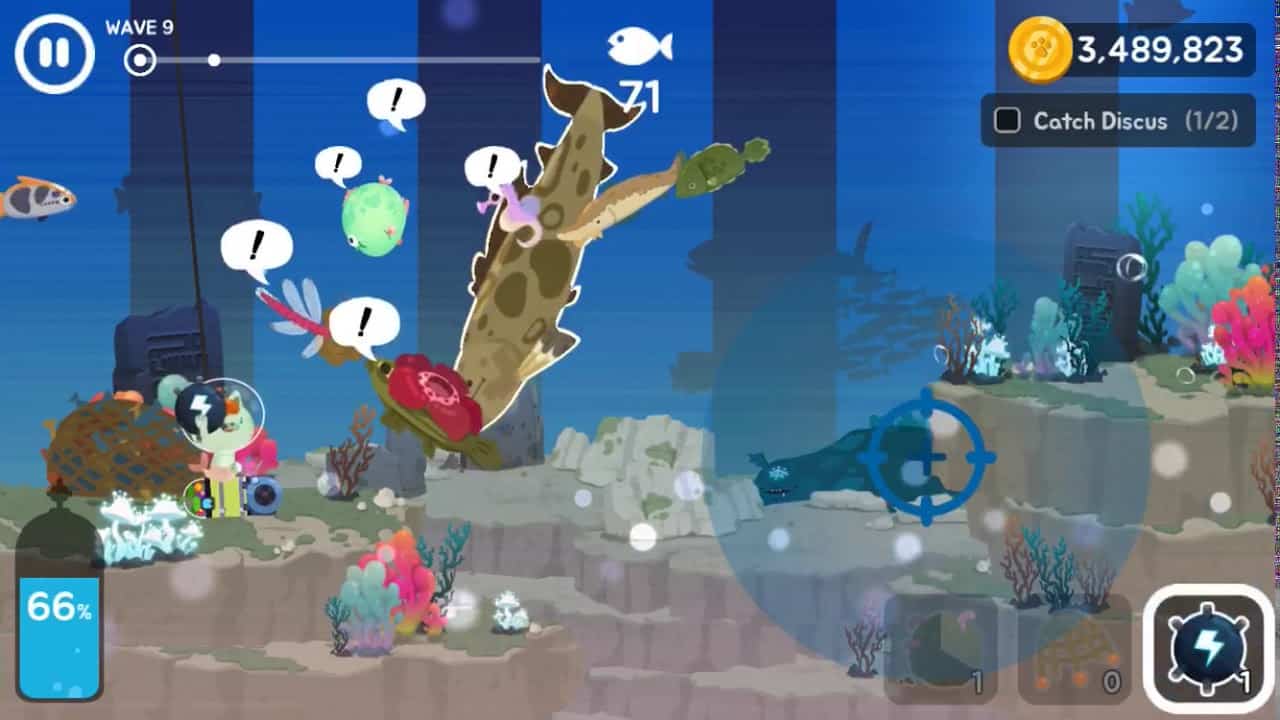 Discover many new seas
There are dozens of different sea areas in the world of this game. But you can't explore them all in one go. Over time, when reaching a certain level, the game will automatically open up new seas. From there, you will have the opportunity to discover new creatures on each fishing trip. There are more than 150 species of fish and marine life such as squid, shrimp, crab, and even sea monsters. Bring them back to your aquarium to create their own marine ecosystem.
Cute and colorful 2D graphics
The ocean world appears vividly on the 2D graphics platform of this game. It's a colorful world with dozens of unique creatures. Your cat and sea creatures are designed to be simple but lively. Each movement such as swimming, jumping, or launching a fishing rod,… is very flexible and realistic. Moreover, you will have a fishing experience with gentle, relaxing background music. It is truly a great experience that you should not miss.
So if you are looking for a relaxing experience on your phone, download The Fishercat now. This game will bring you to the vast ocean world – where you can encounter dozens of unique sea creatures. There you will learn how to fish using various tools. Show your agility to catch as many fish as you can. Moreover, take the time to explore the marine ecosystem right on your phone.