Rovercraft is a fun and creative racing game. This game is not as modern and new as many 3D racing games today. However, you will have spectacular races on many difficult terrains. Before joining the racetrack, you will design your own racing car. This game offers dozens of unique items for you to unleash your creativity and assembly. Let's create real all-terrain machines to run as far as you can. Your astronaut is at the helm and travels to many different planets. A variety of challenges, modes, and events are always available with unexpected rewards.
Download Rovercraft – Design racing cars and overcome terrains
High-speed racing games sometimes make gamers bored. That's when you should try more challenging gameplay like Rovercraft. This game focuses on the off-road driving challenge. Thanks to that, you will love this experience if you are inspired by the rugged terrain genre. Join the game, you will play as an astronaut on a journey to explore the universe. On each planet, you need to overcome the muddy surfaces to explore more. And an off-road vehicle is indispensable in this journey.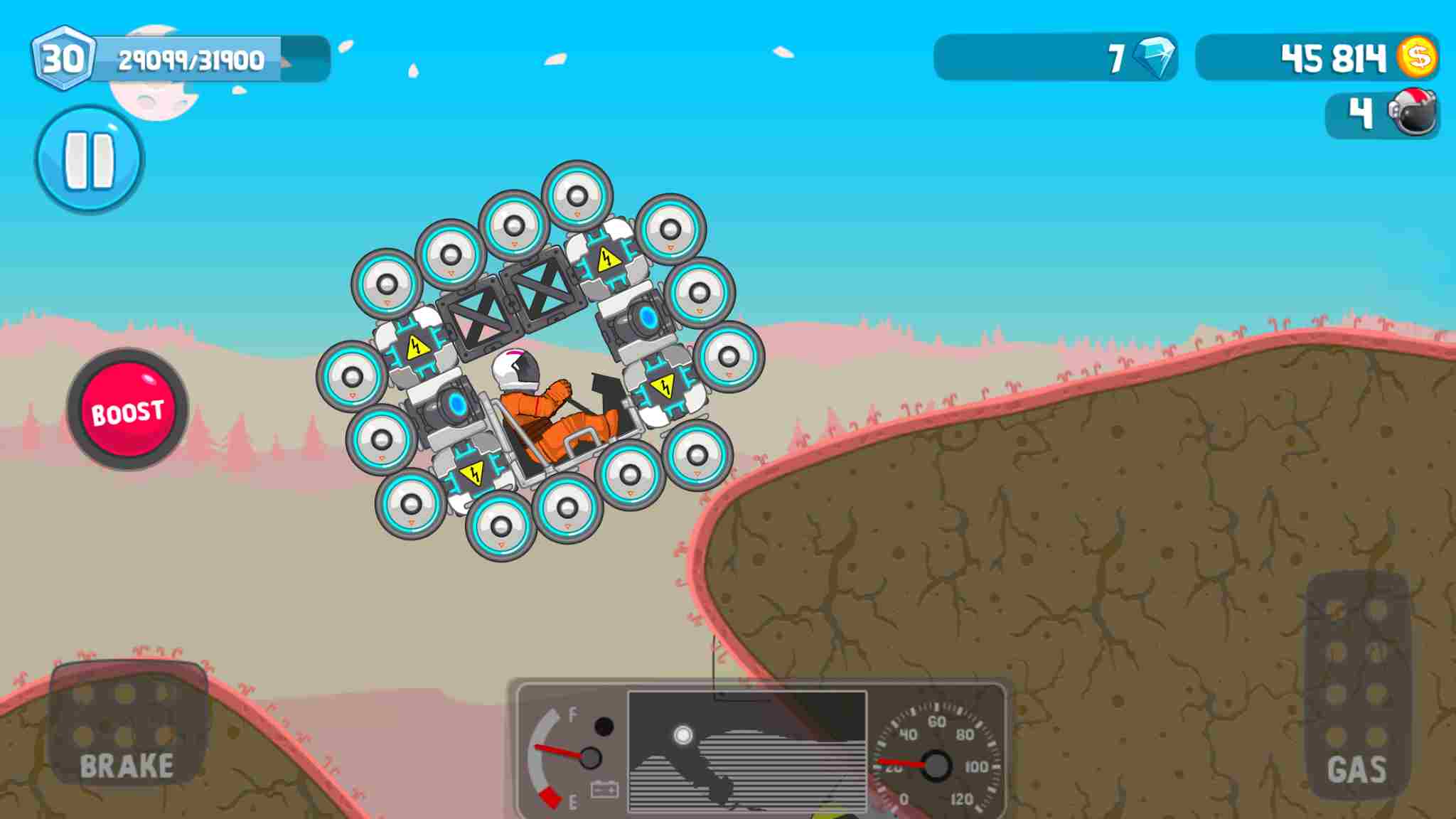 Assemble a real off-road vehicle
Before taking on the off-road challenge, you need the right vehicle. The game allows you to create this car yourself. In the garage designed on the 2D screen, you will see the parts available there. You can collect more parts and enrich the garage over time. Just touch each part and drag it to the position you want. So you can assemble the off-road vehicle according to your ideas. Although the assembly is simple, you need to have a smart strategy.
The challenges in the game will be increasingly difficult. That's why you need to upgrade and create more. Think of the most perfect off-road racing models to go as far as possible. You will learn something from the experience at each level. For example, if you fall backward and fail, you'll know you should add some sort of rear bumper. Or if you collide with sharp objects overhead, you may need an extra barrier. There are no limits to how the car is designed and built. Feel free to be as creative as you want.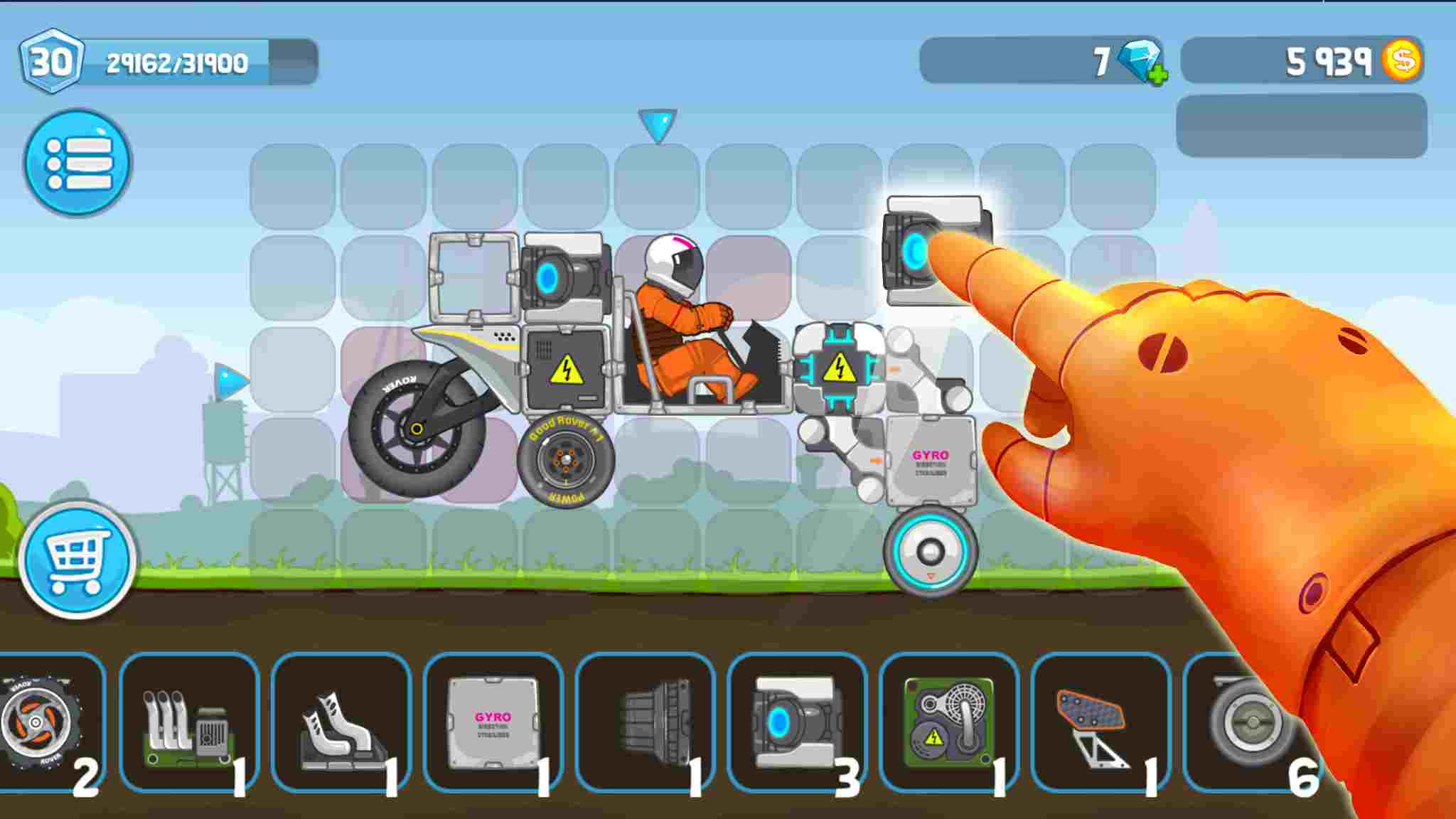 Discover a multitude of challenges
After building the off-road vehicle, Rovercraft will bring you to the racetracks. This is the place to test your off-road racing model. The tracks are designed based on the surfaces of different planets. It can be a dry dirt road, a muddy road, or slippery ice. With each type of terrain, you need to have a suitable racing strategy. In each terrain, you also have many races to explore.
To drive, you need to flexibly combine two virtual buttons on the screen, an accelerator and a brake. The important point lies in how to use these two virtual buttons in each situation. If you feel that a fast car can easily cause a dangerous situation, you should slow down with the brake. On the contrary, on flat roads, you can accelerate to reach the finish line faster. Besides, on some levels, you have the "Boost" feature. Just tap it for an instant boost, making you run faster for higher scores. Of course, you need to use it at the right time to limit the risk.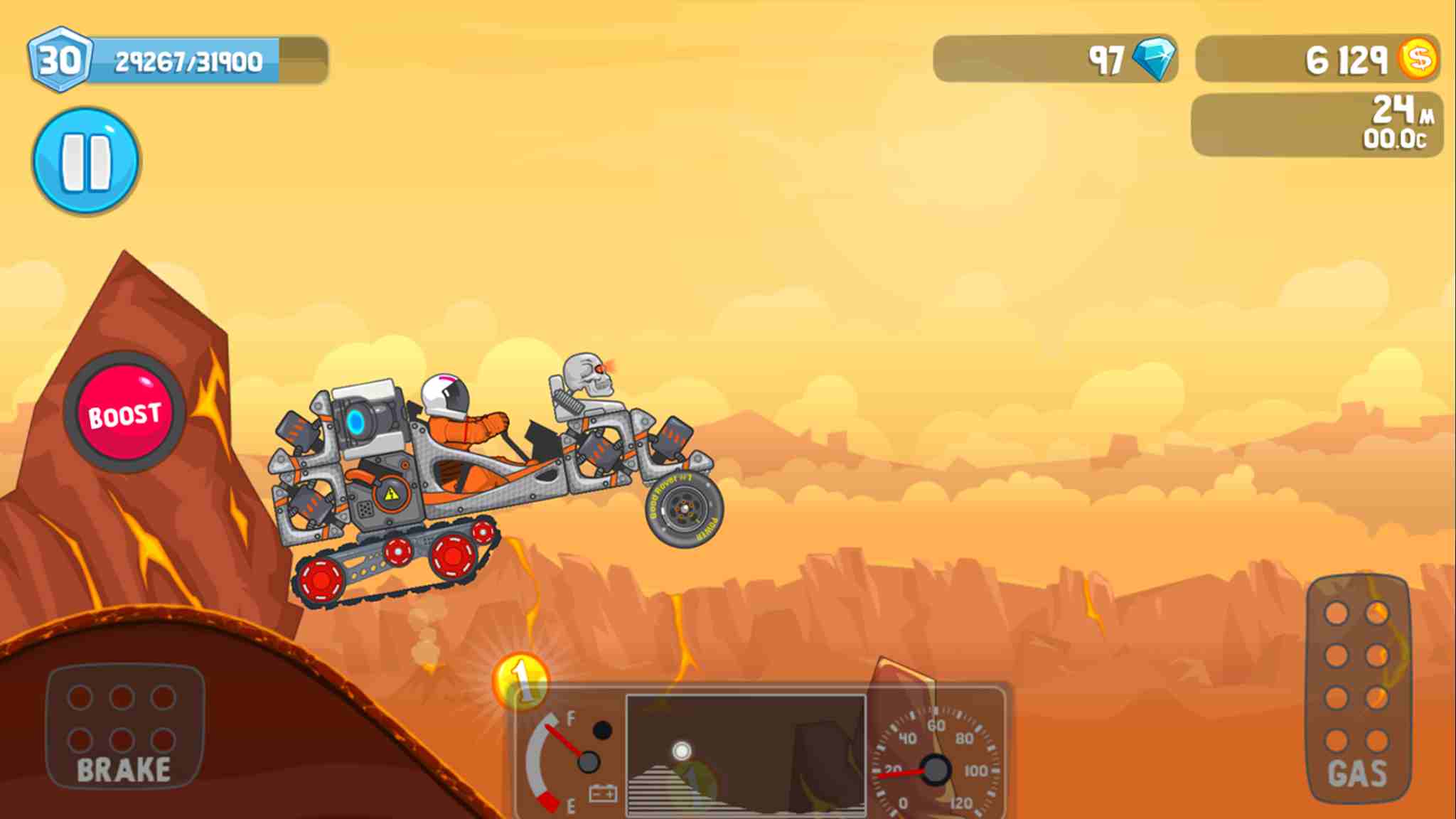 Many interesting modes
This game currently has 3 main modes, including Challenge, Planet, and Tournament. Each mode will have its own mission system with attractive rewards. Specifically, Planet mode includes many chapters, each chapter corresponds to a journey. You can unlock all the planets from earth to mars, Uranus, comets, etc. according to the level of progress. Meanwhile, in Challenge and Tournament mode, you will have competition with online opponents. Make an effort to climb higher on the leaderboard.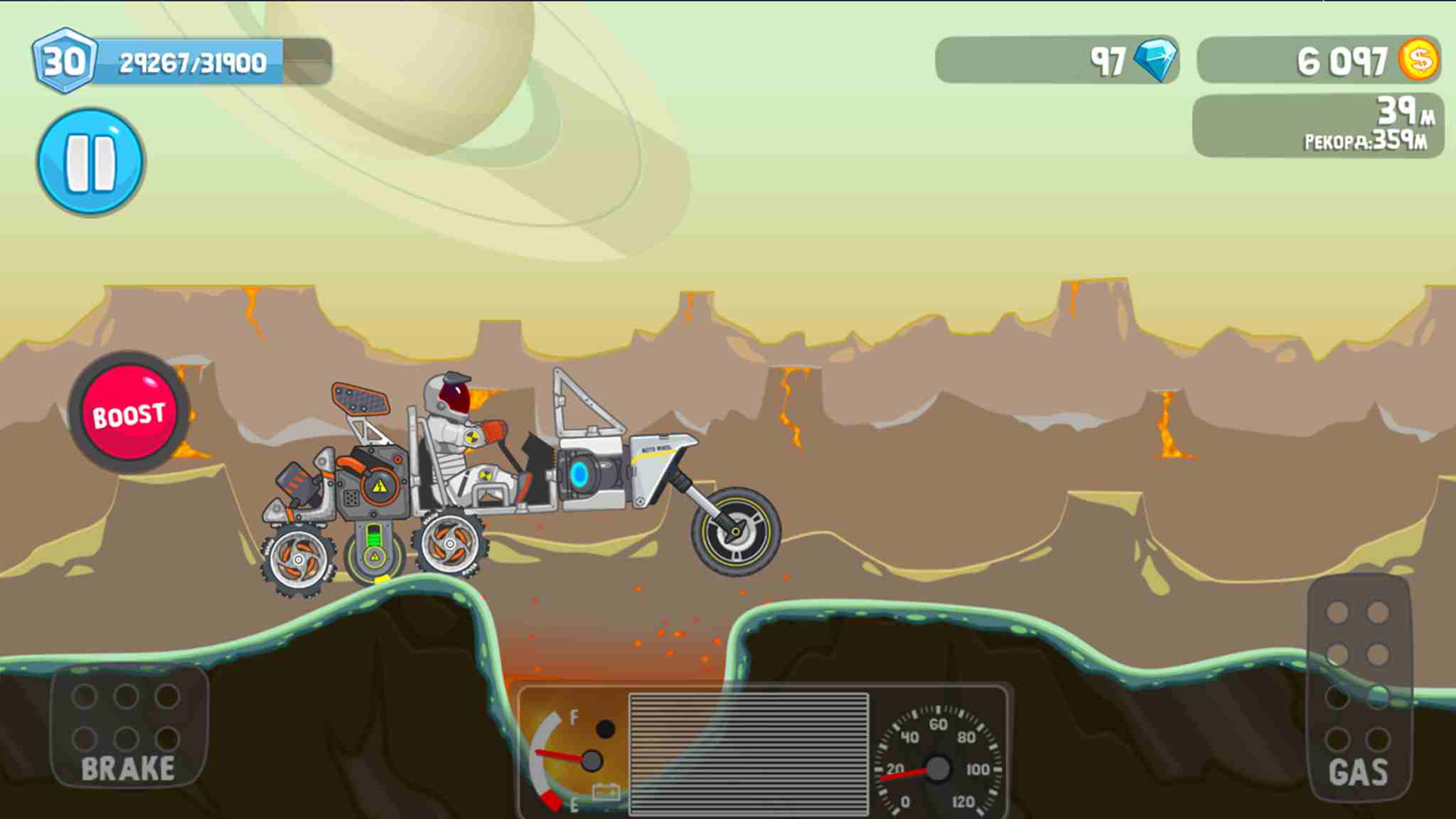 Simple and classic 2D design
Compared to popular racing games, this title has poorer graphics quality. Everything is designed only on classic-style 2D graphics. So you can't find smooth and exciting driving like on the highway. Instead, you'll have a slow, but realistic, rough terrain racing experience. The sound effects are also not too exciting. However, the racing scene is quite diverse, bringing many strange scenes on the planets.
All in all, Rovercraft will not let you down. This game promises to bring endless excitement with 2D terrain races. Get ready for the tracks where you will drive your own designed car. Don't hesitate to unlock more parts and create your car model. Now's the time to get creative, build all-terrain vehicles, and try your hand at the surface of the planets.